The question rolls around Marissa Hoechstetter's head all the time these days: What's a win supposed to look like?
"We should consider this a win," Hoechstetter remembers a prosecutor assuring her in February 2016, after the gynecologist she accused of sexual abuse, Robert A. Hadden, struck a plea deal with the office of Manhattan District Attorney Cy Vance Jr. Hoechstetter was one of 19 patients who'd accused Hadden of sexual abuse while they lay on his examination table — groping, squeezing out breast milk, licking their vaginas. Nine were pregnant when the alleged abuse occurred. Five women said he licked them during an examination. Still, back then Hoechstetter had agreed with the prosecutor's favorable assessment of the case's outcome. Most women never get to see their abuser face consequences, she knew. So what if Hadden pleaded guilty to charges involving just two women? So what if he got no jail time, no probation, faced no penalty beyond giving up his medical license, and wouldn't even be listed in New York's sex offender registry? At least he had admitted guilt and been stamped with a felony conviction, Hoechstetter remembers thinking; perhaps this was the only justice she could expect.
"I was sort of naive at the time and I really felt grateful," Hoechstetter, who's 38 and works in higher education development, told BuzzFeed News. It was the first time she had spoken publicly about what happened to her. "But two years later, in the #MeToo era, I realize the case was not handled well. They could get away with it then. How would this be treated now?"
In May, Hoechstetter watched with growing anger as Vance publicly disagreed with New York Gov. Andrew Cuomo's decision to have a special prosecutor investigate sexual abuse allegations against former state attorney general Eric Schneiderman. Despite a potential conflict of interest — Schneiderman had been investigating Vance over his handling of the Harvey Weinstein case — Vance said at a news conference that he was the best person to oversee the Schneiderman probe. "Justice for victims of crime in Manhattan is my top priority, and it always will be," Vance said.
Hoechstetter doesn't see it that way. She came to understand that the criminal court system operates not under the cold, calculated order visible in legal codes and on-the-record filings, but on a network of relationships, collegial and political, shaping negotiations in private rooms, sometimes at the expense of victims. In a state court system where more than 90% of criminal cases end with plea bargains, the debates and decisions outside the courtroom often carry more weight than the motions, affidavits, and transcripts that the public sees.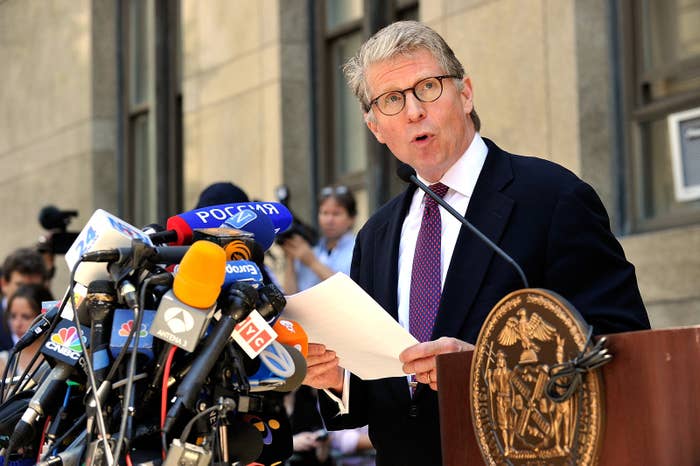 The result is a two-tiered system of justice that favors those connected to the network. While this dynamic exists in every jurisdiction, its contours might be clearest in Vance's office, which in recent years dropped sexual assault cases against Weinstein, former International Monetary Fund director Dominique Strauss-Kahn, and well-known lawyer Sanford Rubenstein, and a fraud case against Ivanka Trump and Donald Trump Jr. — powerful figures represented by top-level attorneys who'd worked with Vance or donated to his campaign.
As Hoechstetter read news stories detailing how Vance had handled those high-profile investigations, she thought back to her own case. "The headlines are sort of retraumatizing me," she said. She'd tried to suppress any unease she felt about Hadden's plea deal, but once she saw the pattern, it became impossible to ignore: Hadden's attorney, too, was a longtime friend of Cy Vance Jr.
A spokesperson for the DA's Office denied that certain lawyers get more access than others, and noted Vance's policies aimed at reducing racial and economic inequality in the criminal justice system, such as ending bail requests in most misdemeanor cases and declining to prosecute marijuana possession cases.
"He got a deal of the century, and people want to know why."
Under the heightened scrutiny, Vance reopened the investigation into Weinstein and filed rape charges against the movie mogul. The attorney Weinstein hired for his current case, Benjamin Brafman, also represented Strauss-Kahn and Rubenstein. Hoechstetter wonders if her experience becomes only a footnote now that Vance is seeking to put Weinstein behind bars. She saw photos of the perp walk and the press scrum. She read more than a few news stories, including the one that ran on the front page of the New York Times three days after Weinstein was taken into custody. "If he wins a conviction," it said of Vance, "he will restore his reputation as a progressive champion for women's issues." She thought about how much had changed so quickly — how Vance suddenly seemed so eager to go after Weinstein and how he was winning praise for doing so.
"It certainly feels like now he's gonna be out there wearing this gold star like he's doing this great, hard-hitting thing, and suddenly all this other stuff is just forgotten," she said.
Hadden's plea deal ensures his own case is closed for good — sentence issued, justice served. What has left Hoechstetter most distraught is the feeling that there's nothing more she can do, the judgment as permanent as the memory of Hadden delivering her twins.
"That guy is a dangerous predator and they basically let him go," said a Manhattan criminal defense attorney unconnected to the Hadden case but familiar with its details, who requested anonymity so as not to damage his relationship with the DA's office. "He got a deal of the century, and people want to know why."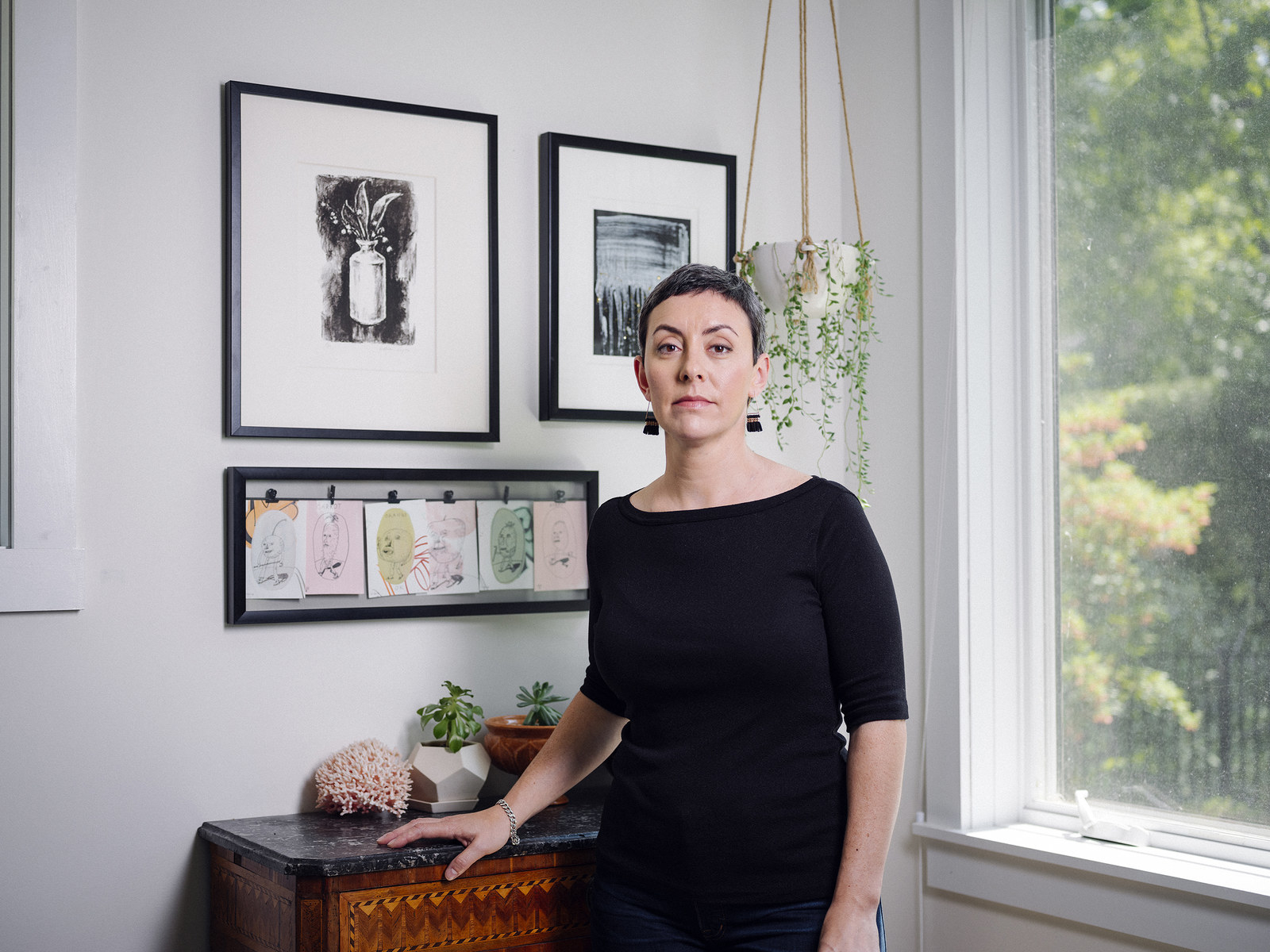 Hoechstetter remembers the first visit to Hadden's Upper Manhattan office in 2010, when she told him she was planning to get pregnant and he asked her, among other things, if she had trouble having orgasms. "I remember thinking, That's a weird question for people to ask," she said. "But maybe this is just weird because it's someone my dad's age asking me this.You tell yourself these reasons why something isn't weird."
On her second visit, early in her pregnancy, she found herself uncomfortable during his breast exam, which was longer and more touchy than any she'd had before, and done without a nurse in the room. She was too worried about her pregnancy to dwell on other concerns, though, and forced herself to ignore it. "I had a friend who lost twins," she said. "All I cared about was someone telling me my babies are OK."
She'd chosen Hadden as her OB-GYN on the recommendation of a friend who was his niece by marriage. Hoechstetter and Hadden had both attended the friend's wedding years earlier, and the connection had been comforting. "I wanted to go somewhere where I felt someone would care about me," she said, "and I felt like this person knew me. You tell yourself that it's somehow different because you know each other in some way."
Later in her pregnancy, as he examined her beneath a drape, she felt him rub her clitoris. "And you're like, Did it just feel that way or did that actually happen?" she said. "You're sitting there and you can't see him, and also you're really pregnant and you're thinking, I just have to focus on getting to the end with these babies."
During the examination, she felt his tongue and facial hair on her vagina.
In April 2011, Hoechstetter gave birth to twins. She had a checkup with Hadden a year later. During the examination, she felt his tongue and facial hair on her vagina. "I totally froze, and then he left," she said. "I don't remember if he said anything. I got up and left."
She never returned to his office. She wasn't sure whether to tell her husband, or anybody. She tried to focus on her two babies. "I would tell myself I wasn't raped. It wasn't violent. Just fuck it. Put it aside," she said. "But it kept bothering me." Months later, the friend who'd recommended Hadden told Hoechstetter that a woman had accused him of sexual assault.
"And whatever doubt you had in your head is gone," Hoechstetter said. "But even then I didn't do anything. I had to deal with my life."

She remembers the moment she decided to speak up: It was two years later, and she was at a family gathering when a relative questioned the avalanche of rape allegations against comedian Bill Cosby. "Where were these people all along?" the man asked.
Hoechstetter explained to the man how those women must have felt, and as she spoke, it occurred to her that she was not speaking for them but for herself. Her mind turned to the victims who'd already spoken up about Hadden, and whether anyone might doubt their stories. "I just kept thinking about how there's all these women, and you have to add your voice to it because only then do you see the real reach of something," she said. "I wasn't alone in this. It took me a few years to realize that."
She told her husband after that. Weeks later, in November 2015, she spoke to a prosecutor at the Manhattan District Attorney's Office, which by then had built a strong case against Hadden.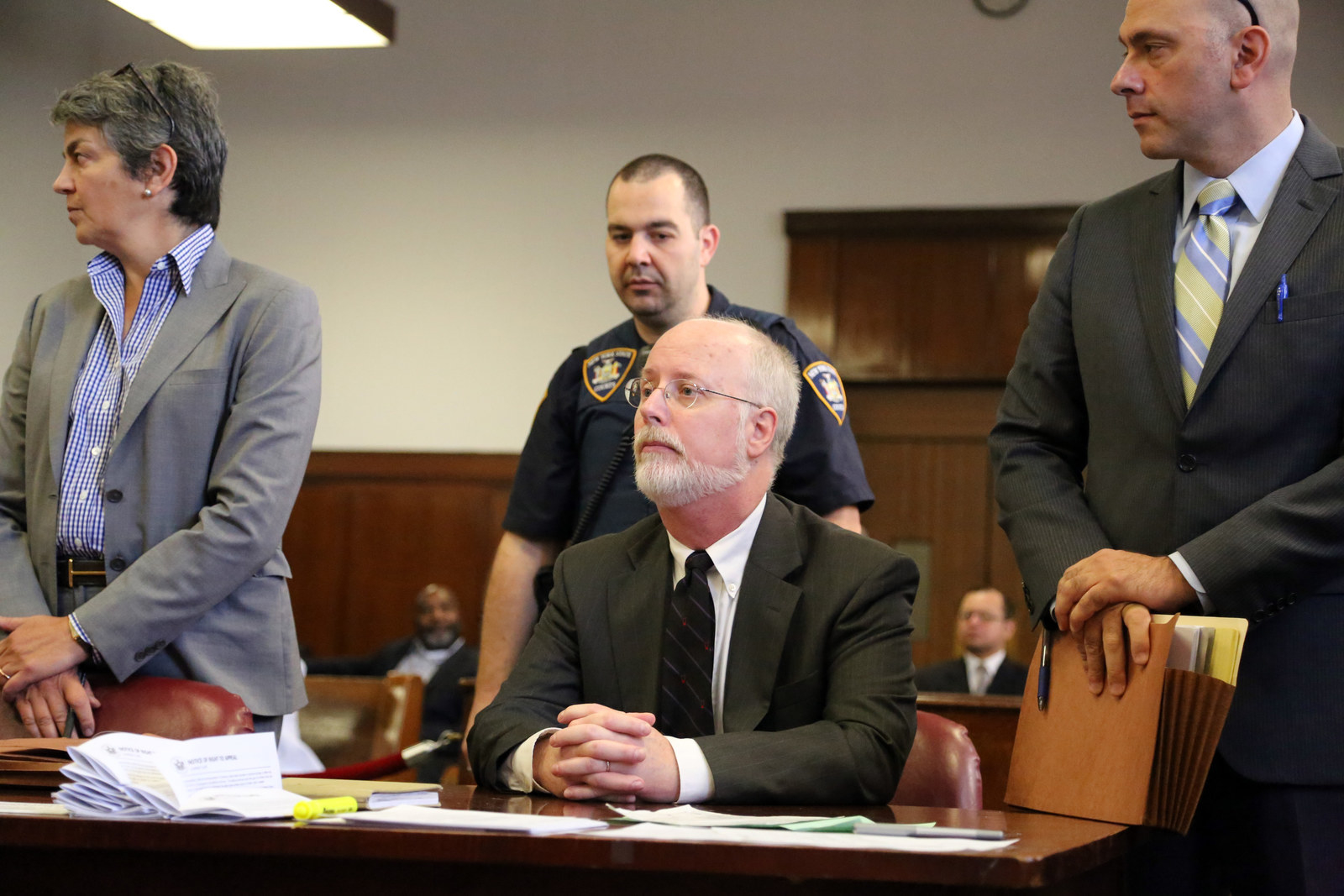 The police first began investigating him in June 2012, when a woman reported that Hadden had licked her during an exam. The DA's office declined to bring charges after a DNA test failed to provide physical evidence. A year later, three women sued Hadden and the hospital employing him, NewYork-Presbyterian/Columbia University Medical Center, alleging that supervisors had failed to act on sexual misconduct complaints about Hadden. The lawsuit was in the news, and other women began contacting the DA's office, which eventually indicted Hadden in June 2014 on charges of sexual abuse, criminal sex acts, and forcible touching, which carry a maximum sentence of four years in prison.
While there is no statute of limitations for penetrative rape, other forms of forced sexual contact, including oral, can only be prosecuted within five years in New York. Six of Hadden's alleged victims met that timeframe. With the corroborating experiences of 12 others, prosecutors said in a motion to the court that they had "a great quantity of admissible and probative evidence."
In February 2015, the DA's office laid out its sprawling case in detail: a 39-page document listing allegations against Hadden spanning back to the early 1990s — from inappropriate comments to unwanted sexual contact. In many instances, prosecutors said Hadden would tell a patient the exam was over, but as soon as the nurse left, he'd say there was one thing he'd forgotten to check. That's when the abuse would occur, they said. One nurse told investigators she once returned to the exam room unexpectedly to get a stethoscope she'd left there and saw Hadden moving his fingers in and out of his patient. She knocked on the door and Hadden jumped back. She said she reported this to two supervisors but never heard anything more about it.
On Oct. 9, 2015, Hadden's lawyer, Isabelle Kirshner, filed the defense team's response, which argued that Hadden had not violated medical standards and suggested the women were lying in hopes of a lawsuit payout. That same day, a $250 contribution under Kirshner's name was filed into Vance's campaign fund.

No other major motions would be filed. Five months later, the assistant district attorney handling the case contacted Hoechstetter to tell her it was over: "She said, 'You know, he's not going to jail, but we should consider this a win because if it went to a trial he could get off."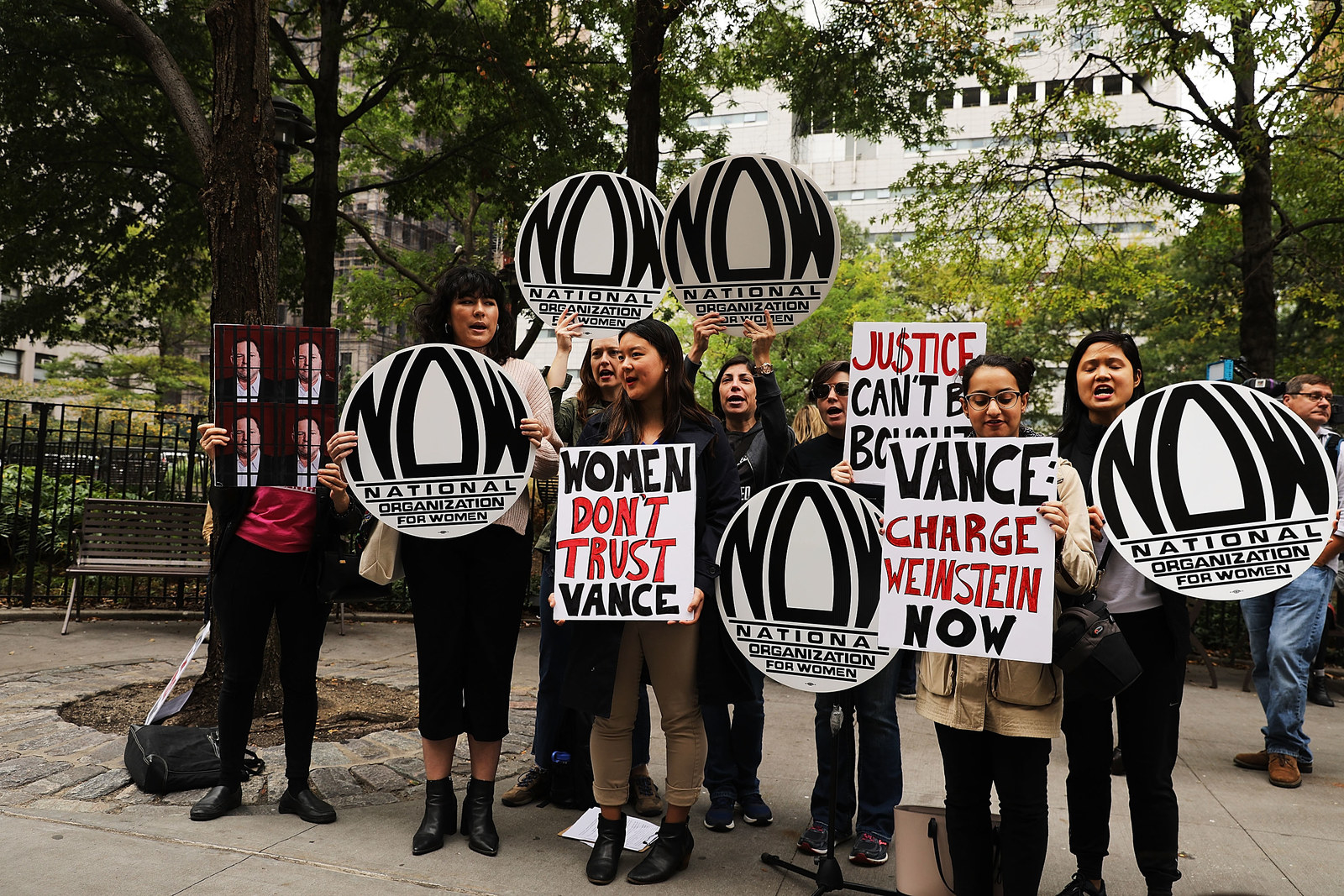 Kirshner told me she doesn't remember making a campaign contribution to Vance on the day she filed the motion, but she acknowledges it may have happened. She'd donated to his campaign before — $6,075 in all since 2009. Her fellow partners at her Manhattan law firm, Clayman & Rosenberg, have chipped in around $43,000 to Vance's war chest over the years. This isn't uncommon. As Kirshner told me, "Who else is gonna give money to a DA race if not lawyers?"

Vance has long been a skilled fundraiser, perhaps reflective of his lifelong immersion in politics. His father was President Jimmy Carter's secretary of state. As a child, he attended rallies for Lyndon B. Johnson, and while at Georgetown Law School he volunteered for Gary Hart's presidential campaign. He began his legal career in the Manhattan District Attorney's Office, where he worked in the same division as Eliot Spitzer, then spent the bulk of his career doing white-collar criminal defense at well-respected law firms. Before he'd even officially announced his candidacy for district attorney in 2009, he'd raised more than $700,000. In the first half of 2017, he collected more than $300,000 in donations even though he faced no challenger in that year's election. In sum, his three campaigns have brought in around $6 million.
"The way he's raised money is the best way to ensure nobody runs against him," said New York State Assembly Member Dan Quart, who has also worked as a criminal defense attorney in Manhattan. "And that's the best way to ensure you don't have to explain yourself to voters."
Vance denied the money had any influence on his decisions but agreed that it didn't look good.
Vance's donor rolls didn't get much attention until recent months, when news outlets took a closer look at two old cases that had gained new relevance: In 2012, the year Vance dropped the fraud case against the Trumps, their lawyer, Marc Kasowitz, made his first donation to Vance's campaign, of $25,000, then a year later gave around $32,000 more; in 2015, after Vance decided not to pursue the sexual assault case against Weinstein, one of Weinstein's attorneys, David Boies, contributed $10,000 to Vance's campaign, which added to the $45,000 he'd given in previous years. In public statements, Vance denied the money had any influence on his decisions but agreed that it didn't look good. Earlier this year, he announced he would no longer take contributions from lawyers involved in cases his office is working.
I discussed this subject with more than a dozen Manhattan criminal defense attorneys, including several former prosecutors, and even the ones who vehemently dislike Vance are quick to say that they don't believe the DA's office is deciding cases based on campaign donations. It's not that simple. The money doesn't buy wins. What it really does, several veteran attorneys told me, is heighten your chances at entry into the exclusive, legal stratosphere that Vance has occupied his entire career.
"Most defense attorneys are reluctant not to be a contributor for fear of losing access," said Robert Gottlieb, a longtime criminal defense attorney who used to donate to Vance's campaign and was on his transition committee after he won the 2009 Manhattan DA election. "The access gives you the ability to make your case. And that gives you a better chance of achieving what you want to achieve."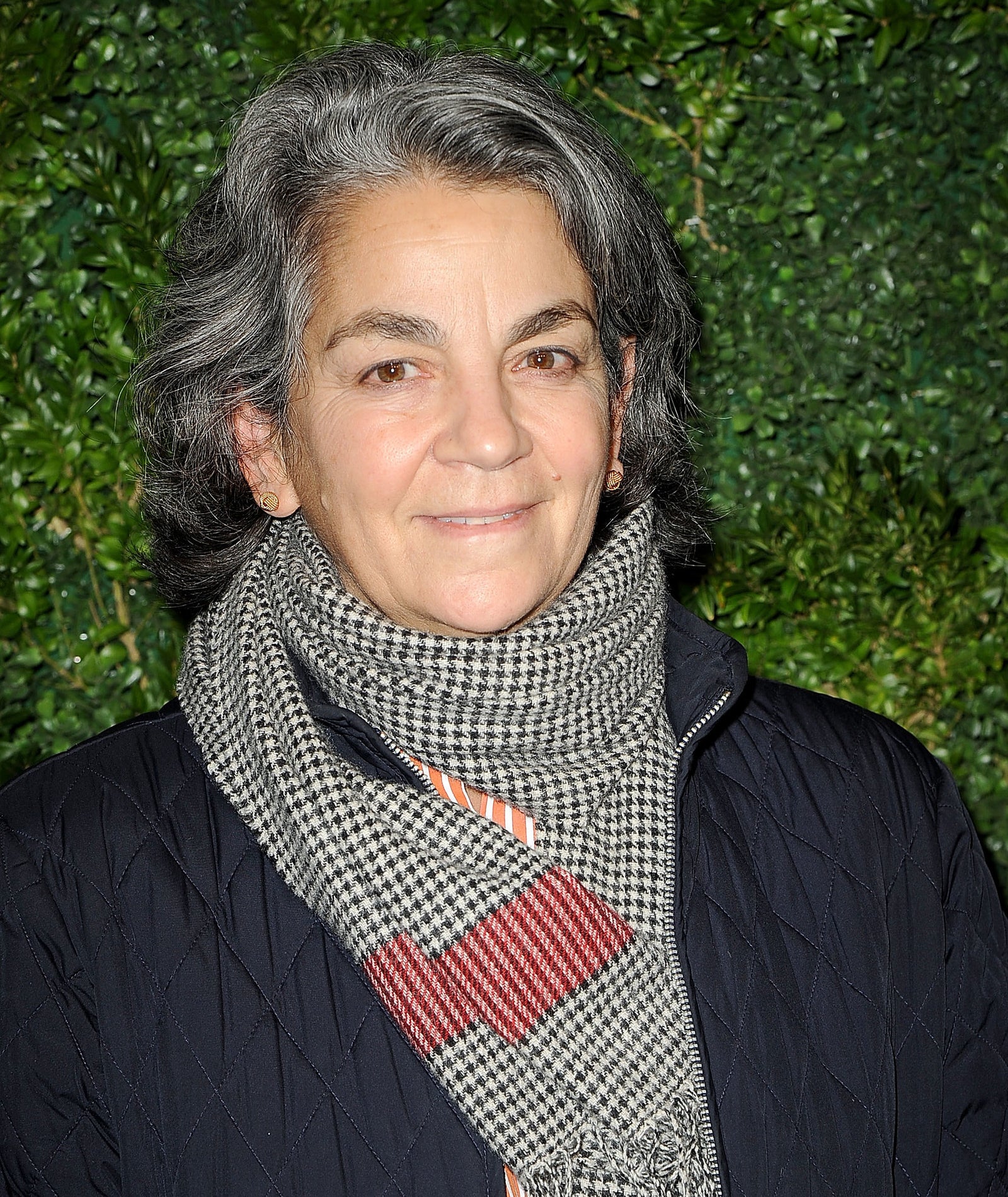 Considering the system's dependance on plea bargains, access can make all the difference: A connected lawyer unhappy with how a prosecutor is handling a case can get a meeting with their boss, or boss's boss, to negotiate a better deal for a client.
As in any industry, the highest levels of the legal profession can feel like a tight-knit circle of longtime friends and business associates. One of the lawyers Weinstein hired after he learned he was under investigation in 2015 was Elkan Abramowitz, who was partners with Vance at a white-collar law firm in the mid-2000s. One of Strauss-Kahn's lawyers in his sexual assault case, Marc Agnifilo, is married to Vance's top deputy, Chief Assistant District Attorney Karen Friedman Agnifilo. Hadden's lawyer, Kirshner, worked with Vance in the Manhattan DA's office in the 1980s, and then joined his 2009 transition team. "I consider him a friend," Kirshner said. "I'm a professional fan of his."
It can be difficult to parse the precise influence of these relationships. Kirshner and other Vance allies who have won favorable outcomes for clients also happen to be among the most well-regarded criminal defense attorneys in the city. They are expensive, experienced, and can dedicate more time to each case than the public defenders forced to juggle multiple clients. After learning he was under investigation for sexual abuse, Schneiderman hired Kirshner to represent him.
"It's true all over the country," Kirshner said. "Poor people don't do as well in this system as people who can afford more competent lawyers. If you can afford them, you're treated differently in our criminal justice system. That's a dirty little fact that's just the reality."
"One of the most powerful tools in the country is the power of the prosecutor to exercise discretion."
Yet it's a reality that Vance has claimed to fight against. From his first campaign, Vance has portrayed himself as a stalwart liberal seeking to reverse the tough-on-crime policies that disproportionately target black and brown people. He has spoken of crime reduction strategies that rely on data and technology rather than racial profiling, and of his office's efforts at reducing sentences for first-time, low-level offenders. At a moment when more and more prosecutors are addressing the causes of past injustices, Vance presents his office as a hub of innovative thinking, on the vanguard of the push for more equal justice.
Vance declined to be interviewed for this story, but when I met with him two years ago for a story about changes in the criminal justice system, he recognized the outsized role he and his fellow district attorneys have in determining who gets arrested, who goes to jail, and who deserves a second chance. "One of the most powerful tools in the country is the power of the prosecutor to exercise discretion," he said.
The way many defense attorneys see it, though, Vance's discretion is driven not by the policies he touts but by his desire to maintain relationships and earn positive headlines. "He's extremely gun-shy about taking on powerful white people with lots of connections, but he has no problem freely criminalizing black people," said Ron Kuby, a longtime criminal defense attorney. "He talks about progressive initiatives but he carries on a long tradition in New York County of making sure poor black people are heavily policed."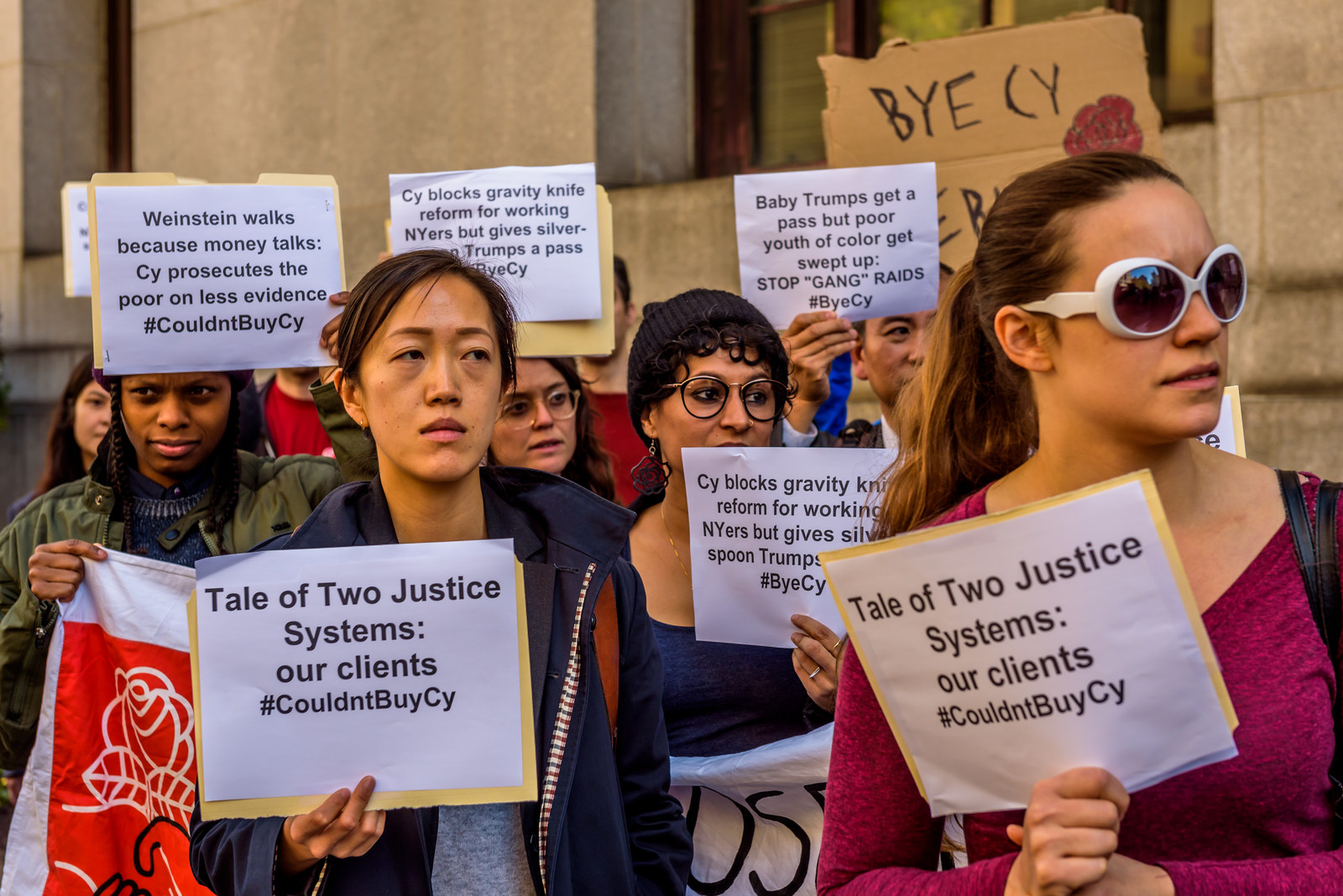 Or as Assembly Member Quart put it, "There are two tracks of justice in Manhattan: one for the well-off and well-connected — and on his donation rolls — and another one for everyone else."
Though Manhattan has a million fewer residents than Brooklyn and 700,000 fewer than Queens, the borough contributes the highest share of inmates to Rikers Island jail, in part thanks to Vance's selective prosecutorial aggression.
In 2014, the same month his office brought its case against Hadden to a grand jury, Vance orchestrated what he deemed the largest gang sweep in city history, indicting 103 mostly black and Latino people, around a third of them teenagers, living in two housing projects in Harlem. Most were accused of nothing more than being a member of a local gang, yet still faced serious prison time — including possible life sentences for 25 of them — because prosecutors used "conspiracy" charges that held them responsible for murders and assaults their neighbors and friends were suspected of committing. Nearly all of them would ultimately plead guilty to lesser charges, some in exchange for testimony in the murder cases at the center of the investigation.
While Vance announced the raid with much fanfare, it soon drew criticism from community leaders and racial justice advocates, who said prosecutors had exploited laws intended for criminal organizations to target poor young people. To many in the city, the raid became a symbol of Vance's hypocrisy.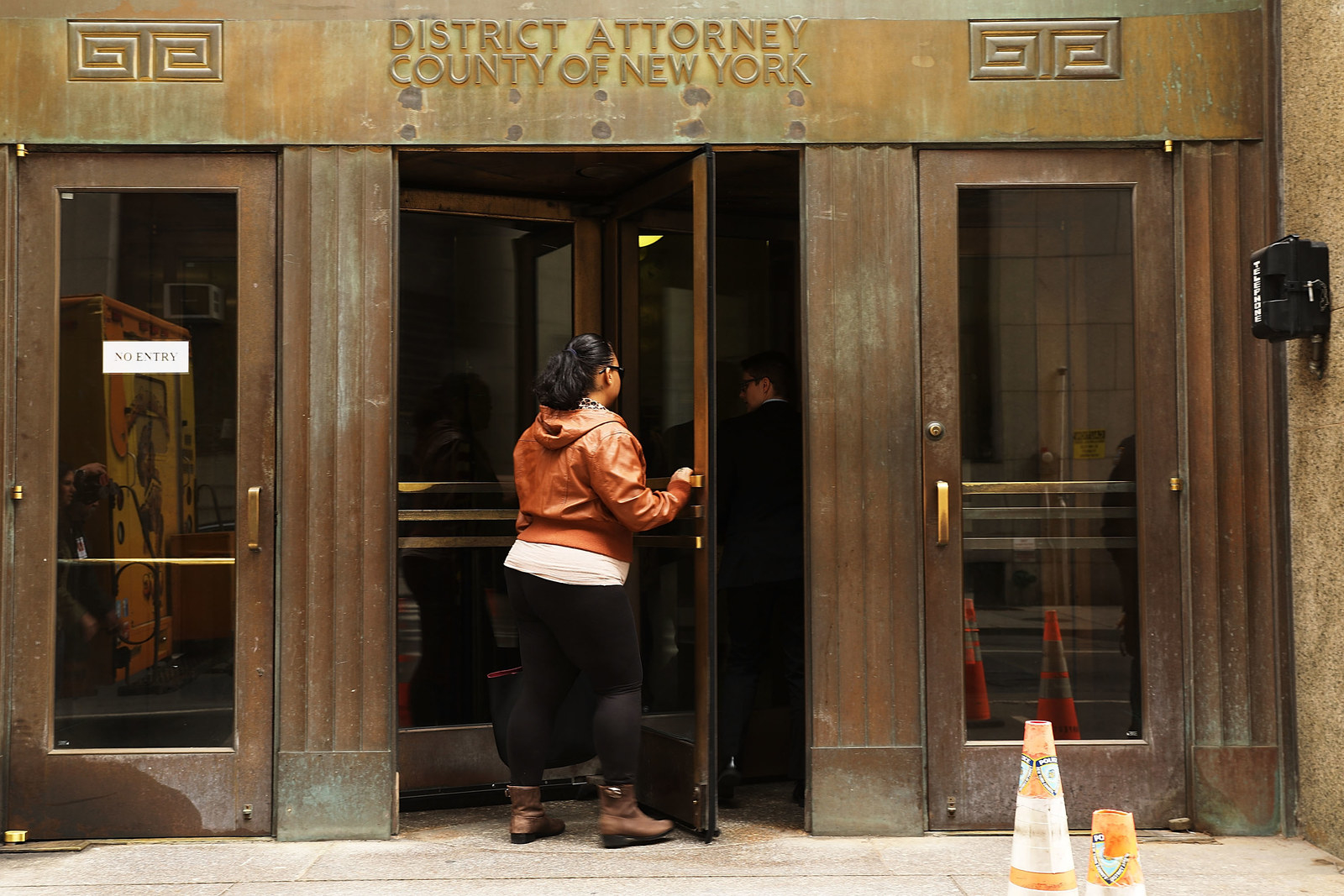 It was assistant district attorney Laura Millendorf who had to tell Hadden's victims about the plea deal. A veteran prosecutor with more than 10 years of trial experience in the Manhattan DA's office, Millendorf was in charge of the case. Hoechstetter met with her a few times and found her responsive, sympathetic, and passionate. "She cared about the case," Hoechstetter said. "I felt like she was committed to doing the right thing."

Until the moment Millendorf told her about the plea deal, Hoechstetter was under the impression that the case against Hadden was strong and that prosecutors had a good chance of securing a conviction at trial. Another victim, who was listed in the indictment and requested anonymity, told me the same thing.
Neither had been aware of the plea negotiations, and the news seemed to come out of nowhere: Hadden would be guilty of two counts of criminal sex act in the third degree, a low-level felony, and forcible touching, a misdemeanor; as punishment, he would be classified as a level-one sex offender, which precludes him from being listed in the state registry. As part of the deal, the DA's office agreed not to charge him for the additional sexual abuse allegations that emerged after the indictment, including Hoechstetter's. Kirshner notes the case on a list of career achievements on her website: "Obtained a favorable result for a doctor accused of sexually abusing multiple patients."
Hoechstetter remembers Millendorf telling her that even though some people believed he should go to jail, at least this way they knew he wouldn't be able to practice anymore.
Hadden's lawyers had put up a robust defense, countering the state's extensive list of allegations by challenging the credibility of the women who'd given statements — pointing out inconsistencies in claims, the financial motives of those involved in a lawsuit, the fact that some of the women had scheduled appointments with Hadden even after the alleged abuse. They investigated the women's backgrounds and sought to obtain their medical records after one victim said she had a sexually transmitted disease. The defense argued that Hadden probably wouldn't have assaulted someone with an STD.
"I felt like she was justifying it to herself."
It's the usual defense strategy in sexual abuse cases: convince the judge, jury, or prosecutors that an alleged victim's story might be false or exaggerated. For the women under this microscope of legal scrutiny, personal details stretching back years become admissible evidence in a courtroom, subjected to examination and interrogation. This grueling process, according to Kirshner, helps explain why the DA's office would prefer to offer a deal rather than go to trial.
"Prosecutors are very sensitive about 'Do we wanna have witnesses up there getting beat up?'" Kirshner said.

Avoiding a trial also eliminates the office's risk of losing a big case with everyone watching. Vance had one of his most high-profile cases fall apart because he and prosecutors didn't believe a woman's story would hold up in front of a jury. Nafissatou Diallo, the housekeeper who said Strauss-Kahn raped her in a hotel suite in 2011, had lied on her visa application about a past sexual assault, misstated her income on subsidized housing forms, and noted in a phone call to a friend that Strauss-Kahn had a lot of money. To Vance, it was enough to drop the investigation, without even bringing the case to a grand jury in pursuit of an indictment. Strauss-Kahn maintained the encounter had been consensual.
Douglas Wigdor, one of the attorneys who represented Diallo, believes that Vance's office overstated the case's flaws to avoid dragging Strauss-Kahn — at the time considered a good bet to become France's next president — through the long, turbulent court process only to have a jury acquit him. "And so our client was treated more as a suspect than a victim," he said.
In 2012, the year after the case was dismissed, Benjamin Brafman, the senior partner at the law firm representing Strauss-Kahn — Brafman and Associates — made his first contribution to the Vance campaign, of $500, and then a year later, his firm donated $600.
His firm's next donation came in October 2015, for $2,500. Nine months earlier, Vance's office had declined to file charges against another high-profile Brafman client, lawyer Sanford Rubenstein, after a woman accused him of raping her in his penthouse after she passed out following a party. Though the woman went to the hospital the next day and reported it, prosecutors said there wasn't enough evidence to prove the sex wasn't consensual. Brafman and Associates contributed another $1,000 to Vance's campaign in 2017.
Unlike in the cases against Strauss-Kahn and Rubenstein, the case against Hadden didn't rest on a single witness. "Nineteen women came forward," said Anthony DiPietro, the attorney representing the women in the lawsuit against Hadden. "If the prosecutors were afraid of trying that case, with all of that evidence, then maybe they should find some other line of work."
According to Kirshner, the defense team's strategy was to initiate plea negotiations shortly after filing their comprehensive motion in October 2015. But Kirshner's relationship with Assistant District Attorney Millendorf was "contentious," she said, strained from the start by disputes over legal procedure. This was the status of the case when Millendorf's supervisor, Jennifer Gaffney, got involved. At that point, the "substantive part of the discussion" about a plea bargain began, Kirshner said. The defense rejected Gaffney's initial offer, though Kirshner wouldn't disclose the terms. Negotiations continued, until Kirshner eventually met with Gaffney's boss, Chief Assistant District Attorney Karen Friedman Agnifilo, and the two of them "got down to hammering it out." As Kirshner remembers it, the deal was filed a day or two after their meeting.
Once the agreement was in place in February 2016, Millendorf contacted the victims, asking if they wanted to submit a statement for Hadden's sentencing hearing. Three of the women, including Hoechstetter, shared with me their email exchanges with the prosecutor.
"The plea bargain was not as severe as I had assumed," one wrote to Millendorf.

"I'm left feeling very confused," said another. "Now I feel like all the terrible lies he's made up about me to cover his actions are unspoken for. I'm not sure what happened and I'm just hoping for an explanation as I'm feeling a little empty right now."
All three told Millendorf that they wanted to speak at the hearing or submit a statement.

But by late March, the plan had changed: Only one of Hadden's victims would be speaking at the hearing, and no other statements would be read.
I asked the DA's office why only one woman was allowed to give a statement, and a spokesperson explained that only victims of felonies are allowed to speak at sentencing. As part of the deal, Hadden had pleaded guilty to crimes committed against just two of the six women listed in the indictment — and one was for a misdemeanor. The DA's office declined to comment further on the case.
In January 2018, when Hoechstetter watched clips of Larry Nassar's sentencing hearing, which spanned seven days and included statements from 160 of the former doctor's victims, she couldn't help but wonder if the DA's office had feared that a parade of personal stories detailing Hadden's actions in a public hearing would reflect poorly on the plea deal.
"It would have made them look bad," she said. "For the purposes of this bargain, I did not exist."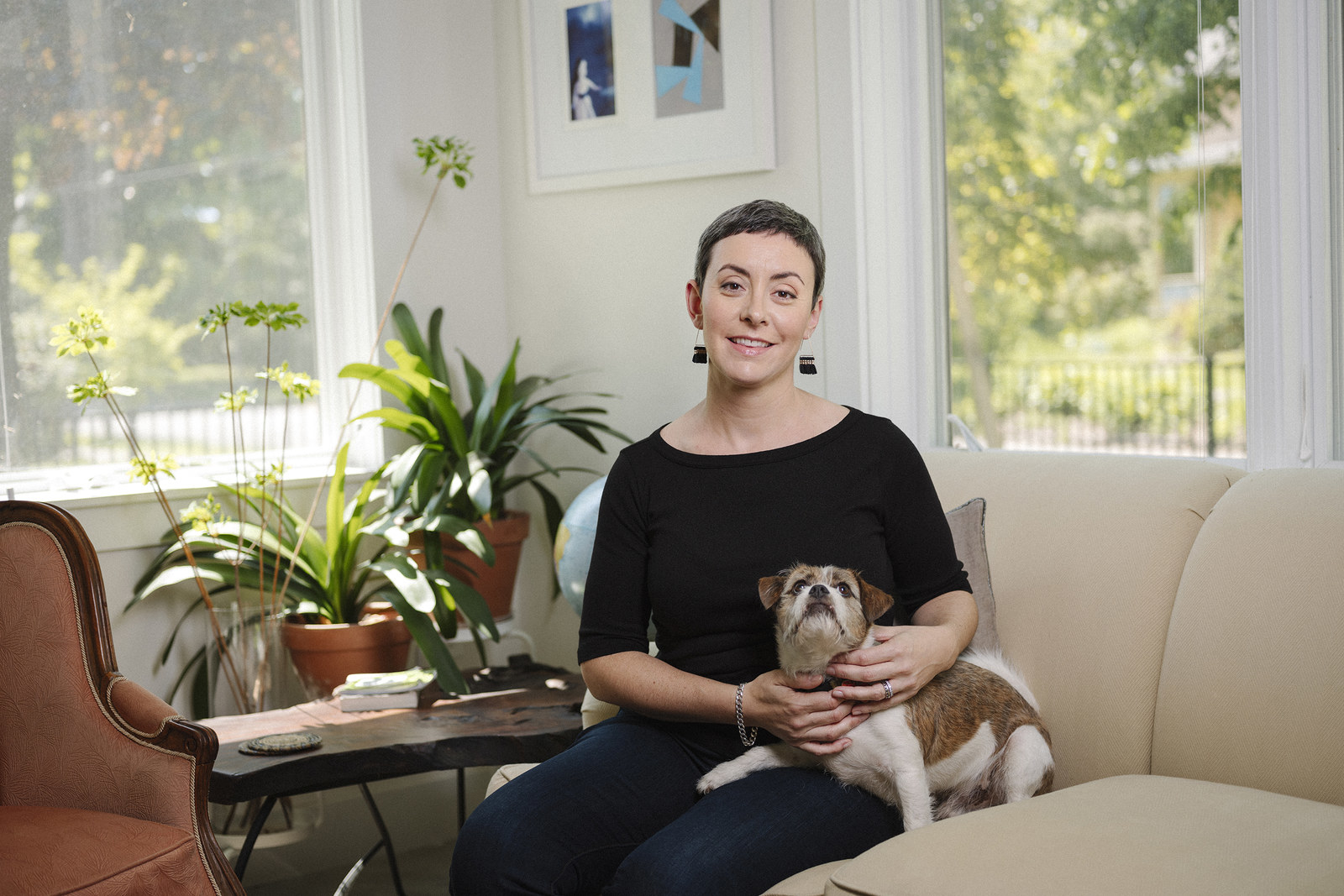 Hoechstetter's twin daughters are seven now. She has spent those years trying to figure out how to confront the memories of what happened in Hadden's office.
"That was my one pregnancy and birth," she said. "This is the part that really makes me cry. It's horrible. He ruined it."

"He was the very first person in the whole world to touch my children. That's something that I can't change, and it's really upsetting."
I asked her why she didn't want anonymity, and she brought up her daughters.
"I will tell them at some point," she said. "Part of doing this is I want them to look back and be proud of me. If it helps other people to feel like they can put their name to it and that it's something not to be ashamed of, I think that's important."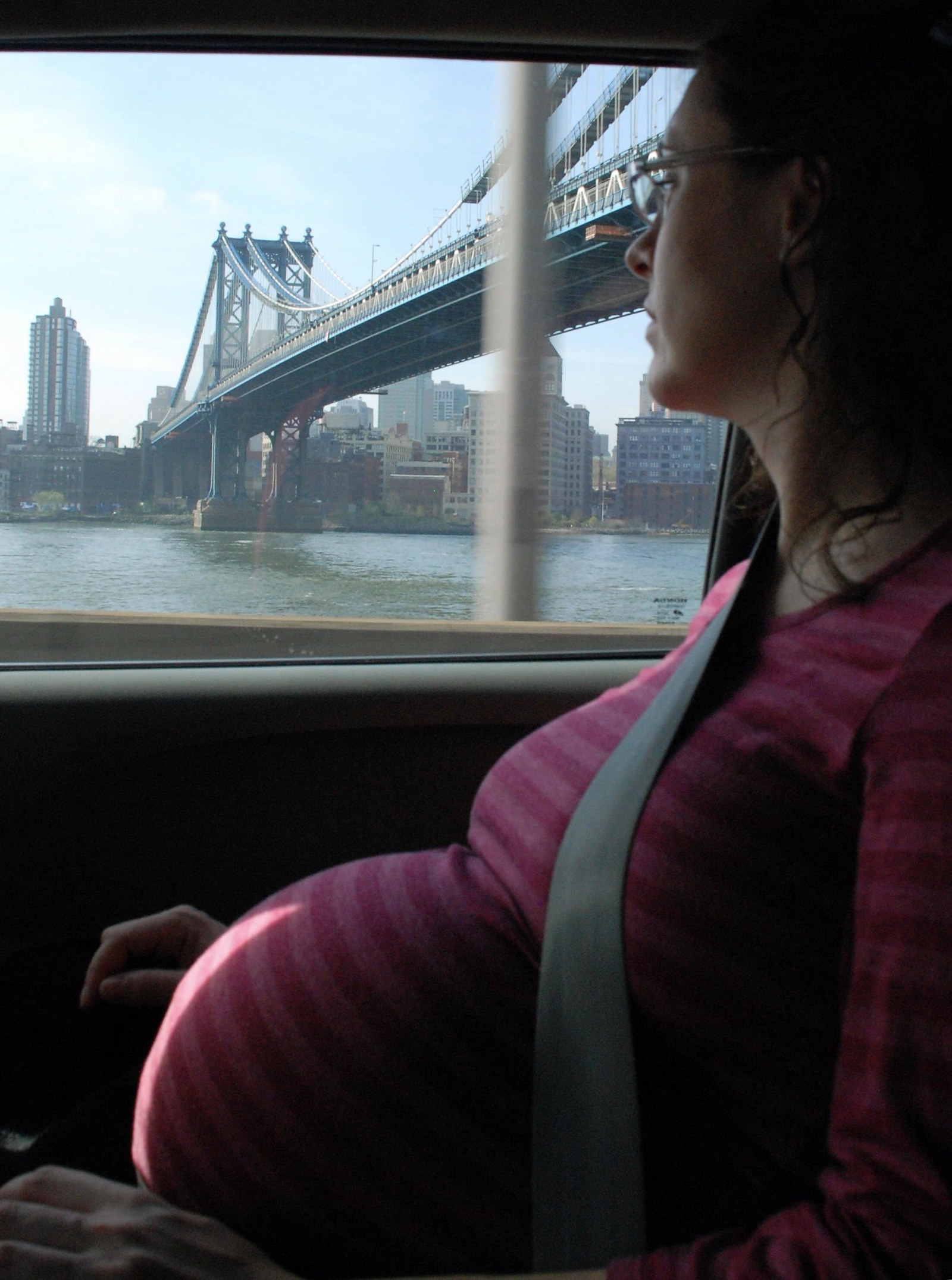 Because Hoechstetter waited more than three years before reporting Hadden, statutes of limitations prevented her from joining the civil lawsuit against Hadden and Columbia University, which runs the medical center where he worked. Even a less formal acknowledgement of her trauma has been hard to come by. The Manhattan DA's office continues to defend its conviction of Hadden, without any mention of the victims displeased with it. Columbia has been silent on the matter, except to refute claims in the lawsuit.
To Hoechstetter, it feels as if her experience has vanished from everywhere except her own mind. So she seeks to reclaim justice where she can. With help from a therapist, she became able to speak about what happened and share her story, though the thought of others knowing such personal details about her still makes her anxious. She advocates for longer statutes of limitations for sexual abuse victims. Lately, she has pushed to get Hadden's name removed from her daughters' birth certificates — a process that has so far run into bureaucratic walls and murky legal grounds.
She'd gone years without looking at the documents. But five years after the twins were born, as she prepared to register them for kindergarten, there was his name.
"It's just this stupid, formal, tangible document, but you have to use it at important moments in your kids' life," she said. "And I don't want him to always be there." ●