Why Police Departments Around The Country Are Taking TV Viewers On Ride-Alongs
On Friday and Saturday nights, A&E's "Live PD" takes viewers on live ride-alongs with police departments around the country. But does it really show what it's like to be a cop?
The 1 million or so people watching must have been thinking: Are we about to see a white cop shoot a black man on live television right now?

The moment of tension arrived suddenly and unexpectedly. Just minutes earlier, the viewers of A&E's show, Live PD, were watching a sheriff's deputy in St. Tammany Parish, Louisiana, responding to a call about a man sleeping in a white truck in an apartment complex parking lot.
The deputy pulled his cruiser up behind a white truck, approached the driver's side, and beamed his flashlight inside. Empty. Back in his car, he continued through the dark parking lot looking for white trucks.
It was not particularly captivating television.
Then the deputy came upon another white truck, and this one was different. Its taillights were on, its speakers were blasting R&B music, and its driver-side door was cracked open.
The deputy approached, pulled open the door, and immediately drew his gun, pointing the barrel inches from the head of the man in the front seat. The viewers saw why when the camera operator moved closer: The sleeping man held a gun with both hands.

The moment captured the essence of police work: Stretches of mundane routine punctuated by flashes of danger.
The deputy shined a light in the man's eyes. Nothing — dude was out cold. So he stood there, pointing his gun at a sleeping man holding a gun, and who knew what the hell would happen next.
It's like Cops except live. For three hours every Friday and Saturday night, camera operators embedded with officers in six cities broadcast their patrols in real time. In the A&E studio in midtown Manhattan, a host, cable news veteran Dan Abrams, guides the audience from city to city: a manhunt in Columbia, South Carolina… a sobriety test in Mission, Texas… a car chase in Clark County, Indiana… a gun bust in Tulsa, Oklahoma.
Cops, one of the longest running television shows on the air, found success in showing the spectacle of policing, each episode edited into 30 minutes of nonstop street action. By comparison, Live PD is not always so intense. Some nights, the minutes crawl by as viewers watch an officer lecture a speeding driver.
"We wanted to provide an unbiased platform for the public to see what it's like to be on patrol," said Dan Cesareo, the show's creator. "It's a natural extension of dashboard cameras and body cameras, and trying to present a more complete story, to answer the public's call for transparency."
Are we about to see a white cop shoot a black man on live television right now?
The idea came to Cesareo when he heard that deputies in the Walton County, Florida, sheriff's office were live-tweeting their patrols, sometimes streaming footage on Periscope. He assumed the biggest challenge would be finding departments willing to let their officers be filmed on the job — with no control over how they ended up looking to the public. But this was no challenge at all. Six departments soon signed on, others followed, and the first episode aired in October. In all, 12 agencies have participated, ranging from police departments in midsize cities like Bridgeport, Connecticut, to highway patrol troopers based in big cities like Phoenix.
"If I was a police chief, I would welcome the opportunity," said Ron Hampton, a longtime cop in Washington, DC, who now works on the National Police Accountability Project. "The more the public understands the whole job of being a police officer, the more respect I think they would have."
The way many cops see it, the true nature of their job is invisible to a public disproportionately exposed to police wrongdoing — an endless string of shootings and beatings caught on tape. At a time when video footage is undermining long-held assumptions about police credibility, officers argue that their profession has been stigmatized by a small minority of "bad apples."
"In between all that, there are all the good interactions we don't hear about," retired NYPD detective John Cornicello told BuzzFeed News in November. "The ones we don't see, of course, are all the times where nothing bad happened."
In this fraught public relations moment for police, the departments featured on Live PD seem to have embraced the reality that those who control the video control the narrative. Rather than shut out the cameras, they have invited them in and allowed the world to watch without filter.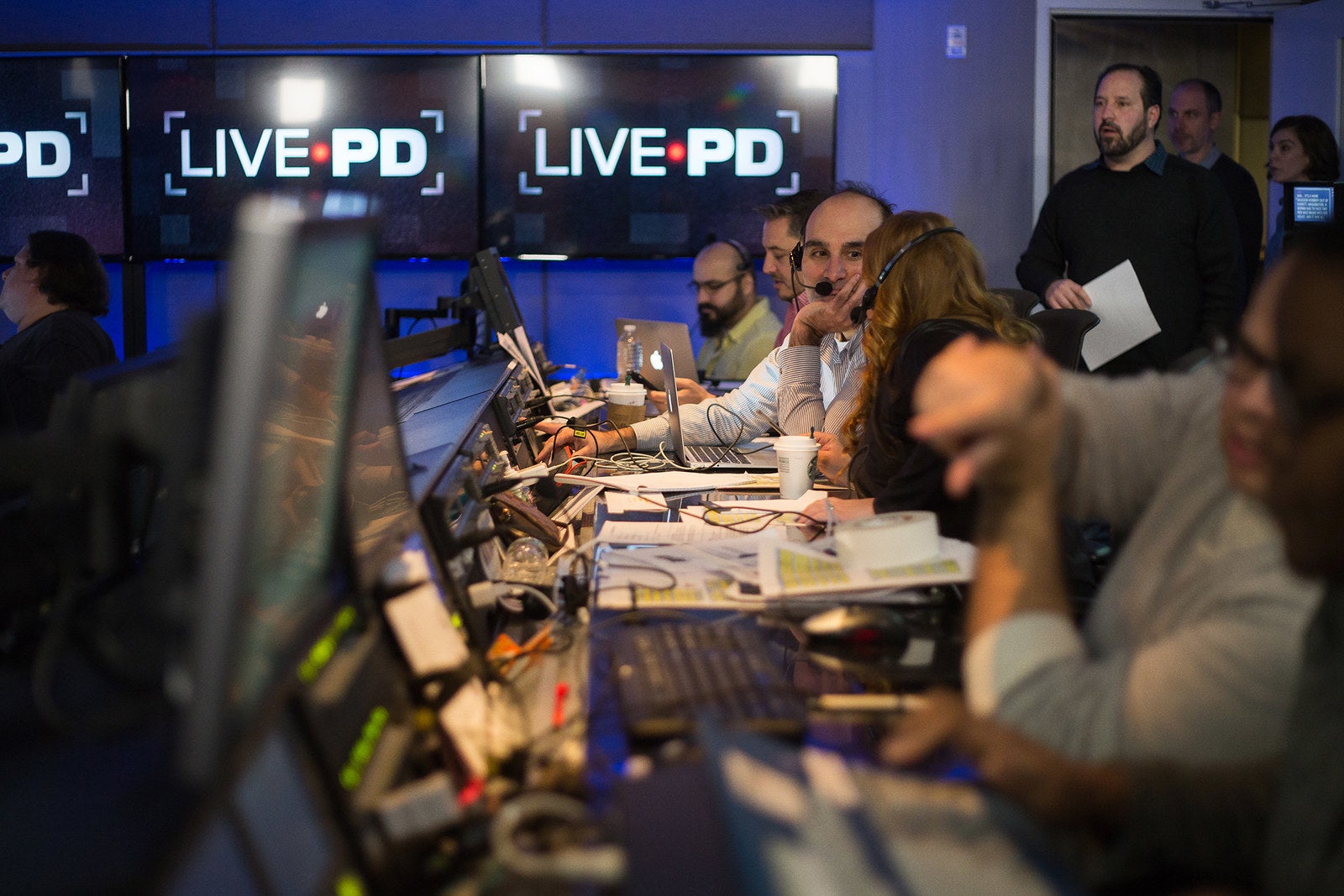 The deputy in St. Tammany called for backup, his left hand on his radio and his right holding the gun. For a minute or two or three, nothing happened. The music blared, the deputy stood frozen, the man stayed sleeping, and the camera took it all in, zooming in and out on the scene.
Then another deputy arrived. They made a plan: They would grab the gun together. The two reached in and tugged. The man's grip remained tight even in slumber, but they finally pried the gun loose from the still-sleeping man. Once the gun was with the cops, the first deputy twisted the man's left arm, bending it back into cringeworthy angles until the man began to come to, wincing and squirming.
The show is unrestrained like nothing else on television.
"Lemme see your hands!" the deputy shouted, flashing his light in the man's face. "Lemme see your hands!"
Somehow, the man remained half asleep, too groggy to grasp what was happening but conscious of pain. The second deputy grabbed his arm and twisted it even more, pulling his limp body out of his seat as the man groaned and shouted, "Owww, what the fuck?!"
The deputies pulled him out of his seat until he fell to the ground, where they pinned him with their knees, snapped on handcuffs, and began questioning him.
After a few minutes of this, the camera cut away to Dan Abrams standing in the show's control room, where a dozen or so people with headsets sat surrounded by television and computer screens.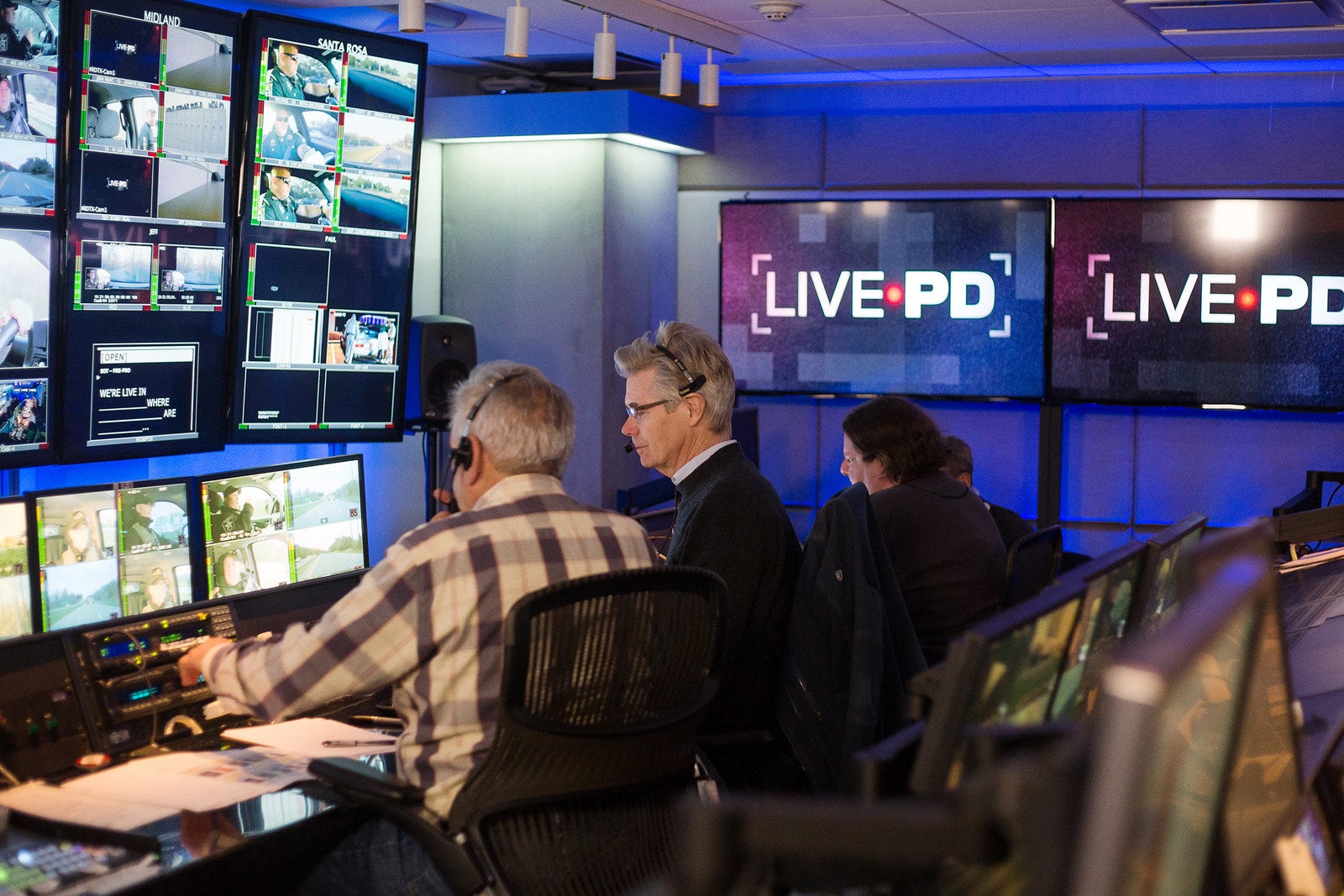 The show is unrestrained like nothing else on television.

It has neither the structure of a sports game or an award show, nor the consistent excitement of a high-speed chase. Abrams said the closest comparison in his professional experience was covering the O.J. Simpson murder trial for Court TV.
Every night holds the potential that the show will find itself in the middle of a national news story, and the producers have the power to keep Live PD going past its time slot if big news happens on air. Not for a car chase — already they've ended a show in the midst of a pursuit — but for something of the magnitude of the Ferguson, Missouri, uprising, or the Dallas cop shootings.
The show's executive producer, David Doss, has spent his career running nightly news shows. The director, John Gonzalez, has led coverage of Super Bowls and NBA Finals games. His last gig was the opening ceremonies of the 2016 Olympics in Rio on NBC. But he joined the show because "it's so different and it's challenging, and I think it does a great service to the police," he said. "We let people decide."
Is this how cops really act, or is this how cops act when they know they are on live television?
Live PD's open-ended nature creates legal complications. Before each show, Gonzalez lists rules and warnings to his camera operators across the country: They are never to film minors or the insides of houses. They cannot cross police tape. If they find themselves in a dangerous situation or becoming a distraction for officers doing their jobs, they should leave. They should avoid showing nudity, prescription bottles, and the faces of people accused of crimes if there is no evidence suggesting guilt. And they should aim to "shoot extremely wide if there is a question about a dead body being present at the scene." For protection, they wear flak jackets. The show runs on a tape delay, though producers would not disclose how many seconds.
At least two departments decided not to renew their contracts over concerns that Live PD did not advance their city's interests. A Bridgeport city official told the Connecticut Post that the show was "inflating the prevalence of crime." Tulsa's Mayor G.T. Bynum told The Frontier that he was "not a fan of a TV show that is trying to feed off the difficulties our police officers face."
The show has rankled others, as well. A mother in South Carolina said she learned her son had been fatally shot only after she saw his body on the show. A man in Florida demanded an apology after the show aired an arrest that didn't lead to charges. There are people who likely wouldn't have gotten charged if not for the show's cameras: During one episode, viewers saw something fly out of a car window during a pursuit. In another episode, viewers saw a man toss something under his car when he stepped out during a traffic stop. In both cases, people pointed it out on Twitter, and officers returned to the scene and found drugs.
But if the structural spontaneity of the show helps viewers better understand the daily experience of police officers, it can also generate a false sense of pure verité. Is this how cops really act, or is this how cops — specifically, the ones chosen by superiors to serve as the face of the departments — act when they know they are on live television?

Abrams and others involved in the show have argued that if officers behave better because Live PD is there, that's a good thing — their cameras have helped prevent potential misconduct. But this comes at a cost: a promotion of the idea that things are okay, that things are getting better, that this apparent reality presented on A&E is a truer reflection of police behavior than the stories of harassment and brutality so common in black and brown communities.
During one episode in March, a white deputy in Columbia, South Carolina, pulled over a black woman because her car's taillight was broken. The deputy was polite as he explained why he had pulled her over and asked her why she hadn't immediately stopped when he flashed his lights. She came back at him with attitude, but instead of becoming angry or aggressive, he remained calm, his tone as polite as if he were talking to his grandmother.
Maybe the woman felt empowered knowing the cop wouldn't do anything crazy with the cameras there. Maybe the deputy is always respectful when people talk back to him. Or maybe this was merely a glimpse of what could be: a precursor to a future where all cops behave as if a million people were watching.
Addressing the woman, the deputy acknowledged that "you probably haven't had great experiences with law enforcement." He warned her that talking back to an officer almost always ensures a ticket but that he was going to let her off with a warning.
The woman continued to argue with the deputy, who turned around and walked back to his car without waiting for her to stop. "Alright," he said in an exasperated tone, "well, you can go home. Turn your four-ways on."
Back in the studio, Abrams said, "That's the patience of a saint."
The show switched back to St. Tammany. The man who had been sleeping in the truck was standing now, and the officers were unlocking the handcuffs. His gun was legal, he had relatives in the apartment complex, and he had committed no crime.
The man, looking fully awake, turned to the camera and said, "For the world to know, I have a firearm — legally."
"We didn't rough you up 'cause you had a gun. You just happened to get roughed up."
"Nobody got shot," he said, now looking at the cops. "Nobody got tased. Nobody got beat up. Yeah, they roughed me up because I had a gun."
A deputy jumped in: "We didn't rough you up 'cause you had a gun. You just happened to get roughed up."
"But," the man continued, ignoring the deputy, "I'm living. They're living. We all going home safe and peaceful. Y'all have a good one, man. Good night."
"So what you saying, 'cut'?" said one of the deputies, smirking.
"Yeah, cut that!" the man said to the camera, and the man and the officers laughed as the television sent us back to the studio. A happy ending for everybody. ●