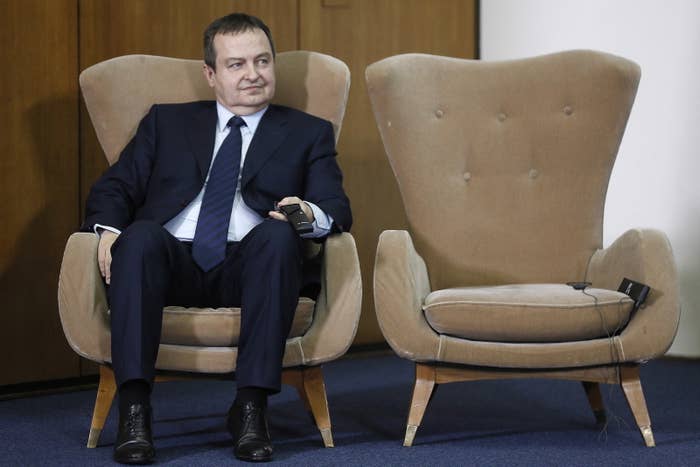 LONDON — European officials are concerned the Trump administration's hands-off approach to diplomacy could risk destabilizing a tinderbox region in Southeast Europe.

Europe's major capitals — and until recently, Washington — have long opposed any proposal that toys with borders in the Western Balkans, fearing that such moves would disrupt the region's delicate balance. But, under President Donald Trump, the US appears to have adopted a more ambivalent approach.
Europeans' latest fears for the region center on Kosovo — which in 2008 unilaterally declared independence from Serbia — and the growing prospect of an agreement to redraw the border between the two countries.
Most Western nations recognize Kosovo, home to 2 million people, but Serbia, and notably Russia, do not. Those advocating to redraw the border that separates Kosovo and Serbia believe it can normalize relations between the two countries — a key precursor to either nation ever joining the European Union.
According to two diplomatic sources, under one iteration of the border plan, unofficially supported by senior officials in Kosovo, and Serbia especially, northern parts of Kosovo that are home to tens of thousands of Serbs would be exchanged for land in southern Serbia where the majority of Albanians — the largest ethnic group in Kosovo — live.
But European governments fear that such a plan, variations of which have existed for the better part of the past two decades, could end up destabilizing a region that just 25 years ago witnessed genocide and the largest conflict on European soil since the end of World War II.
A spokesperson for the UK Foreign Office said that normalizing Serbia–Kosovo relations is "crucial for the security, stability, and prosperity of both countries and the wider region."
But they added that the UK believes this "should be on the basis of recognition of independent sovereign states within their current borders. We believe that calls for redrawing national borders could be destabilizing."
A French diplomat, who spoke to BuzzFeed News on the condition of anonymity, said the very idea of discussing borders is destabilizing. "Borders are explosive. You just don't know what happens when you touch borders."
Germany, meanwhile, is vehemently opposed to the land swap idea. And, until recently, so was the US. But current and former diplomats on both sides of the Atlantic feel that the Trump administration has adopted a more relaxed attitude toward international relations, where nations are invited to resolve disputes among themselves, and on that basis, a deal between Kosovo and Serbia would probably be favored over territorial integrity.
The approach has also left the ongoing mediation process between Kosovo and Serbia mostly in the hands of the EU.
Kosovo's president, Hashim Thaçi, told the Associated Press this month that while he rejected the idea of dividing the country along ethnic lines, he was open to discussing "a correction" of borders as the two countries head into the next round of the EU-mediated talks in September.
Last month, Serbian President Aleksandar Vučić said in an interview with a Croatian magazine that "all the Serbs know that they have lost Kosovo but I will do everything in my power to win back what can be returned so that things do not turn out to be a complete defeat or a complete loss."

According to people close to political circles in Belgrade, Vučić is paving the way for a deal.

"There is a political positioning that compromise is in the offing," Ivan Vejvoda, a former senior adviser on foreign policy and European integration to Serbian prime ministers Zoran Djindjic and Zoran Živkovič, told BuzzFeed News, referring to Vučić's interview.
"Politically, Vučić has such high approval, he can push through what he wants. He just needs to extract, as he says, something from nothing. Public opinion is ready for any kind of solution, and to then get on with life, provided there are guarantees for Serbs in Kosovo and for the Orthodox Church," Vejvoda said.
"Whatever you call it, a partition, land swap, a correction of borders, and so on, the issue has always been in the background. There have been occasional talks since the 2000s behind the scenes. Though officially it was never an option, it was talked about.
"Now we're on that roller coaster again. The reason we are talking about this now is there is serious political will on both sides to find a solution. They cannot delay ad infinitum," Vejvoda added.
"The novelty is the Trump administration taking a position that it will support what the two sides agree."
EU and Serbian diplomats also raised doubts over whether Kosovo's divided political class could even deliver such a deal.
Kosovo's former foreign minister Petrit Selimi told BuzzFeed News that the final peace deal between Kosovo and Serbia must fulfill three conditions: "Serbia must recognize Kosovo's sovereignty and independence. Symbolically, the deal must ensure Kosovo's flag flies both in front of the UN building in New York and the Embassy of Kosovo in Belgrade. The second condition is that no issues are left lingering or open that may cause conflict in the near or distant future. The third condition is that the US and EU back the deal with real political capital."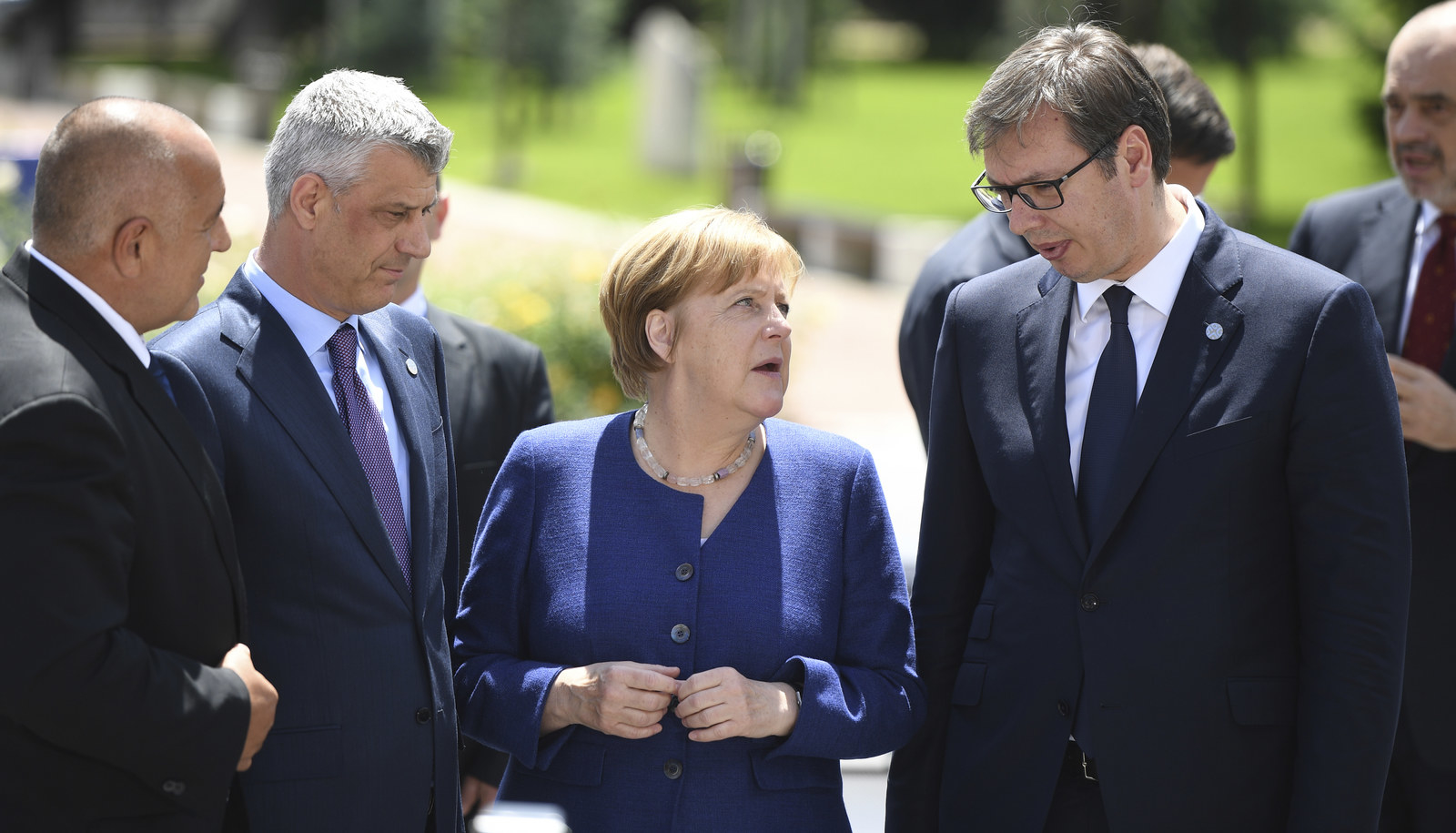 One Western diplomat based in the Balkans said he thought it "unlikely" that the Trump administration was actively supporting the idea of a land swap or partition. A second diplomat said that US counterparts had never openly said they were in favor of such a solution when asked. However, what's unsettling longtime Balkan watchers isn't so much the US actively supporting the idea or not, but the lack of a clear US position, and a sense that the administration is taking a back seat in the region.

"I don't think they've given it a second thought. There was a meeting last week between [Trump's son-in-law and special adviser] Jared Kushner and Serbia's prime minister and deputy prime minister in which this was discussed," said David Phillips, director of the program on Peace-building and Human Rights at Columbia University's Institute for the Study of Human Rights, referring to a meeting in late July.
After the meeting, Serbian Deputy Prime Minister Ivica Dačić said "all cards are on the table," including partition.
"That doesn't suggest to me that there's any coherent policy or plan in Washington," said Phillips, who served as a senior adviser to the US Department of State under former presidents Clinton, Bush, and Obama, and worked with Ambassador Richard C. Holbrooke on Bosnia and Kosovo.
"It's concerning that we don't have a policy because US leadership really matters in the Western Balkans," he added. "To be asleep at the switch during this critical moment doesn't help Kosovo, it doesn't reflect well on the United States."
Following his two-day trip in the US, which also included meetings with National Security Adviser John Bolton, and Assistant Secretary of State A. Wess Mitchell, Dačić said that the new US administration was more attuned to Serbia's positions.
"The current US Administration is ready to at least take into account on an equal footing our proposals for the resolution of major problems in the region — a lasting solution to the Kosovo and Metohija problem certainly being one of those," the Serbian deputy prime minister said.
Dačić added, "This is a huge change compared to only two years ago since in all talks with the representatives of U.S. institutions it was maintained that the Kosovo issue had already been resolved."
And he went on to say, "Today, a compromise solution is openly supported."
Previous US administrations, including that of Barack Obama, were openly against the redrawing of Kosovo's borders.

Pressed to comment on its current policy, the US State Department wouldn't get drawn into the specific possibility of Kosovo and Serbia exchanging territories. A spokesperson said in an emailed statement, "The policy of this Administration has been consistent: The substance of any agreement on normalization of relations between Kosovo and Serbia must come from the parties themselves. We will continue to support both parties and the EU as facilitator."
The spokesperson continued that the parties would have to work together to find a creative and constructive solution. The National Security Council similarly said it is committed to working with both sides.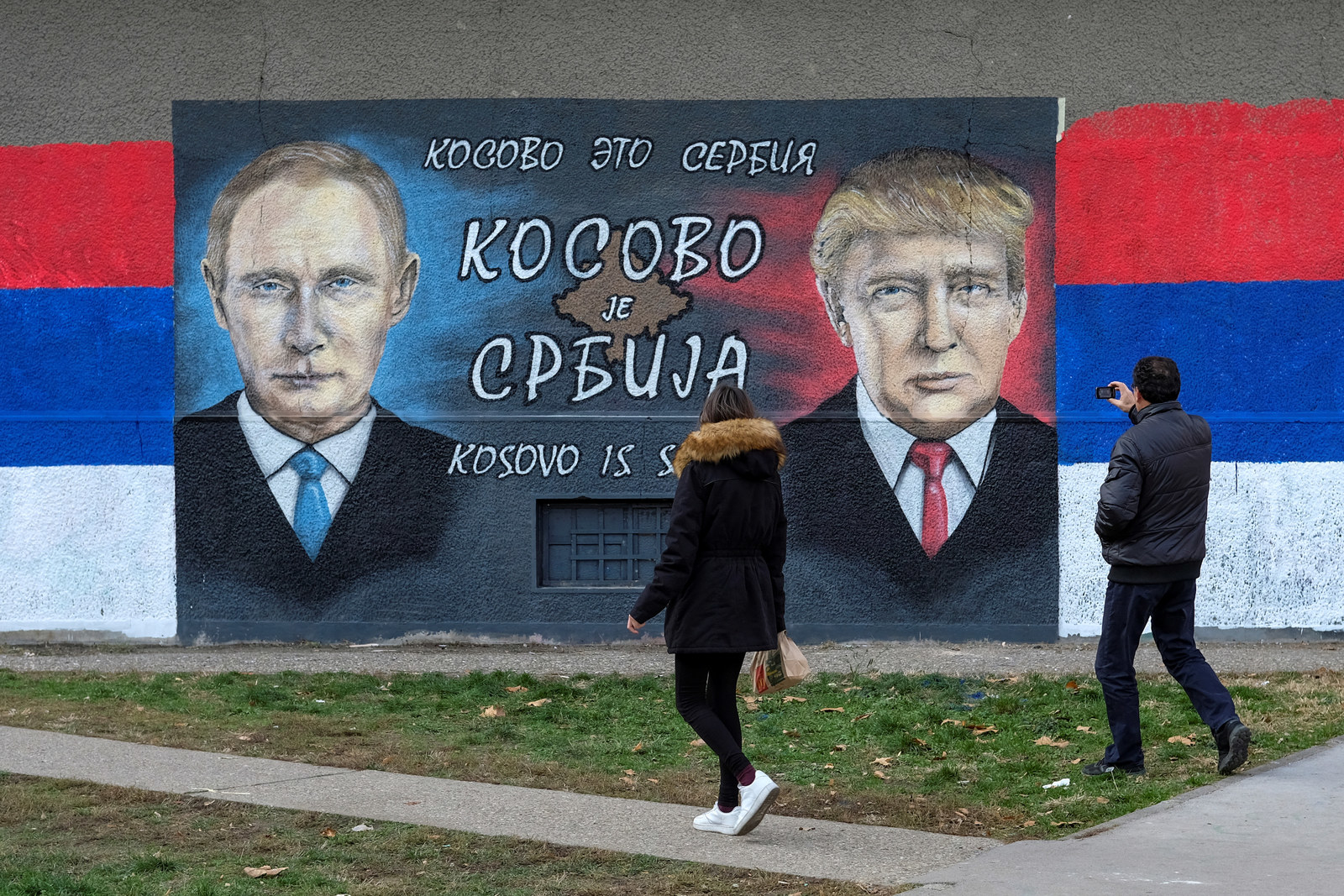 Behind European concerns about any solution that would see the border between Kosovo and Serbia altered, lie questions over how such a measure would be implemented in practice, who would police the arrangement, and, should the settlement go wrong or the EU-facilitated talks turn sour, would NATO be responsible for intervening?

But officials' gravest worry is that tweaking Kosovo's border could have a knock-on effect in other areas of the Balkans where large ethnic minority populations live, such as Republika Srpska, the Serbian enclave in Bosnia-Herzegovina, and Macedonia and Montenegro, both of which are home to large Albanian populations.
Milorad Dodik, the president of Republika Srpska, has long called for secession from Bosnia. Dodik has won backing from Russia, and, according to a report in Mother Jones, his separatist political party has signed up former Trump campaign aides as lobbyists.
Russian-trained mercenaries have also helped to establish a paramilitary unit serving Dodik, local media reported in January.
The list of Russian involvement in the region, and attempts to influence public opinion and governments away from the EU and NATO membership, is long.
A diplomatic source in Pristina suggested that a change in the US's position over recent months, favoring a deal sooner rather than later even if it means agreeing to a land swap, is driven by an increasing worry over possible Russian meddling in the Balkans.
Russia was allegedly behind an attempted coup in Montenegro two years ago. Earlier this year, Russian diplomats were expelled from Greece after being accused of fanning opposition to a deal between Greece and Macedonia that will see the latter country change its name following a decadeslong dispute. The agreement paves the way to Macedonia joining NATO and the EU.
In an interview last month, Macedonia's Prime Minister Zoran Zaev told BuzzFeed News that his government has received multiple reports of Russian interference ahead of a crucial referendum later this year that will determine whether the Balkan state will be able join NATO.
And diplomatic sources have previously told BuzzFeed News that Russia asserts its influence on the region's hearts and minds through its media outlets, such as Russia Today. Polling shows that among Orthodox Christians in Serbia, Montenegro, and Republika Srpska, Russia's favorability remains high.
Despite all of Russia's efforts in the region, Vejvoda believes that a close and friendly relationship between Serbia and Russia will ultimately mean that the latter will, in the end, have no choice but to align with the Serbian government's position on Kosovo.
"Whatever posturing there is over Crimea, Russia will try to delay Euro-Atlantic integration of the Balkans, and will do their usual thing, but in the end they will go along with what Serbia wants. They know this geography belongs in the West," the former Serbian government adviser said.
He added: "All these countries want to join the EU no matter what Russia says. Vučić has set Serbia on the path of joining the EU, and he knows that in order to do that Serbia needs to fully normalize relations with Kosovo."
Vejvoda also told BuzzFeed News that fears of spillover across the region were exaggerated, and that at, the end of the day, it was for Serbia and Kosovo to decide how to settle their differences.
"I am not of the view there would be a knock-on effect if a compromise is agreed by Belgrade and Pristina. Who can have anything against two neighbors agreeing on how to organize their fence?" he said. "It will be hard for third parties to decide or oppose if neighbors agree."
Others, however, are aghast at the suggestion of the two countries swapping land.
Jasmin Mujanović, a political scientist and the author of a new book on the region's lapsed democratization, Hunger and Fury: The Crisis of Democracy in the Balkans, describes the mooted land swap as "an atrocious idea."
"We need to be explicit on this matter: Every attempt at redrawing borders in the Balkans according to some imagined ethnic criteria has ended in catastrophic bloodshed," Mujanović said.
"It has been precisely when partition has been completely taken off the table that the region has been most stable."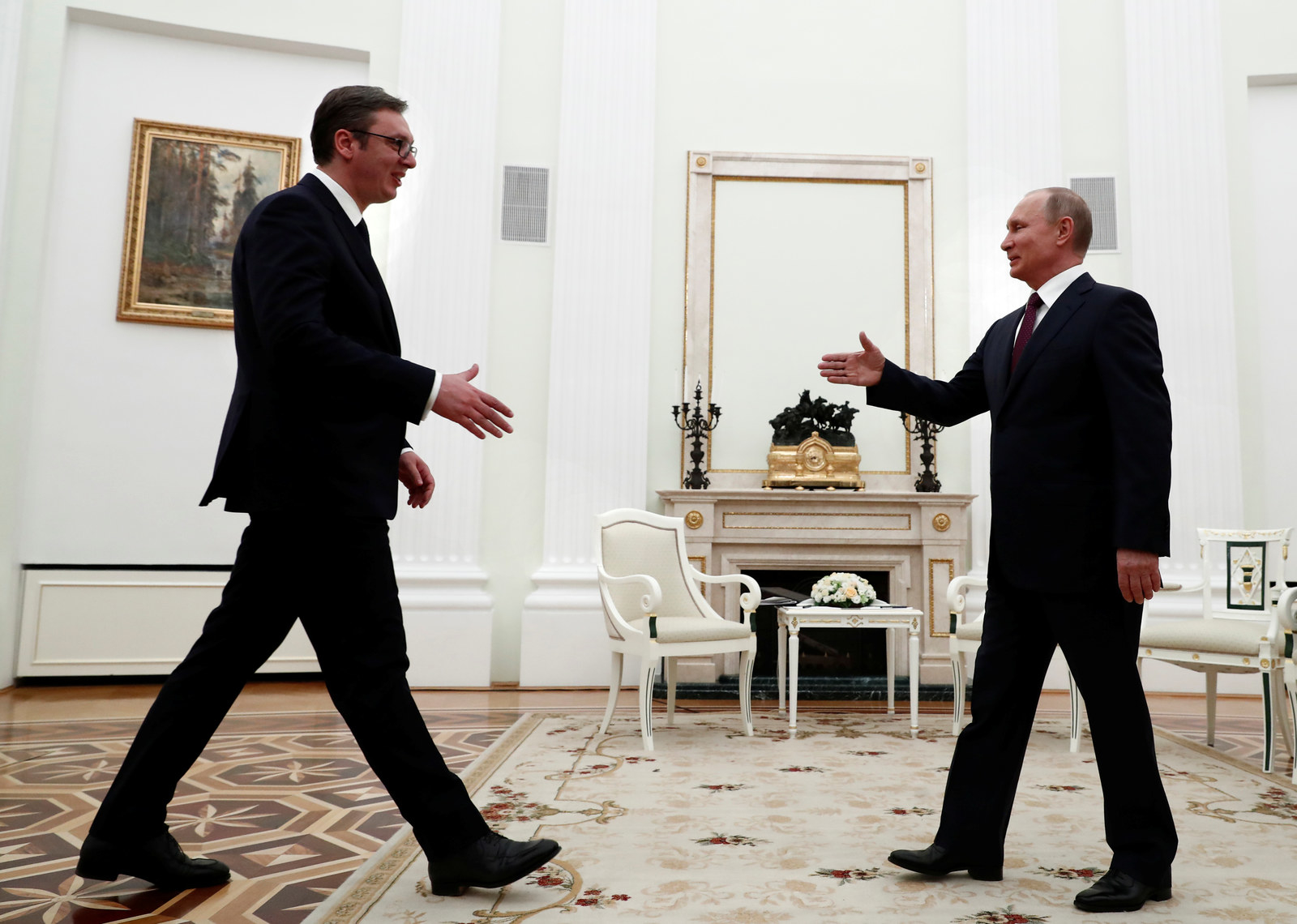 September's talks between Serbia and Kosovo will be the latest of many, all of which have so far failed to resolve what is, per Columbia University's Phillips, at the heart of the issue: Serbia's refusal to recognize Kosovo's sovereignty.

"The broader question," he said, "is how long can the EU facilitate a dialogue which is going nowhere and has no prospect of a conclusion? The longer it takes the harder it gets, and it makes the EU look incapable and unprincipled." Phillips said, "If the EU can't facilitate Serbia's recognition of Kosovo, it should simply fold its tent and stop the dialogue. Partition would represent the failure of EU facilitation and the collapse of international engagement in the region."
Privately, European diplomats have also expressed frustration with the office of EU Vice President Federica Mogherini, who is facilitating the dialogue, claiming that capitals are often kept in the dark, with key information and details about the content of the talks not shared with them.
Mogherini's office declined to say where the EU stood on the border issue, and whether it had been formally discussed by the two sides. A spokesperson said, "The EU-facilitated dialogue aims at promoting lasting cooperation between the two sides, [to] help them achieve progress on the path to Europe and improve the lives of the people." The spokesperson added that the solution must be in accordance with international law, and that "parties are defining the common ground for mutual consent."