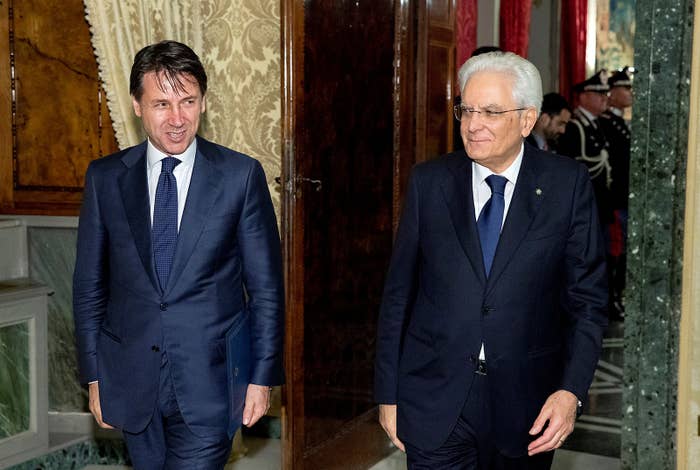 Almost 90 days after a general election, Italy finally has an agreement to form a new government.

The government that is all but certain to take office soon will put the world's eighth-largest economy, and the eurozone's third biggest, in the hands of a mix of anti-establishment, populist, and far-right forces like no other in Western Europe.

If its actions, especially on immigration, match its words, Italy is now controlled by the most nationalist government in the region.
An agreement on a new governing coalition comes after, even by its own standards, a heck of a week in Italian politics. On Tuesday, an academic dubbed it the most extraordinary episode of House of Cards ever. By Wednesday, it looked more like Lost. Nobody knew what the hell was going on.
For those who tuned in late, Italy's week ended as it began: with the expectation of a government between two anti-establishment parties entering office, led by a little-known law professor with a curiously long academic CV as prime minister.
But in between there was chaos, plenty of confused takes, and some surreal moments.
News of a new government comes almost three months since Italians went to the polls. The March 4 election result was inconclusive with none of the three competing blocs — a center-right coalition composed of former prime minister Silvio Berlusconi's Forza Italia, the nationalist Lega, and a small far-right party; the center-left Democratic Party; and the populist Five Star Movement (M5S) — mastering enough seats to form a government.
After weeks of consultations between the various parties and Italian President Sergio Mattarella, the election's two big winners — the anti-establishment M5S and Lega — entered into coalition talks, led respectively by 31-year old Luigi Di Maio and Matteo Salvini, an admirer of Vladimir Putin and Donald Trump.
Both parties had previously, and repeatedly, said they would never go into a government together.
Alarm bells began ringing when a draft coalition deal was leaked on May 15. It included plans to tear apart the European Union's rulebook and introduce a mechanism to allow EU member states to exit the euro. M5S and Lega argued that the draft, which was dated the previous day, was old.
Days later a final deal was concluded. The euro exit clause was gone. Other controversial policies were significantly watered down or became vague principles.
The two parties then set about identifying a prime minister. They settled on Giuseppe Conte, a 53-year old law professor few had heard of. And, on May 23, he formally received a mandate to form a government from President Mattarella.
As PM-designate, Conte's first task was to assemble a team of ministers. On Sunday, he presented his list to Mattarella. The president accepted all the names proposed by Conte except for the one put forward to fill the role of finance minister, an 81-year-old professor called Paolo Savona who in 2015 had co-authored a plan for Italy to secretly leave the euro.
In explaining his decision, Mattarella, who, under his constitutional responsibilities, has to sign off on ministerial appointments, said he feared Savona's appointment could lead to Italy leaving the euro by the back door.
If the country is to question its place in the euro, it has "to do so openly and after a serious in-depth analysis," Mattarella said. He also noted that the issue of leaving the euro was not brought up during the election campaign.
Conte quit his mandate. Mattarella put forward a plan for a technocratic government to guide the country out of its impasse and on to elections in the autumn or next spring. Lega and M5S furiously demanded an immediate return to the polls instead.
And so began a truly crazy week of Italian politics.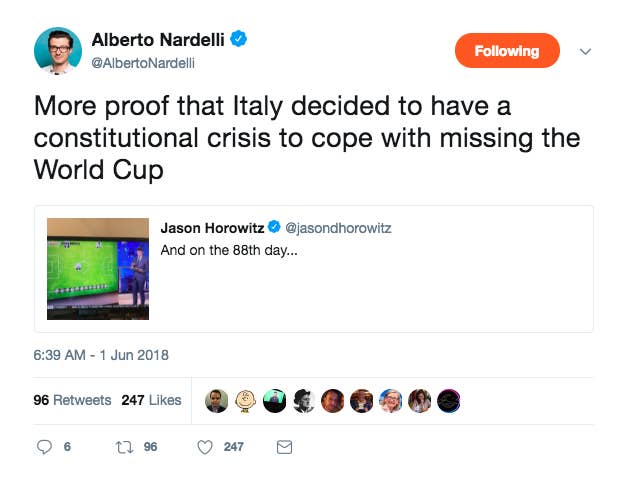 It kicked off with Salvini and Di Maio accusing the president of defying the will of the people and bending to foreign interference and to those who wanted to treat Italy like a colony. Pouncing on a tweet misquoting an interview with an EU commissioner, both leaders pointed the finger at Germany.

(EU officials getting slapped down for remarks about Italy was a subplot that continued through the week. Günther Oettinger was slapped down by the president of the European Commission who was later slapped down by the president of the European Parliament after suggesting Italians should work harder, while the president of the European Council effectively begged everyone to shut up.)

Di Maio, who posted a picture on Facebook of a pizza he said Oettinger could "only dream of," went as far as calling for Mattarella to be impeached, a measure reserved for acts of treason and assaults on the constitution.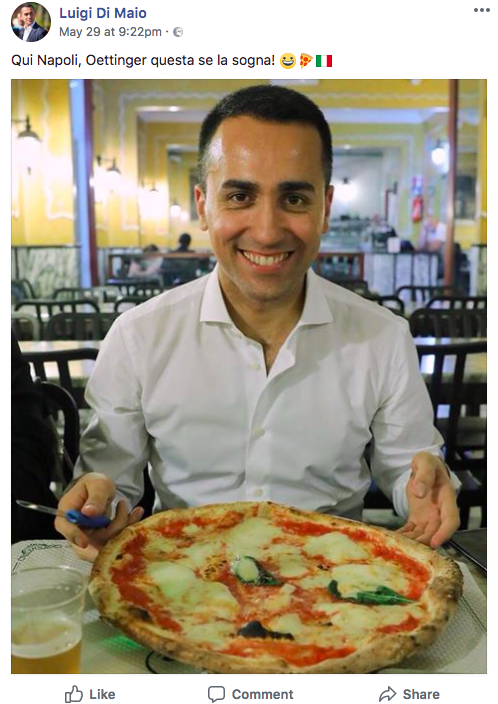 Outside of Italy, much of the commentariat across the political spectrum described Mattarella's decision as an affront to democracy that would most certainly backfire. Some analysts suggested that the president, who is a former judge on Italy's constitutional court, had exceeded his mandate. Brexiteers in the UK were particularly roused, with radio host Nigel Farage leading the charge.

Elsewhere, the same people who three years ago under similar circumstances imagined that Portugal was having a Brussels-imposed presidential coup to block Eurosceptic, anti-austerity left-wing parties from forming a government, reheated a favorite of the euro-constitutional-crisis genre, and were outraged again. (Portugal's president was simply following protocol. Those parties then went on to form a government. Portugal is still in the EU, and its economy is doing fairly well.)
But back on planet Earth, Italy's president had acted within the boundaries of his constitutional duties and responsibilities. Several ministerial appointments by successive recent governments have been vetoed, and on each of those occasions, once a prime minister was informed of specific concerns about a potential minister, an alternative name put forward.
And any discussion and process to exit the euro, were it ever to be on the agenda, would need to follow due process as set out by the Italian constitution.
Still, both Lega and M5S protested that they never advocated leaving the euro despite evidence suggesting otherwise.
In January 2017, a top Lega official, now involved in negotiating the agreement with M5S, told BuzzFeed News in an email that the party's policy was to leave both the euro and the EU.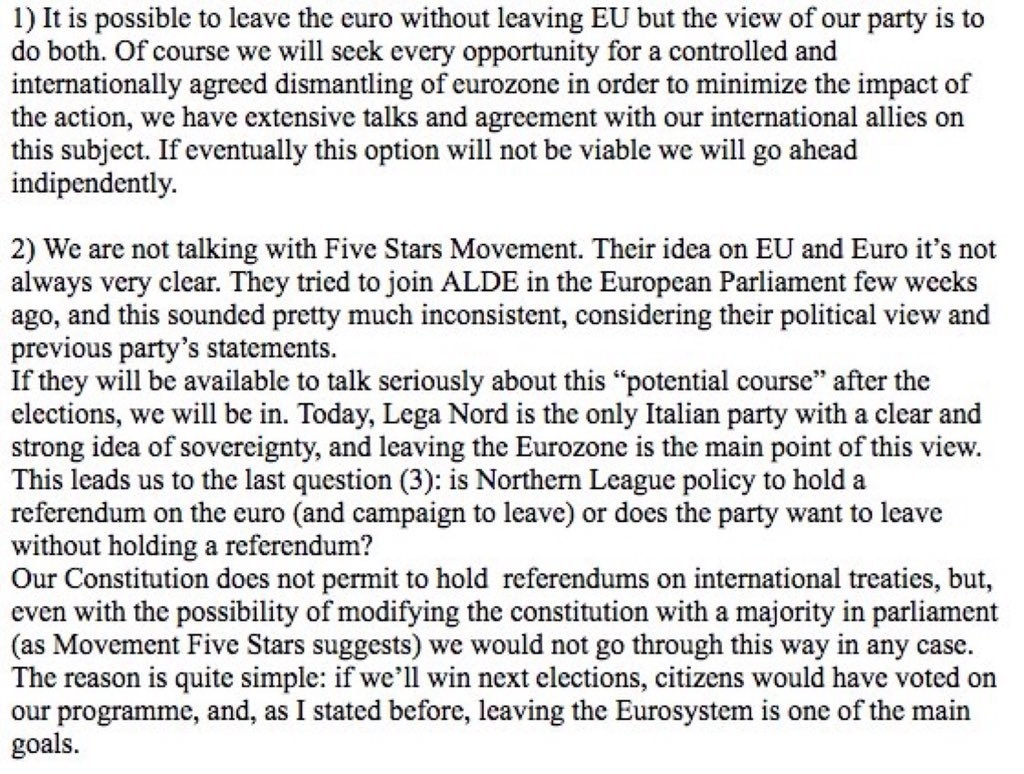 Salvini made similar remarks a year earlier, saying a referendum wasn't needed to leave the euro. If his party went into government, Italy would quickly leave the single currency, Salvini said.

M5S's position on the euro has been more fluid and ambivalent but has included repeated calls for a referendum on the issue.
According to a number of sources, Salvini used the Savona incident to push for what he wanted all along: an early election where he could spend months bashing an unelected technocratic government and frame the next election as a referendum — the establishment versus the people.
Polls since the March 4 vote show that Lega's support has grown to 25%, Salvini is now the country's most popular political leader, and his anti-establishment anti-EU message works well with target voters.
But President Mattarella appears to have been a lot more shrewd than many initially realized.
By not immediately forcing a technocratic government on to parliament without the support of lawmakers, the president forced both Lega and M5S to take on their responsibilities as markets wobbled, and air their intentions, including for a possible unprecedented summer election, in the open.
Mattarella's patience paid off. The plot twist arrived on Wednesday afternoon.

Di Maio realized he had probably got a little carried away, and reportedly said sorry to the president for having, in effect, called him a traitor. Di Maio then reopened the door to a government with Lega without Savona as finance minister.
Salvini responded by saying that he'd think about it, and claimed to have never shut the door in the first place. However, he also repeated calls for an early election but asked for them to not be held too soon because Italians' summer holidays were "sacrosanct."
Twenty-four hours later, with the hot takes still warm and some Twitter threads by now entering their fourth day, Salvini and Di Maio announced that they'd reached a new agreement.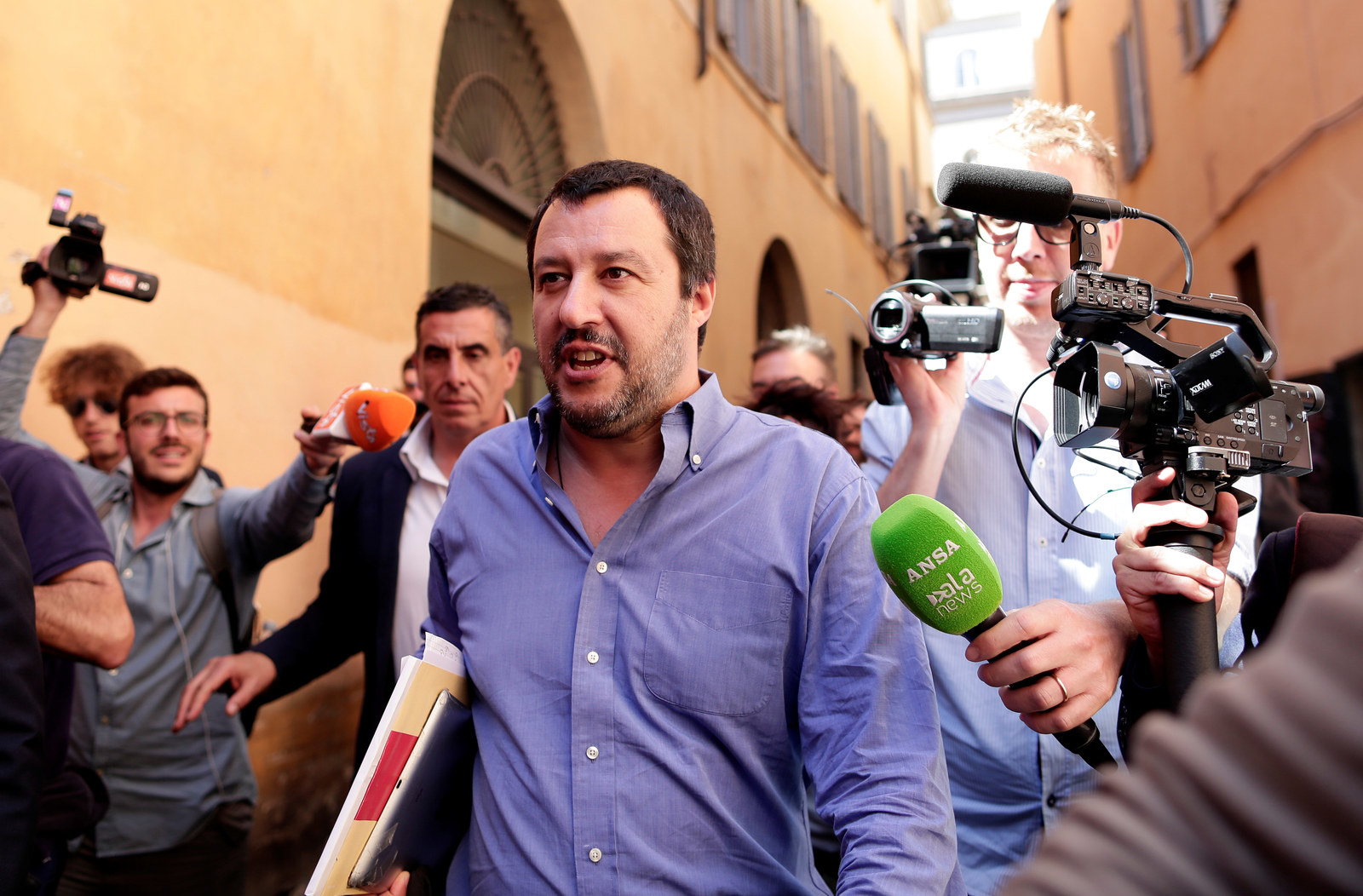 The new government's pledges on spending, ending sanctions on Russia, and an aversion to trade deals could of course evolve again. If stuck to, they risk, at best, a row with the EU. At worse, they are fundamentally incompatible with the EU's current positions and rules.

Salvini and Di Maio's ideas of how the EU should reform will be in stark contrast to those of France's Emmanuel Macron and Germany's Angela Merkel, making meaningful progress and collaboration difficult.

They could, however, find new allies elsewhere, and together are set to be a formidable player in a European Parliament that after next year's EU elections is likely to give life to a far more Eurosceptic chamber than the current one.
Still, promises to put "Italians first" will be difficult to maintain through a program that in many parts looks to a bygone past while having less to say about the challenges faced by the world's most advanced and open economies in 2018.
No amount of bluster and rhetoric, or blaming "the Germans" and "Brussels," or simply pulling up the drawbridge, will shoo away such challenges, not to mention Italy's ingrained problems, its clunky bureaucracy and judicial system, north-south divide, inequality, nepotism, and low employment rates, especially among women and the young, for starters.
Conte's government will operate against a backdrop of widespread misinformation and conspiracy theories all too often fueled by those now in command. Economic and refugee crises have left Italian voters angry and impatient for "change," and they are on average more Eurosceptic than nearly anywhere else in the EU. Anti-migrant sentiment and sexism are both rampant. (Pretty much every protagonist in this past week's tragicomedy was a man.)

And where moderate opposition parties and alternatives would normally stand, there is currently a void, and squabbling over what to call the resistance and whether various suggestions voiced so far are too centrist or left-wing enough. Nothing or nobody, on the left and right of center, is in sight to fill the gap. On current trends, Lega and M5S are set to be even stronger come the next election, whenever that vote may be.
For now, the president has stamped the authority of his office and Italy's constitution on this new government, signaling that he will not be pushed around. But Italy's outlook remains cloudy, and the visibility ahead is even more unclear.