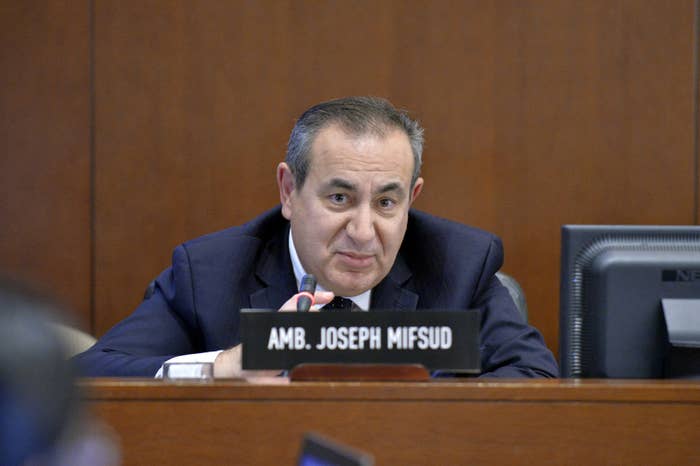 LONDON — A lawyer closely associated with Joseph Mifsud claims that the Maltese professor, who allegedly delivered word of Hillary Clinton's stolen emails to Donald Trump's campaign, is willing to testify to the US Senate.

Mifsud disappeared after he was identified as the unnamed professor alleged by FBI investigators in court documents unsealed in October 2017 to have told Trump campaign aide George Papadopoulos that the Russians had "dirt" on Clinton in the form of thousands of emails, months before the Democrats themselves were aware that their computer system had been hacked.
He has not been seen in public since November that year. His former girlfriend in Ukraine says he disappeared, prosecutors in Italy investigating a decade-old case couldn't locate him, and US investigators have complained they weren't able to interrogate the professor thoroughly when he was last in the US in February 2017. Democratic National Committee lawyers even suggested he may be dead.
But in an email to BuzzFeed News sent on Monday, Stephan Roh, a 51-year-old Swiss lawyer with a long history of dealings with Mifsud, wrote, "Prof Mifsud is to testify in front of the US Senate — we are working towards his appearance."
Spokespeople for the Senate Intelligence Committee declined to comment, and BuzzFeed News has been unable to independently verify this claim.
Asked if a date for the testimony had been set, whether Mifsud would be traveling to the US in person to testify, and if any talks with Senate officials to schedule a testimony had already taken place, Roh replied, "we will not comment or answer further questions of journalists until the Senate hearing takes place — unless necessary and in the interest of Prof. Mifsud."
Mifsud's interactions with Papadopoulos reportedly kickstarted the FBI investigation into alleged Russian interference in the 2016 US presidential election — and remain one of the great mysteries in special counsel Robert Mueller's ongoing probe.
Should the Maltese academic suddenly reappear in public after more than a year to testify before the Senate, it could be a hugely significant moment in Mueller's investigation.
Roh claims that Mifsud has done nothing wrong and was set up — and denies having ever told Papadopoulos the Russians had dirt on Clinton.
Last month, Roh emailed a photograph of Mifsud purportedly taken in May this year to several news organizations, including BuzzFeed News. Despite several requests, Roh has not granted BuzzFeed News — or other outlets — permission to publish the photo, the existence of which was first reported by the Associated Press.
In the photo, the Maltese professor, sporting stubble and with his stare fixed on the camera, is pictured seated at a table with the May 17, 2018, edition of a Swiss newspaper.
According to Roh, who was interviewed by the FBI last year as part of the Trump-Russia investigation, Mifsud, 58, was in Zurich days later, instructing legal representation and recording a witness statement with Roh's law firm. A power-of-attorney document dated May 21 of this year can also clearly be seen in the photograph.
Roh said that Mifsud traveled to Zurich for their meeting by train from Italy. Two sources BuzzFeed News has spoken to in recent months have also claimed the Maltese professor was in Rome this summer. However, neither source provided corroborating evidence.
During the course of several email exchanges and telephone calls with BuzzFeed News — using different numbers with dialing codes originating in the United Arab Emirates and Russia — between early October and this week, Roh shared what he claims to be Mifsud's side of the story.
Roh claims to have spoken to Mifsud multiple times this year directly, and through an intermediary, including from mobile and landline numbers with an Italian dialing code. The Swiss lawyer also said the academic spoke to him from Malta in December last year, where he was visiting his ill parents, and has told him of trips to other European countries this year.
BuzzFeed News has not been able to independently confirm any of these movements, nor to establish Mifsud's current whereabouts.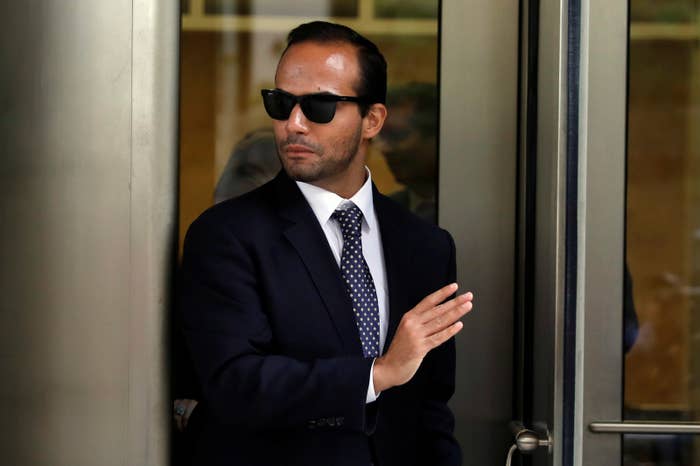 Papadopoulos was sentenced in September this year to 14 days in prison for lying to the FBI.

Since his sentencing, Papadopoulos has repeatedly speculated on Twitter — without providing evidence — that he was targeted by British and Australian intelligence as part of a plot to sabotage the Trump campaign.
Mifsud acknowledged in the interview with the Italian newspaper in November 2017 that he met Papadopoulos "three or four times," and facilitated connections between "official and unofficial sources," but denied any wrongdoing.
Papadopoulos is reported to have later shared the information about the emails with the Australian high commissioner to the UK, whose government passed it to US authorities after WikiLeaks began publishing the emails in July 2016. That information sparked the FBI to launch the investigation that Mueller now leads.
According to the government's sentencing memo, published in August, Papadopoulos's statements "substantially hindered" investigators' ability to effectively question Mifsud when the FBI located him in Washington, DC, in February 2017. "The defendant's lies undermined investigators' ability to challenge the Professor or potentially detain or arrest him while he was still in the United States," the document states.
Mifsud and Roh's careers intertwine at several junctions. Mifsud was a consultant at Roh's law firm. The Swiss lawyer was advertised as a visiting fellow in a brochure promoting the diplomacy academy where Mifsud was a director. The two men, who have known each other for more than a decade, also co-authored a number of reports between 2015 and 2017. They spoke on the same panel at a Valdai Discussion Club in April 2016, an annual gathering of Russian and international political, media, and academic elites backed by the Kremlin. And both men have long had a professional relationship with Rome's Link Campus University where Mifsud worked since the 2000s, and Roh was an investor.
Roh declined to discuss what Mifsud would say if he does testify.