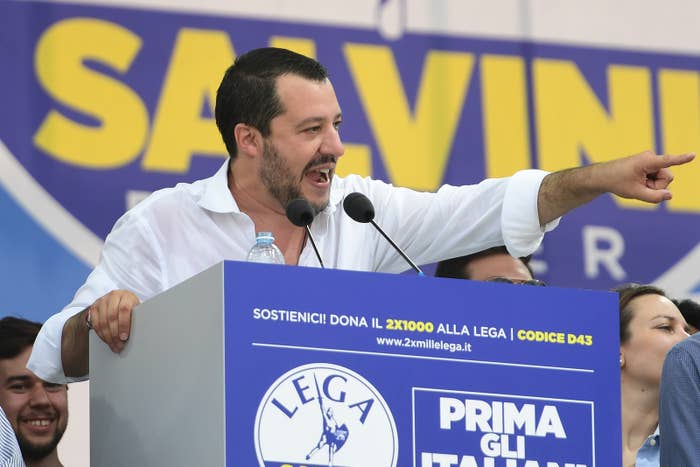 European diplomats are concerned about the relationship between Italy's new government and Russia, senior officials from two EU governments have told BuzzFeed News.

The two parties that formed a coalition government in Italy, the nationalist Lega and the populist anti-establishment Five Star Movement (M5S), have "personal relationships" and contacts with officials in Moscow, one of the diplomats, who spoke on condition of anonymity, said.
There is also clear overlap between the two Italian parties and what the diplomat called Russia's "information warfare."
Officials from both M5S and Lega have long adopted Kremlin propaganda lines as their own on issues ranging from criticism of NATO to recognizing annexed Crimea as part of Russia. They have also echoed Russia's position on Syria, painting its role in the country's civil war as a lone fight against ISIS, and have relentlessly peddled the apocalyptic descriptions of immigration that often feature in Russian-backed media such as Sputnik and RT.
The diplomat said it was clear M5S, Lega, and the Kremlin have positions in common, and there was political support for the two parties within Russian-backed media. But the diplomat acknowledged that they did not know whether the communication activities of the two Italian parties and Russia were coordinated, or whether the ideas of M5S and Lega were simply influenced by "fake news" put out by media channels close to the Kremlin.
The same official also declined to provide specific details about the nature of the relationship or timing of any contacts between the parties and Moscow because of the sensitive nature of the topic.
Both diplomats told BuzzFeed News they find it difficult to understand why Kremlin talking points are voiced with such prominence by members of the new government.
Past contacts between Russian officials and M5S and Lega before the election have been previously reported by BuzzFeed News and others. Senior M5S members of parliament met with Russian officials on at least two occasions in 2016, including with individuals sanctioned by the EU and the US. One of those M5S MPs, Manlio Di Stefano, is now Italy's undersecretary for foreign affairs. He has also authored a number of articles echoing pro-Kremlin lines.
Di Stefano did not respond to a request for comment.
Lega's relationship with Russia spans back even further. Since 2014, it has included contacts with officials and missions to Russia and annexed Crimea, as well as public events and lobbying to promote Kremlin-friendly policy and protest sanctions.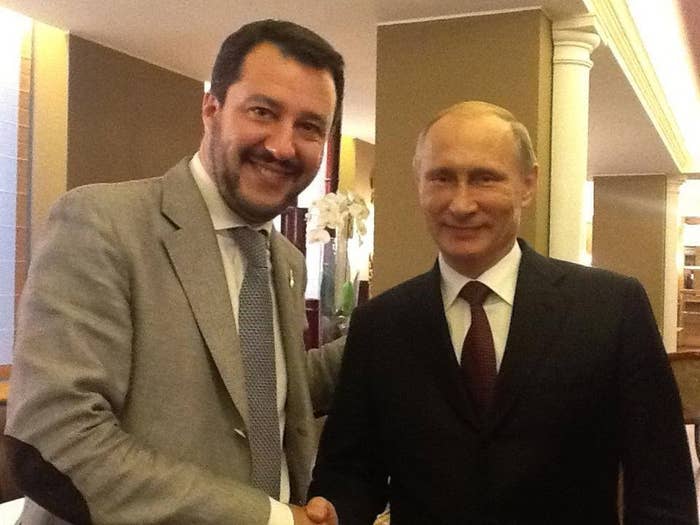 The relationship was formalized in a partnership agreement between the party and Vladimir Putin's United Russia signed last year by Lega leader Matteo Salvini, who is now Italy's deputy prime minister, and Sergei Zheleznyak, deputy chairman of the Russian parliament.
Of particular concern, the second source said, is a clause within the partnership agreement about information sharing on issues relevant to bilateral and international relations.
"We've seen the T-shirt [Salvini has been photographed wearing a Putin T-shirt on several occasions], read the agreement, listened to his [Salvini's] words, and so on," the official said.
(The intelligence agency of the official's country declined to comment on information-sharing practices with an allied state.)
On his Facebook page, Salvini has published numerous posts praising Putin.
A few months ago he wrote: "The Democratic Party says Putin is a bloody dictator… I think Renzi [Matteo Renzi, Italy's former prime minister] isn't even worth a pinkie of the Russia president. What do you think?"
In another post, published in January 2017, he said he agreed with Trump and Putin that NATO was obsolete.
One of the two diplomats explained that much of Salvini's admiration for Putin was probably to be read through the lens of the Lega leader's anti-EU views.
"Anything that is distant from Brussels orthodoxy, be it Trump or Putin, is 'cool,'" the source said.
Salvini was also critical of the previous government's decision to expel two Russian diplomats from Italy as part of a coordinated European response to the use of a nerve agent in Salisbury that left a Russian double agent and his daughter in critical condition. Salvini said the measures weren't normal and could lead to a new cold war.
"I'd remove sanctions on Russia tomorrow morning," Salvini added.
Both the diplomats BuzzFeed News spoke to said that European governments were paying close attention to Italy's actions, especially during international meetings.

At a European Council meeting of EU leaders last week, Italy's prime minister, Giuseppe Conte, joined the EU's other 27 leaders in supporting the renewal of sanctions against Russia for another six months.
"He just said we shouldn't hit [Russian] civil society," an EU official with direct insight into the discussion said. And Conte took a minute to note his government's position on the issue, the official added.
The Lega–M5S coalition agreement pledges to work for the removal of sanctions, and, since taking office earlier this month, Salvini has said that it's a commitment he wants to keep. He reaffirmed the point on June 7 at a Russia Day celebration in Rome with Moscow's ambassador to Italy.
Last week, he told Russian media: "The sanctions on Russia are useless and harmful. We are ready to go from words to deeds, but there aren't many who think like us in Europe and we are alone against the whole world."
Officials have also expressed suspicions that Conte's views are being closely controlled by Salvini and the M5S.
At the European Council, Conte threatened to veto the entire proceedings of the summit if his government's concerns about immigration weren't addressed. During the course of heated discussions, which only concluded in the early hours the next morning, he made phone calls to Rome, a senior EU official, who was present, told BuzzFeed News.
The official assumes the calls were with Salvini and M5S leader Luigi Di Maio. "He was on the phone. I don't know with who," the official said.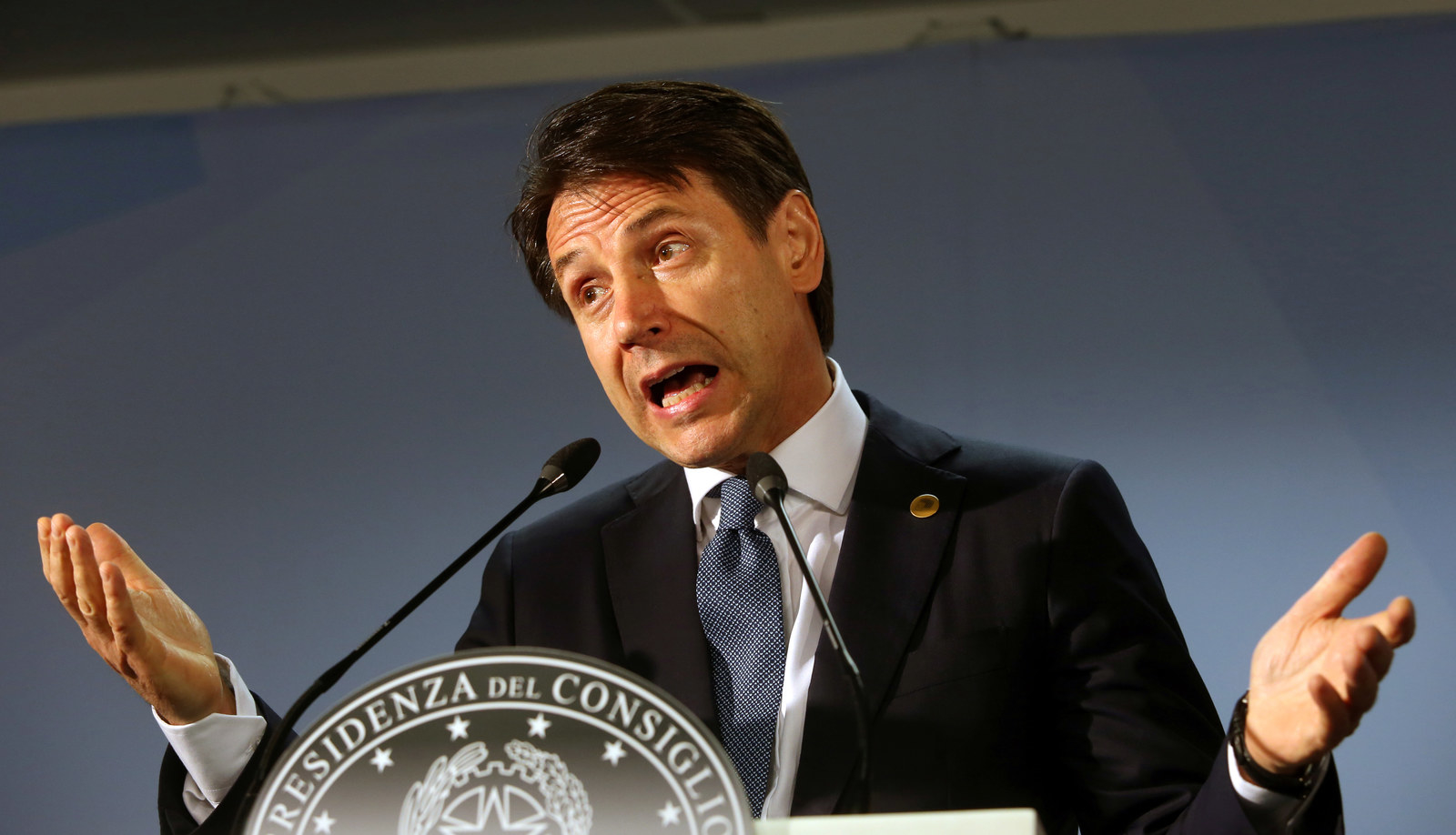 Conte raised the merits of a softer approach toward Russia on more than one occasion during last month's G7 summit in Canada, according to two sources who were at the summit. Both the diplomatic sources also said they had the feeling that Italy's line on Russia is being dictated by Salvini.

After the G7 meeting, Donald Trump told reporters that the Italian prime minister agreed with him that Russia should be readmitted to the group.
The next test for the Italian prime minister will come at a NATO summit in July.
Although the M5S–Lega coalition agreement reaffirms NATO membership, it pledges to reevaluate Italy's presence in international missions on the basis of national interest, one of the diplomats noted.
Lega and M5S have previously criticised Italy's presence in the Baltic. The government is also set to raise questions about the deployment of Italian troops in Afghanistan, the same diplomat added.
Successive Italian governments have long held a more dovish position toward Russia compared with most other European countries, including on relaxing sanctions. An Italian proposal to end a ban on the European Bank for Reconstruction and Development lending to small and medium-sized businesses in Russia, reported by the Financial Times last week, is an idea that had been previously explored by the former Italian ambassador to the UK earlier this year, before the new government took office. The ambassador is now Italy's envoy to Russia.

But what puzzles diplomats about the new government is how removing sanctions on Russia seems to have become such a top priority for Lega and M5S while Italy faces other, more pressing issues.
As one official asked, "How does Russia help young unemployed people in Calabria?"