Update – 7 October, 8:49pm BST:
The Guardian has broken the news that the London School of Economics (LSE) has now disbanded the men's rugby club for the academic year following outrage over its freshers' fair leaflet.
In a statement on Tuesday evening, Nona Buckley-Irvine, general secretary of LSE students' union, said the club would be disbanded for the academic year after the flyer handed out at the freshers' fair on Friday described women as "mingers", "trollops" and "slags". ...

She said: "After considered deliberation and a wide investigation, LSE men's rugby club will be disbanded for the rest of the academic year and not be allowed to represent LSE or LSESU. They will be withdrawn from any competitions already entered into."
Scans of the London School of Economics rugby team's leaflets have been shared on Twitter since they were handed out at the university's freshers' fair this year.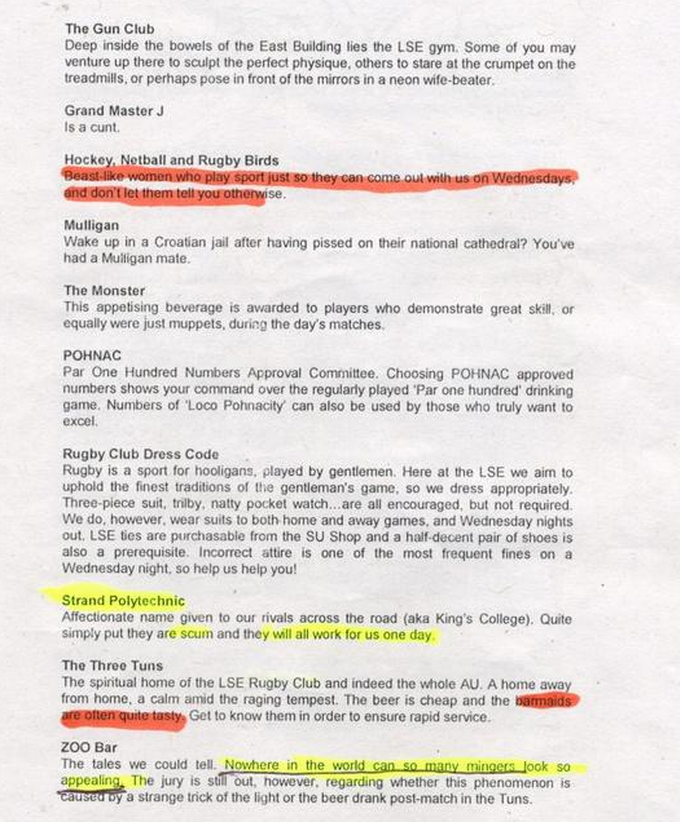 According to the Daily Mail:
Initiations, the booklets suggested, would not tolerate "Poly activities that involve faeces, genitalia, and outright homosexual debauchery".

["Poly activities" are a reference to King's College London, an institution that has been given the mocking nickname of "Strand Poly" for years.]

Another section suggested a committee member embodied everything the club holds dear - "debauchery, hedonism and misogyny". ...

And it mentioned a drunken 2005 incident which caused £30,000 damage to King's College London as a "shameful orgy of destruction (or a blaze of glory depending on which way you look at it)".
Students were outraged by the leaflets. The Times said the leaflet was withdrawn on the second day of the freshers' fair after protests from students. At least one had emailed the LSE's director to complain.
A statement on the LSE Student Union's (LSESU) Tumblr reads:
At the Freshers' Fair on Friday 3 October we received a number of complaints regarding booklets distributed by the LSE Rugby Club. We immediately confiscated all materials and launched an investigation.

This investigation will be thorough. It will hear from both individuals that complained and the Club itself. This will allow us to determine any appropriate action.

We are also working with the School as they have received a wide number of complaints.

We are committed to our equal opportunities policy and safeguarding our members. However, further comment won't be provided until the investigation has been completed in order to keep our processes as robust as possible.

We will also be responding to the deeper cultural concerns about discrimination within the AU. Gee Linford-Grayson, LSESU women's officer, is hosting a Women's Forum to discuss issues within the AU.
The LSE's student union newspaper, The Beaver, has obtained a statement from the university's rugby club.
The Men's Rugby Club would like to extend a full and unreserved apology for the recent decision to publish a leaflet at the LSESU Freshers' Fair 2014.

It contained inexcusably offensive and stigmatising language and we would like to make it clear that this absolutely does not reflect the views and values of our club.

LSE Men's Rugby does not tolerate misogyny, racism, homophobia or prejudice of any description and the Club remains committed to the LSE's equal opportunities policy. Clearly, on this occasion we not only failed ourselves, but the university which we are so proud to represent.

We take full responsibility for what has happened and it has highlighted the need for any previously used club literature to be properly scrutinised before being reproduced. [continues]
A reader has got in touch to point out that LSE also has a women's rugby team, which is a separate entity from the male one that is the subject of this article.
The LSE women's rugby club has now issued a statement:
The LSE Women's Rugby club is outraged by the contents of the leaflet produced by the Men's Club last week. However, we find it hypocritical that publications have not differentiated between the male and female halves of the club: The issue is one of sexism, yet the articles blatantly assume that there is not a female rugby team.

The Women's Rugby team is one of the most successful teams in the LSE Athletic's Union both due to its achievements in the university leagues, and in encouraging what is a minority sport to flourish. This is evident in its increasing numbers, from 20 members in 2012, to 70 in 2014. Women's rugby has been shown to empower women, both in appreciating female strength and increasing women's profile in what is historically a male dominated environment. We feel massively disappointed that this incident has occurred but also feel frustrated that the LSE rugby club has been portrayed in such a light when the Women's team has worked so hard to combat this image.
A gay member of staff at the university has written an open letter to The Beaver, LSESU, and Professor Craig Calhoun, the director of LSE. It's well worth reading.