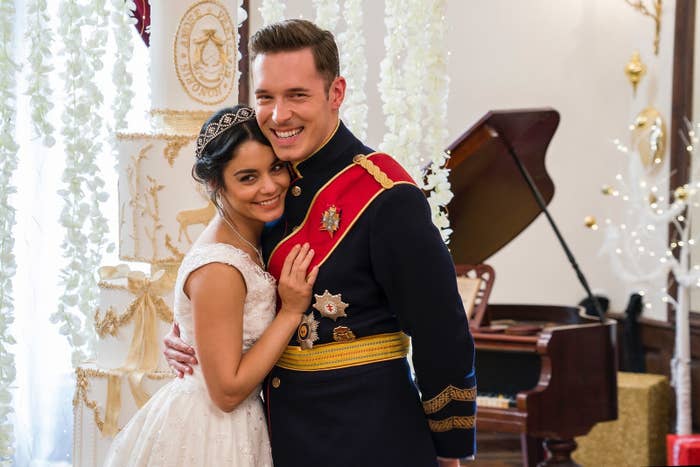 About two-thirds of the way through the Netflix original film The Holiday Calendar, the film's protagonist, Abby, sits moping on her couch. Wrapped in a blanket and determined to avoid her real life for just a little while longer, she shoves a cupcake in her mouth and grabs her remote, scrolling down her Netflix homescreen past A Christmas Prince. She eventually settles on watching Christmas Inheritance. The scene is a startlingly meta moment in a movie made to be viewed, well, mostly by people sitting on their couches scrolling through Netflix Christmas movies.
The Holiday Calendar was released on Nov. 2. A few weeks later, on Nov. 16, The Princess Switch — another Netflix original film set at Christmastime — hit the streaming platform. The end of Princess Switch's second act features a scene in which two of the main characters — Vanessa Hudgens' Lady Margaret and Nick Sagar's Kevin — sit down together after a long day to watch a Christmas movie. They choose to watch A Christmas Prince, and the next time we see the duo, Margaret is sobbing at the ending of the Netflix original that sparked so much social media buzz during the 2017 holiday season.
The two scenes in The Holiday Calendar and The Princess Switch confirm something that's become evident this holiday season: The Netflix Christmas movie cinematic universe is real. To be clear, the characters and storylines do not overlap in the same way as the Marvel Cinematic Universe and their many superheroes — these holiday films are connected not by their narratives but by the simple act of watching a Netflix Christmas movie. Netflix's producers have turned their characters into direct proxies for the people watching them at home, wrapped in a blanket and looking to escape their lives for a couple hours at a time.
Netflix is hardly the first to traffic in Christmas movies. Lifetime has done them for years, and the Hallmark Channel has long been legendary for its holiday filmography. Hallmark's Christmas oeuvre runs particularly deep, with dozens of movies bearing incredible names like A Very Merry Mix-Up, Window Wonderland, Moonlight & Mistletoe, Crown for Christmas, Fir Crazy, and Meet the Santas. (There are non-Christmas holiday movies, too, including When Sparks Fly, a 4th of July movie starring Meghan Markle.) Very many of the Christmas movies star Lacey Chabert. Almost all of them follow the same general blueprint that Netflix is now adopting for their Christmas fare: There is a woman who is maybe a little lost and striving for something new in her life, and a man/family/small American town/fictional European country helps her find her way. Sometimes the woman ends up a princess; sometimes she ends up having sex with a ghost. Usually there is a speech about the emotional meaning of the holiday involved, and maybe the implication that one of the characters may secretly be Santa.
If the sheer number of made-for-TV Christmas movies in existence (Holiday in Handcuffs! Merry Kissmas!) is any indication, the formula behind them is a winning one. The past year has seen us watching Netflix learn that lesson in real time.
When A Christmas Prince debuted in 2017, the official Netflix Twitter account tweeted that there had been 53 people who'd watched A Christmas Prince every day for 18 days in a row. The tweet was a joke (one that not everyone took kindly to), but it was a telling one. Netflix's general policy is to avoid publicly releasing viewership statistics, but the company — or at least someone on its social media team — seems to have wanted it known that people were becoming obsessed with A Christmas Prince in a very specific way. "This information represents overall viewing trends," a Netflix statement about the tweet said in 2017. Viewers were finding comfort in the movie, tweeting about it in droves, and allegedly revisiting it multiple times within a short time period.
Netflix was ready and eager to repeat the success of A Christmas Prince in 2018. The Holiday Calendar, The Princess Switch, and A Christmas Prince: The Royal Wedding were all filmed this year. And all three films hit the streaming service in November, right around the time Christmas music and twinkle lights popped back up in so many homes.
To browse Netflix's Christmas movie selection in 2018 is to experience an embarrassment of riches.
Both The Royal Wedding and The Princess Switch are about being in love with princes of fictional European countries. The Holiday Calendar, meanwhile, follows a woman whose life is changed by an enchanted advent calendar. These movies are perfect encapsulations of their genre, focused less on "quality" in the traditional sense (good dialogue, a solid narrative, believable character arcs) and more on providing cheery stories with beautiful people. The narratives are so predictable that the predictability itself becomes comforting, which is why these films are paired best with cozy blankets and hot chocolate. All three are also tied up in Netflix's new meta universe, in which all of their characters can be seen watching one another's movies.
As real-life, not-in-a-Netflix-movie humans scroll through Netflix's homepage, they may notice that plenty of Hallmark's and Lifetime's Christmas offerings sit right alongside the newer Netflix-made contributions. The Spirit of Christmas — the ghost romance one! Which you should watch! — comes up under the "More Like It" section for A Christmas Prince; Christmas Wedding Planner appears as a suggestion next to The Princess Switch. There's also The Christmas Chronicles, Christmas With a View, Christmas in the Smokies, Holiday Engagement, the aptly titled You Can't Fight Christmas, and many, many more. To browse Netflix's Christmas movie selection in 2018 is to experience an embarrassment of riches.
That overwhelming amount of content seems to be the Netflix way these days. Even Saturday Night Live had a sketch about just how many shows and movies Netflix has been investing in in recent years. Watching Netflix's growth, one gets the impression that the company is trying to carve out a space in every single genre. It took its swings at big, allegorical sci-fi/fantasy movies, as well as distributing arty, prestige films. Rom-coms like Set It Up and To All the Boys I've Loved Before have gave the streaming service a lot of buzz this year. Many of its decisions seem to come from exhaustive research into what its customer base is interested in: what they're clicking on, what they're rewatching, what they're talking about. Netflix's 2017 A Christmas Prince tweet — and its decision to make more movies focused solely around Christmas — hinted that the subgenre of rom-coms about this particular holiday was a fruitful investment.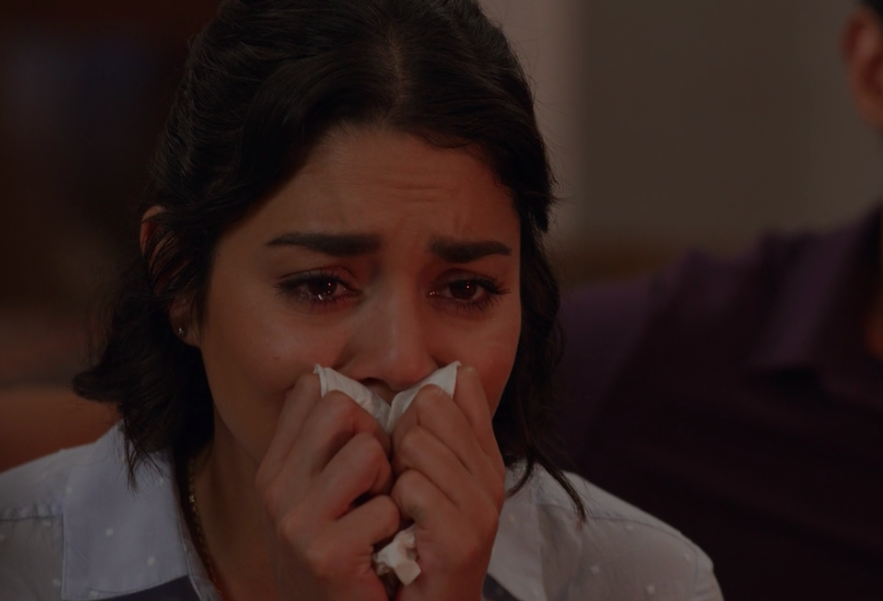 Key to Netflix's place in the Christmas movie market is the fact that the service is uniquely designed to be the perfect place to watch simple, feel-good fare. Made-for-TV movies have always been crafted for the home viewing experience — obviously — but Netflix upped the game early on in its existence by making it easier to browse options and choose your own timing for when to watch. With Netflix you don't have to settle for a choice between the only, say, 15 Hallmark movies that are available to stream through your cable provider. Instead, Netflix allows you to choose between what feels like hundreds culled from Hallmark, Lifetime, and various other studios churning out Christmas movies — including, of course, Netflix itself.
With the last year's buzz around A Christmas Prince, Netflix made a big enough splash for an old subgenre to feel relevant again without actually changing much from the existing formula. Lifetime's My Christmas Prince also came out in 2017, after all; Hallmark's A Prince for Christmas debuted in 2015. Netflix was not breaking any new ground.
But Netflix did make sure to put the company's stamp on its follow-ups — The Princess Switch doesn't just have its characters watch A Christmas Prince; it declares that A Christmas Prince is the main character's favorite Christmas movie. Viewers watching The Princess Switch or The Holiday Calendar won't just see those two movies; they'll see characters scrolling through the myriad other Netflix-branded options that are also at their disposal, and they'll see the characters endorse them. Viewers will also catch a glimpse of a bundle of other Netflix productions on the screen, including GLOW, Set It Up, Stranger Things, and The Kissing Booth.
Who knows what Netflix will bring us next Christmas. Maybe 2019 will see the company welcoming other religious denominations into the fold; perhaps they'll just produce a riff on that Markle-starring 4th of July movie. The cold, hard data will probably make that decision. But it'll be fascinating to see if Netflix's in-world synergy will continue, and how far it will go. Many will be watching from home, wrapped in a blanket with a cupcake and hot chocolate in hand, at least passively curious to see if the characters of some movie probably called A Holiday Hijinks Wedding watch The Princess Switch.