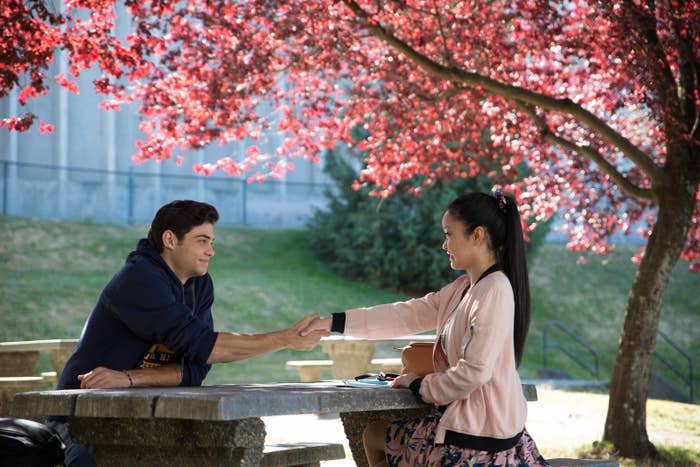 People are, to put it lightly, wildly in love with To All the Boys I've Loved Before. The movie — a teen rom-com about a young woman whose love letters leak — dropped on Netflix early Friday morning. By Friday night, Twitter had flooded with talk of the movie's cuteness. The outpouring continued throughout the weekend, with many people declaring that they were already rewatching the film even though they'd watched it days or even hours before. According to a representative at Twitter, there have been at least 3 million tweets about To All the Boys I've Loved Before so far. One million of those have been about Peter Kavinsky (Noah Centineo), the dashing love interest of the main character, Lara Jean (Lana Condor).
"This movie fucked me all the way up."
When a movie bursts through the conversation with such aggressive affection, it can be tempting to try to temper the hype with backlash. It's easy to undercut fan love in the search for a dark underbelly, to find comfort in the fact that everything has its flaws and that not every single person on Earth was dazzled by this thing that a lot of people fell hard for. But after seeing that happen again and again with everything from The Fault in Our Stars to Big Little Lies, I am less interested in that line of thinking. Instead, I'd like to look at why the hype around To All the Boys I've Loved Before is so effusive, so openhearted. It's brought about a softness in its audience that feels radical — a direct response both to a dangerous and inhospitable political climate and, simply put, to the fact that this Netflix rom-com made a lot of people feel a lot of fuzzy things. That's worth examining. Quoth Ariana Grande: "The light is coming to give back everything the darkness stole."
How did this movie become a classic so damn fast? What is it about To All the Boys I've Loved Before, out of all the films out there, that cracked people open and caused all this tenderness to tumble out? Multiple people told BuzzFeed News that they even brought up the movie in therapy as a way to work through their own issues around love. "This movie fucked me all the way up," said fan Julissa Castillo.
BuzzFeed News heard from over 100 fans of To All the Boys I've Loved Before about what they appreciated about the film and the book that came before it. Many of them wrote love letters to the movie that could rival those of Lara Jean Covey herself. Here's what they had to say.
Lara Jean Covey is a highly relatable protagonist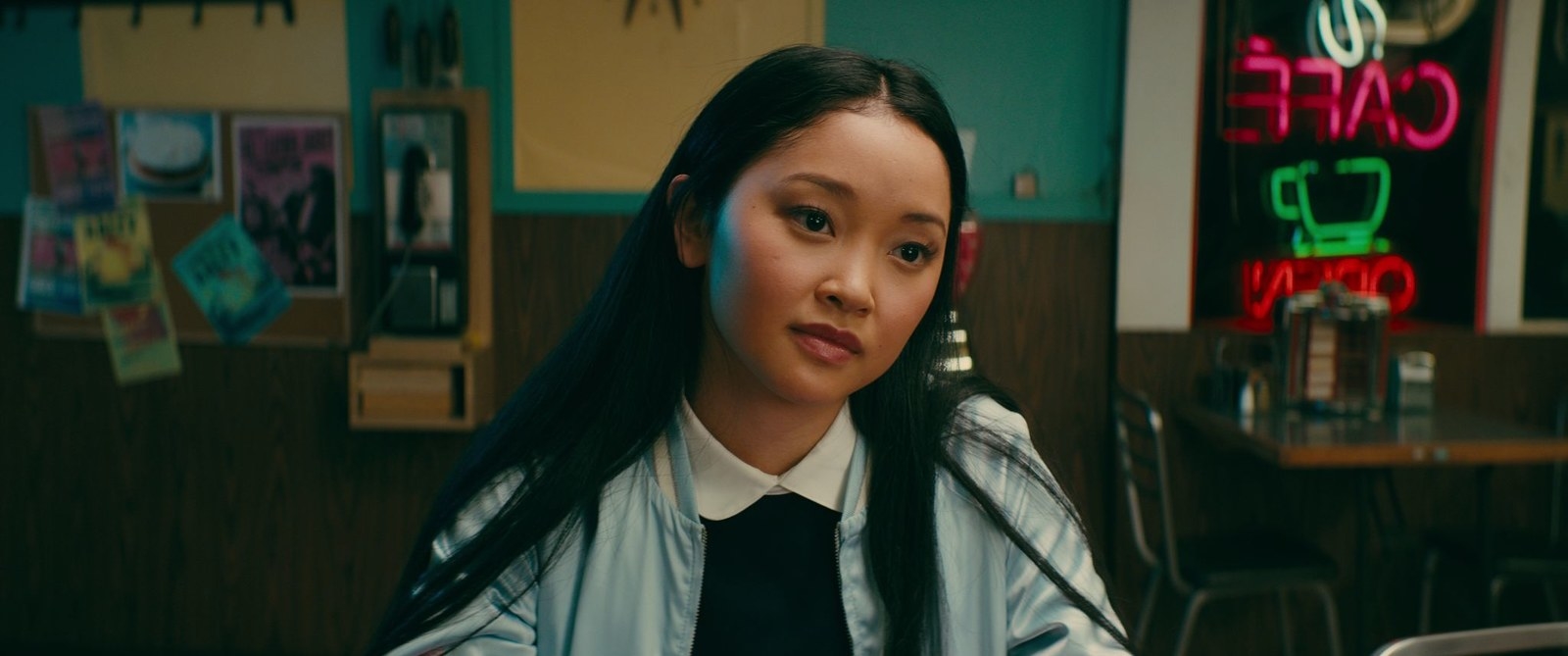 In To All the Boys I've Loved Before, Lara Jean has a tradition of writing love letters to her biggest crushes. She pours her heart out onto a piece of paper, then puts the letter in an envelope addressed to the object of her affection, and puts the envelope in a hat box gifted to her by her late mother. She's written five love letters total, and 20 minutes into the movie she finds out that a mystery person sent them to the boys she wrote them about. One of those guys is her sister's recent ex-boyfriend, Josh (Israel Broussard). Lara Jean is an introvert who gets most of her romantic kicks from romance novels and her own imagination. When confronted by multiple young men who now know she's had romantic feelings for them, the character is forced to figure out whether to stay in her emotional bubble or open herself up to the possibility of something real. Part of that journey ironically comes in the form of a fake relationship with gregarious jock Peter Kavinsky, one of the boys she wrote a letter to. She's trying to avoid talking to Josh about her feelings; Peter Kavinsky is trying make his ex jealous.
"I wanted to grab Lara Jean by the shoulders and tell her to open her heart, but who am I to say that when I so often feel the same fear?"
Lara Jean, as played by Condor, has a nimble and expressive face despite her introversion. That allows for humor and adds a visual element to her emotional depth — but seeing this shy girl's every thought play out on her face also makes it easy for the audience to project onto her. Many of the fans BuzzFeed News spoke with brought up the way their own fears of vulnerability in life and love mirrored Lara Jean's. That projection isn't a bad thing: So much of giving yourself over to the emotions in any movie involves putting part of yourself in the characters' shoes, regardless of genre.
It was also notable to many fans of To All the Boys I've Loved Before that even though Lara Jean does learn how to open herself up to others, she doesn't go through some massive physical or mental transformation that renders her a different person by the end of the movie. To All the Boys I've Loved Before is not the kind of teen movie that involves a makeover, à la She's All That or The DUFF. "She is portrayed as a girl that's comfortable in her own skin, [who] knows what she likes," said Maise Sanches. "Even though there's room for change, her personality is not an issue. … The unapologeticness of her character, this introverted, smart, sweet, and opinionated girl, is so rarely this well done."
Casillo echoed the thought: "I love that we got to see her being true to herself."
Lara Jean's trepidation is deeply relatable, and not just to the teens watching the movie. "I loved [To All the Boys I've Loved Before] because it perfectly encapsulated the experience of being afraid to fall in love," Ari Curtis said. "That feeling is ageless. I wanted to grab Lara Jean by the shoulders and tell her to open her heart, but who am I to say that when I so often feel the same fear?"
The representation woven into the film also mattered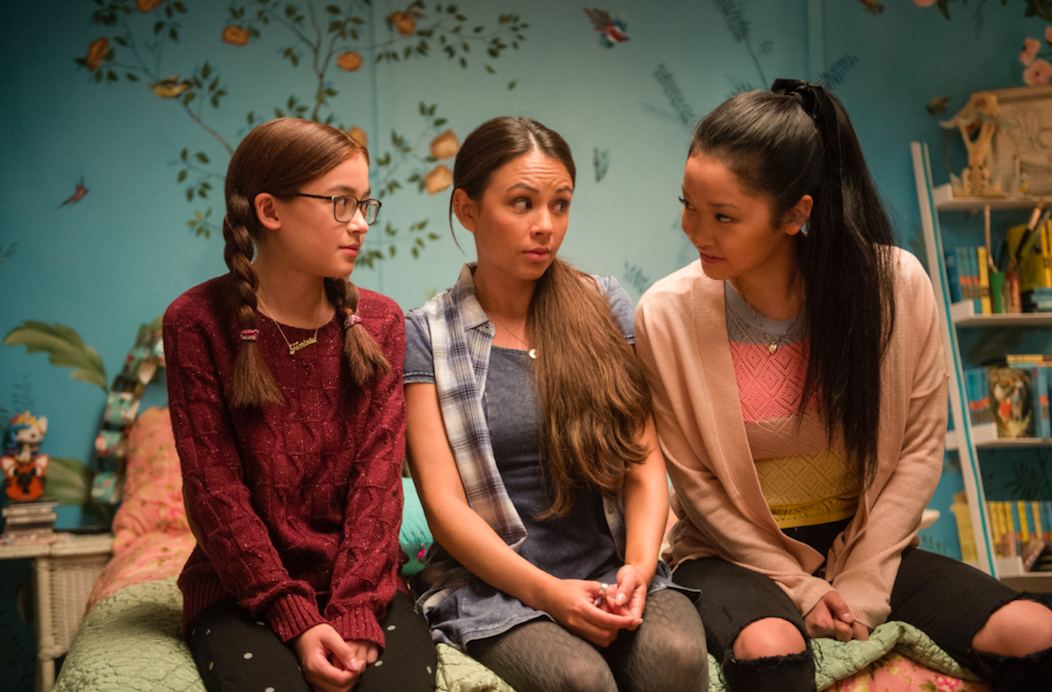 Lara Jean is a half-Korean teen girl whose race is embedded in but not central to the story of To All the Boys I've Loved Before. For many of the fans BuzzFeed News talked to, the representation the film provided was a crucial element that set the movie apart in their hearts. "The fact that [Lara Jean] is portrayed with such care — as a fully formed human being, never reduced to the stereotypes we're often subjected to — astounded me," Samantha Tan said.
"Stories about white girls being socially isolated never felt as real to me because of my own experience going through school," said Amrita Chakraborty. In school, Chakraborty would witness "how whiteness afforded [white] kids social capital, while kids of color were only accepted into certain circles once they had thoroughly removed themselves from anything resembling pride or attachment to their culture." In To All the Boys I've Left Before, though, Lara Jean's Koreanness is just a part of the package. Her dad (John Corbett) cooks his three daughters Korean food for dinner; Peter wins over Lara Jean's little sister, Kitty (Anna Cathcart), with his love of Yakult, and the drink plays a key role in a romantic scene between him and Lara Jean later on.
Lara Jean's relationship to her ethnicity was naturalistic, and understood. There's even a scene where Lara Jean shows Peter Sixteen Candles for the first time, and Peter remarks how racist the film's treatment of the character of Long Duk Dong is. As Christina Tucker put it, "There was no big dramatic conversation wherein anyone needed to be taught about her heritage. Peter didn't need to have some grand realization that being nonwhite is different. It was just who she was and there were no lectures needed."
Several fans told BuzzFeed News that even though Condor is Vietnamese and not Korean in real life, seeing an Asian American woman playing the teen at the center of such a romantic story soothed some of the hurt they'd felt from decades of not being represented onscreen. "I've always felt like an 'other,' especially as the child of immigrants. I never saw myself in media," Tan said. "When I was in kindergarten, I wished I had curly blonde hair and pale skin with freckles so I could fit in with the other white kids. I never thought I could be at the center of my own story, because books often featured a white American girl or an Asian girl who grew up in Asia, neither of which I can really relate to. But now? I feel seen."
Peter Kavinsky is peak boyfriend fantasy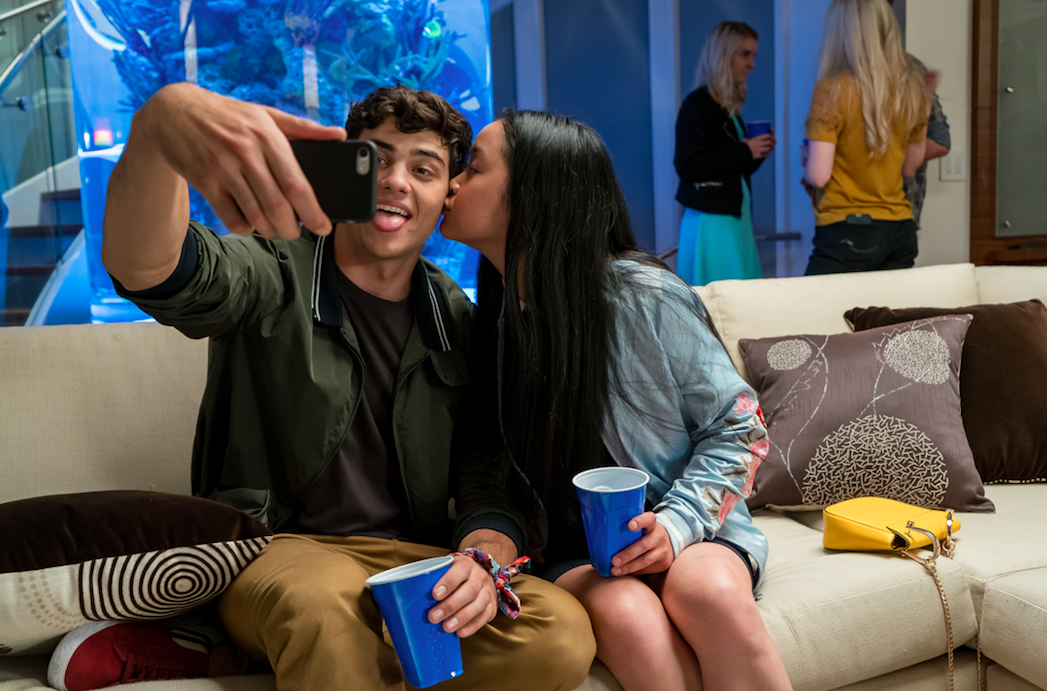 Oh, Peter Kavinsky. Within a day of the release of To All the Boys I've Loved Before, Peter Kavinsky — full name, please, none of this simple "Peter" business, that is incorrect — became more than a character. He became a symbol. The idea of acquiring a Peter Kavinsky of your very own became aspirational, an ambition that might not be possible to fulfill. He's conscientious. He has a deep respect for Lara Jean that is never undermined, even when he gently teases her or when the film's conflicts keep them apart. He drinks kombucha at parties instead of beer, calls out racism in movies, moves the popcorn to the floor before getting into pillow fights with your little sister, will drive all the way across town to get you your favorite snack, and is, like, really good at pulling you onto his lap for makeout sessions. He also has a charisma so powerful it should come with a warning label. I should probably note here that Centineo, who plays Peter Kavinsky, is 22, as many people googled while watching To All the Boys I've Loved Before this past weekend.
"Peter's character made me remember every good, healthy moment I've had in a relationship, every butterfly I've felt when a crush has made me feel so seen and cared about."
Peter Kavinsky enticed a lot of people. He also provided a model for good boyfriend behavior that is relatively unrivaled in rom-coms — and for some even in life. "It's rare for a male love interest to be THAT respectful throughout the entire story," Hayley Capello said. "Lara Jean didn't have to 'help him grow' to be that person. He was always that person and they just found their way to each other."
If you never had a romantic partner like Peter Kavinsky, To All the Boys I've Loved Before will make you want one. If you have, it will bring you right back to the good times. "Peter's character made me remember every good, healthy moment I've had in a relationship, every butterfly I've felt when a crush has made me feel so seen and cared about," Copeland said. "Those eyebrows. That little thing he does with his lip. His emotions literally jump out of the screen. Ugh, I die."
But really, it was the whole package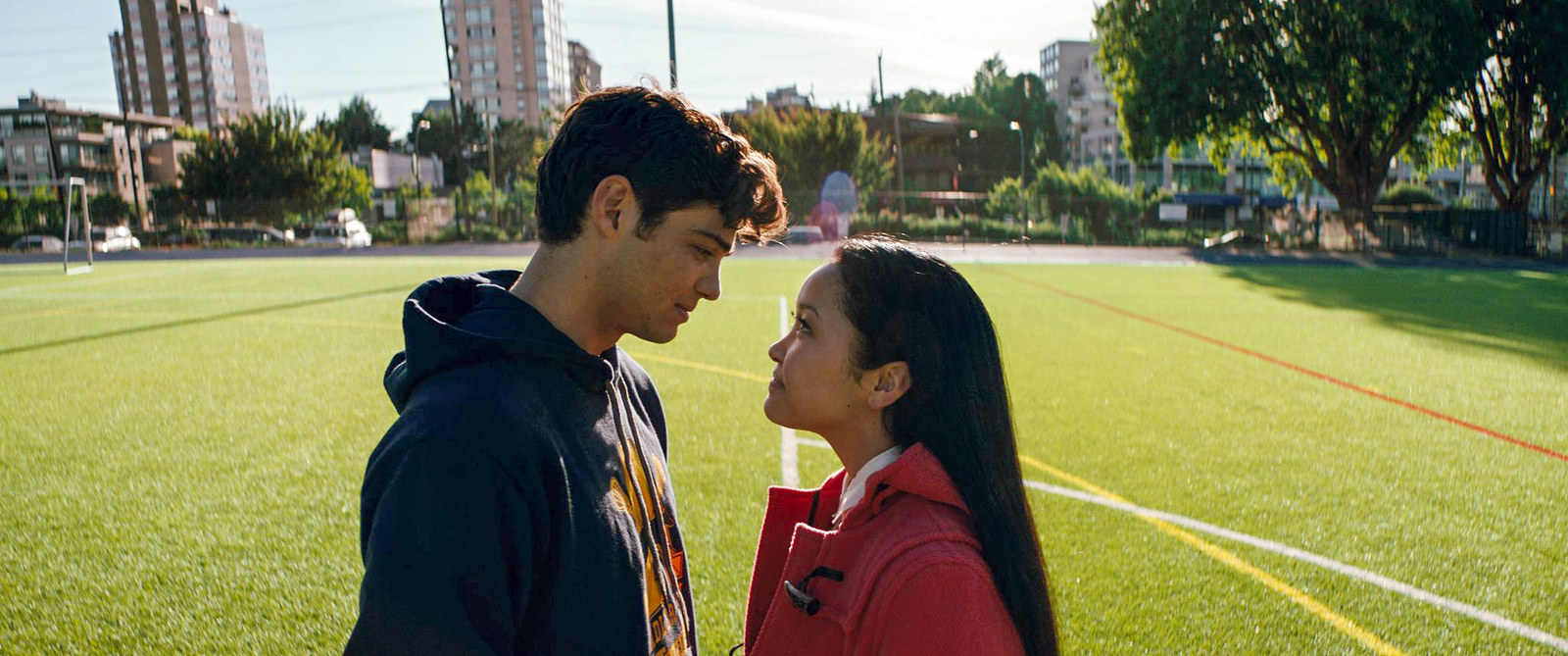 Ultimately, the best rom-coms — the best movies, period — are more than the sum of their parts. Casting is crucial, as is the director's ability to get quality performances out of that cast. Production design, a quality script, a good editor, and an emotionally compelling story are all important to whether a film succeeds in the eyes of its viewers. But To All the Boys I've Loved Before didn't take over so many people's brains because of each of these parts individually: It dominated people's hearts because all of these elements came together in what could be described as filmmaking alchemy.
"I didn't realize how much I needed a movie that just cuddles the shit out of your soul."
Some of its success was helped along by the timing. "I feel like it speaks to a certain emotional exhaustion we're all feeling, to various degrees, in the world today," Natalya Copeland said of her theory as to why To All the Boys I've Loved Before provoked such a strong positive reaction. From constant shootings to the separation of immigrant families to criminal cases against multiple people connected to President Donald Trump, the news cycle is a constant barrage. Romantic comedies have always provided escape from the real world, and To All the Boys I've Loved Before is no exception. "As someone who electively watches movies that make me question everything, feel hard feelings, and become more aware of the emotional struggles of others," Copeland continued, "I didn't realize how much I needed a movie that just cuddles the shit out of your soul."
But the film's triumph is just as much about its emotional truth. To All the Boys I've Loved Before championed the very radical softness it's making its viewers feel. As Kayla Blanton said, Peter Kavinsky showed Lara Jean "the possibilities within herself, to be loved and love someone, and the climax drama was mainly her reckoning with all of this," Sanches said. And as Blanton noted: "They made it OK to act on their emotions and wear their hearts on their sleeves, and that was a breath of fresh air."
To All the Boys I've Loved Before is wonderful because of Peter Kavinsky and Lara Jean Covey, yes — but it's also a delight because of Lara Jean's sisters, and her father, and Lara Jean's black, gay former crush Lucas (Trezzo Mahoro), and the way the lighting just feels warm, and the soundtrack, and the pops of pink, orange, and red in a mostly blue-and-green color scheme. This movie is great because it yanks your stomach around like it's on a roller coaster when all you're technically doing is sitting on a couch watching two teens fall for each other. As Elisa Rouff said, "Listen, I am a 38-year-old mom of 2 kids and this movie SPOKE TO ME. Maybe it's purely nostalgia, or maybe it's because I haven't felt this way about a film in a long time." Another fan, Chelsey Collier, said that To All the Boys I've Loved Before is "a master class in little looks that make your heart swell."
To All the Boys I've Loved Before is all of those things, and it's more, and to some people it'll be less, and that's OK, too. The important thing is that it's here, and that, to plenty of people, this movie means a lot. Now we just have to wait for the inevitable sequel. Or, as Netflix easily allows, press play again and rewatch To All the Boys I've Loved Before to our hearts' content.
"Fiction affects life," Sonibel Rae said. "I know this intimately, because growing up I thought no one could be head over heels with me because I wasn't white and stereotypically 'pretty.' I love that girls of color who love romance [can see] they're valid of being heroines, of being absolutely adored."
Note: Quotes have been edited for clarity.