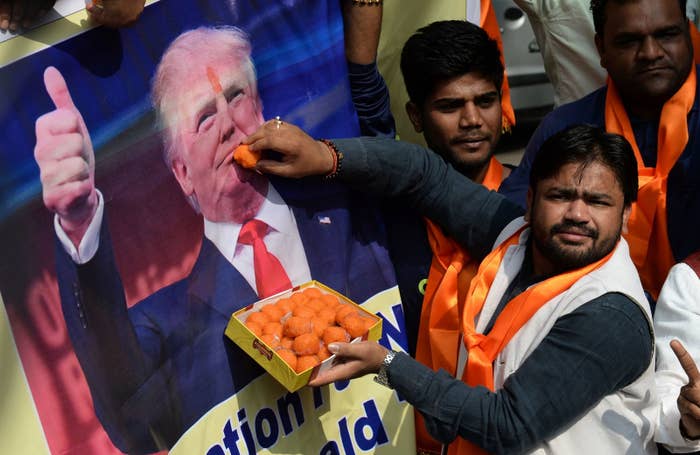 When Donald Trump became the US president-elect early Wednesday, Hindu nationalists in New Delhi flocked to the streets to celebrate his victory. Hindu Sena, a right-wing Hindu nationalist group, had ferociously supported the Republican candidate during his presidential campaign, calling him a "hero." On Wednesday, they sang and danced holding aloft a banner bearing a photo of the ex-Apprentice host sporting a red bindi.

"We have been supporting him for a long time," a reveler told BuzzFeed India. "He is the best person to teach a lesson to Pakistan."
In India, where Muslims are the largest religious minority, Hindu nationalist Prime Minister Narendra Modi, elected in 2014, once led the state of Gujarat and faced heavy criticism for doing little while brutal pogroms targeting Muslims took place in 2002.
As groups like Hindu Sena and Golden Dawn celebrate around the world, Muslim leaders and thinkers from Europe to Southeast Asia say they fear Trump's victory could embolden anti-Muslim groups and give a rallying cry to radical Islamist movements.
"There have been all kinds of prayers by Hindu-right groups for Trump," Basharat Peer, an Indian writer and political commentator, told BuzzFeed News. "And the right-wing sections of the Indian diaspora have been very active in campaigning and fundraising for Trump. They seem to have an affinity based on shared Islamophobia."
Trump's attitude toward Muslims came into the spotlight last year during his campaign trail, when he called for a "total and complete shutdown of Muslims" entering the US. Trump also targeted Muslims repeatedly in his speeches following the attacks in Paris and in San Bernardino, California. He called for the surveillance and closure of mosques, said he supported the possibility of a registry for all Muslims, and falsely claimed numerous times that "thousands" of Muslims in New Jersey celebrated the 9/11 attacks.
Muslim groups globally have expressed anxiety about the election results, and young Muslims on social media have said they fear anti-Muslim hate crime could become worse.

"A Trump victory will sadly embolden the forces of illiberalism and majoritarian politics in India and elsewhere," Peer said. "Donald Trump might just be the end of the liberal democratic order. It is the age of strongmen, a dark new day."
Beyond India, anti-Muslim groups expressed an affinity with Trump in Myanmar, which has grappled for years with violence toward Muslim ethnic groups, often fueled by vitriolic online speech. Ashin Wirathu, a Buddhist monk who is a prominent anti-Muslim campaigner in the country, posted on Facebook early this week: "We Stand With DONALD TRUMP."
In Indonesia, home to the world's largest Muslim population, religious leaders said Trump's election could alienate moderate groups and empower religious extremists.
"Most Muslims in Indonesia are tolerant, kind, and moderate," said Zuhairi Misrawi, an Indonesian public intellectual from Nahdlatul Ulama, the country's largest independent Muslim organization. "If Donald Trump has a bad policy toward Muslim countries, it could fuel extremism. That's why extremists are very happy with Trump — he gives them ammunition."
He told BuzzFeed News that students he works with who won Fulbright scholarships to study in the US this year were afraid they'd no longer be able to go.
Across Europe, far-right leaders celebrated as soon as it became clear Hillary Clinton, the Democratic candidate, would have to concede. Marine Le Pen, leader of France's National Front, which has engaged in much of the populist rhetoric that swept Trump to victory, tweeted: "Congratulations to the new President of the US, Donald Trump, and the American people – free!" Later she said Trump was good news for France, which is set to hold its next presidential elections in the spring.
Geert Wilders, the Dutch anti-Muslim campaigner and leader of the Party for Freedom, wrote on Twitter: "A historic victory! A revolution! We too will give our country back to the Dutch!"
Paul Jackson, who has written on extreme-right ideologies and teaches history at the University of Northampton, said that many of these far-right leaders like Le Pen and Wilders see Trump as a "promoter of ethnically 'clean' nations."
"They interpret this shock win as an enormous fillip to their own politics steeped in prejudice, including Islamophobia," he said.

In the US, American Muslims said they feared for their safety. In the run-up to the election, there had been numerous reports of attacks on Muslims: Members of a militia group in Kansas were arrested last month for allegedly planning to bomb an apartment complex and kill dozens of Muslim Somali immigrants the day after the presidential election.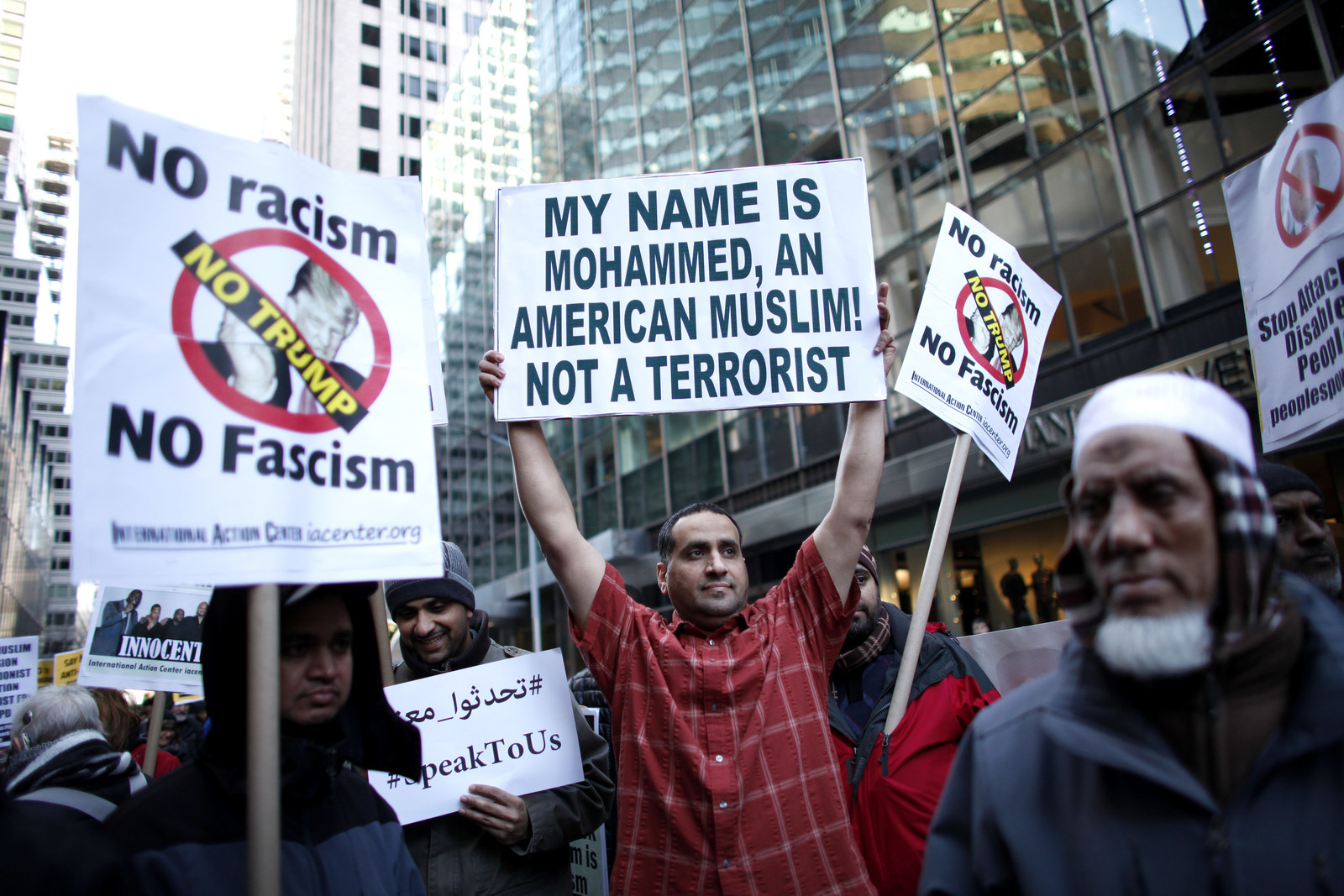 On the day of the election, some Muslim women on social media said they were afraid to wear their hijabs now that Trump would become president.
The Muslim Council of Britain, an umbrella group of 500 Muslim organizations, congratulated Trump, but added: "It is hugely worrying that a man who has openly called for discrimination against Muslims and other minorities has become the leader of a superpower nation."
Across the Channel in France, where Muslims have most recently experienced anti-Muslim policy in the form of the burkini ban across towns in the French Riviera during the summer, Marwan Muhammad, the director of the Collective Against Islamophobia in France, warned in a tweet in French: "Ignorance wins. Intolerance triumphs. Lying pays. And if our politics does not change, the same thing will happen to us."