Sean Spicer abruptly resigned Friday as White House press secretary minutes after President Trump hired Anthony Scaramucci, the founder of a hedge fund, to be the administration's new top communications official.
Spicer had a notoriously rocky relationship in the media, has issues with making false statements, and became a worldwide meme after a series of ruthless parodies on Saturday Night Live. He resigned after 182 days in office — among the shortest tenures ever for a press secretary.
Trump "wanted to give Scaramucci something to do because he likes him on TV," a source close to the White House's press operation told BuzzFeed News.

"Ivanka has been pushing this for some time. Since the communications job was open, Trump thought it would be a nice fit. But the president doesn't understand what kind of responsibilities come with that job, and Sean did. Sean would have been expected to serve as press secretary, and do the comms job while Scaramucci held the ceremonial title, and he would have reported to him. It was the straw that broke the camel's back," the source said.
"And Trump did it over the objection of several senior staff who know Scaramucci in that job is a joke," the source added.
"It's been an honor & a privilege to serve @POTUS @realDonaldTrump & this amazing country. I will continue my service through August," Spicer tweeted. The New York Times first reported he was stepping down.
Later in the day, the president posted a tweet calling Spicer a "wonderful person" and pinned the blame on Spicer's sudden exit from the White House on the media.
At his first White House daily press briefing on Friday, Scaramucci named Sarah Huckabee Sanders the new press secretary. She read a statement from Trump about Spicer's resignation, complete with an odd line about television ratings at the end: "I am grateful for Sean's work on behalf of my administration and the American people. I wish him continued success as he moves on to pursue new opportunities. Just look at his great television ratings. Sean will continue to serve the administration through August."
Scaramucci then took over, calling Spicer — a Navy reservist — a "true American patriot" and said he hoped he would go on "to make a tremendous amount of money."
"He's done an amazing job. This is obviously a difficult situation to be in. And I applaud his efforts here and I love the guy and wish him well," Scaramucci said.
Scaramucci dismissed reports that Spicer resigned because of his appointment as the communications director saying, "I don't have any friction with Sean."
"I would love to have Sean here," Scaramucci said. "Sean decided that he thought it would be better to go and for me...it speaks volumes to who he is as a human being, who he is as a team player. So his attitude is, 'if Anthony's coming in, let me clear the slate for Anthony' and I do appreciate that about Sean and I love him for it."
Scaramucci was calm, chatty, and easily engaged reporters — something Spicer was never quite able to master at the White House — and repeatedly said how much he loves people in the White House and how much he loves the president.

Though his presentation was sleek, the substance from previous news conferences wasn't that different: When asked about Trump's baseless claim that about 3 million people illegally in the election, he said, "There's probably some level of truth to that."
Then he signed off like this:
Spicer had been filling that role while also serving as press secretary, following the departure of Mike Dubke as communications director at the end of May.

"I think the last straw was, they just didn't know what to do with Spicer," a source close to the administration told BuzzFeed News.
The source added that Spicer has been bashing White House director of strategic communications Hope Hicks after she accompanied Trump during an interview with the New York Times this week — in which the president said he would not have nominated Jeff Sessions to be attorney general had he known he would recuse himself from the probe into Russia's involvement in the presidential election. The Trump family did not take kindly to Spicer's response. (A New York Times reporter tweeted that Spicer was involved in the planning of the interview.)
Spicer was not the only person in the White House who was concerned about bringing Scaramucci on board. White House chief of staff Reince Priebus "never wanted Scaramucci," the source close the the administration told BuzzFeed. "I mean juxtapose Reince with him — who do you think Trump is going to like more? Who has got the swagger and personality that Trump would like more?"
Scaramucci, at the press briefing, said he and Priebus were like brothers "where we rough each other up once in awhile ... but he is a dear friend."
The source, though, was unsparing in his opinions on how the White House press team has functioned to this point.
"The comms shop sucks," the source said, adding that Scaramucci has done a good job defending Trump on TV. "You can't put any of these jabronis on TV."
Those close to the administration who have remained skeptical of Priebus and Spicer because they don't consider them Trump loyalists see the shakeup positively. This is "all good! Trump needs more people around him he can trust," one of them wrote to BuzzFeed News.
Sam Nunberg, a former Trump adviser, was also supportive of Trump's move. "Anthony Scaramucci will be a tremendous advocate for the White House," he said. "This is a great day for the Trump movement."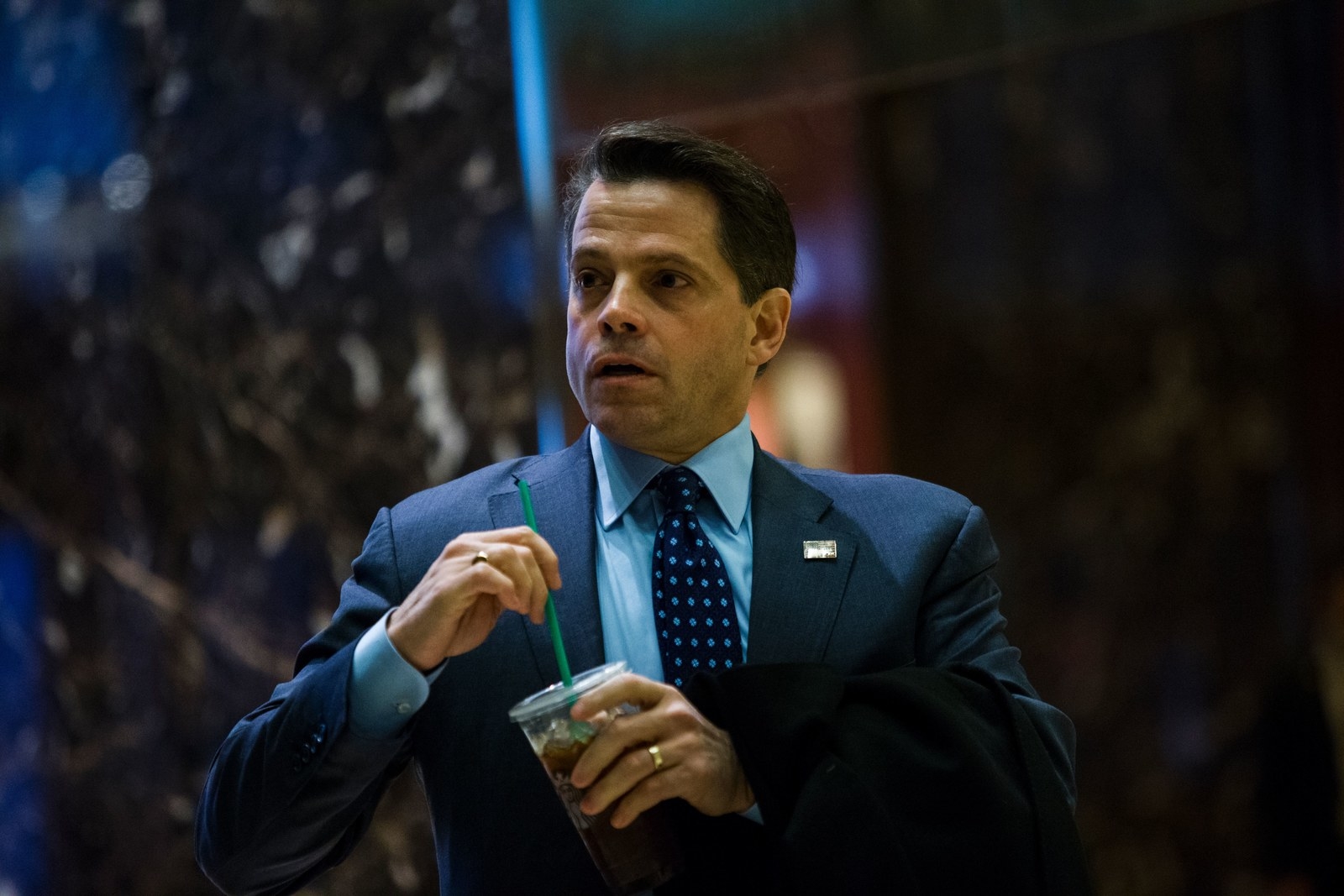 Rumors and anonymous reports of Spicer's resignation — or firing — have been out for more than a month, as the White House has increasingly relied on Huckbee Sanders to do off-camera press briefings.
The last time Spicer hosted an on-camera daily briefing was June 23. Today's on camera press briefing is the first since June 29.
Scaramucci originally supported Wisconsin Gov. Scott Walker and former Florida Gov. Jeb Bush in the 2016 GOP presidential primary. He later came out in support of Trump and even made an effort to get skeptical Mitt Romney donors on board with Trump last summer, calling himself a "team-playing Republican."
When Scaramucci was asked at the briefing about calling Trump a "hack" during the campaign, he leaned right into the answer.
"He brings it up every 15 seconds," he said, to laughter. "It was one of the biggest mistakes that I made, because I was inexperienced person int the world in politics, I was supporting another candidate. So Mr. President, if you are listening, I personally apologize."
Like Trump, Scaramucci has previously donated to Democratic committees and candidates, among them former Senate Majority Leader Harry Reid, Senate Minority Leader Chuck Schumer, former President Barack Obama and Hillary Clinton's Senate and presidential campaigns.
Scaramucci gave at least $310,000 to Republican candidates and committees that disclose their donors during the 2016 election. He adds to the group of wealthy Republicans — including major GOP donors like Education Secretary Betsy DeVos — that Trump, who ran on a promise to "drain the swamp," has in his administration.

Scaramucci filling the communications director job comes after several veteran Republican operatives previously told BuzzFeed News that they would not want to serve Trump in that position, which would typically be considered a dream job under a different administration.

Scaramucci, who recently sold his stake in his hedge fund, was originally under consideration for the Office of Public Engagement and Intergovernmental Affairs, a post held by Valerie Jarrett under President Barack Obama. But White House Chief of Staff Reince Priebus tried to get Scaramucci to pull out, claiming that his ethics review was taking too long. Priebus, according to reports at that time, did not want someone as close to the president in that position as Scaramucci is and sees him as a possible threat to his own power.
More recently, Scaramucci had joined the US Export-Import Bank as chief strategy officer.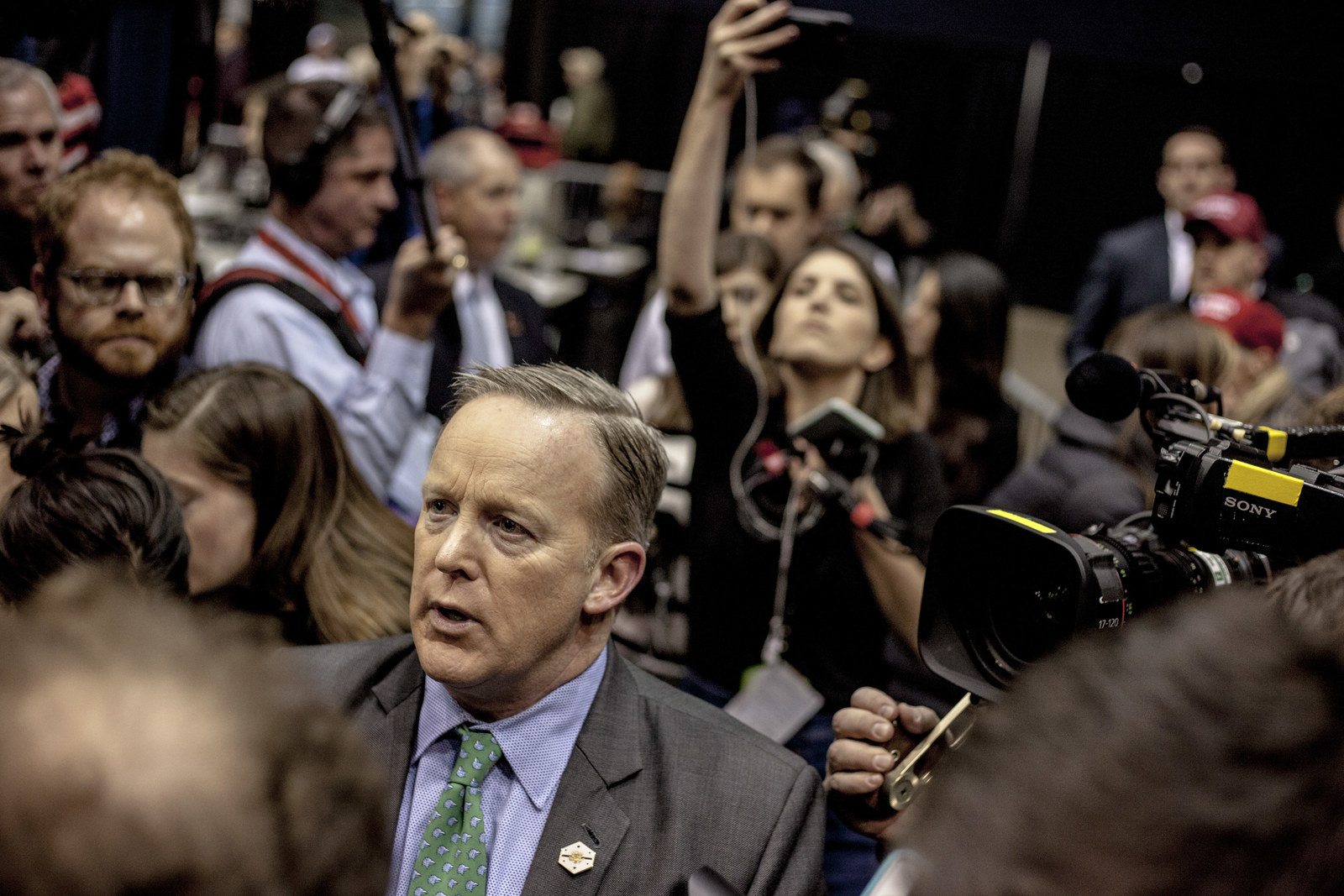 Before news of his resignation became public, Spicer reportedly slammed a door in an ABC reporter's face when he tried to ask him a question about Scaramucci. Bloomberg reported audible applause came from the press secretary's office, where staff was meeting with Scaramucci.
"I'm sure there will be plenty of opportunities," the Washington Post reported Spicer said when asked what's next.
Spicer's tenure at the White House started very rocky and never seemed to get better: He was immediately ridiculed for lying about the crowd of the size at Trump's inauguration during his second day on the job.
His performance at press briefings prompted increased audiences for the briefings themselves and several scathing and wildly popular Saturday Night Live skits, where he was impersonated by Melissa McCarthy as an aggressive, gum-chewing White House official who would use props to explain himself.

Spicer also avoided questions about the president firing former FBI Director James Comey in May by hiding among the bushes at the White House. The correction the Washington Post issued regarding the story more accurately described his position relative to the bushes as "among the bushes," but the entire situation led some people to even print off cutouts of Spicer to place in hedges.

Spicer was also known for his often repeated line when asked about the meaning of something Trump said on Twitter: "The tweet speaks for itself."
At the Pentagon, Spicer enjoyed a status that far surpassed his rank, a commander in the Navy reserves. Each time he came to the building to do his reserve duty — usually for a few days at a time — he would be surrounded by colleagues eager to hear stories about life inside the White House.
As he walked the halls of the building, both civilians and military personnel alike would approach him and either give him an "atta boy" or express their displeasure with the administration. One time, someone came up to him and said, "You look a lot like that Sean Spicer." He was wearing his uniform at the time, which included his name tag.
While serving his reserve duty, he tried to conduct himself like any other Navy commander, taking orders from the Navy captain in charge of his reserve duty and deferring to his chain of command. But Spicer's civilian rank crept up even then. On the desk of his commander, Navy Capt. Greg Hicks, spokesman for the chairman of the Joint Chiefs of Staff, sits Spicer's coin, which is handed out as a gift. Spicer's coin shows the White House podium and Spicer's signature on one side.
On Thursday, Spicer joined Trump for a meeting inside a secure room at the Pentagon known as "the Tank." Among those at the table were the commanders that make up the Joint Chiefs of Staff, the type of meeting now usually attended by a Navy Reservist commander. Indeed, he held the lowest military rank in the room.
Unlike other former administration members, Spicer will not have a future with CNN as a commentator. Meanwhile, Fox News said, "We talk all major players."
Tasneem Nashrulla contributed reporting.