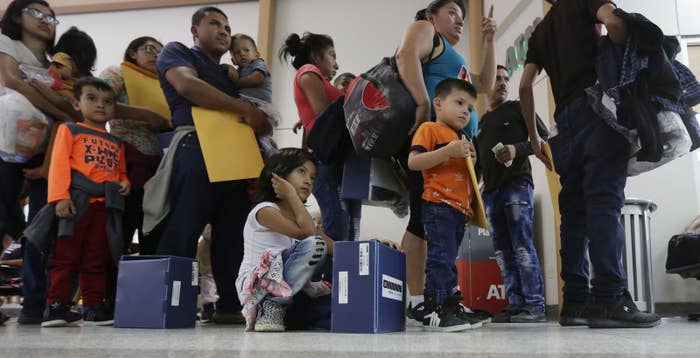 Hundreds of parents who were separated from their children at the border will have another chance to make their asylum claims as part of a settlement with the Trump administration.
The settlement, filed late Wednesday and covering three major lawsuits over family separations, would allow at least 1,000 parents who failed their credible fear interviews a second chance at proving that they have a legitimate fear of persecution in their home countries.
If either a parent or child establishes a credible fear of persecution or torture, the family will be able to apply for asylum together, the settlement said. In cases where a parent fails to pass a credible fear interview, they still will be able to stay with their child in the US if the child has a pending asylum case, according to the agreement.
"It's a huge deal that in this situation, where parents never really got a fair shot at their credible fear interviews, they're getting a second chance," Sirine Shebaya, senior staff attorney for Muslim Advocates, one of the organizations that filed a lawsuit, told BuzzFeed News. "This second look is something I've never seen at this scale."
Shebaya said the settlement could even give deported parents the chance to bring their claims before the government on a case-by-case basis. Many parents said they had been coerced into signing away their rights to seek asylum and agreeing to deportation, believing it was the only way to be reunited with their children.
The family separations at the border this summer occurred after the government implemented its "zero tolerance" policy, filing charges against every adult caught trying to enter the US illegally. Because children couldn't go with their parents into federal custody while they faced illegal entry charges, the families were forcibly separated.
Audio and images of crying kids or children held in cages contributed to a massive outcry against the administration, forcing President Trump to rescind the policy in June.
US immigration authorities were accused of coercing parents separated from their kids into signing documents, like deportation papers, or they would never see their children again. Other immigrant parents said they were misinformed, coerced, or tricked into waiving their rights to be reunited with their kids. In the end, many of the parents also failed their credible fear interviews.
The separations also resulted in several federal lawsuits being filed. A San Diego lawsuit, referred to as the Ms. L case, forced the government to reunite more than 2,500 kids with their parents. Another federal lawsuit temporarily stopped the deportation of reunited families to give children a chance to follow through with their asylum claims.
The lawsuit accused the government of systemically and unlawfully pushing the parents through the interviews while they suffered trauma at the hands of US authorities. The complaint also accused the Trump administration of using the negative outcomes as a result of the "defective credible fear interviews" to quickly deport them. Attorneys argued that pushing the parents through the interviews violated the Immigration and Nationality Act, the Rehabilitation Act, and the Due Process Clause of the US Constitution's Fifth Amendment.
The settlement covers all three lawsuits.
Shebaya said the second look at asylum claims made by parents who received a negative outcome and were separated from their kids will allow them to submit more evidence and have attorneys represent them during the process.

Parents who failed their credible fear interviews also will have a second chance to make their case again before an immigration judge, but in most cases the judge sides with the asylum officer. Receiving a negative determination by an asylum officer placed parents on the fast track to deportation.
"Parents were so traumatized because they were separated from their child they were not in a position to provide the facts and evidence the asylum officer needed in order to make a credible fear determination," Shebaya said. "They were not in a state of mind where they could go through and fully explain what happened to them."
The lawsuit, filed on behalf of 29 parents who were separated from their kids, alleged that parents were confused, disoriented, and unable to focus on anything beyond their children, and as a result were unable to articulate their fears of persecution or torture in their home countries.
The government slammed the courthouse doors on this group of families, said Simon Sandoval-Moshenberg, legal director of the Immigrant Advocacy Program at the Legal Aid Justice Center in Virginia.
"With the settlement, it's not like we can open the courthouse doors but it gives each of them a chance to walk up to the door and see if they can pull it open," Sandoval-Moshenberg told BuzzFeed News.