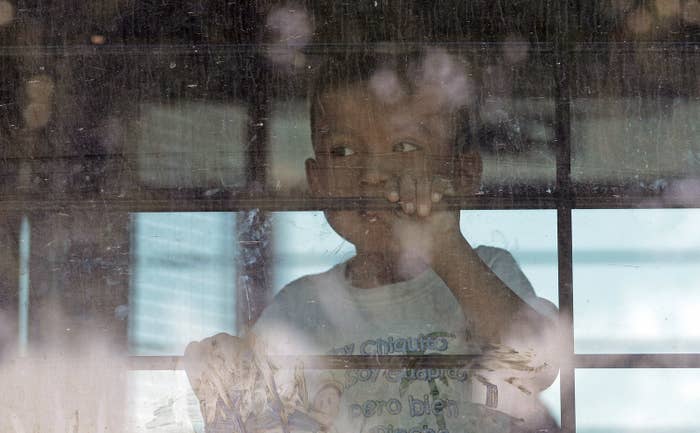 US immigration authorities coerced parents who were separated from their children at the border under the Trump administration's "zero tolerance" policy into signing documents they didn't understand or didn't want to sign, according to a complaint filed Thursday.
The complaint filed by the American Immigration Council and the American Immigration Lawyers Association includes testimonials from some parents who said immigration officers told them they had to sign the forms, including deportation papers, or they would never see their children again.
Still others said they were pressured by Immigration and Customs Enforcement officers into signing forms that already had been filled out. Some of the parents who signed the forms were seeking asylum.
"This really is the systemic and intentional effort to take children away from parents and hold them as hostages in order to sabotage their right to apply for asylum in the US and then use these children as threats to other parents contemplating coming to the United States," said Ben Johnson, executive director of the American Immigration Lawyers Association.
Asked about the complaint, the Department of Homeland Security, which oversees ICE, referred to the July 31 Senate testimony of Matt Albence, an executive associate director at ICE, who denied that ICE officers were coercing parents to be deported.
"There is long-standing ICE policy which dictates how a reunification may occur for an individual that is being detained and going through an immigration process," Albence said.
More than 2,500 children were separated from their parents as a result of the zero tolerance policy, which sought to prosecute anyone caught trying to enter the US illegally. Being prosecuted for illegal entry resulted in parents being sent to federal custody to face the charges and their children being sent into the custody of Health and Human Services.
Following immense outcry, President Trump signed an executive order directing the Department of Homeland Security (DHS) to keep detained families together. As a result of a lawsuit over family separations, a federal judge also ordered the government to reunite the separated families, though 366 parents had already been deported without their kids, and 565 children remain in government custody without their parents.
The complaint was submitted to DHS's Officer for Civil Rights and Civil Liberties and Inspector General.
A mother from Guatemala who was separated from her 5-year-old son for 32 days told lawyers that she was told to sign a form by an ICE officer who said, "Sign here [and] you will get your child back if you return to your country," without being told there were other options, such as being reunited with her son and allowed to stay in the US to fight their asylum case.
"I was so desperate to know the whereabouts of my son and finally hold him in my arms again that I signed for both of us to be reunited even if it meant going back to Guatemala," said the mother, identified as A.E. in the complaint.
In the El Paso area, numerous parents said that ICE officers demanded that they sign forms affirmatively abandoning their rights to reunification. Fathers at the West Texas Detention Facility in Sierra Blanca, Texas, said they were forced to sign forms waiving reunification and were not told they were entitled to pursue their asylum claims and be reunited with their child, the complaint said.
Four parents, who had recently been reunited with their children, said that on July 25, ICE officers boarded the bus they were on and told her to sign pre-completed forms saying they wanted to be deported with their kids. At least two fathers refused to sign, saying they wanted to be deported without their children. They were yelled at in English and pressured in Spanish to sign the forms.
"All four fathers recounted that their children were separated from them a second time upon their refusal to sign the forms pre-marked with Option 1, which would have agreed to them being deported together," the complaint said.
Katie Shepherd, the national advocacy counsel for the Immigration Justice Campaign, said many parents reported being given inadequate or spoiled food and forced to lie on cold floors while being held at Customs and Border Protection (CBP) facilities, creating a stressful and coercive environment.
"The coercion and coercive environment created by government officials really started at the moment these families entered US soil," Shepherd said on a call with reporters.
Among several corrective actions the complaint seeks, advocates for the families want DHS to announce a clear policy forbidding any tactics that pressure people into making decisions affecting their legal cases. The complaint also says DHS should bring back deported parents who were not given the chance to reunite with their children or "meaningfully participate" in the asylum process.