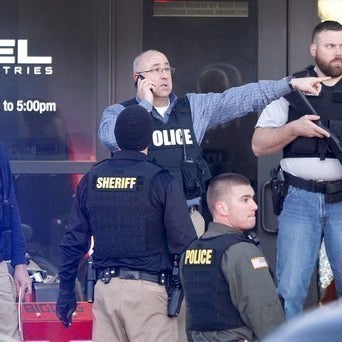 Three people were killed and 14 others injured Thursday when a gunman opened fire at several locations in central Kansas, culminating in a shootout with a police chief that left the gunman dead, authorities said.
Harvey County Sheriff T. Walton identified the shooter as Cedric Larry Keith Ford, a 38-year-old employee at lawn care company Excel Industries, which was the scene of the final shootout in Hesston, a small town located about 35 miles north of Wichita.
Walton said Ford, who was armed with an "assault-style long gun" and a handgun, was killed by an officer responding to the shooting. The officer was identified Friday as Doug Schroeder, Hesston's Chief of Police, a spokesperson for the police department confirmed to BuzzFeed News. The three victims who were killed were identified by friends and family as Josh Higbee, 31, Renee Benjamin, 30, and Brian Sadowsky, 44.
A spokesperson for Christi St. Francis Hospital told BuzzFeed News Friday that seven shooting victims were admitted Thursday. One is in critical condition, two are in serious and four are in fair condition.
Six shooting victims were admitted to Newton Medical Center after the shooting, a spokesperson said Friday. Three were released, one was transferred to Wesley Medical Center in Wichita, and two were in good condition, the spokesperson said.
"I have never seen anything like this," Walton said Friday, adding, "We are going to get through this, we are going to be alright."
"Our families are deeply saddened by the horrific event that occurred yesterday," Paul Mullet, the president and CEO of Excel Industries said. " Our hearts go out to the employees and families who are enduring this tragedy."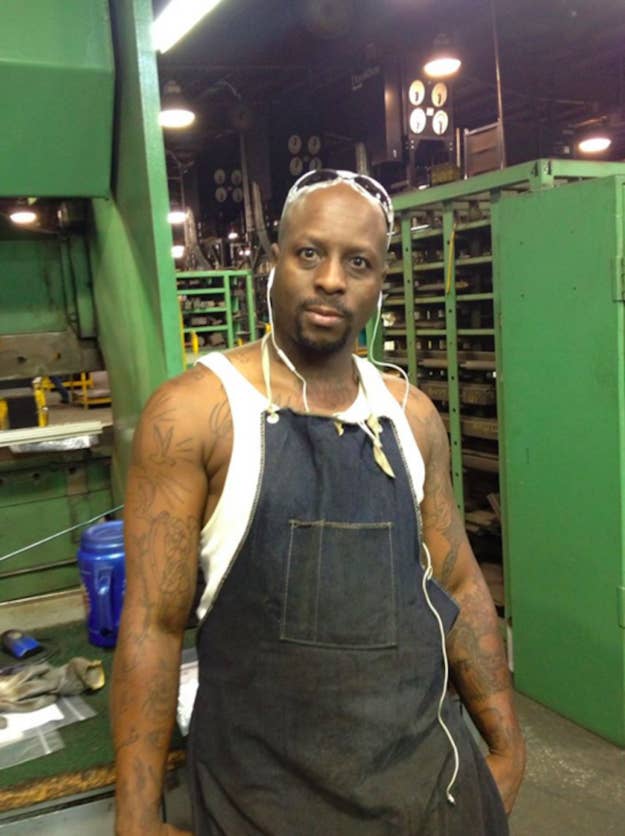 The sheriff's office had served Ford with with a protection from abuse (PFA) order hours before the attack, Walton said. Ford was served with the order around 3:30 p.m. Thursday, which likely triggered the attack which began at around 5 p.m, he said.
A protection from abuse order is made "usually because you are in a relationship where there's been some kind of violent occurrence," according to Walton, who did not give details on who sought the order or Ford's relationship with them. Ford was "upset" when he was served the order at Excel, "but nothing greater than anybody else who gets served a PSA," Walton said.
A PFA is a civil court mechanism ordering an alleged abuser not to have contact with a victim, according to the Kansas Coalition Against Sexual and Domestic Violence. To qualify for a PFA order, the victim must have a specific relationship with the abuser.
In the PFA petition, filed on Feb. 5, a woman who said she was Ford's live-in girlfriend, wrote: "Cedric and I were verbally fighting. It became physical by him pushing me, then grabbing me. He placed me in a chokehold from behind — I couldn't breathe. He then got me to ground while choking me — finally releasing me."
She also wrote that Ford was "an alcoholic, violent and depressed." "It's my belief he is in desperate need of medical and psychological help!"
"He has been in my jail a couple of times before," Walton said. He did not know how Ford was able to obtain the weapons used in the attack. A spokesman for the Bureau of Alcohol, Tobacco, Firearms and Explosives, said they were tracing the weapons, and investigating how Ford obtained them despite having a criminal record of illegal guns, burglary and battery in his hometown of Miami.
Kansas laws do no require a permit to purchase or carry a firearm, and do not require firearms to be registered.
The first 911 call was made at 5:00 p.m. when a man driving with two children was shot in the shoulder by Ford. Another car was also shot at, but the driver was unhurt, Walton said. A second 911 call came in when another person was shot in the leg on another street. Ford stole the victim's car and proceeded to Excel Industries — six miles from the first crime scene.
At Excel, Ford shot a person in the parking lot, Walton said. He then entered the building and continued to fire. In all, 15 people were shot inside the building, Walton said.
The first officer, now identified as Hesston Police Chief Doug Schroeder, entered the building while Ford was shooting. After exchanging fire, Schroeder shot and killed Ford at 5:24 p.m.
"This man was not going to stop shooting," Walton said. "The only reason he stopped was because the officer shot him."
"Even though [the officer] took fire, he went inside that place and saved multiple, multiple lives," Walton said. "A hero as far as I'm concerned."
Kansas Governor Sam Brownback said flags in the state would be lowered on Friday to honor the victims.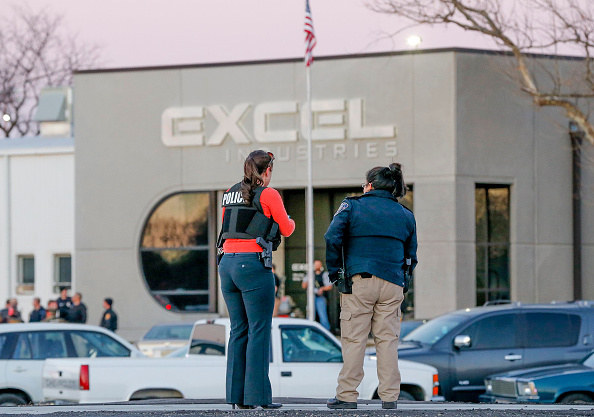 Matt Jarrell, an employee at Excel Industries, said he was work partners with the shooter.
Jarrell said he was taking a break when he heard someone yell, "Hey," and saw his coworker with an assault rifle strapped to his shoulder.
"He was ready to go," Jarrell told KWCH-TV.
Jarrell said Ford, his partner in the paint department, fired a few rounds before going into the building.
Ford had been acting normally earlier in the day, he said.
"Never would've thought in a million years that this guy would've done it," Jarrell said.
Ford had just purchased a new truck but showed up to Excel Industries in a different truck.
By Thursday night, a SWAT team gathered around Ford's mobile home. After a lengthy standoff with what officials initially thought was the gunman's roommate, authorities determined no one was inside.
The sheriff said he did not believe the shootings were terrorism.
Walton hailed another officer, Sgt. Chris Carter, as a hero for helping a victim in his personal vehicle after he was off-duty. Carter, who arrived on the scene after the shooting ended, said, it was "overwhelming." He said many of the Excel employees directed officials to where victims needed treatment.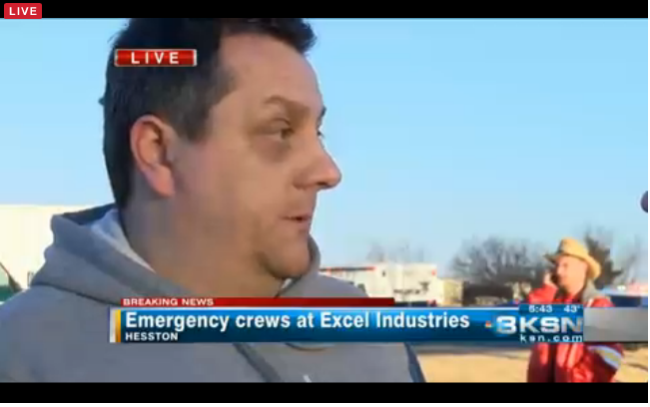 An Excel Industries manager, identified only as Joe, said he heard gunfire, and saw employees immediately start exiting the building.
About 150 people were inside the business at the time, and authorities were still working on interviewing all of them Thursday night.
Another witness said she saw the gunman get out of his truck at another location and open fire on a passenger in a Chrysler car before running into the building.
That car then drove off into a ditch, where a bystander rushed to render aid, she said.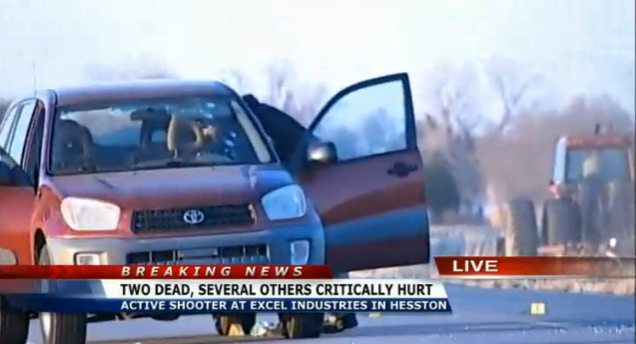 Another car-to-car shooting appeared to involve a small SUV, which had several bullet holes in the windshield.
The driver of the Toyota SUV reportedly suffered at least one gunshot wound and was taken to a nearby hospital.
Kansas Gov. Sam Brownback, in a statement Thursday, called the shootings "a tragedy that affects every member of the community."
"I ask all Kansans to offer their prayers for the victims and families of today's shooting in Hesston," he said. "This is a tragedy that affects every member of the community and I ask that Kansans remember them in their thoughts. State law enforcement agencies are supporting the local authorities and I will provide any support to help them and the entire community in the days and weeks to come."