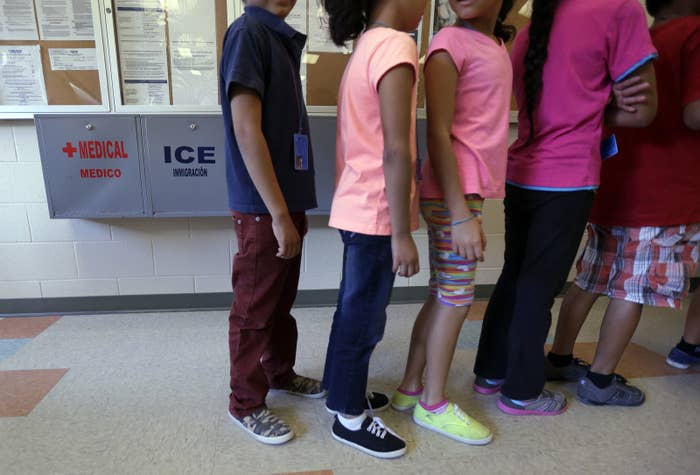 The separation of 16 fathers and their sons for the second time by immigration authorities has attorneys concerned that their clients' latest split from their children is an attempt to quell protests inside the Texas detention facility.
The reseparations on Wednesday took place a day before at least 30 dads held at the Karnes County Residential Center, in Karnes City, Texas, were planning to go on a hunger strike and two weeks after a larger group of fathers said they would do the same in an attempt to press US authorities to expedite their cases. Their sons were going to go on a strike of their own by refusing to participate in any school activities.
Casey Miller, a legal assistant with the Refugee and Immigrant Center for Education and Legal Services, said the second separations were not only traumatic for the families but appeared to be an intimidation tactic by Immigration and Customs Enforcement to stop the dads from going on a hunger strike this week.
"It's super calculated by ICE," Miller told BuzzFeed News. "It feels like a game, like 'We're going to beat you at your own game because we have all of the money and power.'"
The fathers and kids were not given any information when they were separated about when they would see each other again, but they were reunited the next day.
This group of fathers was among the more than 2,500 parents who were separated from their kids after they were caught crossing the border illegally under the Trump administration's "zero tolerance" policy. A judge has since forced the government to reunite the families, but these fathers have grown increasingly frustrated at being detained without any information about when they will be released.
The separations on Wednesday occurred at about noon, Miller said. ICE officers inside the Karnes County detention center wearing tactical gear handcuffed and took the 16 fathers to the South Texas Detention Complex in Pearsall, Texas, while their kids were in school. Some of the fathers said they were in their cells when ICE agents arrived, asked for them by name, and then took them out.
Their sons were then placed in two separate rooms in a medical area, with eight boys in each room.
Attorneys, legal assistants, and volunteers with RAICES who were meeting with some of the fathers said they were hurriedly evacuated from Karnes and also saw armed ICE officers in the hallways as they were leaving.
In a statement, ICE said that on Wednesday about 40 men detained at Karnes were involved in a disturbance, and that as a result they deployed additional officers and asked all visitors to leave the facility. The agency said no kids were involved in the incident and also declined to go into detail about what the disturbance was.
"No one was injured during this incident," ICE said.
Miller said around nine of the 16 fathers were part of the group who had planned to go on a hunger strike previously. She suspects ICE did not exclusively single out fathers who had organized so it wouldn't appear they were being targeted.
"It still had the effect of intimidating, retaliation," Miller said.
Ryan Clough, a staff attorney with RAICES, said that when he asked an ICE officer to provide examples of the disturbance they said it included behavior such as not wanting to eat with their kids, not taking the children to school inside the facility, and not "going with the flow." Clough said many of the 16 dads were in their rooms at the time they were taken away in handcuffs and not causing a disturbance.
"The facts strongly suggest this was retaliation for a lawful peaceful protest," Clough said.
In a phone call with reporters, some of the fathers said they were put in solitary confinement, or "the hole," when they arrived at the South Texas Detention Complex. The dads weren't given any information as to where their sons were or when they would see them. Their kids were also not given any information.
"We started to die again, now knowing anything about our sons," said one father from Honduras who asked to remain anonymous for fear of retaliation. "They did the same thing the first time when they separated us from our kids."
Another father, also from Honduras, said he couldn't wrap his head around what was happening to him.
"It seemed like they were going to take away my son," he said in Spanish. "It was hard not knowing anything, what they had done with him."
A boy from Honduras said he was taken by a woman to a room with the other boys. He said they weren't told what happened to their fathers.
"I was crying for my daddy," the boy said. "I spent the entire time crying. I wanted to see my dad."
The hunger strike that was being planned, as well as the earlier one, stemmed from the fathers' frustration over being detained by ICE without any indication of when they would be released. There were conflicting reports from RAICES and ICE about whether a hunger strike had occurred on Aug. 2, but federal authorities did say there was a "brief sit-in" over frustrations about the fathers' immigration cases.
The issue of when they will be released is being debated in federal court. Judges have been looking into whether to deport the reunited families after lawyers expressed concern that parents reported being coerced into choosing between being deported without their kids or being deported with them and having the minors' immigration cases dropped.
On Thursday, San Diego Judge Dana Sabraw, who is also overseeing the lawsuit that forced the government to reunite families, ordered the government to temporarily halt the deportation of children who had been separated by the Trump administration in order to give time to pursue any asylum cases. The families will have to wait at least another week while the government and attorneys come up with a plan that will allow the kids to pursue their claims without being deported.