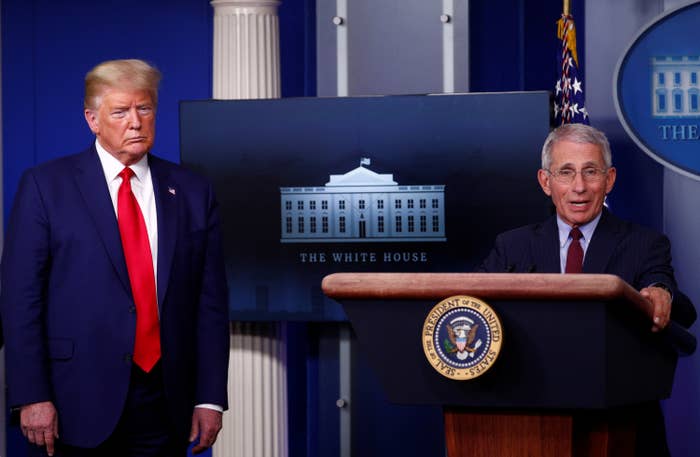 The journalists at BuzzFeed News are proud to bring you trustworthy and relevant reporting about the coronavirus. To help keep this news free, become a member and sign up for our newsletter, Outbreak Today.
WASHINGTON — The US should expect between 100,000 and 240,000 deaths from the coronavirus, the White House said Tuesday.
That is "what would happen if people stayed home, what would happen if people were careful every day to wash their hands and worry about touching their faces," Dr. Deborah Birx, the White House Coronavirus Task Force coordinator, said at President Donald Trump's daily coronavirus press conference. "What an extraordinary thing this could be if every American followed these."
Birx added that she is hopeful that the numbers could be lower. "We really believe and hope every day we can do a lot better than that, because that's not assuming 100% of every American, everything they are supposed to be doing. But I think that's possible," she said.
However, if people don't follow the government's mitigation guidance, Birx warned, projections show that, on the high end, the US could see between 1.5 million and 2.2 million deaths.
While the White House task force showed charts with the top-line deaths at 240,000, Birx repeatedly said during the press conference that 200,000 was the high end of what the US government is currently expecting. When asked if and why those numbers had changed, Birx said, "It just has to do with if you had more New Yorks and New Jerseys. Chicago, Detroit, LA, Dallas, Houston — all of our major cities, modeled like New York, that's what gets us in trouble. But I am reassured by looking at the Seattle line, by looking at the LA Line, by looking at what California has been able to do, that that is not something that — I don't believe that's gonna happen. That is the outside case of having 10, 15 metro [area]s like New York and the New Jersey metro area."
Birx said that the projections were based on people social distancing by six feet when they are outside, saying, "That is probably absolutely the key more than anything else is if you're never within six feet of any single individual then you've controlled the virus."
She added, "What I've heard from our vice president and president is they trust the American people to understand that they can be outside and take walks, be six feet away from anyone else and be in their home, and we trust them to do that."

Trump warned at the press conference that the next two weeks will be "very, very painful," and that a surge in cases is coming. "When you look and see at night the kind of death that has been caused by this invisible enemy, it's incredible," he said.

Dr. Anthony Fauci, director of the National Institute of Allergy and Infectious Diseases, joined Birx and the president at the press conference and warned people to continue social distancing and following guidance from public health experts.
"As sobering a number as that is, we should be prepared for it," Fauci said, referring to the projected deaths. "It will be difficult, no one is denying that we are going through a really difficult time right now."
The numbers of cases and deaths are going to continue increasing significantly, Fauci warned, adding, "We have to brace ourselves. In the next several days to a week or so we are going to continue to see things go up. We cannot be discouraged by that because the mitigation is actually working and will work."
There are now more than 186,265 cases of COVID-19, the disease caused by the coronavirus, in the United States with 3,810 deaths, according to data compiled by Johns Hopkins University. The country now has more cases than anywhere else in the world, surpassing China and Italy in recent days.
If you're someone who is seeing the impact of the coronavirus firsthand, we'd like to hear from you. Reach out to us via one of our tip line channels.