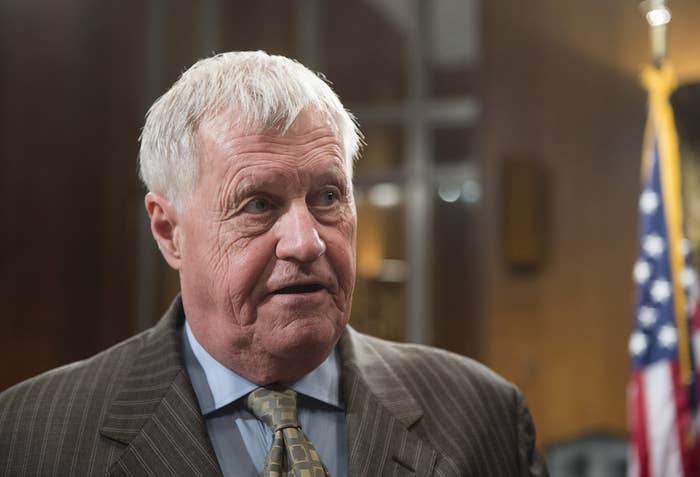 WASHINGTON — Two Democrats broke with their party and voted against impeaching President Donald Trump Wednesday night.
Reps. Collin Peterson of Minnesota and Jeff Van Drew of New Jersey were the only Democrats who opposed impeaching the president. But Van Drew, the party's most vocal impeachment critic, plans to leave the Democratic Party in the coming days and become a Republican, after Trump made an appeal to him in a meeting last week.
Another Democrat, Maine Rep. Jared Golden, voted yes on impeaching Trump for abuse of power, but voted no on impeaching him for obstruction of Congress. Hawaii Rep. Tulsi Gabbard, who is running for the Democratic nomination for president in 2020, voted present on both articles.
Van Drew and Peterson were the only Democrats to break with their party on an October vote to formalize the impeachment inquiry. Peterson said in the days leading up to the vote that he would likely oppose the articles of impeachment as well, while Van Drew planned to leave the party.
Peterson said he, too, was approached about switching parties by "the highest levels of the Republican party" in the lead-up to the impeachment vote, but decided against it. Peterson, one of the most conservative Democrats in the House, was first elected in 1991. He, unlike most of his colleagues, supports giving Trump money to build a wall on the Southern border and is staunchly anti-abortion. He maintains an A rating from the National Rifle Association and beat his Republican opponent by about four points in 2018.

Van Drew told reporters after Wednesday night's vote that he had attended Republicans' caucus meeting that morning, but that he is currently still a Democrat. He said he would update reporters in the next few days about the party-switch. Van Drew added that Republican members have been "very nice" and "very supportive." He stood with other Republicans during House Minority Leader Kevin McCarthy's speech against impeachment.
"This isn't about liking or not liking Donald Trump," Van Drew told reporters immediately after the vote. "This is about the proper and appropriate use of one of the most serious actions you can take in the United States of America, other than declaring war.
"And I think it's going to cause harm in our country I believe that is going to cause a great deal of animosity between people and friction. ... I felt that it was appropriate to go for it so I sat with my Republican friends on this issue."

A number of Van Drew's staff resigned Sunday, writing in a letter that his "decision to join the ranks of the Republican party led by Donald Trump does not align with the values we brought to this job when we joined his office."

Asked what his constituents have been telling him, Van Drew said that "some people were obviously very very much against" impeachment, while others were in favored it. "We get thousands of phone calls, emails, etcetera, that's normal."

Van Drew has voted almost entirely with Democrats since becoming a member of Congress in January and did not say he'd make major changed in his voting patterns. "If it's something that I think is good, I'm going to vote for and if, it's something that I don't think is this good, then I won't," he said.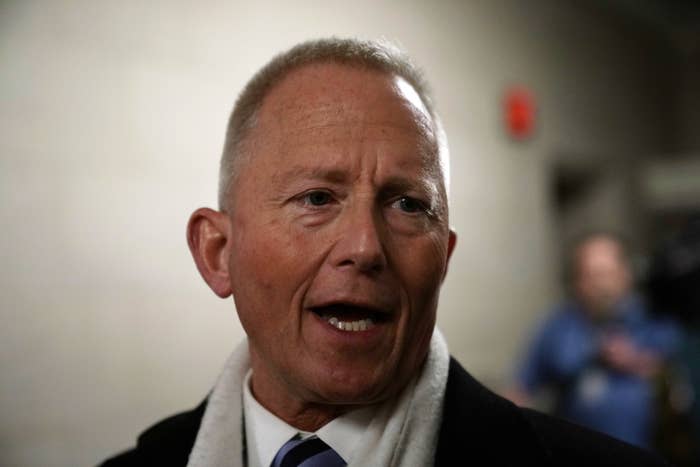 Golden, a first-year Democrat, narrowly defeated a Republican last year and is among the list of "frontline" Democrats party leadership considers most vulnerable in the upcoming election. In 2016, his district voted for Trump by 10 points.
In a statement Tuesday, Golden said he believed the House had "clearly" unearthed evidence that Trump abused the power of his office by asking Ukraine to investigate former Vice President Joe Biden and his family. "This action crossed a clear red line, and in my view, there is no doubt this is an impeachable act," the statement said.
But Golden said he planned to vote against the second article of impeachment because he did not believe the House had met the threshold of "high crimes and misdemeanors" related to obstruction of Congress.
Though Democrats did not tell members how they should vote on the articles of impeachment, House Speaker Nancy Pelosi worked doggedly in recent weeks to secure moderate votes for the articles that ultimately went to the floor — abuse of power and obstruction of Congress.
Many progressives and longtime impeachment supporters wanted a third article addressing obstruction of justice and Russian interference, related to former special counsel Robert Mueller's report, but many moderates felt it went too far. In an effort to appease members on the fence, Pelosi instead made the call that the House would bring just two articles to the floor.
Still, following the release of the articles of impeachment, several moderate Democrats who had been skeptical of the inquiry — including Reps. Josh Gottheimer, Kurt Schrader, Anthony Brindisi, and Ben McAdams — met to discuss the possibility of censuring the president instead of impeaching him, according to a Politico report last week. Censuring would formally condemn Trump's actions, without actually sending him to a Senate trial for removal from office.
The group ultimately voted in favor of impeaching the president, though McAdams acknowledged at a press conference that he had hoped for a censure vote instead.
"I hoped to find bipartisan common ground to censure the president instead of putting the country through a divisive and lengthy Senate impeachment trial with a predetermined outcome of dismissal," the Utah member said, adding "I cannot turn a blind eye, thereby condoning this president and future presidents — Republican or Democrat — to do the same."
On Tuesday night ahead of the vote, Gabbard — who is currently running in the 2020 Democratic presidential primary — also said she supported a censure motion and was undecided on how she would vote on the articles of impeachment. Ultimately, she voted present on both articles.
New York Rep. Max Rose, another closely watched moderate Democrat and one of the last to officially support the inquiry, released a statement last weekend announcing that he would vote for both articles.
"A President coercing a foreign government into targeting American citizens is not just another example of scorched earth politics, it serves as an invitation to the enemies of the United States to come after any citizen, so long as they disagree with the President. Embarking on an unprecedented effort to obstruct this inquiry doesn't make the facts any less true," the statement read.