On a cool night in August, a circle of men crouched on the wooden floor of a foggy gymnasium in Maskwacis (pronounced muss-kwa-cheese), a reserve of the Cree Nation in Canada, sharing a pipe. Behind them was a half-open casket draped in a Pendleton blanket. Pictures of a middle-aged woman and her family and messages of love from her children were displayed on a nearby table. The men got up and began beating hand drums and singing in Cree while, along the walls of the gym, people sat on chairs and benches. Some of them joined in the singing, including Rick Lightning. At a stout 5 feet 6 inches, the 62-year-old has short, cropped hair that is slightly more salt than pepper. He knew all the funeral songs, but stopped singing each of them after just a few words. "Since our daughter committed suicide," he said, "I haven't really wanted to sing very much."
Rick's 20-year-old daughter, Amber, killed herself in March 2015. She had joined Rick and his wife Inez's large family when she was 13, but they don't believe in using the word "foster." She was one of countless children they had taken in over the years, and she quickly became a part of the close-knit Lightning family, resembling Rick's twin daughters so much that some in the community didn't realize she wasn't their biological sister.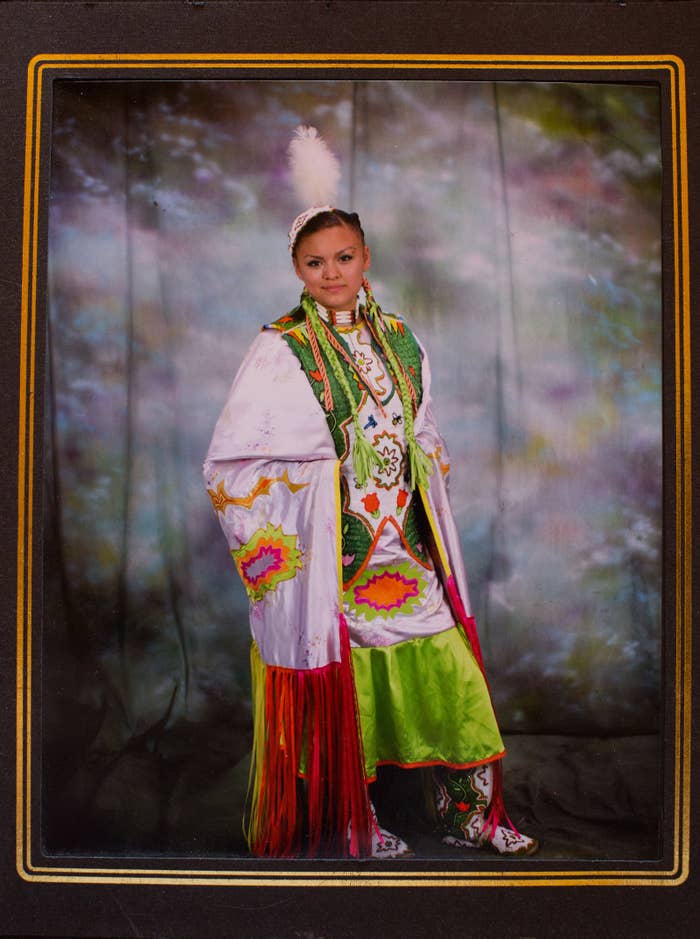 In every room of Rick and Inez's house, pictures can be seen of five generations of Lightnings smiling at the camera in graduation gowns, powwow regalia, dresses, and hockey kits. Last summer, the one family member whose picture wasn't there was Amber's. Cree tradition dictates that pictures of the deceased not be displayed for a year after their death. The family took down her Facebook page and, following custom, gave away or burned most of her belongings.
Amber's death was one in a cluster of suicides that affected Maskwacis last winter. From January to April of 2015, at least 11 people killed themselves on this Indigenous reserve of about 16,000 Cree in the province of Alberta. Though official figures haven't been released for this year, this winter saw more suicides, including those of several young people. The grief the Lightnings feel is one that almost everyone in Maskwacis now lives with. "[Amber] was the one that hit me the hardest," said Bobbi Lightning, Rick's 28-year-old daughter, who has lost six friends and cousins to suicide in the last three years alone. "I wanted to protect her."
"The scary part is because how easy it is, you never know who could do it next."
Maskwacis is a small, tight-knit community with large extended families, where "suicide impacts 100% of the people on the reserve," said Mario Swampy, a member of the Samson Cree Nation Council. After his brother killed himself in 1982, Swampy battled drug addiction and later attempted suicide. According to Maskwacis Health Services, in 2015, suicide was officially listed as the cause of 17% of deaths on the reserve.
Maskwacis is not alone among Canadian reserves in its high suicide rates; suicide is one of the leading causes of death of First Nations up to the age of 44. Status Indian adolescents are five to six times more likely to kill themselves than other Canadians in the same age group. Indigenous Canadians — which include First Nations, Inuit, and Métis (those of mixed ancestry) — make up around 4% of the country's population. They are the fastest-growing demographic group in Canada, and the epidemic of suicides may still get worse. In February, the Cross Lake First Nation, a Cree reserve, declared a state of emergency after 140 of their members attempted suicide in two weeks. And just last month, the Attawapiskat First Nation, another Cree reserve, declared a state of emergency after 11 people tried to kill themselves in a single night, leading to a series of protests, called #OccupyINAC, at offices of the Ministry of Indigenous and Northern Affairs in cities across Canada.
There is no single explanation for the epidemic. Residents have killed themselves after breakups, losing a job, or losing custody of a child, which, along with bullying, are some of the most common triggers; most were under the influence of alcohol or drugs. Yet underlying these issues is a centuries-old Indigenous assimilation campaign that left one of the darkest stains on Canada's past, as well as subsequent decades of political policies, erosion of Indigenous culture, poverty, and trauma that have coalesced in Maskwacis to create an environment where suicide isn't considered a last resort, but a typical one. "The scary part is because how easy it is," Bobbi said, "you never know who could do it next."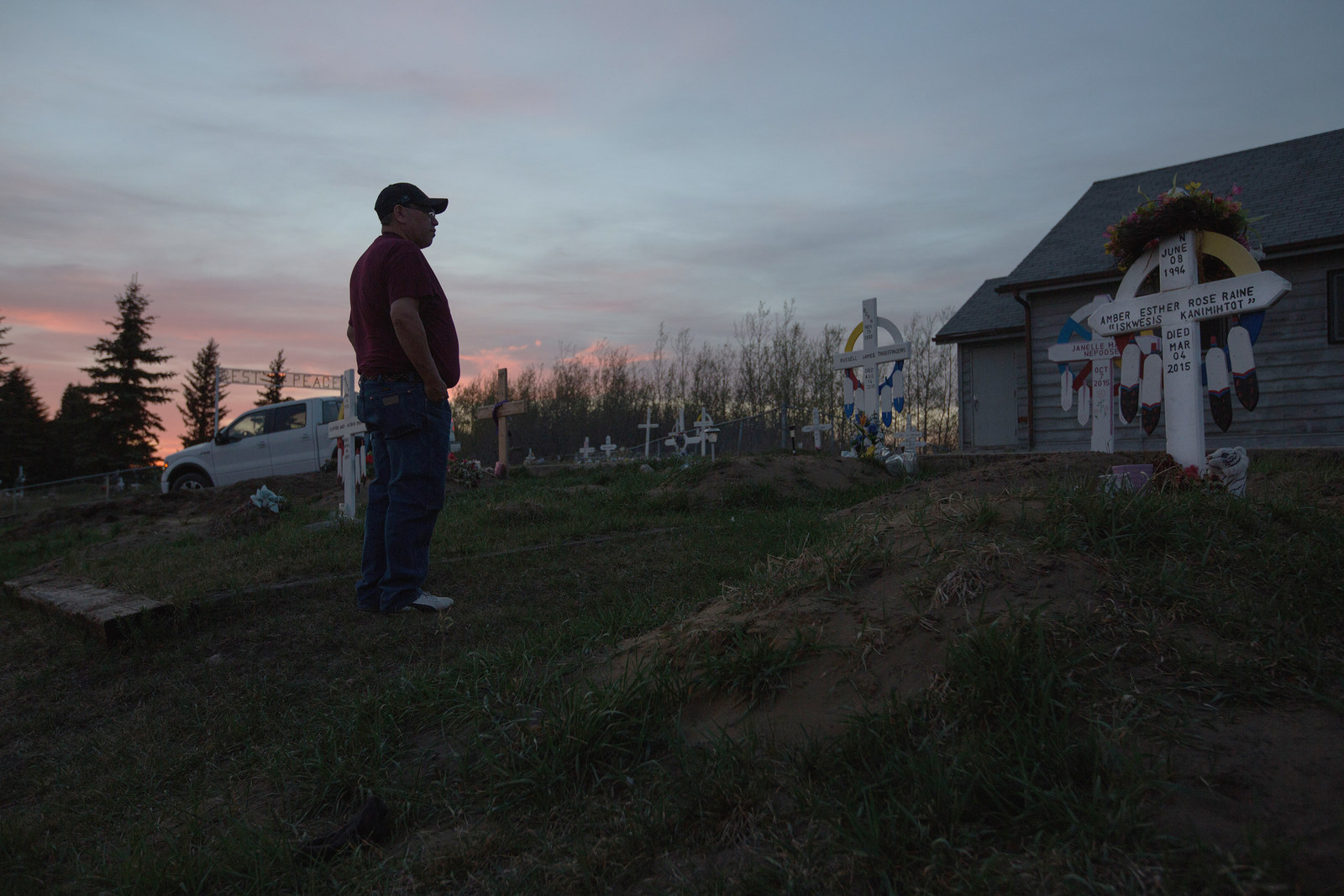 Located in Canada's prairie region, Maskwacis has vast green grasslands, bright yellow canola fields, spectacular sunsets, and starry nights during which the northern lights often come out to dance. Formerly known as Hobbema, named after the Dutch painter Meindert Hobbema, the reserve officially reclaimed its original name — Cree for "bear hills" — in 2014. The reserve is home to four Cree nations — Ermineskin, Louis Bull, Montana, and Samson — each with its own chief, nation council, and administration. But while there are administrative divisions, bonds of kin cross the nations.
Maskwacis is an hour south of Edmonton, roughly halfway between the small towns of Wetaskiwin and Ponoka, and the intersections between town and reservation life are visible at every turn. Life moves at a slow pace, and residents joke about "Indian Time" — a fluid concept of time that permits people on the reserve to be late to almost anything. Many on the reserve chew tobacco and bake traditional bannock bread, as well as listen to country music on their 15-minute drive "to town" for their daily fix of Tim Hortons coffee. At their annual summer powwows — the biggest cultural events in Maskwacis — families set up teepees, dress in traditional outfits, and dance to drum circles. Between dances, spectators buy burgers, rez dogs (hot dogs in bannock), and coffee from food stalls while teenagers Snapchat selfies.
Yet even during these happy occasions, the community's troubles are not forgotten. On the morning of the Samson powwow in August 2015, a small parade passed through the reserve's main road. Cars and trucks decorated with balloons and streamers went by, as they do every year, some distributing candy for eager onlookers. But among the small floats for the local day care, Subway, and Robin's Donuts was one with a handmade sign that read "Stop the Suicides."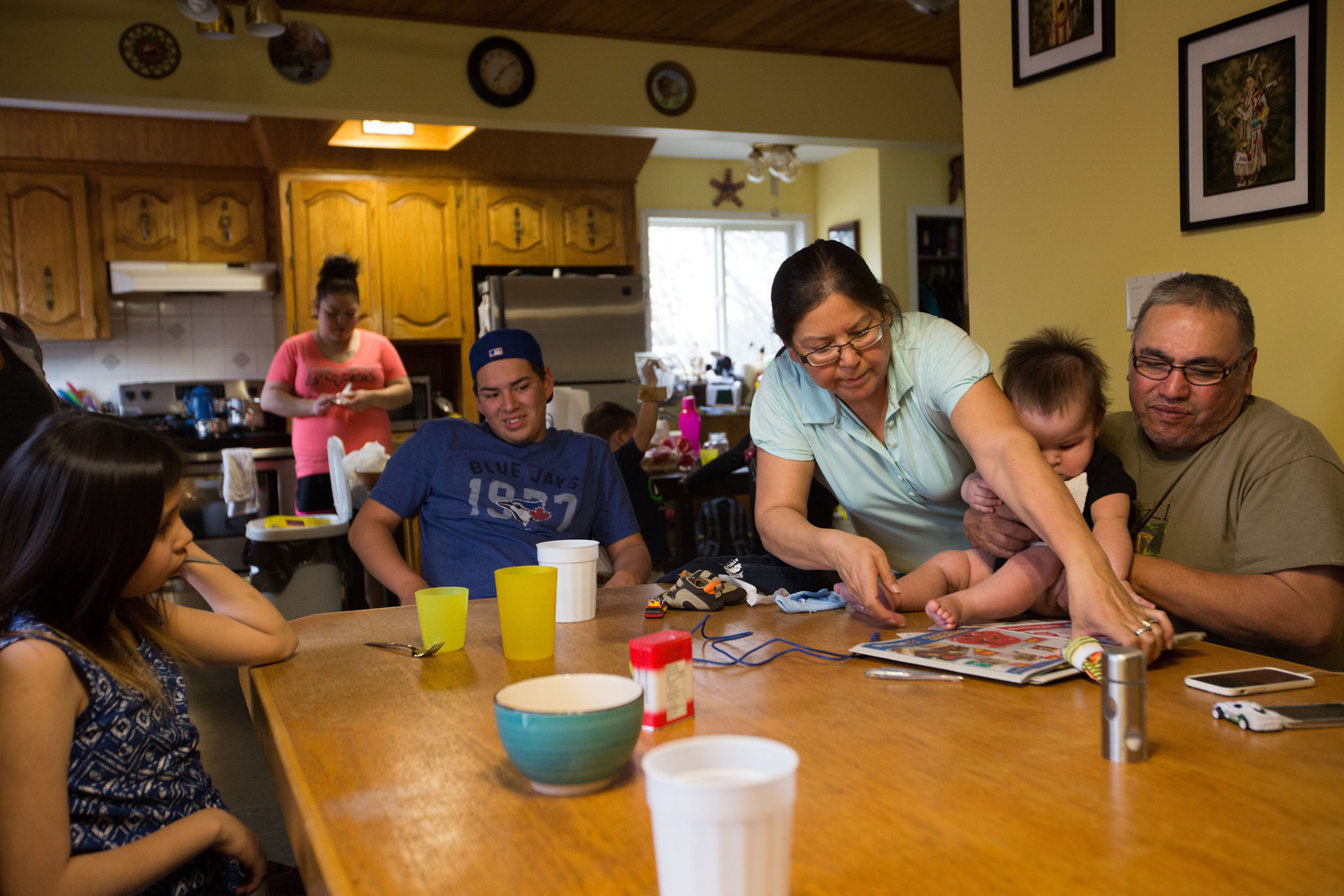 Residents of Maskwacis point to many potential explanations for the suicides. Some attribute the epidemic to the lack of access to housing. Locals recall stories of as many as 30 people living in a three-bedroom home, and Samson alone needs an additional 600 homes to meet the immediate needs of its members. Others note the reserve's chronic unemployment, which, according to the Maskwacis Employment Center, was between 70% and 80% last summer.
Despite these figures, the Canadian government curtailed funding for Indigenous peoples in recent decades. In 1996, a 2% cap was instituted on federal funding increases to First Nations, limiting budget increases from keeping up even with inflation, let alone the 20% increase in the Indigenous population from 2006 to 2011. According to Swampy, the Samson Cree Nation had around 3,000 members when the cap was imposed; they now have 8,000. Most of Maskwacis' roads are unpaved, and much of the reserve's tap water is not safe to drink. And with reserve schools in Alberta estimated to be receiving around 80% of the funding per student that off-reserve schools do, they survive on mostly inexperienced teachers.
Only a few decades ago, Maskwacis had money. In the late 1940s, oil was discovered in Pigeon Lake, on land commonly held by the four Cree nations of the reserve. After drilling began in the early 1970s, everyone on the reserve received a share of the oil royalties. Children's royalties accumulated in trust funds that they could access when they turned 18. In the 1990s, many 18-year-olds received over $100,000 CAD in royalties, and children from foster homes received more, at times over $200,000. With sudden access to money, many teenagers used it for partying, alcohol, or drugs. Thus, while the influx of revenue created more jobs with nation councils and new businesses on the reserve, social problems persisted. At the end of the 1990s, the oil boom ended and, one by one, the four nations' royalties dwindled. The lack of job opportunities paved the way for a rise in gang activity, which Maskwacis has made multiple headlines for, though the levels of gang violence have reportedly dropped in the last few years.
"It's easy to cover up by saying, 'Oh well, it was alcohol or it was drugs or it was an overdose.' But why?"

Some residents blame the suicide rate on the high incidence of drug and alcohol addiction on the reserve. While there are no reliable figures for substance abuse in Maskwacis, locals contend that crack, as well as prescription drugs like Percocet and T3, are common. They also point to domestic and sexual abuse. "Something people aren't really going to talk about is there is a lot of sexual abuse," said Justin Strongman, a member of the Montana Nation Council, who previously worked as a police officer and in child services. Ashley Callingbull, who last year became the first Canadian and the first First Nations woman to win the title of Mrs. Universe, grew up in Hobbema, among other Cree reserves, and has spoken publicly about being beaten and raped as a child. However, due to stigma and fear of tearing apart families, many instances of abuse in Maskwacis go unreported, so there are no reliable figures that reveal the extent of the problem.
Given all of that, First Nations children are disproportionately represented in Canada's child welfare system, making up about 48% of the foster children in the country, despite representing only 7% of the children in Canada. Many of the young people in Maskwacis who killed themselves in recent years had lived in foster care or homes with addictions or abuse. In the last two years, the youngest children to do so on the reserve were 12 years old. One of those 12-year-olds, who had been a victim of bullying, was the adopted grandson of Chief Wilton Littlechild.
"It's easy to cover up by saying, 'Oh well, it was alcohol or it was drugs or it was an overdose.' But why that overdose? Why that alcohol?" asked Littlechild. He believes the issues on the reserve are symptoms of a larger underlying problem. After all, many societies struggle with poverty, abuse, and addiction without such high suicide rates. And during Hobbema's oil boom, when it was one of the richest reserves in Canada, the suicide rate was so high that Littlechild remembers it being called the "suicide capital of Canada." A study at that time found that in the mid-1980s, the suicide rate in Hobbema was 160 times the national average for young women and 83 times the national average for men. "What is the root cause of that?"
Littlechild — Willie to his family and friends — is probably Maskwacis' greatest success story. He was Alberta's first Indigenous lawyer and a member of the Canadian Parliament from 1988 to 1993. He is a highly respected elder, and not just among his Ermineskin nation; he has been named honorary chief for international matters for several tribes in Alberta. And he is a survivor of the Ermineskin Indian Residential School in Hobbema.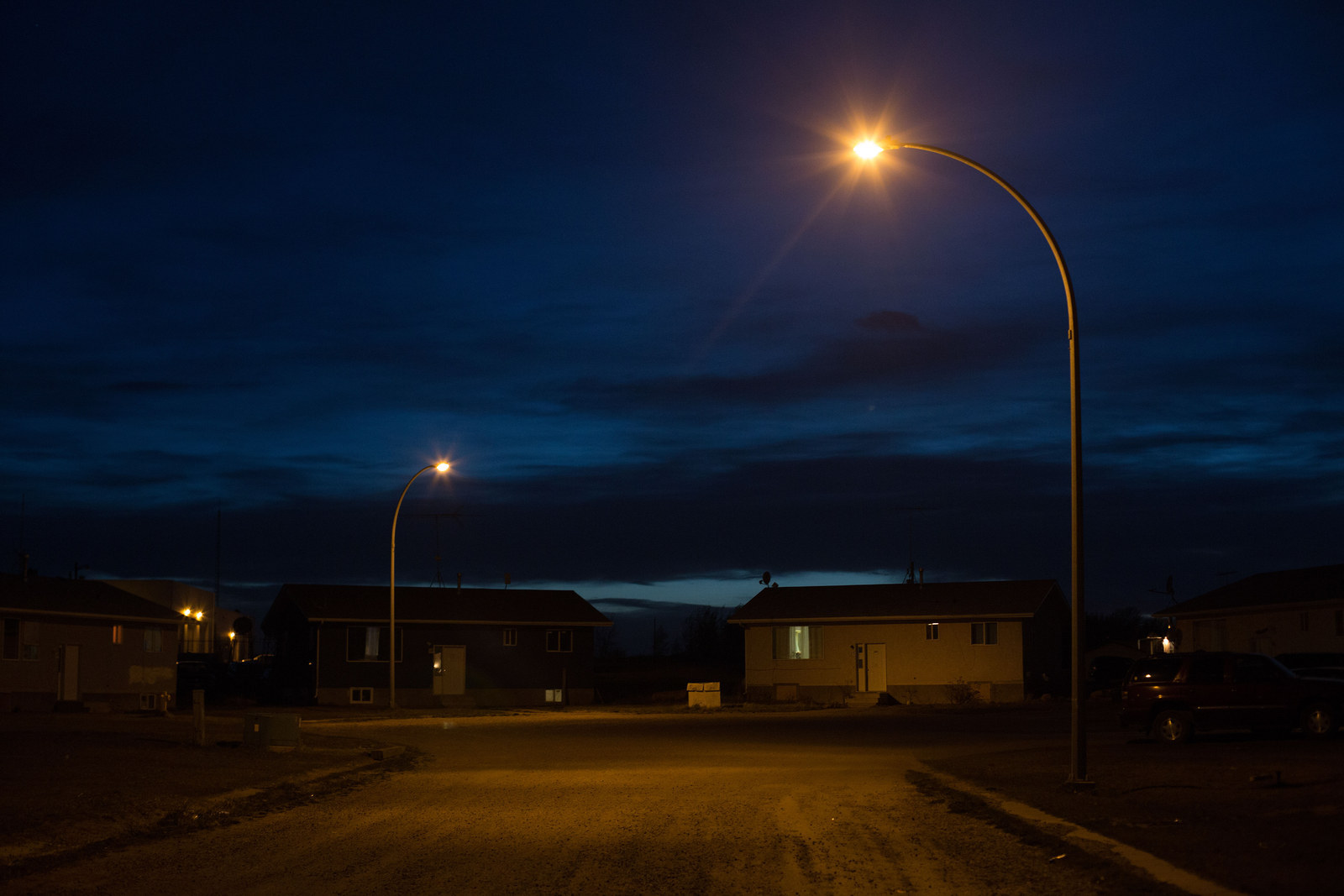 The Canadian residential school system is one of the country's most shameful legacies. It is also brought up almost inevitably in any discussion of the current suicide crisis. Beginning in 1620, several religious denominations opened church-run boarding schools to convert Indigenous children to Christianity, but attendance was optional and many schools did not stay open for long. That changed, however, in the 1880s, when Indian residential schools became an integral part of Canada's campaign of "aggressive assimilation," in which the government partnered with churches to "civilize" the Native population. "When the school is on the reserve the child lives with its parents, who are savages; he is surrounded by savages," Canadian Prime Minister John A. Macdonald told the House of Commons in 1883. "Indian children should be withdrawn as much as possible from the parental influence." In the following decades, the number of residential schools exploded, from 11 in 1880 to 88 in 1909.
By the 1930s, three-quarters of all Native children between the ages of 7 and 15 attended residential schools. At the end of each summer, children were taken from their homes by government agents, sometimes at gunpoint. Their parents — who faced fines or imprisonment if they failed to enroll them — were left home on silent reserves. From the first day of school, steps were taken to separate Indigenous children from their way of life — braids were cut, traditional clothes were replaced with uniforms. When children could write to their parents, it had to be in English or French; whether or not their parents could actually read those letters was irrelevant. Indigenous families called September "the crying month."
The highest concentration of residential schools was in the province of Alberta. That included the Catholic-run Ermineskin Indian Residential School in Hobbema, where Littlechild lived, trapped by a wire fence surrounding its grounds. "There's a hog barn, a cow barn. … Over there, there's chickens. There's our garden," he said, pointing at the framed black-and-white photograph of the school that he keeps in his office in Maskwacis. The schoolchildren tended to the animals and grew their own food. "Some people called it child labor, and that's exactly what it was."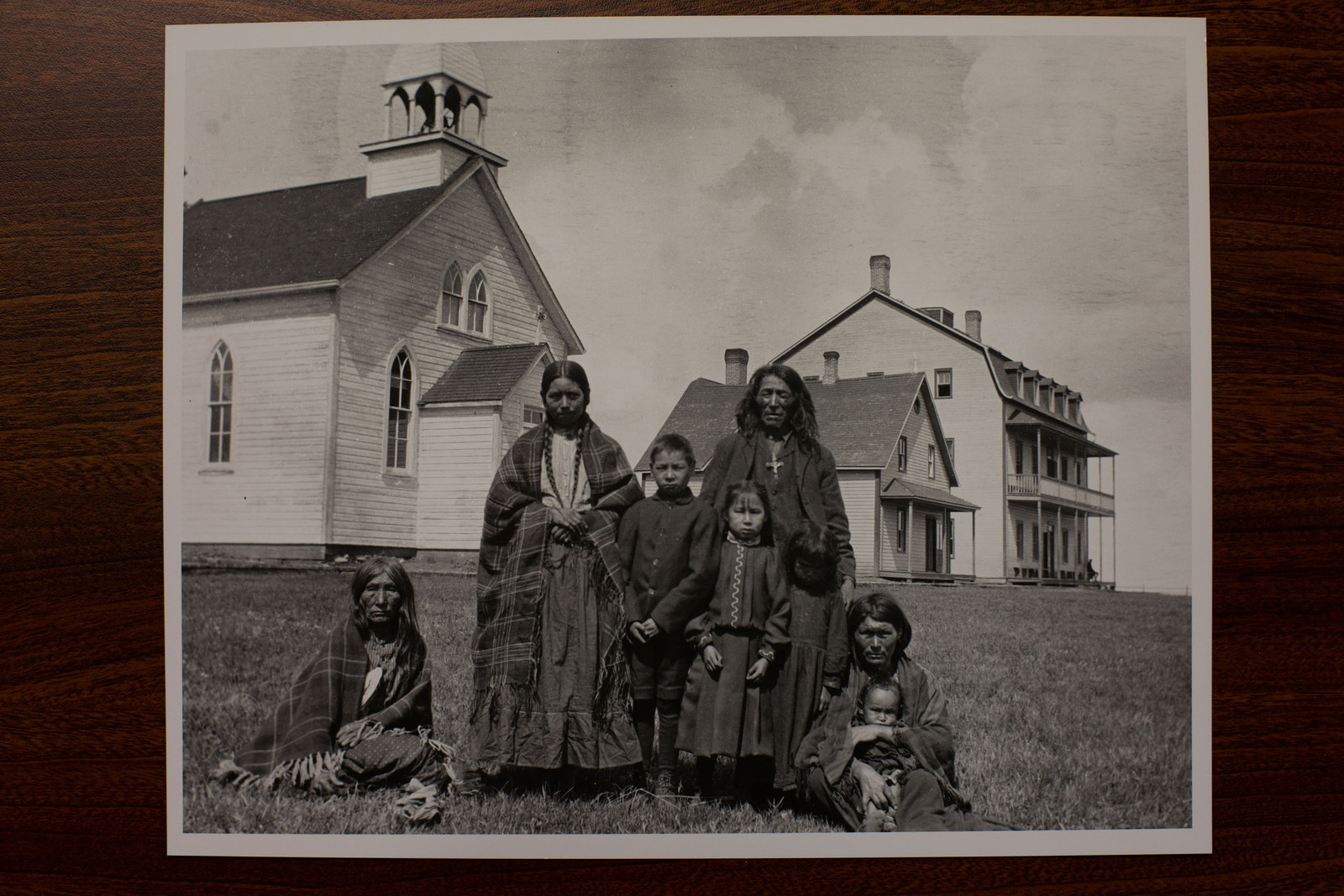 Littlechild was taken to residential school when he was 6 years old. For the next 11 years, his name was EIRS-65. He recalls his teachers calling out to him, "65, pick this up," or "65, you dummy, why did you do that?" Physical and sexual abuse of children was not uncommon. Children were punished — often brutally beaten or tortured with needles pushed into their tongues — for speaking Native languages or practicing traditional Indigenous teachings. Littlechild still remembers how much it hurt when teachers whipped him with the belt of a threshing machine or hit him with a ruler or hockey stick.
By the 1950s, government officials realized that the residential schools, despite all their efforts, were failing to assimilate students, and so they began shifting them to on-reserve day schools or provincial schools. Canada shut down most of its 139 residential schools by the 1970s, but the last one didn't close until 1996. By that time, more than 150,000 Indigenous children had been forced to attend them.
After residential schools were phased out in the 1990s, former students filed lawsuits against the government and churches seeking compensation for the abuses they had endured. Their claims were eventually merged into a national class-action lawsuit on behalf of the almost 80,000 living survivors of residential schools. In 2006, the case was settled in what is known as the Indian Residential Schools Settlement Agreement — one of the largest class-action settlements in Canadian history. Former residential school students received $10,000 for their first year of schooling and $3,000 for each subsequent year. Those who had suffered physical or sexual abuse were entitled to extra compensation.
The agreement also included the creation of a Truth and Reconciliation Commission (TRC) for residential school survivors to share and preserve their stories. Littlechild, who organized the first national suicide prevention conference for Indigenous Canadians over two decades ago, was selected as one of the TRC's three commissioners. For seven years, they traveled throughout Canada interviewing residential school survivors. "We listened to almost 7,000 individuals who had been sexually abused, physically abused, mentally abused, spiritually abused, emotionally abused," he said. More than 3,200 children died in the schools, mostly from disease, but also from abuse, accidents, malnutrition — and suicide. Where memories of the schools reside, the TRC's final report found, "Death casts a long shadow."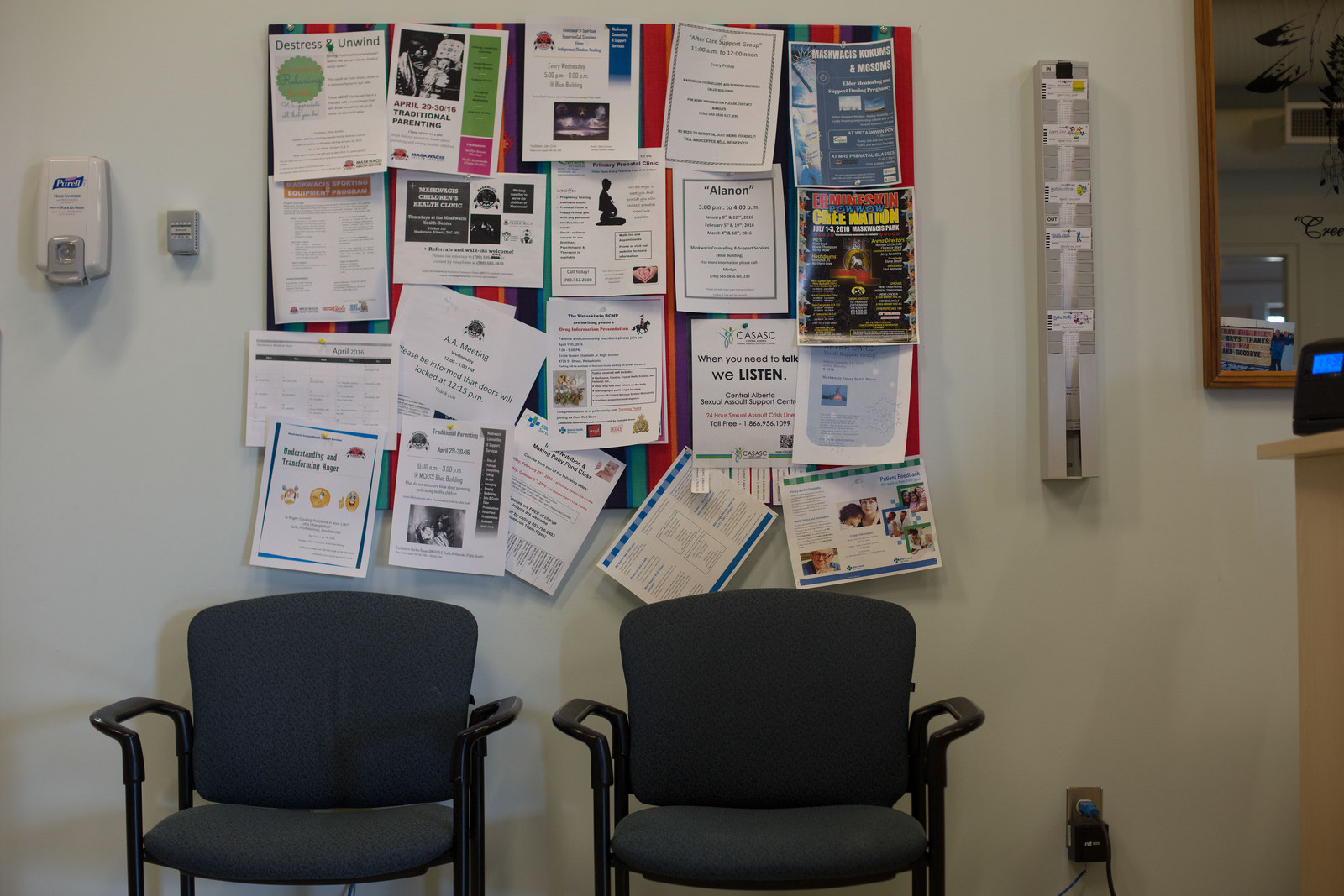 In Maskwacis, where there are more than 200 living survivors of the Ermineskin Indian Residential School alone, many residents in their twenties and thirties have at least one parent who went to a residential school. Even more have grandparents who did. Many who attended the schools left with what some psychiatrists refer to as "residential school syndrome," a set of symptoms similar to post-traumatic stress disorder that included having nightmares and flashbacks and avoiding triggers that reminded them of their experiences, along with deficient parenting skills and a tendency to abuse alcohol and drugs.
In 2012, researchers at the University of Manitoba surveyed nearly 3,000 First Nations adults in the first empirical study on the link between residential schools and suicide. They found that 48% of residential school attendees reported a history of abuse, 26% reported suicidal thoughts, and 14% reported at least one suicide attempt. The study also examined intergenerational trauma — the idea that unresolved effects of trauma experienced by one generation are transferred to the next — and found that non–residential school attendees who had a parent or grandparent who attended residential school were twice as likely to have a history of abuse than those who didn't. According to the study, "the odds of a suicide attempt history significantly increased for those with a multigenerational exposure."
"Everyone that came out of residential school had some mental issue," said Rick Lightning, who is an Ermineskin elder. He was 5 years old when he was taken from his family to attend the Ermineskin Indian Residential School, and he remained there for six years. Before him, his father had attended residential school. Initially, Rick began drinking to cope with his experiences. But after two decades as an alcoholic, he quit, and he has been sober for 25 years. "A lot of us were able to learn how to cope with it better than others," he said. "The ones who didn't know how to cope with it fell by the wayside, became alcoholics and drug addicts. ... But everybody was damaged in one way or another."
"Of the ones who talked to us, I would say about 90% talked about having gone through alcohol and/or drug addiction," said Marie Wilson, a former journalist who served as a commissioner on the TRC alongside Littlechild. Wilson, whose husband is from the Dene Nation and attended a residential school, explained that, for many survivors, addiction was a form of self-medication. "In the absence of any diagnosis, any other services, any other treatment, they self-medicated and they used alcohol and drugs as their way of hiding the pain of those memories that they were living with."
"Everyone that came out of residential school had some mental issue."
Littlechild credits being on his residential school's sports teams, which offered him rare escapes for away games, as having saved his life. In a black-and-white picture of him and his teammates in their hockey kits, many of the boys are smiling, a marked contrast from the usual grim-faced pictures of children in residential schools. "Without that sport," said Littlechild, "I might have been found on a skid row in the city of Edmonton, beaten up or killed, or drank myself to death."
Yet other survivors weren't as fortunate, and in turn passed their dependencies on to the next generation, spurring a cycle of addiction and neglect. With residential schools depriving children of a stable home life with loving parents, many in Maskwacis feel that the most significant intergenerational impact has been a loss of the ability to parent. Wilson distinctly recalled how one of the survivors had phrased it in a TRC hearing: "We fed our addictions to our children."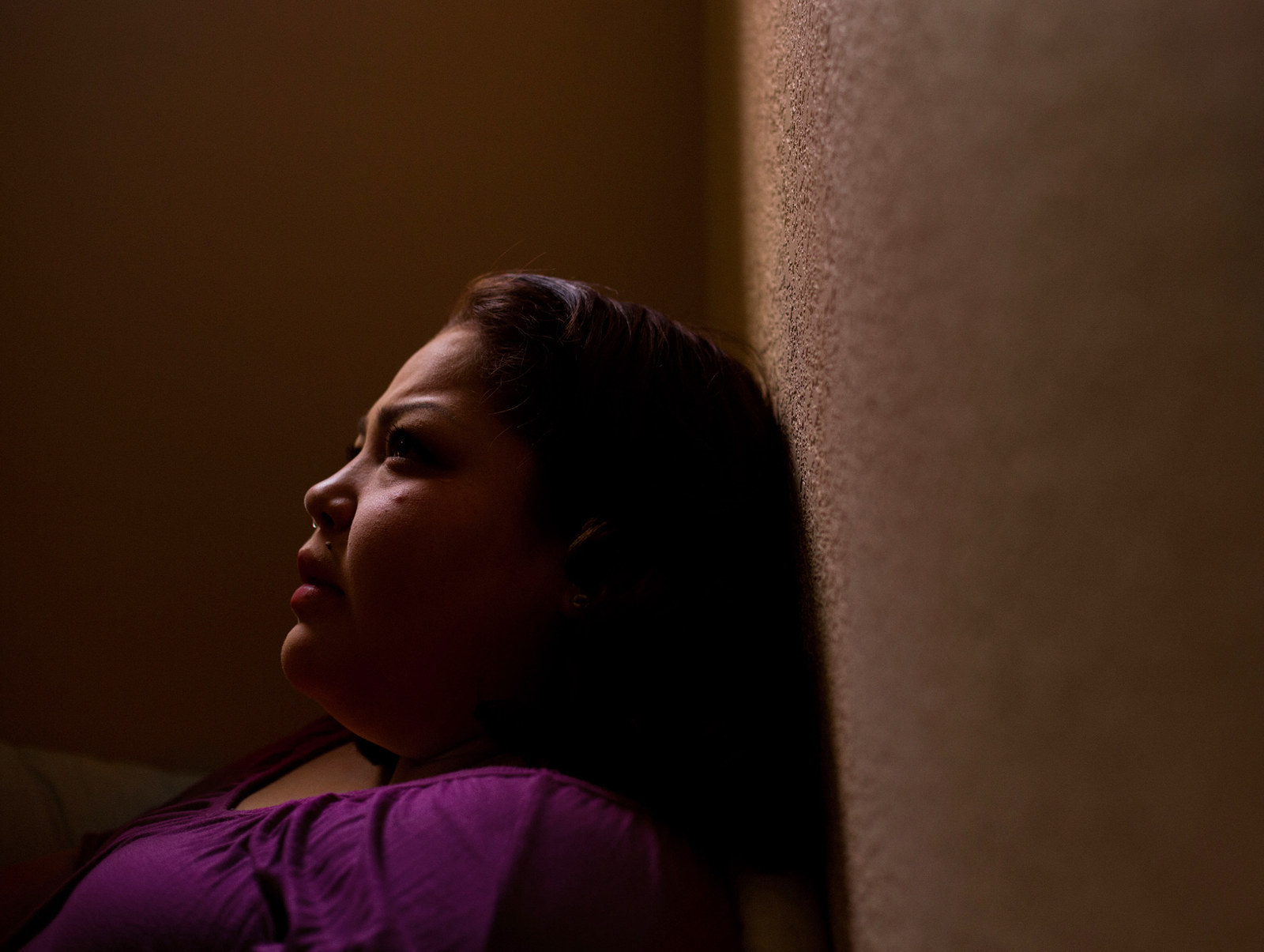 "It's an ugly feeling being a kid and being the only sober one in a house full of adults," Cheylene, a 21-year-old who grew up in Maskwacis but now lives in a nearby city, recalled. She believes her mother's alcoholism can be traced back to her childhood. Both of Cheylene's maternal grandparents, who were residential school survivors, abused alcohol and died when her mother was very young. While Cheylene made it out of Maskwacis relatively unaffected, many of her peers did not. "Some people feel like they don't think they'll be able to get off the reservation or they don't really have that encouragement to finish school or carry on," she said. "So they just stay home and drink, and that's kind of what it comes down to because that's all they know and that's what they've been around their entire lives."
According to Rick, Amber's biological mother was an alcoholic and she never knew who her father was. When Amber's mother moved in with another man, "she picked the guy over the kids," he said. Amber was put in foster care and, after years of living in a group home, ended up at the Lightning house. "When she first came here … she had no favorite cereal. She had no favorite anything," Rick said. "She didn't have a choice of anything. She didn't know how to make choices." Bobbi, who still lived at home at the time, always made sure to include Amber in family activities to make up for lost time. "If we went to watch the sea lions she'd come," Bobbi recalled of their trips to Wetaskiwin and Edmonton. "We'd go swimming, we'd go to the movies."
When Amber turned 18, instead of moving out, as most foster kids do, she decided to stay and become a permanent part of the Lightning family. She took an extra year to complete high school and moved to Edmonton to become a makeup artist. With a job offer locked in before she had even completed her aesthetics diploma, her life seemed to be on track. But in the city, Rick said, Amber got involved with "the wrong people." One night when she had been drinking, she hanged herself. "I don't know what pushed her to make such a stupid decision," said Rick, who has worked as a suicide prevention and grief counselor. "She just killed herself, created pain like you wouldn't believe. We live with that pain every day."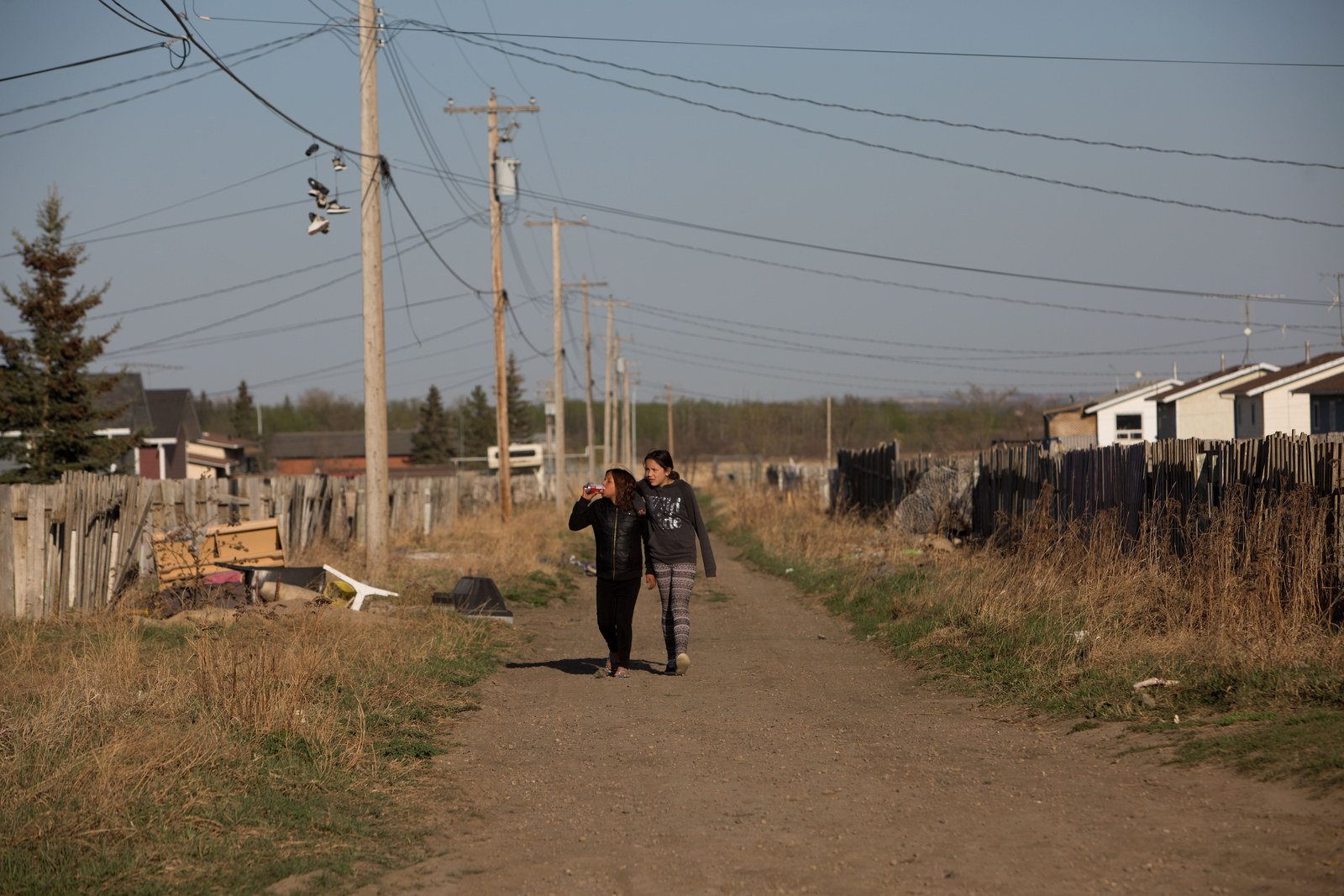 The prevalence of suicide in Maskwacis has created an environment in which it may be seen as a viable, even acceptable, option for many who are struggling to cope with the community's hardships. Because the suicide of a loved one can trigger suicidal thoughts in others, suicides sometimes occur in clusters, as happened in Maskwacis last winter, with multiple people killing themselves within a brief period of time. "Suicide clusters pose a special problem for Aboriginal communities in which many individuals are closely related and share the same social predicaments," according to a 2007 study published by Canada's Aboriginal Healing Foundation. "Where many people face similar histories of personal and collective adversity, the impact of suicide may be especially widespread and severe."

At the moment, Maskwacis Health Services (MHS) has seven counselors, a youth worker, and a child therapist. There are also two crisis intervention officers who go to the hospital whenever an ambulance is called after someone has attempted or threatened suicide; in 2014, the most recent year for which figures are available, they were called 95 times. Local schools and other organizations on the reserve provide counseling services as well, such as Young Spirit Winds, a substance-abuse treatment program for teenagers, and Maskwacis Youth Initiative, which works with youth involved in local gangs. But given the scale of the problem, much more is needed.
"We have kids that get raped, they get beat up, they get mentally abused, spiritually abused. And that's happening every day," said Maskwacis Youth Initiative outreach worker Lesley Montour, who was 12 when she helped her mother save a cousin who had attempted suicide. "When you grow up with that and you've never talked about it, you're bound to self-destruct. It's inevitable."
What more should be done? Many in the community, including politicians and counselors, would like to see a 24-hour youth shelter or safe house set up. This would enable victims of abuse to get "away from the situation they're in and begin the healing," Swampy said. Young Spirit Winds is also hoping to secure enough funds for a family treatment center. In a survey of more than 400 Maskwacis residents, they found that over 99% supported the idea. A few community members have also started a suicide hotline. Though the initiative is praised, residents are also concerned that it is run by volunteers, some with good intentions as their only qualification for the task.
"When you grow up with that and you've never talked about it, you're bound to self-destruct. It's inevitable."
Many residents also believe there should simply be more things to do. During the Maskwacis oil boom, sports games, dances, and other events were common, but when the oil — and thus the money — stopped flowing, so did most activities. "Instead of staying home, not doing anything or having the option to drink, it's nice hanging out doing something sober," said Cheylene. Youth in Attawapiskat — the community where 11 people attempted suicide in one night last month — have expressed a similar need.
Elders also believe that educating younger Cree in their culture and traditions is crucial for the community's health. Having been beaten by teachers for speaking their language or practicing their beliefs, many parents did not pass these traditions on to their children, in order to spare them punishment when it was their turn to go to residential school. Hardly anyone in Maskwacis under the age of 60 can speak Cree. "The young people today — there's a lot of them that are very lost. A lot of them don't know their culture, a lot of them don't speak their language," said Marlene Buffalo, a political analyst for the Samson Cree Nation. "You have a generation that doesn't know where they belong." Ryan Lightning, an outreach worker at Maskwacis Youth Initiative who worked in suicide prevention for the Samson Cree, agreed: "If they learned our way of life, there would be a lot more people living longer for sure. A lot of people wouldn't take their own lives."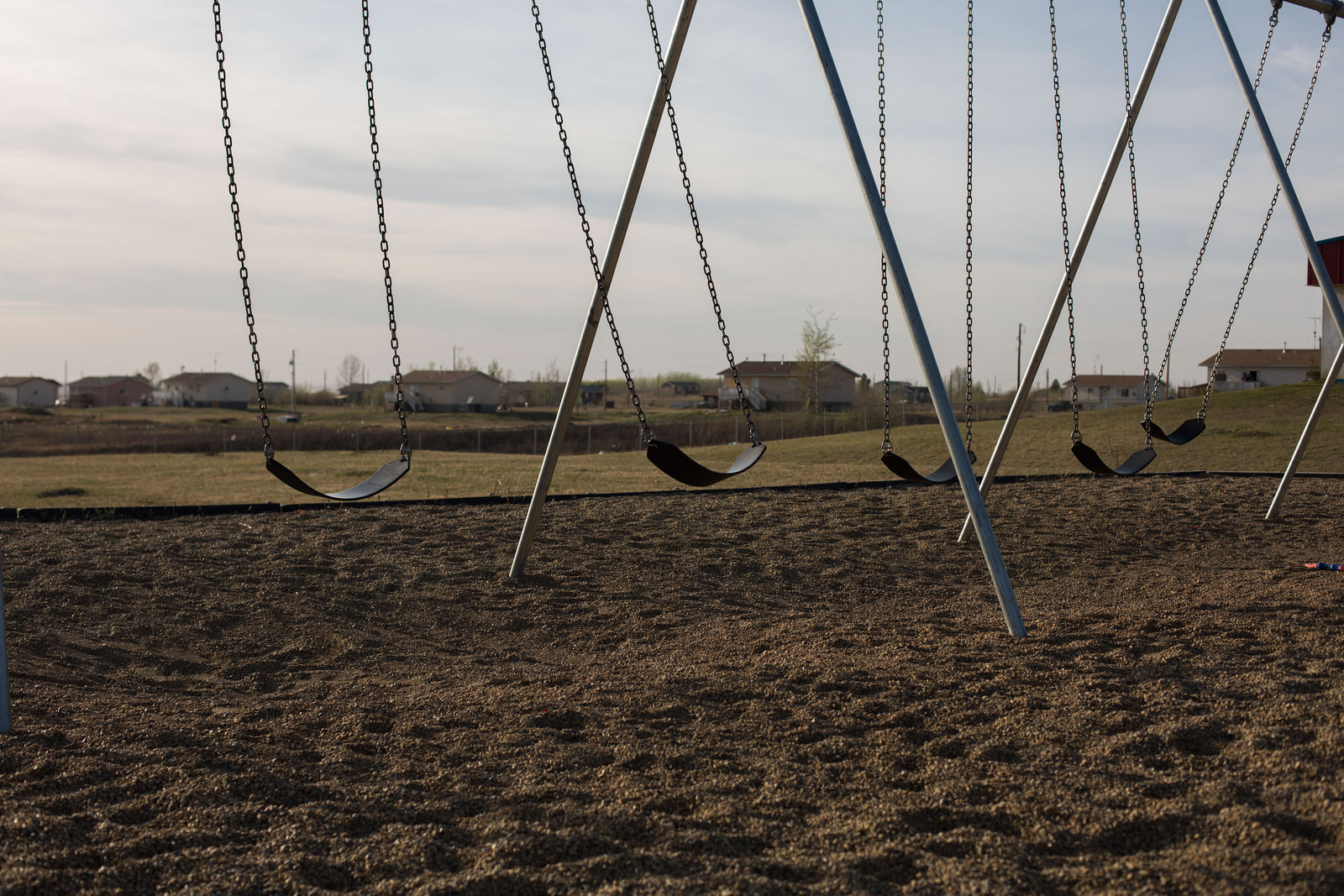 Elders in Maskwacis feel that the distortion of one belief in particular is making suicide an easier option. The traditional Cree belief is that anyone who kills themselves must wander the Earth alone until the time the creator had intended for their death. This teaching is meant as a deterrent: If you do not respect your life as a gift from the creator, you cannot find peace before your time. By that belief, the dirt roads of Maskwacis are tragically crowded with wandering souls. But for some, an incomplete understanding of the teaching is seen as encouragement. "They say your spirit lingers. [So people think] it doesn't matter [if you kill yourself] because all your friends are still lingering around here," said 29-year-old Mason Buffalo of Samson. "You'll be with them is one of the thoughts that I thought."
As a firefighter, Buffalo was a first responder at the scene of his cousin's suicide in 2010. The trauma of that event brought back the pain of another cousin's suicide a few years earlier, and he began drinking. But after losing more family and friends, he decided to try to combat what had come to be, in his words, "the new norm." In 2012, he organized a suicide awareness walk from Wetaskiwin to Maskwacis. Almost 400 people walked the 17 kilometers with him. Despite his continued struggle with alcoholism, he organized a walk each of the next three years. "I said I was going to do it from the four directions and have all of us that are walking use our prayers to lift up this heaviness that they say lingers over Maskwacis," he said.
Awareness initiatives like Buffalo's do appear to be making a difference. For decades, talking about suicide in Maskwacis was taboo; some worried it would inspire other suicides, others worried it would summon a suicide spirit. But now, as more and more people are beginning to speak openly about it, many residents have become more proactive in reaching out to get their friends and family help.
Last summer, 16-year-old Krista was one of those helped. After participating in Buffalo's walk in honor of her best friend, who killed herself in 2014, she slid into a depression, upset with herself for not realizing the extent of her friend's pain. Surrounded by suicide, she considered it a legitimate option. "I guess it's sort of all around me," said Krista. Her grandmother killed herself before she was born, and many of her cousins and friends have attempted suicide. One day, she confided in a friend: "I told him that I wasn't feeling good anymore," she said. "I told him that I didn't want to be here no more." He told his mother, who then texted Krista's mother, who immediately intervened and made an appointment for Krista at Maskwacis Health Services. Nine months later, Krista is feeling "much better" and making plans to try out for her school basketball team.
Yet while the community has made some change, significantly more resources are needed to confront the crisis. Randy Littlechild, a relative of Willie Littlechild and executive director of MHS, explained that MHS receives $50,000 annually from Health Canada to address suicide among the 16,000 total people in Maskwacis. In 2015, it also received $90,000 from the province of Alberta specifically for suicide prevention efforts. Randy calculated that Maskwacis would need $2 million to $3 million to provide adequate mental health services. With that money, MHS could set up and staff a 24-hour crisis line, hire more mental health professionals and fieldworkers, and host more events and workshops. But he didn't ask the federal government for that amount. "They'd laugh at me," he explained. "Our government said that it's a big priority," he said. "Moneywise, it obviously isn't."
In 2013, when Randy asked for $250,000 for suicide prevention, the money came, but Health Canada divided it among MHS and three of the Cree nations (Montana, the smallest, shared its funding with MHS). The health center still got only $50,000 for the year. Each nation organized its own suicide prevention activities with the funding it received. Samson, the largest nation, received the most money and was able to hire a suicide prevention officer. Louis Bull received only enough funding for a few days of suicide awareness events.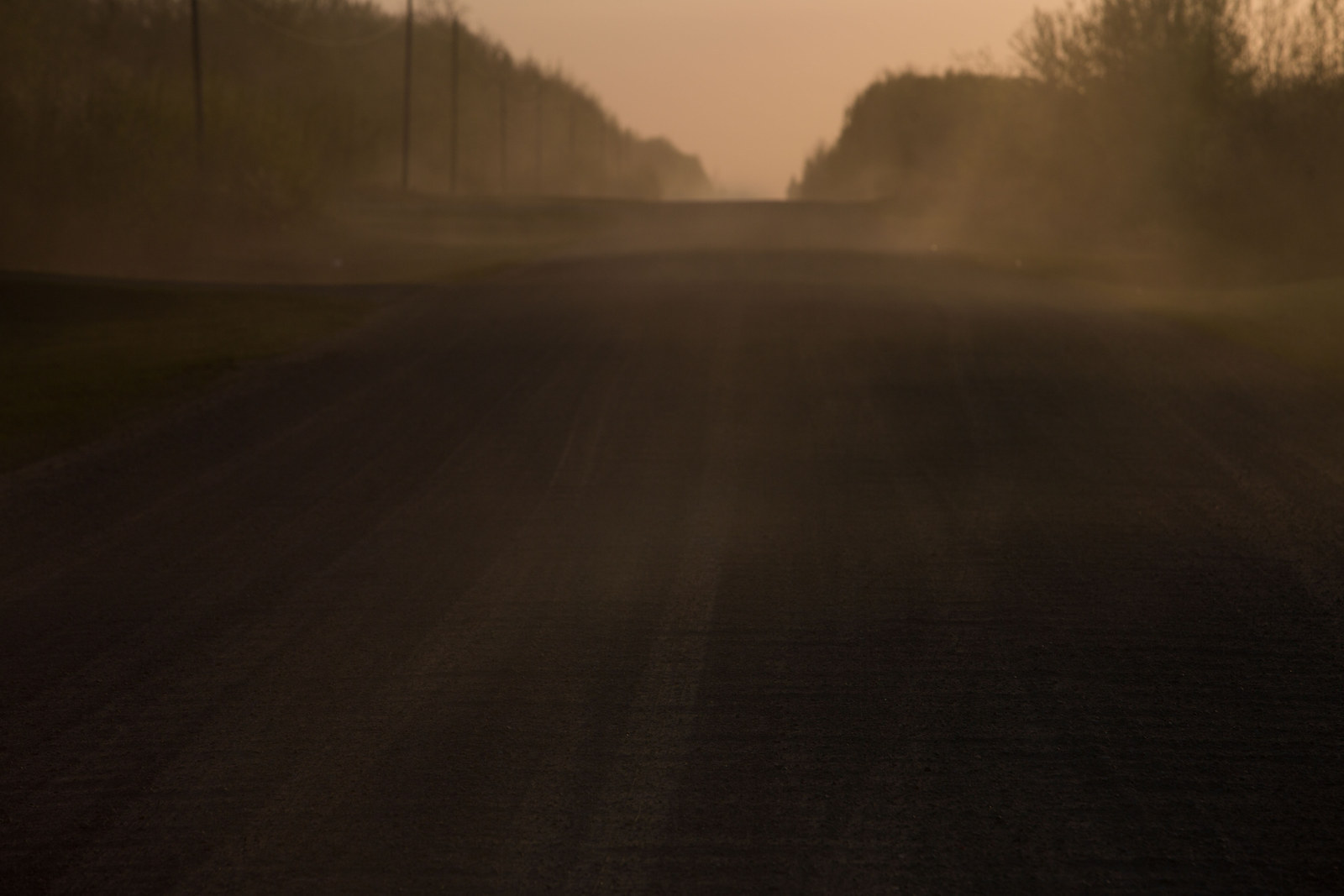 The recent shift to a more liberal Canadian government has offered some hope that the suicide crisis among Indigenous communities will be taken more seriously. For almost nine years under former Prime Minister Stephen Harper, relations between the Canadian government and Indigenous communities were highly contentious, due in part to his administration's failure to launch an inquiry into the cases of nearly 1,200 missing and murdered Indigenous women and girls. One month after being sworn in as prime minister last November, Justin Trudeau attended the release of the Truth and Reconciliation Commission's 3,231-page final report. On behalf of the Canadian government, he asked for forgiveness from the Aboriginal peoples of Canada "for failing them so profoundly." Having met with Trudeau, Willie Littlechild anticipates changes for the better. "There's a whole new energy across the country with regard to Indigenous people's relationships with government," he said.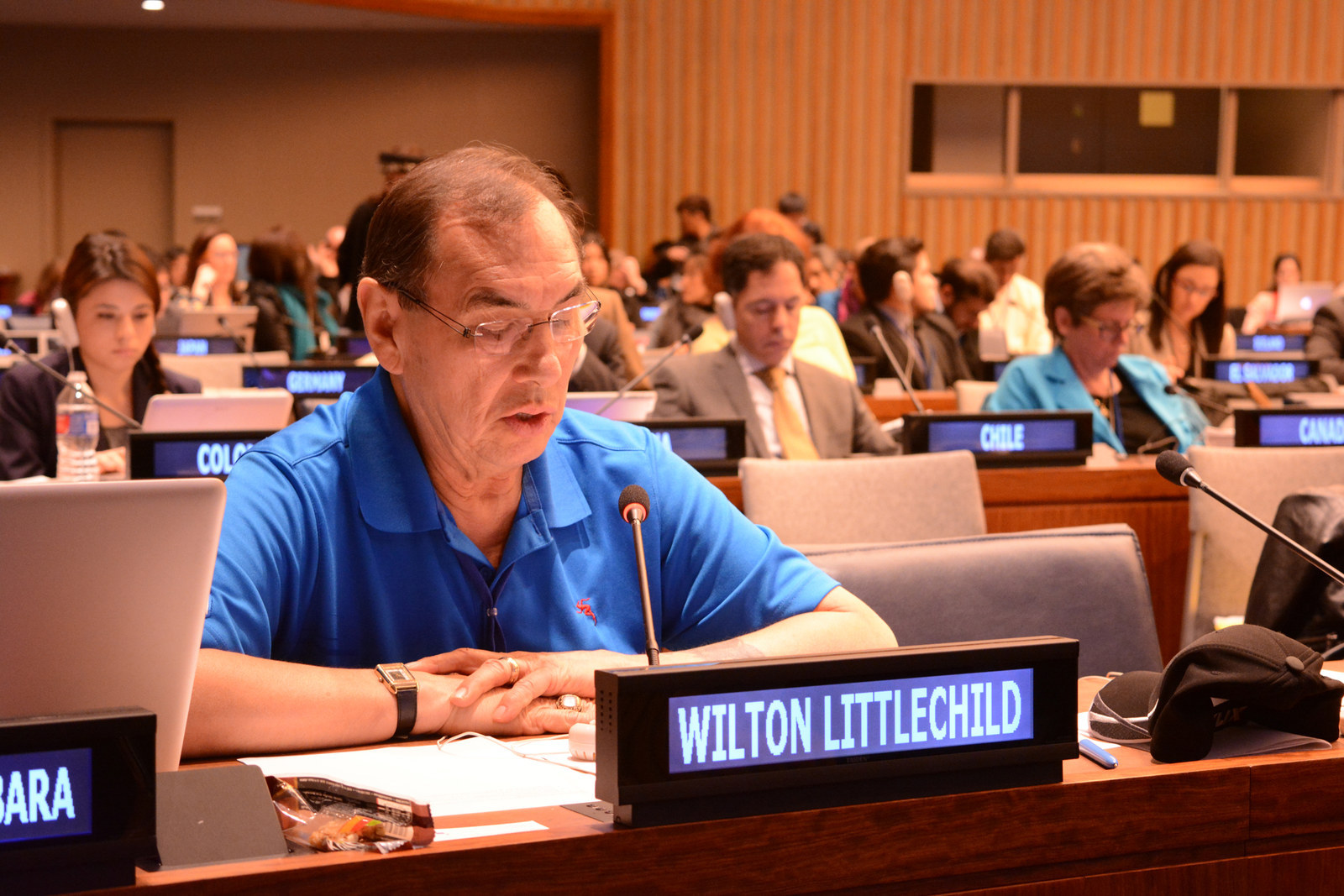 In December, Trudeau laid out a new plan for bettering Canada's relationship with its Indigenous communities, which had been a tenet of his Liberal Party election platform. Among Trudeau's commitments were a national inquiry into missing and murdered Indigenous women and girls, the implementation of the U.N. Declaration on the Rights of Indigenous Peoples, and the lifting of the 2% cap on First Nations funding.
When the federal budget was announced this March, First Nations saw the first significant funding increases in two decades, with $8.4 billion allotted to address education, housing, and infrastructure, among other issues, in Indigenous communities over the next five years. "The Government of Canada knows that a country can only truly prosper when all of its citizens have access to the same opportunities to succeed," Carolyn Bennett, Canada's minister of Indigenous and Northern Affairs, said in a statement to BuzzFeed News. The budget announcement did not specify whether any of the increased funds would be earmarked for mental health. However, according to Canada's minister of health, Jane Philpott, this year the country is "investing more than $271 million to support the mental wellness needs of First Nations and Inuit communities, including mental health promotion, addictions, suicide prevention, and counselling."
The crisis of Indigenous suicide is also gaining more acknowledgement on a global scale. Last April, after years of trying, Indigenous delegates managed to get youth self-harm and suicide on the agenda of the U.N. Permanent Forum on Indigenous Issues. In one of the most emotional sessions of the two-week forum, Indigenous representatives from the Americas, Europe, Australia, and New Zealand shared how high rates of suicide were affecting their communities.
"I take the floor this morning as a grandparent … a grandfather who lost an adopted grandson just a few weeks ago to suicide," Littlechild told the delegates. He called for cultural, spiritual, and linguistic revitalization, providing healthy lifestyle choices to Indigenous youth, and for U.N. member states to provide more resources to their Indigenous communities. He was dressed in a dark blue polo shirt, an eagle tattoo visible on his left forearm. A pair of crutches was propped up behind him, souvenirs from a hockey match in which he had broken his hip. Regardless, he had to be there. "We have to be able to talk about it," he later said.
Until the crisis in Attawapiskat last month, calls for help from First Nations reserves and even states of emergencies went largely unanswered. After Attawapiskat declared an emergency, the federal and provincial governments deployed crisis teams. Yet while people in Maskwacis are relieved that Indigenous issues are garnering more attention from the government and media, they fear that the attention may offer only short-term solutions. Rick Lightning believes teams should be sent to work with youth in affected communities for at least a year, if not longer: "It's got to be long-term or it's just another Band-Aid."
"We'll have to see if the prime minister follows through with what he says," Rick said. "If he does — great. Because there'll be some good changes. If he doesn't, then we're back to square one."
The morning of the Samson Cree powwow in August, families from all over Canada and the United States began setting up white teepees in a circle outside the powwow arbor in Maskwacis. Rick Lightning set up his family's teepee with his son and grandson and a reporter from Calgary covering the event. He then placed lawn chairs marked "Lightning" inside the arbor so his family and guests would have a good view of the dances that night. By the afternoon, the parking lot was filled with cars, and security personnel were in place to keep out gangs and alcohol. Rick and other elders trickled in to tents and emerged with rice and raisin soup, neck bones, and other Cree dishes.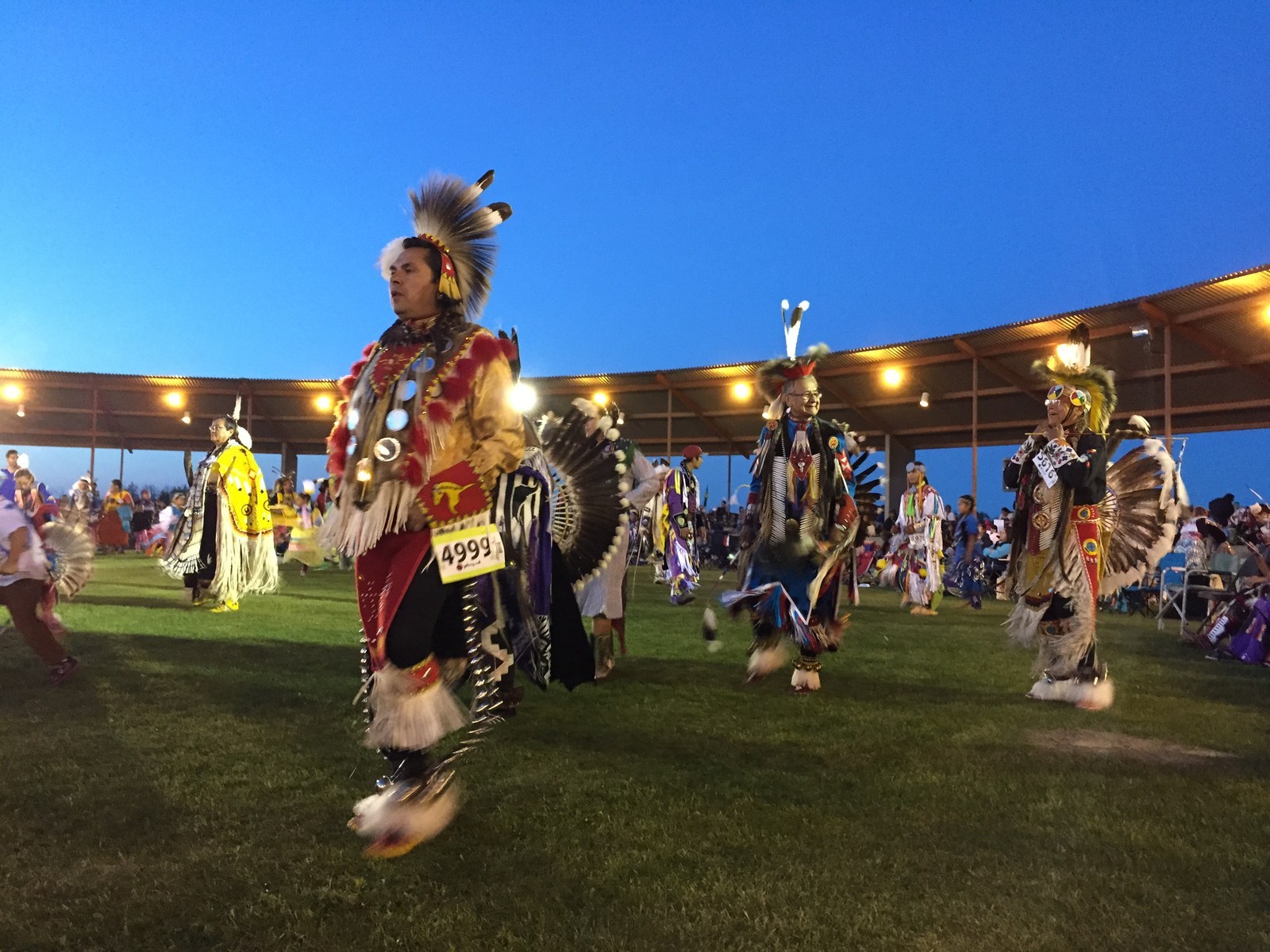 At 7 p.m., powwow participants entered in a grand procession marking the start of the three-day celebration of life and of culture. They danced into the arbor in outfits handcrafted with intricate beadwork and feathers. Men and boys wore headdresses, while women and girls wore colorful shawls or gold and silver bells on their dresses. The competitive dances then began: traditional, fancy, grass, chicken, and jingle, each with its own distinct movements and regalia. Competitors ranged from "tiny tots" to "golden age." Hundreds, including Rick, Inez, and their children and grandchildren, sat in lawn chairs on the grass and the arbor steps, watching and cheering to the beating of drums.
Between the competitive dances, all were welcome to dance in the intertribal round. As the hot summer day turned into a cold night, the Lightnings joined dozens of others dancing in a circle under the bright floodlights. In the silence of Maskwacis, the singing and drumming could be heard for miles.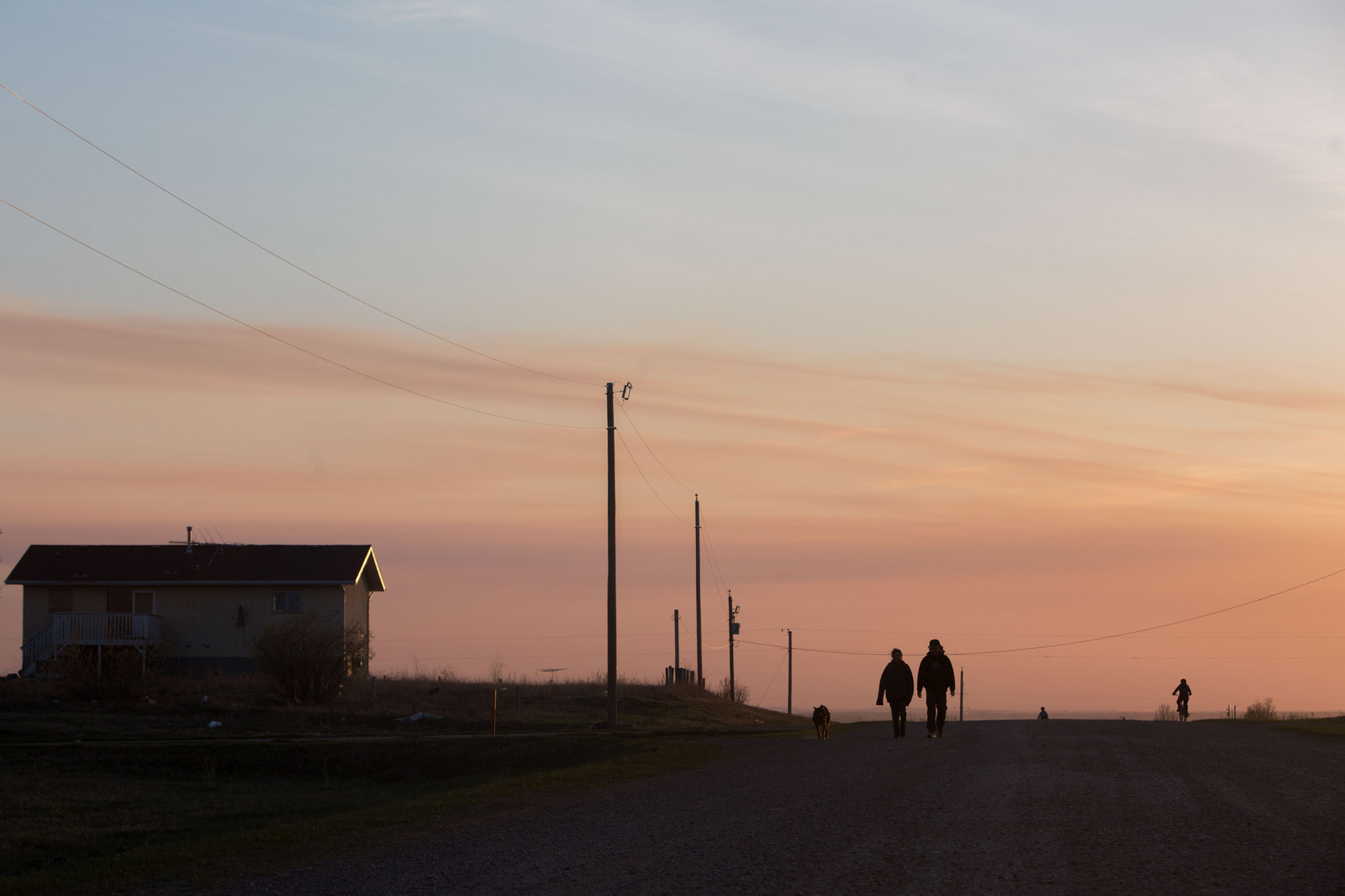 Want to read more in-depth stories? Sign up for our Sunday features newsletter, and we'll send you a curated list of great things to read every week.