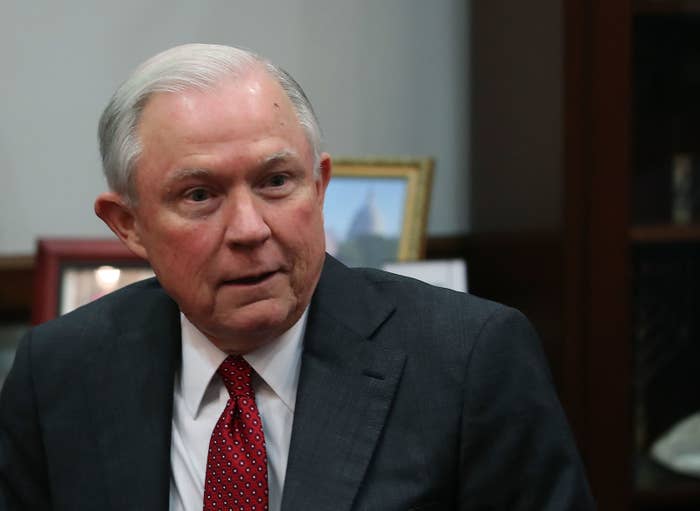 WASHINGTON — The last time Alabama Sen. Jeff Sessions appeared before the Senate Judiciary Committee as a nominee, it ended with his hopes of a federal judgeship derailed by accusations of racial prejudice.
That was in 1986. On Tuesday, when Sessions testifies before the committee as President-elect Donald Trump's nominee for US attorney general, he's expected to face questions about the events that stymied his judicial nomination 30 years ago, as well as his record on civil rights. But with a Republican-led committee and support from former US Department of Justice officials and law enforcement groups, Sessions faces good odds of winning committee approval this time.
Still, Sessions' opponents intend to put up a fight, and insist that any assumption that he already has the votes lined up undermines the purpose of a Senate confirmation hearing — a thorough, public vetting of the nominee.
"The question is not, 'Is Jeff Sessions a racist?' The question is not, 'Is Jeff Sessions a good man?' The question is not, 'What is in Jeff Sessions' heart?' The question is, 'What in his record over 40 years suggests that we can trust him to enforce the nation's civil rights laws?'" Sherrilyn Ifill, president and director-counsel of the NAACP Legal Defense and Educational Fund, told reporters during a conference call last week.
Here's what to watch for as Sessions faces his former colleagues on the Senate Judiciary Committee on Tuesday and Wednesday.
"Incomplete" record
The Senate Judiciary Committee has set aside two days to hear from Sessions and witnesses. Republicans have tapped representatives of the law enforcement and victims' rights communities to testify in support of Sessions' nomination; Democrats are bringing in civil rights leaders and activists.
The hearing is taking place over objections from congressional Democrats and civil rights groups, who asked for a postponement amid criticism that Sessions submitted incomplete written materials to the committee. Democrats have accused Republicans of trying to ram through Trump's cabinet nominees; on Jan. 6, the US Office of Government Ethics sent a letter to Senate Minority Leader Chuck Schumer and Massachusetts Sen. Elizabeth Warren warning that several nominees scheduled for a hearing hadn't finished the ethics review process yet.
On Monday, Schumer took a jab at Republicans over their handling of Trump's nominees, sending a letter to Senate Majority Leader Mitch McConnell that McConnell had sent in February 2009 to former leader Harry Reid, outlining standards he believed Obama's nominees should meet. Schumer crossed out Reid's name at the top and replaced it with McConnell's, and crossed out McConnell's name at the bottom and replaced it with his own.
Wade Henderson, president of the Leadership Conference on Civil and Human Rights, told reporters last week that they believed Republicans were orchestrating a "rushed and rigged" confirmation process to benefit their colleague.
Senate Judiciary Committee Chairman Chuck Grassley has declined to reschedule the hearing. In a letter last month in response to calls to push back the date, Grassley said it was common for nominees to submit additional materials over time, noting that Eric Holder sent in multiple supplements, even after he was confirmed. Sessions had made a "good-faith effort" to provide complete responses, Grassley wrote.
Civil rights groups released a report at the end of December concluding that Sessions' questionnaire was missing information about media interviews, speeches, op-eds, and other materials from his more than three decades of public service as a US senator, US attorney for the Southern District of Alabama, and Alabama attorney general.
Sessions submitted his answers to the questionnaire — one that all cabinet nominees must complete — on Dec. 9, and then filed supplements on Dec. 23 and Jan. 6. The questionnaire covers his work history, his outside affiliations, cases he handled as an attorney, and his statements and writings as a public official. In a Jan. 6 letter that accompanied his latest supplement, Sessions said it was likely there were materials from his years in public office that he was "unable to locate, identify, or remember," but he also questioned whether some of the materials that Democrats wanted him to submit were relevant to the questionnaire.
On Jan. 5, Grassley met with representatives of law enforcement agencies to discuss Sessions' nomination, and released a statement after the meeting reiterating that the hearing was still scheduled to start on Jan. 10.
Law and order
Sessions is backed by law enforcement and victims' rights groups, as well as proponents of more stringent border enforcement. A former federal prosecutor, Sessions fits with Trump's "law and order" focus during the campaign — a point the transition team has been pressing with media covering his nomination.
Letters sent to the Judiciary Committee praise Sessions as a staunch supporter of law enforcement, an anti-drug crusader — he has called for prosecution of federal drug violations in states that have legalized marijuana — and as a former Justice Department insider with the experience needed to lead the agency from the start.
Sessions has been critical of court-enforced agreements known as "consent decrees" between the Justice Department and state and local law enforcement agencies accused of abusive or unlawful practices. Former US Attorney General Eric Holder and current Attorney General Loretta Lynch oversaw an expansion of civil rights enforcement against police departments; Republicans have criticized that focus as federal overreach.
The committee received a letter of support for Sessions' nomination signed by 10 former US attorneys general and deputy attorneys general and another signed by 25 state attorneys general.
Republicans plan to call witnesses who will highlight the "law and order" part of Sessions' record: former US Attorney General Michael Mukasey, former Deputy Attorney General Larry Thompson, Fraternal Order of Police National President Chuck Canterbury, US Commission on Civil Rights member Peter Kirsanow, and Jayann Sepich of DNA Saves, a group that advocates for the expansion of forensic DNA collection and testing.
Civil rights
Civil rights groups have attacked Sessions' record from all sides, highlighting his hardline stance on immigration — he favors more stringent border controls and has questioned birthright citizenship for the children of undocumented immigrants — his criticism of the Voting Rights Act, his votes against federal fair pay and hate crimes legislation, and his opposition to same-sex couples' marriage rights.
More than 1,400 law professors signed a letter opposing Sessions' nomination, saying there was nothing in his record of public service that showed "that he is a different man than the 39-year-old attorney who was deemed too racially insensitive to be a federal district court judge."
Democrats are expected to ask Sessions about his failed nomination in 1986 to serve on the US District Court for the Southern District of Alabama. At the time, Sessions' former colleagues at the Justice Department reported that they heard him make racially insensitive comments, such as telling a black attorney to be careful what he said to "white folks," calling the NAACP "un-American," and remarking that he thought the Ku Klux Klan's members were okay until he learned they used drugs. He also was questioned about his involvement in the prosecution of three black civil rights activists for voter fraud; they were acquitted.
According to a transcript of the hearing, Sessions told the Judiciary Committee that the comment about the Klan was meant to "ridicule" the group, and that other remarks were taken out of context or he didn't recall them. He denied allegations of racial prejudice, although he did stand by positions that earned him the ire of liberals and civil rights groups, such as calling the Voting Rights Act "intrusive."
Democrats plan to call American Civil Liberties Union legal director David Cole, whose organization published a lengthy report that was critical of Sessions' record, and NAACP President Cornell Brooks, who was arrested last week after staging a sit-in at Sessions' office in Mobile, Alabama. Also on the list are Oscar Vazquez, a Mexican immigrant and US Army veteran, and Amita Swadhin, a queer advocate for survivors of sexual violence.
Political ties
A major difference between Sessions' 1986 judicial confirmation hearing and this week's hearing is that he'll now testify before a group of senators who have known him for years as a colleague. He was a member of the Judiciary Committee from his first year in the Senate in 1997 through the end of 2016. He's friendly with members of both parties, although Democrats have tempered their personal praise of Sessions with concerns about his record.
Sessions will be introduced at the hearing by Sen. Richard Shelby of Alabama, as well as Sen. Susan Collins of Maine, who started in the Senate the same year as Sessions. The high-profile support from Collins — one of the Republican senators most likely to side with Democrats on contentious issues — is a sign of how far Sessions' relationships in the Senate could go in easing his second trip through the confirmation process.
At the same time, Sessions was an early supporter of Trump's candidacy and one of his closest advisers — forging deep political ties with Trump that could spur questions at his hearing about his connection to the White House.
One line of those questions relates to how independent the Justice Department under Sessions would be in reviewing the legality of Trump's policy proposals and executive actions. Trump faced criticism from former Justice Department officials and legal scholars during the campaign for saying he wanted to bring back torture, for instance.
The other line concerns how he would handle potential conflict of interest issues related to Trump's business empire. Trump has said he will turn over control of his businesses to his children, but has resisted calls to fully divest. Rep. Jerrold Nadler of New York, a member of the House Judiciary Committee, sent a letter to his Senate counterparts last week urging them to ask Sessions if he was committed to conducting an independent review of Trump's business ties and prosecuting any unlawful conduct.
Sessions' supporters and opponents have launched public relations campaigns in advance of this week's hearings. Weeks of vocal opposition culminated in the NAACP's demonstration at Sessions' office, and Brooks and other civil rights leaders held a telephone call with reporters on Friday to outline their objections to Sessions' nomination.
The conservative Judicial Crisis Network created a website, ConfirmSessions.com, to support the nomination, and on Jan. 6 launched a digital and cable ad campaign that will run through the confirmation hearings.
Sessions' appearance before the Judiciary Committee kicks off a week of Senate confirmation hearings on Trump's cabinet picks. The Senate also will hear from Secretary of State nominee Rex Tillerson, Secretary of Defense nominee James Mattis, Secretary of Education nominee Betsy DeVos, Secretary of Transportation nominee Elaine Chao, Secretary of Homeland Security nominee John Kelly, CIA director nominee Mike Pompeo, Secretary of Housing and Urban Development nominee Ben Carson, and Secretary of Commerce nominee Wilbur Ross Jr.