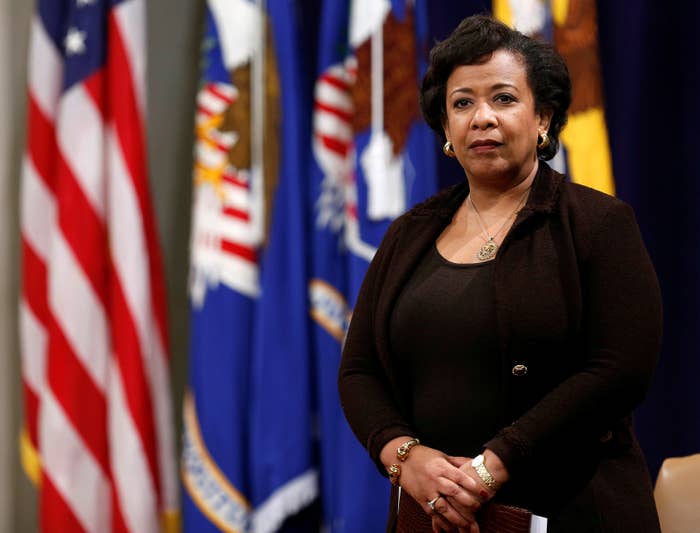 The Trump administration on Friday demanded resignations from 46 US attorneys who were holdovers from the Obama administration.
There are 93 US attorneys nationwide, though. So what happened to the other 47?
None were affected by the resignation request.
Before this past Friday's move, 16 US attorneys had left their posts since the November election — according to information obtained by BuzzFeed News through a review of available records and discussions with US attorneys' offices — leaving acting US attorneys heading those offices.
The other 31 US attorney's offices have been run by acting or specially appointed US attorneys since before the election — and they've all kept their jobs for now.
The US attorney positions in their districts are still officially vacant — these officials are serving as placeholders until Trump can name his nominees and get them confirmed by the US Senate.
But if Trump was looking to purge US attorney offices of high-level officials with ties to the Obama administration, the presence of at least a few of the specially appointed US attorneys still in office complicates the picture. It's a group that includes two officials who were President Obama's nominees to lead their respective offices — they weren't confirmed — and more than 20 who were promoted to be in charge by former US attorney general Loretta Lynch.
Still, nearly all of the 47 acting and specially appointed US attorneys are career prosecutors who have served under at least two presidents. BuzzFeed News identified only two who joined the Justice Department during the Obama administration. (The DOJ hire dates for three acting or interim US attorneys weren't immediately available.)
As of Monday afternoon, there were five presidentially nominated and Senate-confirmed US attorneys still in office. The White House confirmed last week that Trump declined to accept the resignations submitted by US Attorney Dana Boente of the Eastern District of Virginia, who is serving as the acting deputy attorney general, and US Attorney Rod Rosenstein of Maryland, who is Trump's nominee for deputy attorney general.
On Monday, Connecticut US Attorney Deidre Daly and Richard Hartunian of the Northern District announced the Trump administration had decided to let them stay. According to the Justice Department's website, one other presidentially appointed US attorney also is still serving: John Huber of Utah. A spokeswoman for the Utah office declined to comment on the status of Huber's resignation, which she said was submitted over the weekend.
The gap between the number of presidentially appointed US attorneys asked to resign on Friday and the acting or interim US attorneys who were not highlights just how many top federal prosecutor seats were vacant by the end of the Obama administration. One-third of the offices — 31 — have been led by acting or interim US attorneys since before November.
When a presidentially nominated and Senate-confirmed US attorney resigns, the first assistant US attorney automatically becomes the acting US attorney under federal law. They can hold that job for up to 210 days. There were 19 acting US attorneys before Friday's resignations.
Once there's a vacancy, the attorney general also has the option of appointing an interim US attorney. That appointment, however, expires after 120 days. At that point, the US district court for that area can appoint a US attorney to serve indefinitely until the president fills the vacancy with a Senate-confirmed official.
Before Friday, there were 28 US attorneys appointed by an attorney general or a court. At least 21 were appointed by Lynch in 2015 or 2016, and most of them are now serving by court order because the 120-day period passed. The US attorney for Puerto Rico, Rosa Rodriguez-Velez, was appointed interim US attorney in 2006 — under the George W. Bush administration — and has been serving by court order since 2007. The appointment dates for the other six interim US attorneys couldn't be confirmed as of Monday afternoon.
Most of the specially appointed US attorneys had been serving as the acting US attorney when they were appointed by an attorney general. US Attorney Channing Phillips in the District of Columbia didn't follow the typical path — he was nominated by Obama in early October 2015 for the US attorney job, and then a week later was appointed interim US attorney by Lynch; he's been serving by court order since February 2016. Phillips had been a top Justice Department official since 2010 under former attorney general Eric Holder and then Lynch. From 1994 to 2010, he'd worked in the DC US attorney's office.
South Dakota US Attorney Randolph Seiler was also nominated by Obama in October 2015 and appointed by Lynch as interim US attorney around the same time. Unlike Phillips, though, Seiler had already been serving for several months as the acting US attorney. He's been serving as US attorney court order since February 2016.
Phillips and Seiler never had hearings in the Senate, and their nominations were returned to the White House in early January.