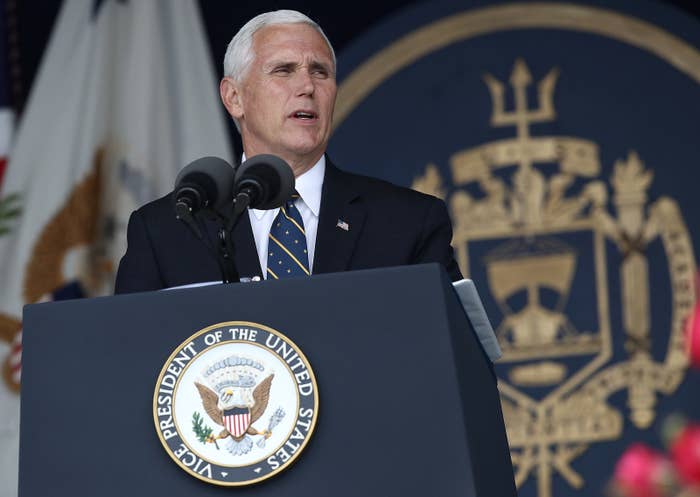 Vice President Mike Pence has hired his own outside lawyer to advise him in connection with the special counsel investigations into Russian interference in the 2016 election and related matters.
Pence has hired Richard Cullen, the chairman of McGuireWoods in Richmond and a former US attorney with extensive experience handling government investigations, according to a spokesman for Pence.
"I can confirm that the Vice President has retained Richard Cullen of McGuire Woods to assist him in responding to inquiries by the special counsel. The Vice President is focused entirely on his duties and promoting the President agenda and looks forward to a swift conclusion of this matter," Pence spokesman Jarrod Agen said in an email.
Cullen, who has experience dating back to Watergate and Iran-Contra investigations, referred questions to Pence's office. The news that Pence had hired him was first reported on Wednesday by The Washington Post.
To date, Pence's name hasn't come up in public testimony and news reports as someone potentially under investigation, but his interactions with former national security adviser Michael Flynn figured into the White House's explanation for Flynn's firing. It's a natural step for an official even tangentially related to an ongoing investigation to hire their own lawyer.

President Trump already has his own lawyer, New York-based litigator Marc Kasowitz. But unlike Kasowitz, who never worked at the Justice Department and whose practice is focused on commercial litigation, not white collar defense, Cullen served as the US attorney for the Eastern District of Virginia under President George HW Bush and has a long record of representing elected officials and public figures facing government investigations.
Cullen's clients have included former House Majority Leader Tom DeLay; former FIFA president Sepp Blatter; and the former head of the Bureau of Alcohol, Tobacco, Firearms and Explosives, Ken Melson. He worked on President George W. Bush's legal team in the aftermath of the 2000 election.
He even has ties to former FBI director James Comey, who has become a central figure in the drama surrounding the special counsel investigation led by former FBI director Robert Mueller III. The two worked together at McGuireWoods in the 1990s.