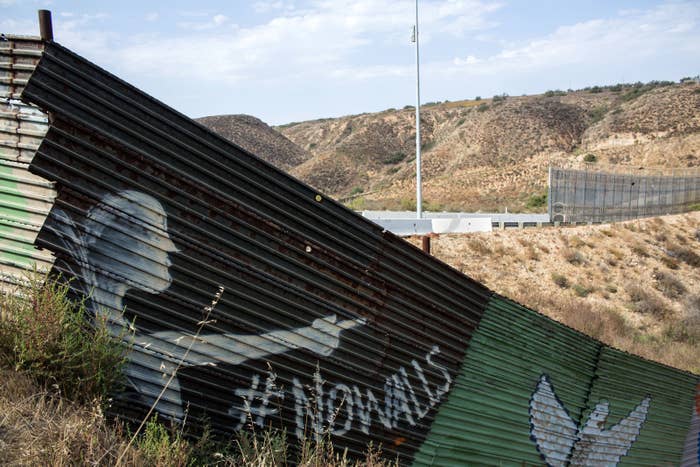 The legal fight over whether two pregnant, undocumented young women in US custody can get abortions ended Tuesday night, but a broader challenge to the Trump administration's efforts to block abortions for teenage detainees will continue.
The Justice Department filed court papers late Tuesday dropping its appeal of a court order that required federal officials to allow the two women, referred to using the pseudonyms Jane Poe and Jane Roe, to get abortions.
Jane Roe was transferred into the custody of Immigration and Customs Enforcement on Tuesday night after federal officials concluded she is 19 years old, and not a 17-year-old minor. Once in ICE custody as an adult, the Justice Department said, she was released while her immigration case is pending, meaning she can now get an abortion. According to DOJ, Jane Roe maintains that she is 17, but that is not expected to hold up the case.

Jane Poe, who is 17 years old and approximately 22 weeks pregnant, has been free to get an abortion since Tuesday morning. The Justice Department said late Monday that it would not seek an order from an appeals court delaying the district judge's order with respect to Jane Poe. The American Civil Liberties Union, which represents the two women, declined to comment Tuesday night about whether Jane Poe had had the abortion yet.
The ACLU will continue pressing its original lawsuit, which Jane Roe and Jane Poe joined, challenging the Trump administration's contention that it has the authority to prevent undocumented minors in its custody from receiving abortions. The teenage detainee originally at issue in the case, known as Jane Doe, obtained an abortion in October after winning in a federal appeals court, and the ACLU pushed ahead with efforts to have a judge approve the case as a class action on behalf of pregnant teenagers facing similar circumstances.
"We are pleased that these two young women are able to finally get the care they need. But the government's policy is still in place," ACLU lawyer Brigitte Amiri said in a statement. "These two cases show how the government continues to abuse its power by denying abortion access. The ACLU will keep fighting until this dystopian policy is struck down, and we have justice for every Jane."
A Justice Department spokesman declined to comment. The department had pursued emergency challenges to US District Judge Tanya Chutkan's order concerning Jane Roe in both the US Court of Appeals for the DC Circuit and the US Supreme Court. The government submitted papers Tuesday night notifying both courts that it was withdrawing its challenge.
One unresolved issue with respect to Jane Poe is whether the government will have to release a public version of a document prepared by the Office of Refugee Resettlement, which has managed the detention of undocumented minors, explaining the ORR director Scott Lloyd's reasons for refusing to allow Jane Poe to have an abortion. Chutkan had ordered the government to file a redacted copy earlier on Tuesday, but the government asked for more time to determine if the document should be considered privileged.
The ACLU filed its request to certify the case as a class action in mid-October. Chutkan hasn't ruled yet. When Amiri mentioned the pending motion at a hearing on Jane Roe and Jane Poe's situation on Dec. 18, Chutkan replied that she was working on a ruling. If it does become a class action, future rulings would apply more broadly to pregnant, undocumented teenagers facing similar situations.

The case had been moving at a slower pace after Jane Doe's situation resolved in October, but it ramped up again last week.
On Dec. 15, the ACLU filed papers seeking an immediate court order requiring federal officials to allow Jane Roe and Jane Poe to get abortions. The ACLU submitted affidavits in which both women stated they were 17 years old, were in US custody, and wished to end their pregnancies. Jane Poe was quickly approaching a date when she would no longer be allowed to get an abortion in the state where she was being held, according to the ACLU. Neither side has said where the two women were being held at the time.
The government, in its response papers, submitted an affidavit from Jonathan White, the deputy director for children's program in the Office of Refugee Resettlement, in which he referred to the two young women as "minors." He did not specifically say that Jane Roe and Jane Poe were 17, but the government didn't contest Jane Roe's age in its initial court papers.

White said in his Dec. 16 affidavit: "I am also familiar with the policies, procedures, decisions, case details, and care concerning the two newly identified minors identified in the amended complaint as Jane Roe (J.R.) and Jane Poe (J.P.)."
According to DOJ, Jane Roe is reserving the right in the future to challenge the government's finding that she is an adult, a determination that could factor into how her immigration case is handled.
Once in ICE custody, Jane Roe would be allowed to get an abortion, even if she wasn't released. ICE confirmed to BuzzFeed News in a statement Tuesday that its medical care guidelines allow pregnant, undocumented adult women being held by the government to obtain abortions. In cases of rape or incest, or if the pregnancy endangers the life of the woman, ICE will assume the cost of the abortion. In all other cases, the woman is required to pay for the procedure herself, and must sign her intent to obtain an abortion for inclusion in her medical records. In all cases, ICE will arrange for transportation to the abortion appointment "at no cost to the detainee," the guidelines read.
The "abortion access" section of the guidelines also notes that, if the pregnant woman asks for it, ICE will provide "access to religious counseling, and … impartial medical resources and social counseling," including independent social services organizations or "women's community resources groups."
At an October hearing concerning Jane Doe — the first pregnant, undocumented teen to take the Trump administration to court — Judge Brett Kavanaugh of the US Court of Appeals for the DC Circuit expressed concern that there was a discrepancy between ORR's policy of refusing to facilitate a minor getting an abortion and ICE's policy of bringing adults to obtain abortions at no cost.
"You're talking about ICE as if it's some separate — there's one executive branch," the judge said to the Justice Department's lawyers. Kavanaugh ended up being in the majority of a three-judge panel that ruled against Jane Doe, but a full sitting of the DC Circuit later reinstated a lower-court order that allowed Jane Doe to have the procedure.