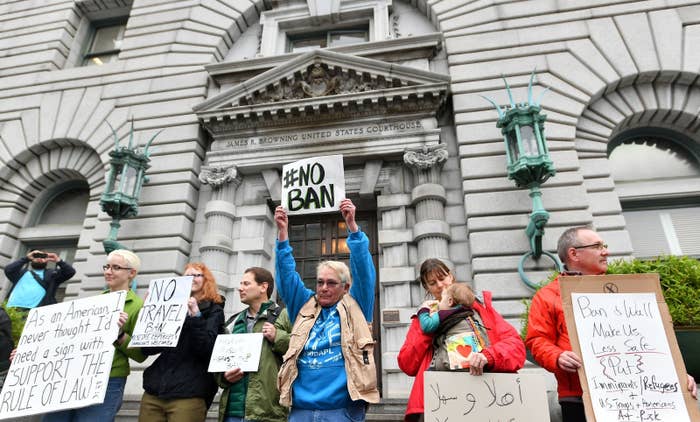 ALEXANDRIA, Virginia — The federal court challenges to President Trump's refugee and travel ban didn't stop just because one federal appeals court kept the ban on hold.
The morning after the administration took a hit from a federal appeals court, US District Judge Leonie Brinkema heard arguments over Virginia's request that she, too, issue a nationwide injunction blocking the part of the ban affecting travelers from seven majority-Muslim countries.
Brinkema, as was the case when the government argued earlier this week before the US Court of Appeals for the Ninth Circuit, came down hard on the lack of evidence the federal government had presented so far to justify the ban.
"There are all kinds of defects in the record at this point," Brinkema told Justice Department lawyer Erez Reuveni. "You haven't given us any evidence whatsoever."
A three-judge panel of the Ninth Circuit upheld a Seattle federal judge's order temporarily halting enforcement of sections of Trump's executive order that stopped travel from the seven countries and suspended the US refugee program. Shortly after the decision came down, Trump tweeted, "SEE YOU IN COURT, THE SECURITY OF OUR NATION IS AT STAKE!"
But Reuveni told Brinkema on Friday that the Justice Department was still reviewing the ruling and hadn't decided what to do. "We may appeal, we may not," Reuveni said. "All options are being considered across the spectrum."
Asked about the Ninth Circuit's decision at a news conference on Friday afternoon, Trump didn't specify what action the administration would take. He said they would "do whatever is necessary to keep our country safe" and "continue to go through the court process, and ultimately I have no doubt that we'll win that particular case."
There are at least fifteen pending cases nationwide challenging the travel ban. In the case in Seattle at issue in the Ninth Circuit, US District Judge James Robart had previously set a schedule to go ahead with briefing on the next phase of litigation — but the Ninth Circuit also set a further appellate briefing schedule on Thursday night. What happens will depend, in part, on what the Justice Department decides to do next, but also on how all of the judges now involved in the case decide to proceed. A judge in Hawaii put a case there on hold as long as Robart's injunction is in effect, but briefing deadlines and hearings are being set in other cases.
In the US District Court for the Eastern District of Virginia, Brinkema pressed ahead with arguments on the commonwealth's injunction request. The Ninth Circuit doesn't cover Virginia — it includes seven western states, as well as Hawaii and Alaska — so Brinkema isn't bound by the legal reasoning from the appeals judges there, even if the effect of the circuit's order is nationwide.

Virginia Solicitor General Stuart Raphael argued on Friday that it made sense to move forward because it was better to have multiple courts weighing in on the travel ban, which presented "novel" issues. He compared the situation to when numerous federal courts examined state laws prohibiting same-sex couples' marriage rights. In those cases, judges were looking at different state laws, as opposed to the same federal law, but the varying opinions contributed to the broader development of the law, Raphael said.
Reuveni argued that Virginia failed to present evidence of specific individuals who would be immediately, irreparably harmed by the travel ban. Raphael pointed to information it submitted to the court about potentially hundreds of students and faculty at state universities from the seven affected countries who wouldn't be able to travel without knowing if they could return. Reuveni countered that this evidence was too speculative.

Virginia, like plaintiffs in other legal challenges, is arguing in part that the ban is rooted in discrimination against Muslims. Brinkema didn't decide that issue, but did say she thought there was "colorable" evidence that the ban may "bump into" the Establishment Clause of the First Amendment, which forbids religious discrimination by the government.
Brinkema said she also was struck by a declaration filed with the court signed by 10 former high-level diplomatic and intelligence officials — including three who served under Republican presidents — who said they were "unaware" of a justification for the type of travel ban Trump signed and who thought it could in fact hurt national security.
"I don't have a scintilla of evidence from the [government] that counters this very powerful evidence," Brinkema said of the declaration.
Reuveni argued — as it has done elsewhere — that the court shouldn't be able to broadly review the president's national security determinations. Individuals in the United States who faced deportation or were otherwise affected by the ban could go to court to pursue their own due process rights, but Virginia shouldn't be able to bring a lawsuit on their behalf, he said. He pointed out that even US citizens don't have an "unfettered" right to travel; for example, he said, conflict or diplomatic issues could restrict their ability to travel abroad.
The Ninth Circuit pushed back on the government's national security argument, writing in Thursday's decision, "There is no precedent to support this claimed unreviewability, which runs contrary to the fundamental structure of our constitutional democracy."

Brinkema said she would issue a ruling as soon as possible, but didn't give a firm time frame.