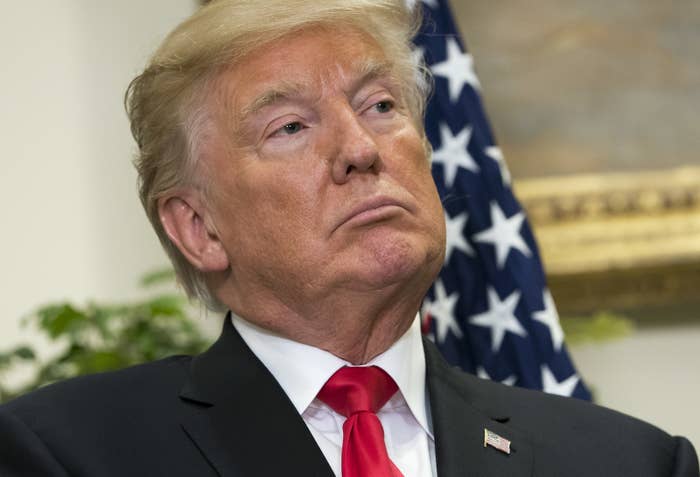 John Dowd, the lawyer now leading President Trump's personal legal team, denied on Friday that the outside legal team has been looking into the president's pardon power.
In a phone interview with BuzzFeed News on Friday, Dowd said, "There is nothing going on on pardons, research — nothing."
On Thursday night, the Washington Post reported that — among other things — Trump has asked "advisers" about his ability to pardon people, including family members. The Post also reported that Trump's lawyers have discussed pardon power among themselves.
Dowd said that the Washington Post did not source the article with members of the president's outside legal team.
"It's completely false. It's not happening, never has happened. Someone made it up. It's just a lot of mischief going on," Dowd said.
Asked if any White House advisers or anyone outside the White House had conversations or did research on the pardon issue, he replied via email, "Same answer."
Another source told BuzzFeed News that "no one on the outside legal team has had discussions or done research on pardons." That source could not speak to whether any White House advisers had done research into the issue.
Dowd is now the lead lawyer on Trump's team — the end point, for now, of several changes to Trump's legal team over the past month. He was brought on in mid-June, three weeks after Marc Kasowitz, a longtime lawyer for Trump, took on the role as the lead outside counsel for Trump in the Russia investigations. The spokesperson for the outside legal team resigned on Thursday. And Trump is bringing a senior white collar defense lawyer in to the White House starting at the end of the month to coordinate Russia-related investigations inquiries.
Dowd sharply criticized the press in the interview, saying that "every single day I've been on this case, I've dealt with absolute fabricated, false news by the major media, and it is disgusting." He also called a New York Times report that the president's lawyers and aides were doing research on special counsel Robert Mueller III's team to look for information they could use to discredit the office's work "nonsense."
But Trump himself raised the possibility of such work, telling the New York Times on Wednesday that Mueller had "conflicts" because he had been interviewed to potentially be Trump's FBI director. Trump added: "There were many other conflicts that I haven't said, but I will at some point."
Dowd, a former federal prosecutor who has a solo law practice in Washington, DC, is taking the lead as Kasowitz scales back his involvement. Dowd said that Kasowitz is "still on the team, he's busy in New York and we consult with him from time to time." The Washington Post first reported the change in leadership.
"We just wanted to go in a different direction," Dowd said.
A person familiar with the Kasowitz firm's plans told BuzzFeed News said the firm, Kasowitz Benson Torres, "got that team up and running with the president's confidence." Both Kasowitz and Michael Bowe, another partner at the firm, have been working on the matter.
"Now we will let them do their jobs with our input and guidance to them and the president. Ty [Cobb] has the lead internally and given his very long standing relationship with Dowd, will interact with him directly. We will be informed and provide guidance to them and president as necessary," the source said.
Kasowitz did not return a request for comment.
In addition to Kasowitz's stepping back, the spokesperson he had brought on, Mark Corallo, has resigned. Over the course of the investigation, Corallo had become the spokesperson for the full outside legal team. Corallo on Friday confirmed to BuzzFeed News that he had resigned, but did not provide details on why. Dowd said that Corallo "did a great job, we appreciate him very much. There was no negative there, it's just a matter of style."
Dowd and Trump's other outside lawyer, Jay Sekulow, chief counsel of the American Center for Law and Justice, will be working soon with veteran white collar defense lawyer Ty Cobb. Cobb is leaving the law firm Hogan Lovells at the end of July to join the White House as a special counsel. Dowd said that Cobb will be handling the White House side of responding to investigations. Dowd, Sekulow, and Cobb "all like each other, we all get along," Dowd said.
"[White House Counsel] Don McGahn, who is a terrific lawyer, just doesn't have the experience. He's an election lawyer and corporate lawyer, he doesn't have the experience on the Hill or with prosecutors or the Department of Justice. That's another world. The president needs to have someone he can talk to all the time," Dowd said.
Cobb declined to comment. Sekulow did not return a request for comment.
As for communications with Corallo out, Dowd said that he and Sekulow felt that they could handle inquiries from the press directly going forward.