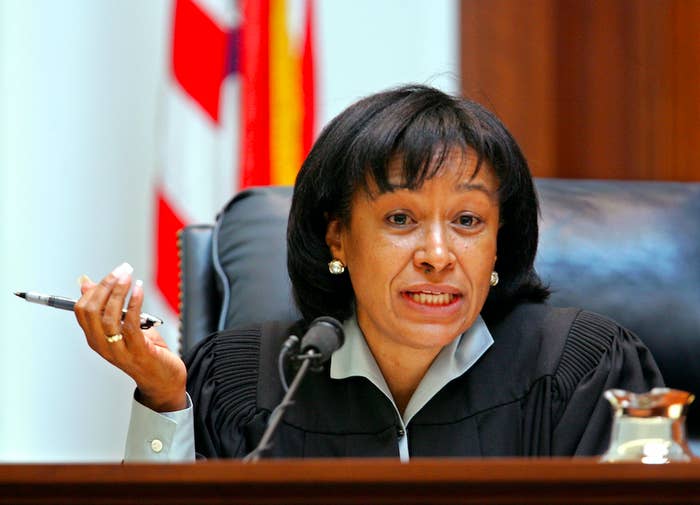 UPDATE
The US Court of Appeals for the DC Circuit announced on Monday that Judge Janice Rogers Brown would retire effective Aug. 31 and will not be taking senior status. Under federal law, after turning 68 and serving at least 12 years on the bench — she was confirmed 12 years ago on June 10, 2005 — Brown is eligible to retire and receive her current annual salary in perpetuity.
ORIGINAL STORY
A judge on the US Court of Appeals for the DC Circuit is stepping down, presenting President Trump with the opportunity to choose at least one judge for a key court that presides over challenges to federal agency actions.
Judge Janice Rogers Brown, nominated by President George W. Bush and confirmed to the DC Circuit in 2005, will be stepping down, a source familiar with the circumstances told BuzzFeed News on Friday. It was not immediately clear if Brown would take senior status — meaning she'd stay on the bench, but could take a reduced caseload — or retire outright. The Wall Street Journal first reported that Brown will step down.
Brown did not immediately return a request for comment, nor did a DC Circuit spokesperson.
The DC Circuit historically has presided over major political disputes. Cases on the court's docket over the past year alone included challenges to the Obama administration's Clean Power Plan, the constitutionality of the Consumer Financial Protection Bureau, and public access to videos of forced feeding of detainees at Guantanamo Bay.
Given the significance of cases that come to the court and the number of Supreme Court justices who have ascended from it — Chief Justice John Roberts Jr., justices Ruth Bader Ginsburg and Clarence Thomas, and the late Justice Antonin Scalia are alumni — nominations to the court have long been especially contentious. Democrats unsuccessfully tried to filibuster Brown's nomination in 2005.
In 2013, after the Republican-controlled Senate had blocked President Obama's nominees to the DC Circuit, Democrats orchestrated a change in Senate rules, known as the "nuclear option," to effectively get rid of the filibuster for lower court nominees. It's the same process that Republicans used earlier this year to get rid of the filibuster for Supreme Court nominees, clearing the way for Justice Neil Gorsuch's confirmation.

The DC Circuit is led by Chief Judge Merrick Garland, who was Obama's nominee for Scalia's seat, which ultimately went to Gorsuch.