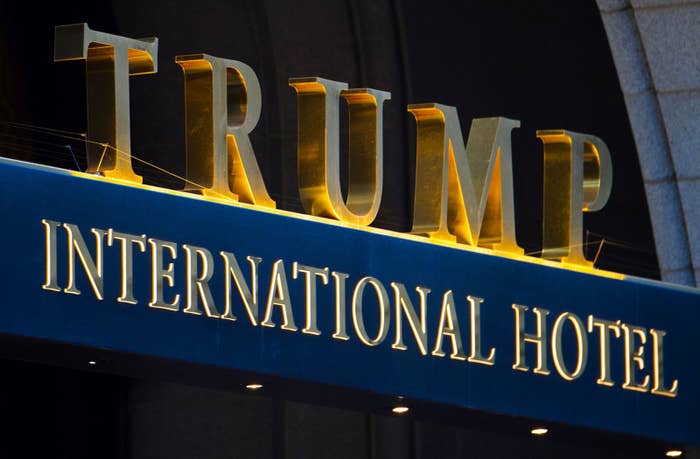 WASHINGTON — The Trump Organization has settled a lawsuit against a celebrity chef who in 2015 dropped plans for a restaurant at the Trump International Hotel in Washington in response to then-candidate Donald Trump's statements on the campaign trail.
The Trump Organization and chef José Andrés' company ThinkFoodGroup issued a joint statement on Friday announcing the settlement. The terms are confidential. The amicable announcement — it includes the word "friends" twice — came after more than a year of hard-fought litigation.
Donald Trump Jr. said in the statement that the agreement "is a 'win-win' for both of our companies."
"I am glad that we are able to put this matter behind us and move forward as friends," Trump Jr. said.
Andrés, who successfully fought to depose Donald Trump in the case, said in the statement that he was "pleased that we were able to resolve our differences and move forward cooperatively, as friends." He added that he had "great respect for the Trump Organization's commitment to excellence in redeveloping the Old Post Office."
Starting in December, Andrés had tweeted offers at Trump to settle.
The settlement was first reported by The Washington Post.
Andrés and another celebrity restaurateur, Geoffrey Zakarian, announced in 2015 that they were pulling out of plans for restaurants at Trump's DC hotel after Trump made disparaging statements about Mexicans and immigrants at a campaign event. The Trump Organization sued both chefs in District of Columbia Superior Court for breach of contract.
The lawsuit against Zakarian and his company is still pending. Trump's attorney and a lawyer for Zakarian were not immediately reached for comment about the status of that case. In January, a lawyer for the Trump Organization told the judge that mediation had been unsuccessful and the two sides had reached an "impasse."
Read the joint statement from the Trump Organization and ThinkFoodGroup: