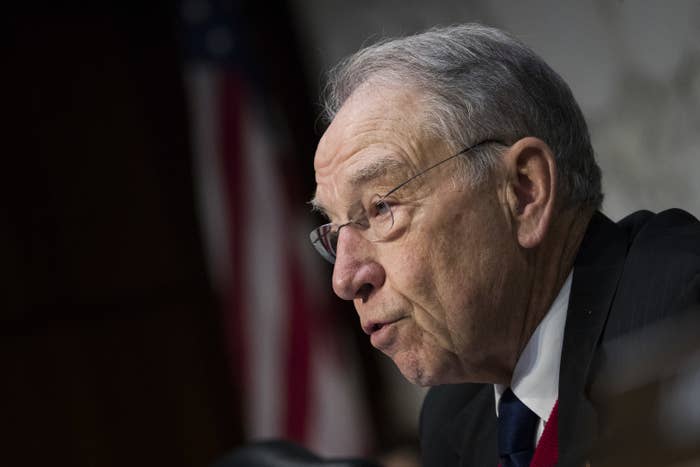 White House officials have confirmed that two of President Donald Trump's controversial judicial nominees, Brett Talley and Jeff Mateer, will not go any further in the confirmation process.
BuzzFeed News reported Tuesday night that Talley, who was already voted out of the Senate Judiciary Committee and was waiting for a final vote in the Senate, had offered to withdraw his nomination last week. Mateer's nomination was submitted by the White House to the Senate in September, but hadn't gone beyond that.
The White House on Wednesday confirmed to BuzzFeed News a report from NPR that quoted an administration official as saying that Talley's nomination would not go forward. A White House official also confirmed a separate report from the Washington Post that quoted Senate Judiciary Committee Chairman Chuck Grassley as saying that Mateer's nomination was over as well.
Talley and Mateer are now Trump's first unsuccessful judicial nominees. The defeats come at the end of a year in which the White House and Republicans have pointed to the swift confirmation of conservative judges to lifetime seats on the federal bench as a major accomplishment. The White House did not immediately comment on how or when Talley and Mateer's nominations would end — the administration could withdraw them, or allow them to expire at the end of the congressional session.
Talley, nominated to the US District Court for the Middle District of Alabama, faced opposition from Democrats and civil rights groups before the judiciary committee voted in favor of his nomination in early November, but he faced new scrutiny after the vote amid revelations about information that wasn't included in his Senate questionnaire. BuzzFeed News first reported on thousands of posts that Talley appeared to have written for a University of Alabama sports fan website, including on gun control, immigration, and other political subjects.

In one post on TideFans.com, poster "BamainBoston," who identified himself as Talley in 2014, wrote in response to the 2012 mass shooting at Sandy Hook Elementary School, "My solution would be to stop being a society of pansies and man up."
Slate highlighted another post by BamainBoston that appeared to defend the early iteration of the Ku Klux Klan. Talley also received a rare "not qualified" rating from the American Bar Association.
Mateer was nominated to the US District Court for the Eastern District of Texas. CNN reported that, in 2015, Mateer gave speeches in which he said that transgender children were evidence of "Satan's plan." At a recent confirmation hearing for other nominees, Louisiana Sen. John Kennedy had asked questions that suggested he had concerns about Mateer in light of those statements, and Mateer's nomination was opposed by LGBT and other civil rights groups.

There were already hints that Mateer's nomination could be in trouble. He was one of 16 judicial nominees announced by the White House on Sept. 7; Talley was also part of that group. Of the 16 nominees, all but two — Mateer and Ryan Bounds, nominated to the US Court of Appeals for the 9th Circuit — have at least had a hearing in the Senate Judiciary Committee, and some have already been voted out of committee or confirmed. Mateer's Senate questionnaire, which nominees prepare in coordination with the White House and the Justice Department, was never submitted.
Representatives of Texas Sens. John Cornyn and Ted Cruz did not immediately return requests for comment.
Information about Talley and Mateer's nominations not moving forward came the day after news broke that Senate Judiciary Committee Chairman Chuck Grassley had reportedly urged the White House to reconsider Talley and Mateer's nomination. A spokesperson for Grassley confirmed to BuzzFeed News that the senator had expressed "concerns" to White House staff about statements made by the two nominees.
Grassley wasn't the first Republican to take a critical eye to Trump's judicial nominees — Kennedy was the first Republican to break ranks, at least publicly — but given Grassley's perch as head of the Judiciary Committee, his pushback was particularly significant.
Asked about reports of Grassley's communications to the White House on Tuesday, White House Press Secretary Sarah Huckabee Sanders told reporters she would have to look into it.
CNN first reported Tuesday that Grassley had communicated his concerns to the White House and had said that he advised the White House to "reconsider" Jeff Mateer's nomination and "not to proceed" with Talley. A spokesman for Grassley later clarified to BuzzFeed News that Grassley hadn't intended to draw a distinction between the two nominees in describing what he told the White House and that his comments applied to both Mateer and Talley.
Talley was already voted out of the Senate Judiciary Committee — with Grassley's support — and was waiting for a vote by the full Senate. Because Mateer hadn't had a hearing yet in the committee, Grassley could have still exercised control over whether and when that nomination moves forward.
Grassley spokesman Taylor Foy said in an email to BuzzFeed News that Grassley conveyed his concerns to the White House about Talley and Mateer "at the staff level." He did not provide details about when those communications took place, who was involved, or what exactly Grassley said.

"Chairman Grassley has been concerned about statements made by nominees Mateer and Talley, and he's conveyed those concerns to the White House. Revelations of Talley's statements surfaced only after he was reported out of the Judiciary Committee. Mateer's nomination paperwork has not yet been received by the Committee, and no further action is scheduled," Foy wrote.
Talley's critics also pointed to his minimal courtroom experience and the fact that he did not include in a section of his questionnaire that asked about potential conflicts of interest that his wife, Ann Donaldson, is chief of staff to White House Counsel Don McGahn.
Democrats and civil rights and liberal advocacy groups have objected to many of Trump's nominees, but have had no success so far in stopping any of them from being confirmed. Judicial confirmations have been a bright spot for the Trump administration and Senate Republicans this year, with McConnell vowing to move nominees through the Senate as quickly as possible and Grassley taking steps to head off Democratic opposition at the committee level.

Asked about Grassley's communications to the White House and the status of a full Senate vote on Talley, a spokesman for McConnell said in a email, "I do not have any scheduling announcements or guidance on any nominees right now."
The Senate is preparing to vote this week on three federal appeals court nominees.
UPDATE
Updated with information from the White House about Mateer's nomination status.
UPDATE
Updated with information from the White House about Talley's nomination status.
UPDATE
Updated with information about Brett Talley's offer to withdraw his nomination.
UPDATE
Update with clarification from a spokesman for Sen. Chuck Grassley about what the senator told a reporter about his communications to the White House.