President Trump has hired veteran white-collar defense lawyer Ty Cobb to work in the White House and reportedly to oversee matters related to the investigations into Russian interference in the 2016 election.
Cobb, a longtime partner at the law firm Hogan Lovells, is a former federal prosecutor who has a long track record of handling government investigations and advising senior officials. His hiring was first reported by Bloomberg.
The White House announced the hiring in a brief statement on Saturday.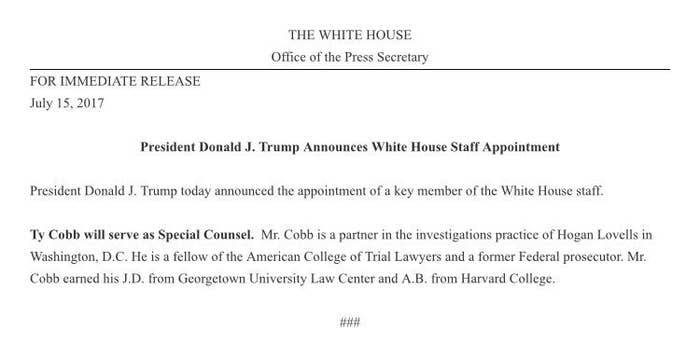 Stephen Immelt, the CEO of Hogan Lovells, announced Cobb's coming departure from the firm in a Friday afternoon email to employees of the firm.
"I am writing to let you know that after nearly 30 years with the firm, Washington, D.C. partner Ty Cobb is leaving Hogan Lovells on 30 July to become Special Counsel to the United States," Immelt wrote in the email, which was obtained by BuzzFeed News.

Unlike Trump's lead private counsel on the Russia investigations, New York litigator Marc Kasowitz, who doesn't hail from the white collar legal world in Washington, Cobb's hire was seen as a more conventional pick.

Robert Bennett, another longtime white collar lawyer at Hogan Lovells who counts former President Bill Clinton among his past clients, told BuzzFeed News that Cobb "is as good a lawyer as his distant relative was a baseball player." (Cobb is related to the baseball legend of the same name.)
"On its face it looks like they finally decided they've got to get people in there who know what they're doing and have experience in these areas," Bennett said. "The whole question in my mind will be, will they listen to him. And they're very foolish if they don't."
Another of Cobb's partners in the DC office of Hogan Lovells, Neal Katyal, is the lead lawyer in Hawaii's challenge to Trump's travel ban — a challenge that sent the Justice Department back to the Supreme Court on Friday.
Cobb did not return a request for comment, nor did a Hogan Lovells spokesman.
Read Immelt's email announcing Cobb's departure: