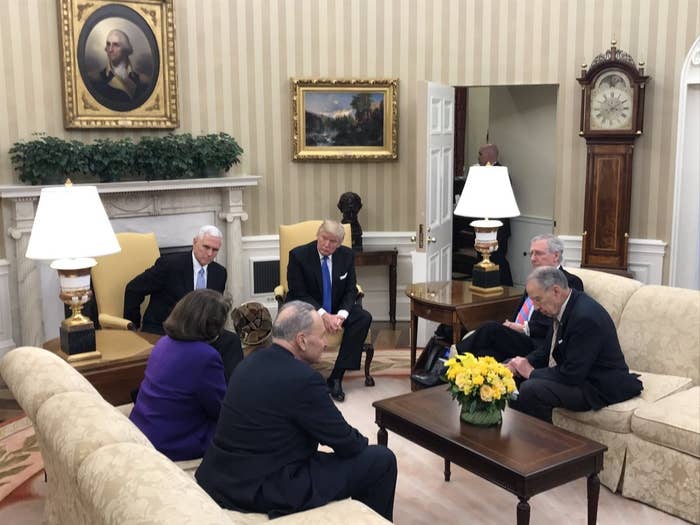 WASHINGTON — As Trump prepares to reveal his nominee for the US Supreme Court next week, he's hired an attorney in the White House with experience fighting to put conservative judges on the bench.
New deputy White House counsel Makan Delrahim is a veteran of the Republican judicial wars during the first years of the second Bush administration. A former chief counsel for the Senate Judiciary Committee, Delrahim worked on federal court nominations facing fierce Democratic opposition, including one high-profile defeat — the blocked nomination of Miguel Estrada to the US Court of Appeals for the DC Circuit.
Delrahim's portfolio at the White House will focus on judicial nominations, according to multiple sources with knowledge of the hire. A Republican familiar with the process told BuzzFeed News that Delrahim was expected to play a lead role in the upcoming Supreme Court nomination as well. Politico first reported Delrahim's hire.

Delrahim most recently worked as a lawyer and lobbyist at the law firm Brownstein Hyatt Farber Schreck. He did not return a request for comment. His last day at Brownstein Hyatt was Jan. 20, according to a firm spokeswoman.
Trump tweeted Wednesday morning that he would announce his nominee to replace the late Justice Antonin Scalia on Feb. 2. Although Republicans control the Senate, Democrats are gearing up for a fight over that Supreme Court nominee, given Trump's pledge to nominate a judge in the mold of the conservative Scalia.
Delrahim publicly backed Trump during the campaign, citing the next president's role in filling seats on the Supreme Court. In a piece published in the New York Post in March, Delrahim wrote that Trump was not his first choice for president, but he nevertheless urged conservatives to rally around Trump as the Republican nominee to avoid splitting the party and handing Hillary Clinton the White House — and an open Supreme Court seat.

"I'm willing to take my chances with The Donald," Delrahim wrote, noting that Trump pledged to nominate justices similar to Scalia and Justice Clarence Thomas, also a conservative. Scalia's death should make the 2016 election a "single-issue race" for constitutional conservatives, he wrote.
Delrahim worked on the Senate Judiciary Committee from 1998 to 2003, and spent his final two years as chief counsel and staff director. President George W. Bush's first set of judicial nominees in 2001 included 11 picks for the federal appeals courts, a group that included Estrada. Democrats filibustered Estrada's nomination as well as the nomination of Priscilla Owen to the Fifth Circuit, arguing that they were too conservative. Estrada withdrew from consideration in 2003. Owen was confirmed four years later in 2005.
Delrahim left the Senate in 2003 to become deputy assistant attorney general for the Justice Department's antitrust division. Bloomberg News reported earlier this month that Delrahim was considered a candidate to lead the antitrust division in the Trump administration.

Trump during the campaign released a list of 21 candidates he'd consider nominating for the Supreme Court; multiple news reports on Tuesday indicated that he has now narrowed it down to three names — federal appeals judges Neil Gorsuch, William Pryor, and Thomas Hardiman.

Pryor was nominated to the 11th Circuit in April 2003, and Delrahim would have been involved in the early battles over Pryor's nomination before he left to join the Justice Department that summer.