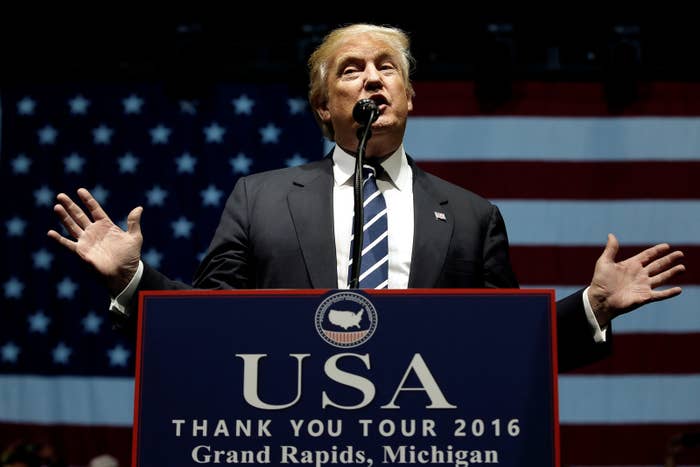 President-elect Donald Trump is again trying to block lawyers from asking him about his Washington, DC, hotel and the celebrity chefs who dropped plans for restaurants there after he made disparaging comments about immigrants.
Trump is "extremely busy" with his duties as president-elect, his lawyers wrote in court papers filed Tuesday. Forcing him to answer more questions about the hotel "serves no purpose other than to harass."
Trump is suing restaurateurs José Andrés and Geoffrey Zakarian, who both canceled plans for restaurants in the Trump International Hotel in downtown Washington after Trump called Mexicans rapists and criminals at his campaign launch event in June 2015.
Trump unsuccessfully tried to convince a judge to stop Zakarian's lawyers from questioning him earlier this year. Now, he's fighting an interview with Andrés' lawyers — or at least to restrict the types of questions they can ask and how long the sit-down will last.
Andrés' lawyers last week filed papers in court accusing Trump of trying to "hamstring" their efforts to question "the man who directed the bringing of this lawsuit." That Trump is busy now as president-elect is not a valid reason to limit the questioning, they wrote.
Trump's lawyers argue that the law sets a high bar for involving top-level officials in litigation, and that Trump is in a unique position as president-elect.
"Pragmatically, Mr. Trump has just over a month left to prepare to lead the country. That is, by January 20, 2017, Mr. Trump must have selected his Cabinet and be ready to execute on the duties of the Presidency, which includes managing 15 executive departments, more than 100 federal agencies, 2 million civilian employees and a budget of almost $4 trillion. It is not an overstatement that he is extremely busy handling matters of very significant public importance," his lawyers at Seyfarth Shaw in Washington wrote.
Amid those transition plans, his team also has scheduled numerous rallies across the country, billed as a "Thank You Tour." This week alone, he has four such rallies planned.
Trump's lawyers also pointed to other sources that Andrés' lawyers could question about the hotel and the restaurant deal, such as Trump's children, Ivanka Trump and Donald Trump Jr. In a tweet on Monday evening, Trump said that Donald Jr. and Eric Trump, along with other executives, would be managing his businesses once he takes office. He didn't specify Ivanka Trump's role — in either the business or his presidency. Ivanka Trump's husband, Jared Kushner, has been a close adviser to the president-elect, and the couple reportedly is considering a move to Washington.
If the judge does order Trump to appear for a deposition, his lawyers are asking that the interview be limited to two hours and that Andrés' lawyers not be allowed to pose questions that Zakarian's lawyers already asked.
Trump sat for a deposition in June with Zakarian's lawyers after he was ordered to do so by a judge. That interview lasted about two hours, according to a transcript. In ordering Trump to appear, DC Superior Court Judge Brian Holeman wrote in a February order: "Neither the rules nor the controlling authority create a special exception for individuals that that 'may have a busy schedule' as a result of seeking public office."
Andrés' lawyers at Steptoe & Johnson LLP say there is no guarantee that two hours is enough time. Under the court's rules, the lawyers would have up to seven hours for a deposition. They also argued that there was no legal basis to stop them from asking questions that Zakarian's lawyers asked over the summer.
"It would be unfair for one party to control the course of discovery in such a matter, particularly where the party seeking to do so is the party that filed both lawsuits," they wrote.
Trump had also asked that any deposition take place in New York instead of Washington, citing "security concerns," according to court papers. Andrés' lawyers said they agreed to that condition, but added that they thought it was "dubious that the President-elect cannot be afforded adequate security in the capital of the United States."
According to Andrés' lawyers, Trump's lawyers "unilaterally" canceled a deposition with Donald Trump Jr. scheduled for Dec. 7, but have agreed to reschedule it.