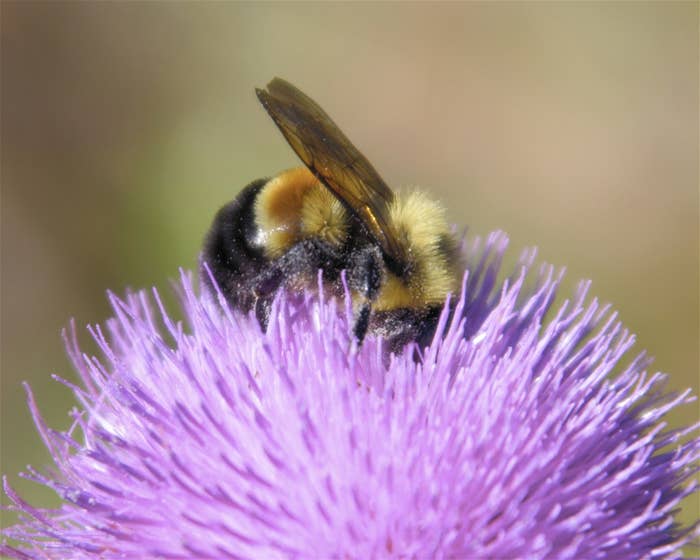 The rusty patched bumble bee was set to officially become an endangered species on Feb. 10 — the first bee species in the continental United States to receive such protection from the federal government. The day before, however, the US Fish and Wildlife Service temporarily halted that classification from taking effect.

An environmental advocacy group filed a lawsuit on Tuesday challenging the delay, adding to the growing pile of litigation facing the nascent Trump administration.
The rusty patched bumble bee's endangered species designation is one of a number of Obama-era agency regulations that were set to take effect after President Trump took office. On Jan. 20, Trump's chief of staff Reince Priebus issued a memorandum instructing agencies to delay regulations that hadn't taken effect yet for 60 days, so that they could be reviewed by the incoming administration.
The Natural Resources Defense Council is challenging the delay of federal protection for the rusty patched bumble bee. In a lawsuit filed in the US District Court for the Southern District of New York, the group argues that the Fish and Wildlife Service failed to go through the "legally required process" before blocking the endangered species listing from taking effect on schedule.
Absent any other action by the new administration, the endangered species designation for the rusty patched bumble bee will now take effect on March 21. Although the Fish and Wildlife Service's delay notice was filed Feb. 9, the 60-day clock started running from the date of Priebus' letter.
According to the lawsuit, the rusty patched bumble bee mostly lives in the northern Midwest and eastern United States. The Fish and Wildlife Service concluded that the species' population had declined since the 1990s and was at risk of extinction. The "stressors" facing the species included "pathogens, pesticides, habitat loss and degradation, small population dynamics, and effects of climate change," according to the agency.
The agency published the rule designating the rusty patched bumble bee as an endangered species in the Federal Register on Jan. 11, but rules typically don't take effect for another 30 days after publication.
Priebus' Jan. 20 memorandum also instructed agencies to withdraw final rules that weren't published yet in the Federal Register. The Natural Resources Defense Council filed a second lawsuit, also in the federal district court in Manhattan, against the Environmental Protection Agency on Feb. 1 challenging the withdrawal of a rule under the Clean Water Act regulating the discharge of mercury during dental procedures into municipal sewage treatment plants.