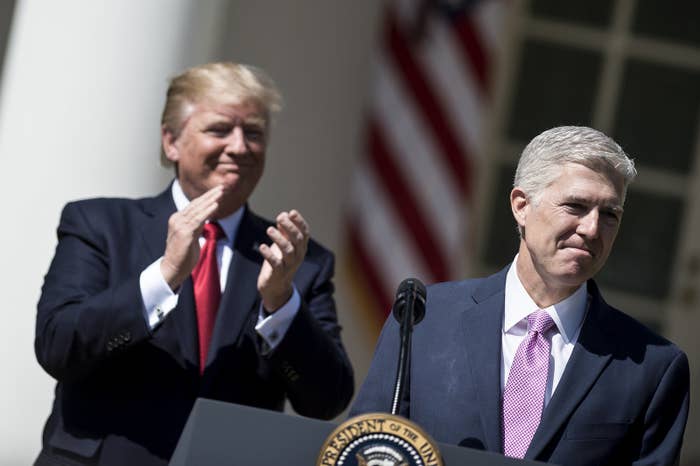 There is no open seat on the US Supreme Court right now, but the fight over the next vacancy is already underway.
Demand Justice, a liberal nonprofit that opposes President Donald Trump's judicial nominees, will roll out a digital ad campaign on Tuesday targeting judges on Trump's short list of potential Supreme Court nominees. There are three ads to start, and the group plans to release more in the next few weeks.
The initial mid-five-figure digital ad campaign is pennies compared to the millions of dollars that liberal and conservative groups are prepared to spend when a seat does open up on the Supreme Court. But Demand Justice executive director Brian Fallon said his group wants to take advantage of the opportunity now — before Trump's supporters have a nominee to rally around — to give liberals the tools to attack whomever Trump chooses from day one.
"We want to create some literacy, especially among progressives, about the stakes that are represented in a potential future confirmation fight on the Supreme Court," said Fallon, who was press secretary for Hillary Clinton's presidential campaign and a former top spokesperson for Eric Holder at the Justice Department. "The best way that we can think to do that is to try to create some familiarity with the records of the people that Trump will pick from."
There are 25 names on Trump's Supreme Court short list — 24 state and federal judges plus Sen. Mike Lee. The White House has said Trump will choose his next nominee from the list. No justice has announced plans to step down, but much of the end-of-term retirement speculation has focused on Justice Anthony Kennedy, who turns 82 next month.
Demand Justice's first ads focus on three federal appeals court judges on Trump's list: Judge Amy Coney Barrett of the US Court of Appeals for the 7th Circuit; DC Circuit Judge Brett Kavanaugh; and 6th Circuit Judge Amul Thapar. Fallon says they won't make ads for everyone on the list but expect to produce up to 10 ads in the first push; one for 8th Circuit Judge David Stras is already in production, he said.
Barrett and Thapar were confirmed under Trump. Thapar, a former Kentucky federal trial judge backed by Senate Majority Leader Mitch McConnell, was on the second Supreme Court short list that Trump announced in September 2016. Barrett, a former law professor, and Kavanaugh, a former Justice Department official during the George W. Bush administration, were on the latest version of the list released by the White House in November.
Each ad has a theme. Barrett's ad is about her criticism of the US Supreme Court's decision upholding the Affordable Care Act; Kavanaugh's highlights comments he made in the late 1990s supporting a larger role for the president in independent counsel investigations; and Thapar's notes his ties to McConnell and an opinion he wrote about Kentucky campaign finance rules.
Fallon said the goal of the ads is to show how issues that matter to Democratic voters — such as health care, checks on presidential power, and campaign finance — cross over into the federal courts.
"I think that our theory of the case is going to be that in the aggregate the list is awful on a range of issues, and that if you can assume that one of them is going to be a fifth vote to repeal health care you can probably safely assume that's true of the whole list," Fallon said.
The group plans to push the ads on its website and social media platforms, and make ad buys in states with senators up for reelection in the fall midterms and in 2020 that they want to place pressure on, including Colorado, Maine, Minnesota, North Carolina, and West Virginia.
Demand Justice launched last month with a staff of eight people, including Christopher Kang, who worked on judicial nominations in the Obama administration, and Paige Herwig, also an Obama administration alum and former deputy general counsel to Sen. Dianne Feinstein, the top Democrat on the Senate Judiciary Committee.
Fallon wants Demand Justice to become the liberal answer to the Judicial Crisis Network, which is the well-funded central organizing hub for the right in support of conservative federal judges. The Judicial Crisis Network is flush — the group pledged to spend at least $10 million to support Trump's effort last year to fill the late justice Antonin Scalia's seat, and put out a six-figure digital and TV ad campaign earlier this year just to thank Senate Judiciary Committee Chair Chuck Grassley for his work on judicial nominations.
Like the Judicial Crisis Network, Demand Justice is keeping quiet about where it gets its funding; Fallon declined to name the group's donors. Democrats have accused the Judicial Crisis Network of taking "dark money." Fallon acknowledged that they're open to the same criticism.
"Our argument's gonna be that we can't unilaterally disarm," he said. "Our people have just been entirely outgunned. We're never going to be able to match that dollar for dollar but we're gonna give it our best shot and not concede the playing field."