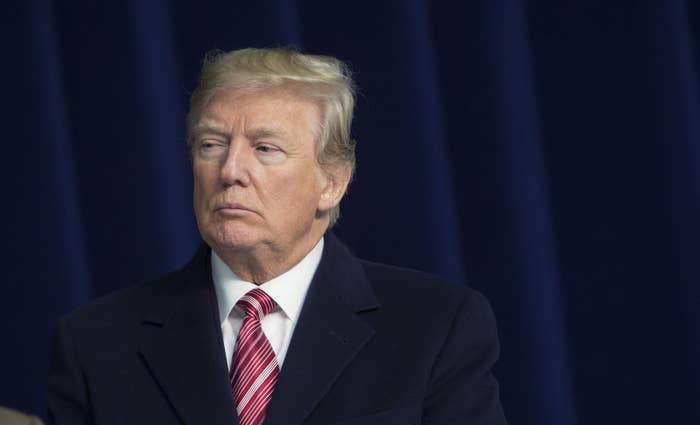 President Trump has yet to renominate two contested judicial nominees whose nominations expired earlier this month, and the White House won't say if the president plans to do so.
Damien Schiff and Stephen Schwartz — nominated last year for the US Court of Federal Claims — are the only two of Trump's unconfirmed judicial nominees from last year who remain unaccounted for. More than two dozen nominees were held over into the new congressional session that started Jan. 3, under an agreement with Senate Democrats. The White House announced on Jan. 5 that Trump was renominating 21 nominees who were sent back to the White House as expired, and had previously confirmed that he would drop three nominees — Brett Talley, Jeffrey Mateer, and Matthew Petersen.

But Schiff and Schwartz, whose nominations were among those returned to the White House on Jan. 3, weren't on the list of renominations.
Schiff told BuzzFeed News in an email that it was his understanding that the White House planned to focus on other nominations for now. He did not say if Trump planned to renominate him or Schwartz.
"It's my understanding that the Administration would like the Senate to prioritize its limited floor time to addressing Article III vacancies, and will address other judicial vacancies at a later time," Schiff, a senior attorney at the Pacific Legal Foundation, a libertarian legal advocacy group, wrote in an email to BuzzFeed News.

Asked if Schiff and Schwartz would be renominated, a White House spokesperson wrote in an email to BuzzFeed News, "We will let you know once we have any official announcements." Schwartz did not return a request for comment. Senate Democrats agreed to hold over one of Trump's Federal Claims court nominees, Ryan Holte, into the new session.
Article III vacancies are seats on the US district and circuit courts, created under Article III of the US Constitution. The Court of Federal Claims was established by Congress under Article I, which addresses the powers of the legislative branch. Unlike Article III judges, who serve lifetime appointments, Federal Claims judges serve 15-year terms.

The Court of Federal Claims is where individuals and companies can sue the US government for money. It's a major forum for fights over government contracts, as well as for cases about federal employee pay, taxes, claims pursued by Native Americans, and challenges to the seizure of private property by the US government.
Democrats and liberal advocacy and civil rights groups have opposed Schiff and Schwartz's nominations. Schiff faced particular scrutiny over his blogging, including one post in which he called US Supreme Court Justice Anthony Kennedy a "judicial prostitute." But his critics say other parts of his record are troubling as well, such as blog posts that they say show anti-LGBT bias — in one he criticized an anti-bullying curriculum adopted by a California school district that promoted respect for gay and lesbian families and students — and his opposition to environmental regulations.

Schiff's blogging drew the attention of Republican Sen. John Kennedy, the lone Republican to vote against any of Trump's judicial nominees and whose vote is that much more important this year as the arrival of Democratic Sen. Doug Jones narrows the Republican majority to 51-49. Kennedy last year asked other nominees if they had ever blogged that a Supreme Court justice was a "judicial prostitute," an apparent reference to Schiff's post.
Kennedy hasn't said if he would oppose Schiff's nomination if it reached the Senate floor; he joined Republicans on the Senate Judiciary Committee in voting to approve Schiff along party lines in July. A spokesperson for Kennedy did not return a request for comment.
Schiff was one of Trump's earliest judicial nominations; he was among 10 nominees announced on May 8. His nomination was never brought up for a vote on the Senate floor after he was voted out of committee.
Kristine Lucius, executive vice president for policy at the Leadership Conference on Civil and Human Rights, one of the groups opposed to Schiff and Schwartz, said she saw Kennedy's questioning as a sign the senator was unconvinced about Schiff's judicial temperament. And given the failure of Matthew Petersen's nomination to the US District Court for the District of Columbia last year after he struggled to answer Kennedy's questions about the law, Lucius said she would be watching to see if the experience issue would pose problems for Schwartz's nomination and for Holte when he goes before the judiciary committee.
Schwartz, an attorney at the law firm Schaerr Duncan, was nominated on June 7 and was voted out of committee along party lines in September. His nomination never came up for a full Senate vote. Groups on the left have said that Schwartz and Holte, who are both 34 years old, lack experience, noting that they graduated law school in 2008, which means they have less than the 12 years of practice experience recommended by the American Bar Association for federal court nominees.
Schiff and Holte clerked on the Court of Federal Claims and both have been admitted to practice in the court, according to their Senate questionnaires; Schwartz did not clerk on the court and isn't admitted to practice there.

"I think that senators take the role of considering Article I as well as Article III judges seriously and they should," said Lucius, who also clerked on the court.
The Trump administration and Senate Republicans prioritized moving through federal appeals court nominees last year. Although Trump got a record-breaking 12 appellate judges confirmed in his first year, he only had six district court nominees make it onto the bench There are 149 federal court vacancies — including open seats on the Court of Federal Claims and the US Court of International Trade, which is an Article III court — and 23 future vacancies have already been announced.

CORRECTION
The US Court of International Trade is an Article III court. An earlier version of the story misstated the court's classification.