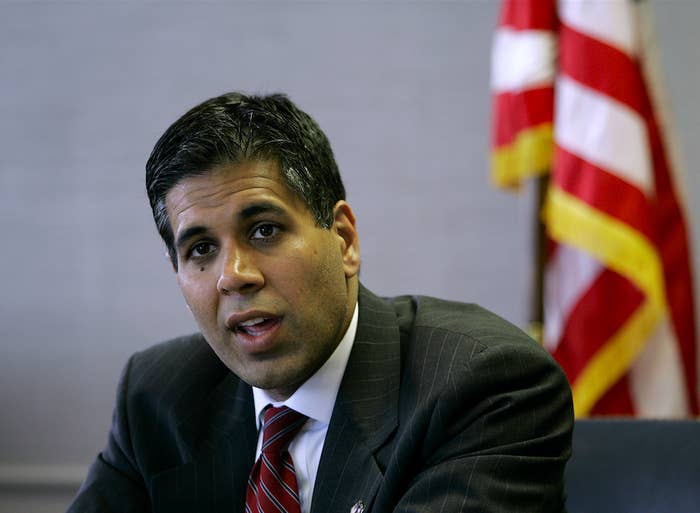 WASHINGTON — Judge Amul Thapar, one of the judges who was on President Trump's short list for the current US Supreme Court vacancy, is being vetted by the White House for a seat on a federal appeals court.
Two lawyers familiar with the process told BuzzFeed News that Thapar — currently a federal district court judge — is a frontrunner to be the nominee for one of two vacancies on the US Court of Appeals for the Sixth Circuit. They said that the FBI in February interviewed people who know Thapar as part of a background check, which is typically a final stage in the pre-nomination process. The lawyers were not aware of any other candidates being considered at this point.
The White House isn't expected to act on lower court nominees until Trump's pick for the US Supreme Court, Judge Neil Gorsuch, is confirmed. But the fact that the FBI is already doing background checks on at least one potential nominee is a sign that the White House is preparing to move on other court vacancies quickly once the Supreme Court seat is filled.
There are 120 open seats on the federal courts, including the Supreme Court vacancy, making up about 13% of all authorized federal judgeships. The Sixth Circuit already has a majority of Republican-appointed judges, but nationwide Trump stands to reshape the political balance of the federal judiciary.
Thapar made history when he joined the bench in 2008, becoming the first South Asian–American confirmed to a federal district or appeals court. Senate Majority Leader Mitch McConnell is a longtime backer. McConnell introduced Thapar at hearings before the Senate Judiciary Committee in 2006, when Thapar was nominated to be the US attorney for the Eastern District of Kentucky, and in 2007, when he was nominated for the US District Court for the Eastern District of Kentucky.
A White House spokesperson declined to comment. A spokesperson for McConnell did not immediately return a request for comment on Thursday.
Thapar was among the 21 names that Trump said he would consider to fill the late Justice Antonin Scalia's seat on the Supreme Court. Thapar was one of four judges whom Trump personally met with before choosing Gorsuch as the nominee, according to news reports. Gorsuch's confirmation hearings before the Senate Judiciary Committee are scheduled to begin on Mar. 20.
Lawyers in Kentucky said that Thapar is well-respected among the bar, and is known as a tough questioner and good writer. He has experience serving on the Sixth Circuit, having sat on appeals panels by special assignment in several cases. He's considered a strict constructionist — a conservative legal philosophy that calls for a narrow reading of the US Constitution.

Thapar has a strong law enforcement background, having served not only as the US attorney in Kentucky but also as a federal prosecutor in Ohio and in the District of Columbia. He also spent several years in private practice. Although Thapar has a prosecutorial background, Patrick Nash, a criminal defense lawyer in Kentucky, said that Thapar couldn't be pigeonholed in terms of his approach to handling criminal cases and sentencing.
Thapar presided over the high-profile criminal case against an elderly Catholic nun convicted of breaking into a military facility used to store uranium as part of a protest. In 2014, he sentenced the then-84-year-old nun — who had asked the judge not to give her leniency because of her age — to 35 months in prison, which was less than what prosecutors recommended.
"The court can say it is generally distressed to place good people behind bars," Thapar said at the time, according to Oak Ridge Today. "But I continue to hold out hope that a significant sentence may deter … and lead (the defendants) back to the political process that they seem to have given up on. Without question, the law does not permit the breaking and entering into the secure facilities of the United States."