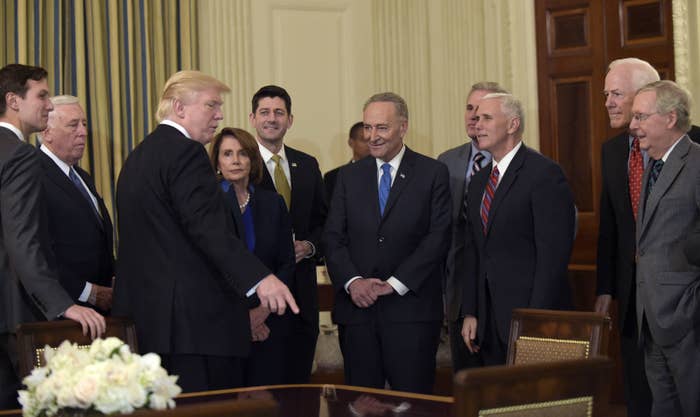 The White House is considering Geoffrey Berman, an attorney who practices in New Jersey and New York and one of Rudolph Giuliani's law partners, to lead the US attorney's office in Manhattan — one of the most high-profile federal law enforcement jobs in the country.
Berman's name was included as part of a package of proposed candidates for New York judicial and US attorney vacancies sent by the White House in mid-July to New York's Democratic senators, according to a source familiar with the process. The list offers an early glimpse at the Trump administration's strategy for filling vacancies in states with two Democratic senators.
Berman, who did not immediately return a request for comment, was the only name that the White House proposed for US attorney in the Southern District of New York. In contrast, the administration sent multiple names for other positions, including for federal judgeships and US attorney for the Eastern District of New York. A second source familiar with the process said that the list was intended to spur a dialogue with New York's senators — Senate Minority Leader Chuck Schumer and Sen. Kirsten Gillibrand — about a compromise package of nominees.
The White House historically defers to home state senators to recommend US attorney candidates, but there can be more tension when there's a difference in party. Senators can hold up judicial and US attorney nominees they don't approve of via a system known as the "blue slip process," although it's rarely used for US attorneys. The majority of US attorney nominees announced by the Trump administration so far are from states with two Republican senators.
Negotiating a package of New York nominees would spare the White House a fight with Schumer, who as minority leader has repeatedly sparred with President Trump and was critical of his decision to fire former FBI director James Comey.
Representatives for Schumer and Gillibrand's offices did not return requests for comment on Monday. A White House spokesperson also did not not immediately respond to questions about the list of names.
Berman coleads the New Jersey office of the law firm Greenberg Traurig but also practices in New York. He would bring Justice Department experience to the job, having served as an assistant US attorney in the Southern District of New York from 1990 to 1994, according to his law firm bio online. In May, multiple news outlets reported that he was under consideration for the New Jersey US attorney position. The Philadelphia Inquirer reported at the time that New Jersey Gov. Chris Christie, who previously served as US attorney, was backing a different lawyer, Craig Carpenito, for the position; no nominee has been announced yet.
Most US attorneys have to live in the district where they serve, but federal law carves out an exception for the US attorneys in Washington, DC, and the southern and eastern districts of New York, who can live within 20 miles of their district.
Former Manhattan US attorney Preet Bharara was fired by Trump in March after he refused to resign at the request of Attorney General Jeff Sessions; Sessions had asked the majority of holdover US attorneys from the Obama administration to step down. Bharara had served as Manhattan's top federal prosecutor since 2009, and since his firing has become an outspoken critic of the president. Acting US Attorney Joon Kim, Bharara's former deputy, has been leading the office since March.

Bharara worked for Schumer in the Senate before becoming US attorney, and the minority leader has lamented his dismissal.
Given its jurisdiction over Wall Street, the Manhattan US attorney's office handles major financial crimes prosecutions, and its alumni have gone on to top jobs at the Justice Department, on the federal bench, and in politics. Giuliani, also a partner at Greenberg Traurig and a top adviser to Trump during the campaign, led the office in the 1980s. Comey served as the US attorney from 2002 to 2003.
The White House has yet to announce any nominees for US attorney and judicial vacancies in New York. The list sent to Schumer and Gillibrand in July includes four names for the US Court of Appeals for the Second Circuit, where there are two vacancies: US District Judge Richard Sullivan; Matthew McGill, a partner at the law firm Gibson, Dunn & Crutcher in Washington; Nicholas Quinn Rosenkranz, a professor at Georgetown University Law Center; and Michael Park, a partner at the law firm Consovoy McCarthy Park in New York.

The second source familiar with the process who discussed the list with BuzzFeed News said that the White House list included some names that officials thought Schumer and Gillibrand might support, and not just the White House's top picks.
The White House sent two names to the senators for US attorney for the Eastern District of New York, which is also known for handling financial crimes cases as well as terrorism and mob prosecutions, and counts former attorney general Loretta Lynch among its alumni: Edward McNally, a partner at Kasowitz Benson Torres in New York — the firm of Trump's former lead outside counsel in the Russia investigation, Marc Kasowitz — and Richard Donoghue, a former Eastern District prosecutor who is now at CA Technologies, according to his LinkedIn profile.

For the US District Court for the Southern District of New York, the White House in July sent three names: Lewis Liman, a partner at the law firm Cleary Gottlieb Steen & Hamilton in New York; US Bankruptcy Judge Mary Kay Vyskocil, who sits in the Southern District; and Daniel Sullivan, a partner at Holwell Shuster & Goldberg in New York.
As of mid-July, there was only one vacant seat in the Manhattan court, but two more seats opened up in August.
For the US District Court for the Eastern District of New York, where there are four vacancies, the White House pitched four names: US Magistrate Judge Gary Brown, who sits in the Eastern District; Diane Gujarati, a federal prosecutor; Eric Komitee, a former federal prosecutor in the Eastern District who is now a lawyer for Viking Global Investors, according to his LinkedIn profile; and Rachel Kovner, a lawyer in the US solicitor general's office. Brown and Gujarati were previously nominated to the Eastern District court by President Obama.
The White House proposed nominating the lawyers serving as acting US attorneys in the western and northern districts of New York — James Kennedy Jr. and Grant Jaquith, respectively — for the permanent positions.
And in the federal trial courts in the western and northern districts, the White House sent one name for each of the lone vacancies in those courts: John Sinatra Jr. of the law firm Hodgson Russ in Buffalo, for the western district; and John Sarcone III, who runs his own practice in White Plains, New York, for the northern district.
UPDATE
This story was updated to clarify that although Geoffrey Berman co-leads his law firm's New Jersey office, he also practices in New York.