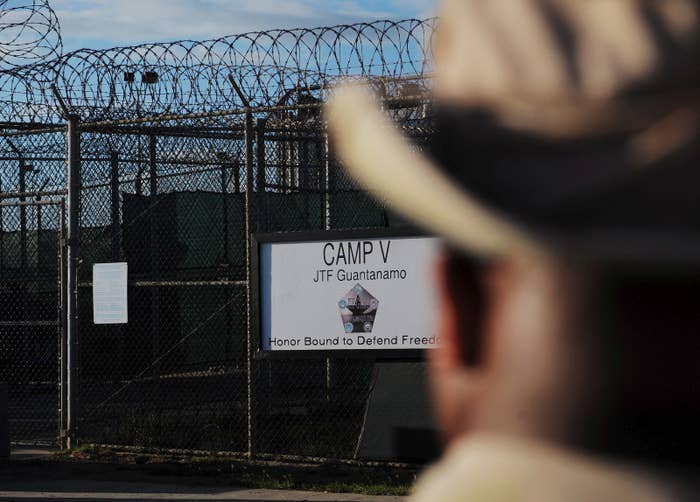 WASHINGTON — The US government will not have to release videos that show a detainee at Guantánamo Bay being forcibly fed, a federal appeals court ruled on Friday.
The government presented significant evidence that disclosure of the tapes could threaten security at the military facility, as well as the safety of American troops abroad, and a lower court judge was wrong to conclude that this evidence wasn't persuasive, the appeals court held.
"Images are more provocative than written or verbal descriptions. Extremists have used Guantánamo Bay imagery in their propaganda and in carrying out attacks on Americans," Judge A. Raymond Randolph of the US Court of Appeals for the DC Circuit wrote in the court's main opinion.
The existence of the tapes was revealed in the case of Abu Wa'el Dhiab, who was held at Guantánamo Bay from 2002 to 2014. While he was detained, he went on a hunger strike, and military personnel moved him to a medical unit where he was forcibly fed. Those interactions were recorded by cameras at the facility.
Dhiab was released and sent to Uruguay in late 2014, but media organizations continued to fight in court to get copies of the recordings, which were part of the court record of Dhiab's broader legal challenges to his detention.
A federal district judge in Washington ordered the government to release the tapes, with redactions to protect the privacy of some of the individuals depicted. But she rejected the government's arguments that disclosing the videos would present a national security risk.

DC Circuit judges Judith Rogers and Stephen Williams joined the decision.
Washington attorney David Schulz, who argued for the media organizations, said in an email to BuzzFeed News that they were still deciding how to proceed. He noted that the judges didn't agree about what kind of First Amendment analysis to apply in this case, even though they all did agree that the government presented enough evidence in favor of keeping the tapes secret.
"The only thing that all three judges agreed upon is that the government had demonstrated a compelling interest in keeping the video tape evidence secret," Schulz said. "This is troubling given the conclusion of the district judge, after careful review of the actual videotape evidence, that the American public had a right to see what that evidence documented of alleged abuse."
A Justice Department spokesperson declined to comment.
Read the opinion in Dhiab v. Trump here: