The Supreme Court Justices Reported Millions Of Dollars In Assets In 2016
The federal judiciary on Thursday released the latest financial reports filed by the US Supreme Court justices. Justice Neil Gorsuch received an extension to file, so his disclosure isn't available yet. Among the details: Justice Samuel Alito got a bronze hand as a gift.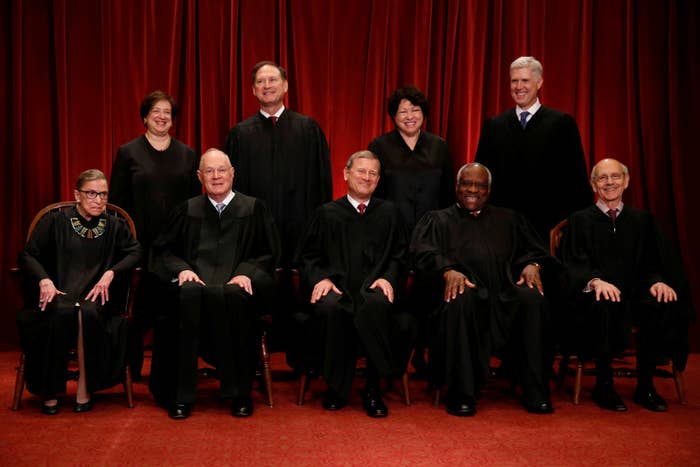 In 2016, Justice Ruth Bader Ginsburg earned more than $200,000 in royalties from her book, My Own Words. Justice Samuel Alito Jr. was given a bronze cast of a hand valued at $3,000 as a gift. And Chief Justice John Roberts Jr. sold off stock in Microsoft valued at several hundred thousand dollars.
The federal judiciary released the justices' latest financial disclosure reports on Thursday. The reports, which were filed in May and cover the justices' finances in 2016, detail stocks and assets, outside income, and paid travel.

The justices reported stocks, cash, and other assets that, combined, total millions of dollars. Court watchdog group Fix the Court has been critical in the past of justices who held individual securities since they create the risk of financial conflicts of interest, and executive director Gabe Roth put out a statement cheering stock sales reported by Roberts, Alito, and Justice Stephen Breyer.
"I am encouraged by the justices' continued stock sell-off and call on them to accelerate the practice, especially at a time when public servants' integrity in Washington is at a premium," Roth said.
Not included in the cache of documents was the financial report for Justice Neil Gorsuch. A spokesperson for the US Supreme Court said that Gorsuch received an extension to file his report. It was not immediately clear when it would be available. Gorsuch's nomination to the Supreme Court was confirmed in early April. He was previously a judge on the US Court of Appeals for the Tenth Circuit.
Read the justices' 2016 reports below.
UPDATE
Updated with a comment from the US Supreme Court about Justice Neil Gorsuch receiving a deadline extension.