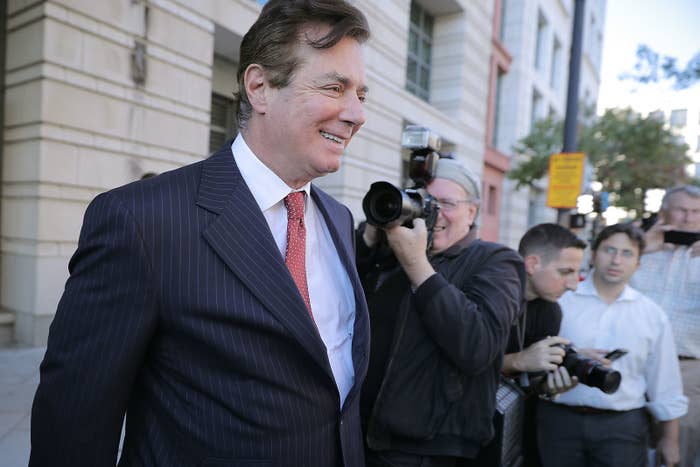 The judge presiding over the criminal case against President Trump's former campaign manager Paul Manafort and his longtime associate Rick Gates said Monday that she was inclined to keep both men on GPS monitoring if they go free pending trial — a strict condition that prosecutors aren't even pushing.
US District Judge Amy Berman Jackson did not rule on requests by Manafort and Gates to lift the home confinement that they've been under since their first court appearance on Oct. 30, when they pleaded not guilty to a 12-count indictment brought as part of the wide-ranging investigation into Russian interference in last year's election. Lawyers for Manafort and Gates are still working with special counsel Robert Mueller's team to sort out the financial pieces of a proposed package of release conditions to present to the judge to consider.
But Jackson did outline the conditions that she was considering, saying she was prepared to free Manafort and Gates from house arrest but impose a curfew and various travel restrictions. She said she had been planning to keep both men on GPS monitoring to track their compliance, but would "keep an open mind" since prosecutors were not asking for it.
Jackson asked one of the lawyers from Mueller's team, Greg Andres, to explain how the fact that the government wasn't asking for GPS monitoring squared with arguments prosecutors made about what a serious flight risk Manafort and Gates posed.
Andres said that because Manafort and Gates had surrendered their passports, the government did not think that GPS monitoring was necessary, as long as significant financial conditions were imposed.
Manafort and Gates will remain on home confinement until the judge rules otherwise. Jackson did not set a deadline for the lawyers to submit more information about a proposed bond package, but said the lawyers should do it as soon as they're ready. The judge hasn't set a trial date yet. The parties are due back in court on Dec. 11 to discuss the schedule for the case going forward.
Over the weekend, prosecutors and Manafort's lawyers sparred in court papers over Manafort's request to be free while his case is pending. After missing a court-ordered deadline to submit proposed release conditions last week, Manafort's lawyers filed papers on Saturday arguing that claims that he posed a serious flight risk were overblown.

"It would be odd, indeed, if he did not frequently travel, both domestically and abroad, given his clientele and the nature of his business. Simply put, one's frequent flyer status should not be over-emphasized to show a potential risk of flight when a person's job requires extensive travel," Manafort's lawyers wrote.
Manafort proposed pledging four sets of assets — three properties and a combination of his and his wife's life insurance policies — valued at approximately $12.5 million to assure the court that he wouldn't flee. Manafort's lawyers also said that he would limit his travel to Washington, DC, Florida, Virginia, and New York, and report to the Pretrial Services Agency once a week by phone.

Mueller's team has argued that Manafort and Gates are flight risks because of the severity of charges against them, their wealth, and their ties overseas. In court papers filed Sunday, prosecutors said Manafort hadn't provided enough information to prove the value of his properties and his total net worth to give the government "confidence" about financial conditions that would ensure Manafort stayed in the country.
Manafort gave the government a spreadsheet detailing total assets valued at $28 million, but prosecutors said some of the information listed did not match information that the government had or couldn't be corroborated.
Manafort's lawyers disputed that the fact that Manafort had three passports — something that prosecutors noted in court filings last week — and had registered a phone under his brother's name that he used while traveling were proof of anything nefarious. Manafort had a second passport that he could submit with visa applications to travel abroad, and only had a third passport because he thought he had lost his first one, he lawyers wrote. He put the phone under an alias to protect his communications against hacking or confiscation, they said.
"While some reports have painted this as though Mr. Manafort is akin to a 68-year old 'Jason Bourne' character, the facts are much more mundane," Manafort's lawyers wrote.