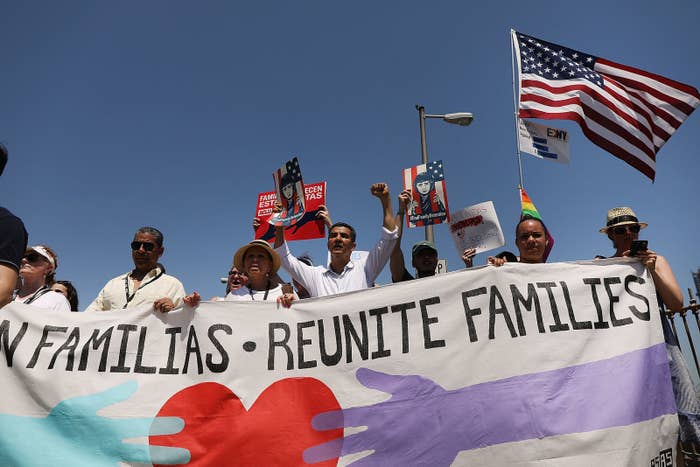 The Trump administration struggled to meet a judge's Tuesday deadline to reunify fewer than 100 children under 5 years old separated from a parent at the border. Now, the government has just two weeks to figure out what to do with potentially thousands of older children who may also fall under the judge's order.
Court filings and in-court statements by the Justice Department this week have laid bare complications the administration has faced trying to make a dent in family reunifications. US District Judge Dana Sabraw on Tuesday ordered the government to use "streamlined" procedures to identify families eligible for reunification, but officials are expected to run into at least some of the same problems that plagued efforts with the under-5 group, only on a much larger scale — including not knowing how to find a deported parent, delays in confirming a parent-child relationship, and checking a parent's criminal history.
Sabraw, who sits in San Diego, issued an order June 26 that halted most border separations. He set a timetable for the government to reunify families that had already been separated: 14 days for children under 5, and 30 days for children 5 and over.

Last week, Health and Human Services Secretary Alex Azar told reporters that there are fewer than 3,000 children in custody who may have been separated from a parent. Absent firmer numbers, it is difficult to estimate the number of children eligible for reunification by the end of the month, but Sabraw said Tuesday he expected it to be a "significant undertaking." On a conference call with reporters Tuesday, HHS official Chris Meekins declined to comment on how many older children they thought may fall under Sabraw's order, and what their timeline was for those reunifications.

Although the Trump administration has said it has a central database to track separated parents and children, government officials and lawyers have described a more complex process. To identify the pool of potentially eligible children under 5, Meekins told reporters that they had gathered information from Customs and Border Protection (CBP) and Immigration and Customs Enforcement (ICE), communicated with federal grantees who run facilities where children are held, and completed a manual review of the files of more than 11,800 children under the care of the Office of Refugee Resettlement (ORR), the office within HHS that handles the detention of immigrant children.

The government previously said it had a list of 102 children under 5 who might be eligible, but by Tuesday that number was down to 75, according to the government's latest court filing. Five adults turned out not to be parents of unaccompanied children. Ten parents were in criminal custody — they could be eligible once they're released — eight parents had serious criminal histories, one faced a "credible" allegation of child abuse, one presented a danger because another adult in the household had an outstanding warrant for child sexual abuse, and one had a communicable disease.

The government said one child could not be reunified because the administration was still trying to track down a parent, and added that "records show the parent and child might be U.S. citizens." Asked about this situation by Sabraw on Tuesday, Justice Department lawyer Sarah Fabian said she believed a parent had been identified and officials were working to understand the situation. If the child turned out to be a US citizen, Fabian said they wouldn't be eligible to stay in ORR's custody.
Even cases where the government concluded that a child and parent were eligible for reunification are still complicated. The government said in Tuesday's filing that of 51 children with a parent in ICE detention, they expected 34 to be reunified Tuesday, but 17 might need a little more time — the parental verification or background checks were still pending. The families with children under-five covered by Sabraw's order would be released once they're reunited, Fabian told Sabraw on Monday, since they couldn't be housed in a family detention center. Matthew Albence, executive associate director of ICE's Enforcement and Removal Operations, told reporters on Tuesday that those released families would be subject to ankle bracelet monitoring.
The parents of 20 of the under-5 children are no longer in ICE detention — 12 were deported and eight were released into the United States — and the government does not know where all of them are now. Albence said that once a parent is released, ICE doesn't track his or her whereabouts or keep contact information.
Sabraw said he expected the government's trouble finding deported parents to be a big issue going forward, considering the nearly 3,000 kids still in custody and the fact that it proved to be a problem for 12 of the 102 under-5 kids — approximately 11%.
Sabraw issued a series of rulings Tuesday aimed at speeding up the identification of eligible families; his order applies to separated parents who have been in immigration detention and who aren't unfit or pose a danger to the child. He ruled that in cases involving separated parents and children, the government should not use the same, more time-consuming process it uses to vet sponsors for unaccompanied immigrant children. The government has been using DNA testing to verify parent-child relationships — Sabraw ruled they should only do so if there was a "legitimate" concern about parentage or it would help meet the judge's deadline.
The judge limited how much the government could investigate the household a child would live in once he or she is reunited with a parent — parents would be responsible for their child's well-being, the judge said. If the government became aware of a situation that might put a child in danger, however, it could still delay reunification, he said.

The judge said he wanted to continue receiving regular reports on the government's progress and would hold more status hearings as the next deadline approached. The next report is due Thursday, and the next hearing is scheduled for Friday.
"There is a lot of work to do with respect to the over-5 group, and I'm anticipating a lot of that work is well underway and it will continue along the lines that we've set out here with the under-5 group," he said.
Justice Department official Scott Stewart on Tuesday also addressed a Monday ruling in a separate case in California that involves a 1997 settlement agreement that limits the amount of time children can stay in immigration detention. In that case, US District Judge Dolly Gee rejected the Trump administration's motion to change the terms of what's known as the Flores agreement to allow reunified children to indefinitely stay in detention with a parent.
Stewart told Sabraw that the government read the two orders together — Sabraw's reunification order and Gee's order keeping the Flores agreement intact — to mean that parents in immigration detention would be given a choice: Either agree to waive their child's right to release under the Flores agreement and stay together in custody, or agree to release their child to ORR, where they'd be placed in licensed, nonsecure facilities or possibly released to an eligible sponsor. However, the government did not read the orders together to give parents any right to themselves be released, Stewart said.
The attorney general had authority to decide who should be held, Stewart said, and Sabraw and Gee's orders did not require the release of parents if the government decided it had lawful authority to hold them. If Sabraw disagreed with the government's position, Stewart said, the government was prepared to pursue an emergency appeal. Fabian previously told Sabraw that families reunited Tuesday would be released from custody, but Stewart's comments signaled that the administration plans to hold reunified families going forward.
American Civil Liberties Union lawyer Lee Gelernt, who represents separated parents in Sabraw's case, said they agreed with the government's interpretation of the two orders. Gelernt said he wished the Flores agreement went farther and did require the release of a parent along with their child, but it did not. The two sides said they would jointly file a request with Sabraw to confirm their interpretation of his order.
Sabraw said he hoped there would be few disputes going forward between the administration and the ACLU, now that he had clarified what processes the government could use to determine eligibility.
"Everyone is rowing in the same direction here," he said.
UPDATE
Updated with additional information about family reunifications on Tuesday.