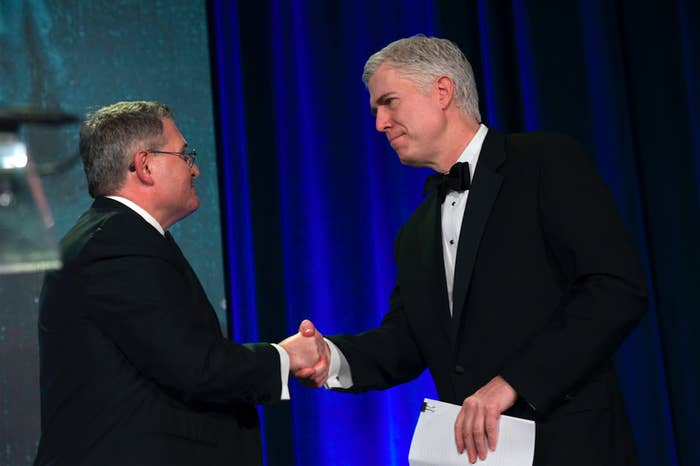 Leonard Leo, one of Trump's top advisers on the latest US Supreme Court vacancy, feels good about their odds of getting a justice confirmed before the next court term starts in October.
The White House is freshening up its research on Trump's short list of 25 names, and interviews with candidates will start next week, Leo said in a phone interview with BuzzFeed News on Thursday. There is "pressure" to announce a nominee within the next two to three weeks, he said, before Trump leaves for the NATO summit in mid-July. Trump has been asking questions about a few names, and wants to personally interview finalists like he did for the late justice Antonin Scalia's seat last year, Leo added.
Trump on Friday said he would announce a nominee on July 9. He had narrowed down the list to "about" five names, he said, and two of them are women. The president told reporters that he would interview one or two potential nominees over the weekend.
Leo doesn't work in the White House, but he is once again poised to play a major role in the nomination and confirmation process. Within hours of the news Wednesday that Justice Anthony Kennedy would step down this summer, a spokesperson for Leo confirmed that he had taken a leave of absence as executive vice president of the Federalist Society — the influential conservative lawyers group — to advise the president. He similarly served as an outside adviser to Trump last year on the Scalia vacancy.
"I'm very heartened by the president's determination and enthusiasm. I'm impressed by the discipline he has shown in laying down standards and sticking to them because other presidents haven't done that historically," Leo said.
The Federalist Society has long served as a pipeline to the bench for conservative lawyers under Republican presidents. The majority of Trump's nominees for federal appeals court seats are or have been members of the group, and Trump has said that the Federalist Society and the Heritage Foundation, the conservative think tank, helped craft his Supreme Court short list. Justice Neil Gorsuch, a longtime Federalist Society member, was the group's featured speaker at its annual convention in Washington, DC, in November. He embraced Leo as he came onto the stage to deliver his remarks.
Democrats have accused Trump of outsourcing judicial nominations to the Federalist Society and other conservative groups who aren't accountable to the public and whose backers aren't always known. The Federalist Society publishes a list of donors in its annual report; in 2017, a quarter of the benefactors in the $100,000-plus tier were anonymous. The administration has countered that there is nothing nefarious about the president tapping outside sources for guidance.
Leo told BuzzFeed News that he was confident the White House could get a nominee ready to roll out by the time Trump leaves for Europe, noting that the White House had already gone through this process with Gorsuch; Trump announced Gorsuch as his nominee for Scalia's seat on Jan. 31, less than two weeks after he took office.
Trump started releasing the names on his short list in May 2016, and the current list of 25 has been in place since November. Asked if he expected to do anything different from how the Gorsuch nomination and confirmation played out, Leo said they didn't expect to.
"The Gorsuch model works," Leo said. "The president hit it out of the park by deciding to put out a list and deciding to pick somebody, as he put it, who is extraordinarily well-qualified and not weak and will interpret the Constitution the way the framers intended it to be."
The White House is still in the process of assembling the team of lawyers who will manage the nomination and confirmation process, Leo said. White House counsel Don McGahn will take the lead inside the White House, and Assistant Attorney General Beth Williams, who leads the Justice Department's Office of Legal Policy, will manage much of the activity at DOJ, especially once a nominee is in place.
Leo wouldn't get into too many specifics about who the frontrunners are at this point — no one is off the list, he said — but he said that judges who were finalists for Scalia's seat remained "serious contenders," and that the public speculation so far among lawyers and journalists about who was likely to be at the top of the list was "relatively accurate."
Besides Gorsuch, Trump last year reportedly interviewed 3rd Circuit Judge Thomas Hardiman, 6th Circuit Judge Amul Thapar (Thapar at the time was a federal district judge; he later became Trump's first lower-court nominee), and 11th Circuit Judge William Pryor Jr.
Other judges considered frontrunners include DC Circuit Judge Brett Kavanaugh, a Kennedy clerk and a veteran of the George W. Bush administration; 6th Circuit Judge Raymond Kethledge, also a Kennedy clerk; and 7th Circuit Judge Amy Coney Barrett, a former law professor who was nominated and confirmed last year to the appeals court.
With Republicans in control of the Senate, there is nothing Democrats can do to block a Trump nominee if Republicans stick together. But some Senate Democrats and liberal advocacy groups have already launched full-throated attacks on Trump's short list in its entirety, warning that a more conservative justice would imperil the abortion protections outlined in Roe v. Wade and the Obergefell decision legalizing same-sex marriage, and would shift the court to the right on issues ranging from voting rights to environmental regulation.
Leo said he had expected the left to raise what he characterized as the Roe "bogeyman." Trump has pledged to appoint pro-life judges and has said he wants to see Roe overturned. But Leo dismissed concerns about the future of Roe, saying liberals had expressed that fear each time a vacancy opened up under a Republican president, and it hadn't happened. He did note that since Roe, the court had trended toward upholding various state restrictions on abortion.
"We've been over this time and again and the fact of the matter is that Roe v. Wade is still on the books," he said.
But as BuzzFeed News reported Wednesday, many advocates on both sides of the abortion debate saw Kennedy as the major impediment to a reversal of Roe, and are preparing to pour resources into the upcoming confirmation fight.
Looking ahead, Leo said he'll be managing the coalition of outside conservative groups that will rally around the nominee once he or she is announced. The Judicial Crisis Network has already announced a seven-figure ad campaign in support of Trump's short list, and groups on both sides have pledged to spend millions. Leo said he'll also provide input over the next few weeks as the White House decides who the nominee should be.
"I'll chime in as requested," he said.
UPDATE
Updated with President Trump's remarks on Friday.