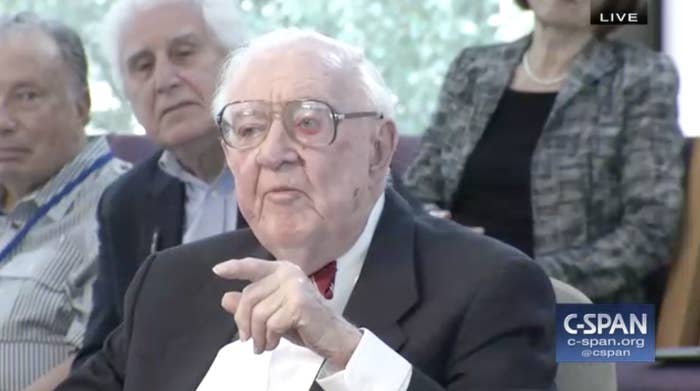 Retired US Supreme Court justice John Paul Stevens said Thursday that he no longer supports Judge Brett Kavanaugh's nomination to the high court, and he called on senators to pay attention to criticism of Kavanaugh's testimony last week "for the good of the court."
The 98-year-old former justice — who was appointed by former Republican president Gerald Ford — said he thought there was "merit" to the criticism that Kavanaugh's remarks before the Senate Judiciary Committee on Sept. 27, which featured attacks on Senate Democrats, left-wing groups, and "the Clintons," showed Kavanaugh harbored potential political bias. Stevens' comments were first reported by the Palm Beach Post.
Stevens said he previously thought that Kavanaugh was qualified to sit on the Supreme Court, but now felt differently.
"I've changed my views for reasons that have really no relationship to his intellectual ability or his record as a federal judge. He's a fine federal judge and he should have been confirmed when he was nominated. But I think that his performance during the hearings caused me to change my mind," Stevens said at an event in Boca Raton, Florida, Thursday.

Stevens said he found critics persuasive who argued that Kavanaugh may have demonstrated a potential bias against enough potential litigants who appear before the Supreme Court "that he would not be able to perform his full responsibility."
"I think there's merit in that criticism and that the senators should really pay attention to it for the good of the court. It's not healthy to get a new justice who can only do a part-time job," Stevens said.
Stevens didn't directly address the accusations that Kavanaugh sexually assaulted women several decades ago when he was in high school and college. Kavanaugh has denied the allegations.

The event was sponsored by the Institute for Learning in Retirement and broadcast by C-SPAN.

The current members of the court have been silent amid the political battle over Kavanaugh's nomination. Speaking at a conference in Washington on Thursday, a Wall Street Journal reporter tweeted that Justice Stephen Breyer said, "I'm going to stay as far away as I can from any particular controversy that's going on."

Federal judges are generally barred by ethics rules from talking about current events that could end up in court, and although the justices aren't bound by those same ethics rules, they tend to follow the same principles. Justice Ruth Bader Ginsburg in July 2016 issued a public apology after making what she characterized as "ill-advised" comments criticizing then-candidate Donald Trump.
There are no such restrictions for former justices, but it's still unusual to hear them wade into the political fray around nominations. Stevens, who retired in 2010, is the first former justice to speak publicly about Kavanaugh.
Stevens' comments go toward a criticism of Kavanaugh that's only come up in the aftermath of his last Senate appearance, involving his temperament — the anger Kavanaugh displayed was in sharp contrast to his calm demeanor at the first round of confirmation hearings in early September — and partisan attacks.
Kavanaugh is also facing at least two ethics complaints in his current court, the US Court of Appeals for the DC Circuit, related to his Sept. 27 testimony, claiming he violated ethics rules by engaging in political attacks. If Kavanaugh is confirmed, ethics experts have told BuzzFeed News they expected those complaints would be dismissed — there is no internal misconduct review system for the Supreme Court.
Stevens' remarks come as the Senate prepares to take a key procedural vote on Kavanaugh's nomination on Friday, which could lead to a final vote on Saturday. Democrats have protested that the FBI investigation into the allegations against Kavanaugh was lacking, noting that agents didn't interview Kavanaugh or Christine Blasey Ford, the woman who accused Kavanaugh of assaulting her when they were both at a party in high school, as well as other potential witnesses.