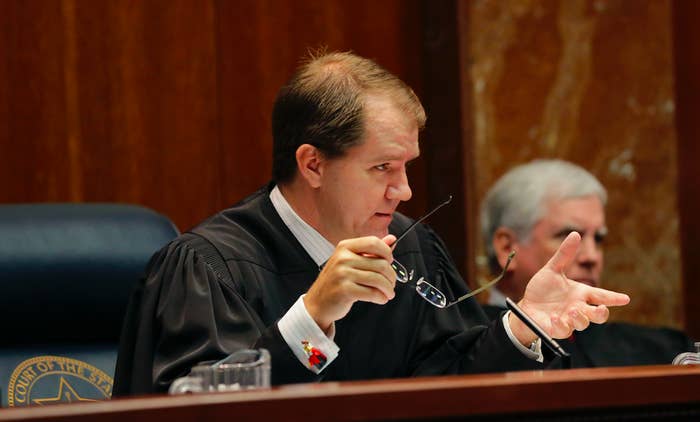 The months-long stalemate over federal court vacancies in Texas ended on Thursday, as the White House announced that President Trump will nominate Texas Supreme Court Justice Don Willett and former Texas Solicitor General James Ho to two empty US Court of Appeals for the Fifth Circuit seats.
The White House had been at odds earlier this year with Texas Sens. John Cornyn and Ted Cruz, as well as Texas Gov. Greg Abbott, over who should fill the two vacancies designated for judges from Texas. There were four frontrunners for the positions, including Willett and Ho, and each had his own backers.
Willett was on Trump's short list of candidates for the US Supreme Court he made public during the presidential campaign. Willett's produced a solid record of conservative decisions on the Texas Supreme Court, where he has served since 2005.
Willett is a prolific Tweeter, raising the question whether he'll continue to use the platform if he's confirmed to the Fifth Circuit — federal judges are notoriously social media-averse. He did not immediately return a request for comment made through a court spokesman.
Ho is a partner at the law firm Gibson, Dunn & Crutcher, where he leads the appellate and constitutional law practice. Before going into private practice, he served as Texas' solicitor general — a position that Cruz previously held — and as Cornyn's chief counsel. Ho also did not immediately return a request for comment.
During negotiations this year, as previously reported by BuzzFeed News, Cruz supported Ho for one of the vacancies. Cornyn also supported Ho — and both Cruz and Cornyn weren't opposed to Willett, according to sources familiar with the process — but Cornyn was especially backing US District Judge Reed O'Connor, who had worked on his staff in the Senate. Abbott wanted a lawyer in his office, Andy Oldham, to get one of the seats.

Cruz said in a tweet that he was "thrilled" with the nominations.
A spokesperson for Cornyn did not immediately return a request for comment.
The White House on Thursday also announced two other nominees for the Fifth Circuit, both for seats designated for judges from Louisiana: Kyle Duncan, an attorney at the law firm Schaerr Duncan, and US District Court Judge Kurt Engelhardt, who sits in New Orleans. Duncan previously worked as general counsel of the Becket Fund for Religious Liberty, where he was a lead attorney representing Hobby Lobby in its challenge to the contraception care mandate in the Affordable Care Act. He is also a former Louisiana solicitor general.
Engelhardt has been the chief judge of the US District Court for the Eastern District of Louisiana since 2015. He was nominated to the bench in 2001 by former President George W. Bush.
Conservatives have been happy with the credentials of Trump's judicial nominees to date, and seemed immediately pleased with the nods for Willett and Duncan.
"Texas Justice Don Willett and Louisiana attorney and professor Kyle Duncan, in particular, embody President Trump's commitment to picking judges who have a record of excellence and a commitment to a judicial role that is impartial rather than committed to a particular personal or legal agenda," Leonard Leo, executive vice president of the conservative lawyers' association the Federalist Society, said in a statement.
Only one Louisiana vacancy is listed on the federal judiciary's website, but an administration official said that Fifth Circuit Judge Edith Clement will be stepping down, opening up the second seat.
The White House also announced a nominee for the U.S. Court of Appeals for the Armed Forces, Gregory Magg, and four federal district court nominations.