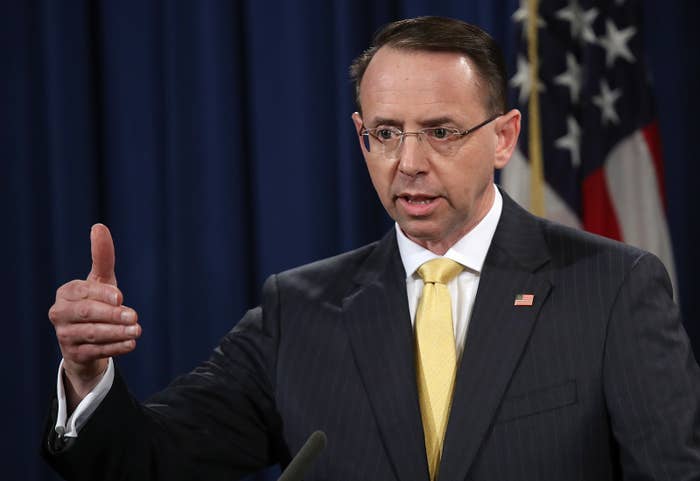 WASHINGTON — A California man who pleaded guilty to selling fraudulent bank account numbers — information that special counsel Robert Mueller's office says was used to finance Russian election interference efforts — was sentenced Wednesday to six months in prison followed by six months of home detention.
Richard Pinedo, 28, wasn't accused of knowingly helping Russian companies and individuals accused of orchestrating campaigns to influence the 2016 presidential election. But his fraud scheme nevertheless landed him in the middle of the special counsel's investigation.
Pinedo had asked for no jail time, but US District Judge Dabney Friedrich in Washington, DC, found that given the scope and scale of the identity fraud, which took place over three years and involved the sale of approximately 200 bank account numbers, imprisonment was appropriate. However, Friedrich, who called it a "very, very difficult case," chose a sentence at the lowest end of the recommended range, saying she took into account Pinedo's immediate acceptance of responsibility, lack of criminal history, and cooperation with the government.
Friedrich questioned whether Pinedo had been prejudiced by being prosecuted by Mueller's office. Prosecutor Rush Atkinson told the judge Wednesday that they had not made a formal request for a lower sentence for "substantial cooperation" because some information Pinedo provided — information about "upper level" individuals that Atkinson said a US attorney's office would likely pursue under normal circumstances — fell outside Mueller's mandate. Atkinson disputed the term "prejudice," but acknowledged the situation was unusual.
Atkinson declined to say if his office had referred information provided by Pinedo to other federal prosecutors, but noted that they had done so in other cases. Pinedo's lawyer Jeremy Lessem told reporters outside the courthouse that Pinedo had not been contacted by any US attorney's office to date.
Pinedo told Friedrich that he took "full responsibility" for what he had done, and described the harassment that he and his family had faced over the past year because of the high-profile nature of the case. Lessem said Pinedo had been threatened from all sides — people who accused him of working with the Russians, and people who warned that the Russians would try to harm him because of his cooperation with the government.
"Every knock on the doorknob comes with anxiety," Pinedo said.
Pinedo will be allowed to voluntarily surrender for his prison term. After his six months of incarceration and six months of home detention, he'll spend 24 months on supervised release. Friedrich also ordered him to install computer monitoring software, at his own expense. Pinedo will be allowed to surrender at a later date and left the courthouse with his attorney. He did not speak to reporters, but Lessem did, saying that the sentence was "not the outcome that we were hoping for."
"Obviously this is a difficult day for Mr. Pinedo. This is not the outcome that we were hoping for, but we do appreciate that Judge Friedrich took into consideration the cooperation that Mr. Pinedo provided. We thought it was valuable cooperation that probably should have gotten a little bit more consideration than it did. I thought that the, perhaps the government could have done a little bit more in terms of recognizing the cooperation that Mr. Pinedo provided with the Russia investigation," Lessem said.
Pinedo is the third person sentenced in connection with Mueller's investigation.
Pinedo was charged with buying and selling bank account numbers set up using the stolen identities of real people in order to help his customers get around PayPal's security features; he would also register bank accounts under his own name and sell those as well. His customers would use the accounts to set up verified PayPal accounts without having to provide their own personal financial information.
Pinedo's case was unsealed Feb. 16, the same day that Deputy Attorney General Rod Rosenstein announced an indictment filed by Mueller's office against the Internet Research Agency — a Russian troll farm — and more than a dozen other Russian entities and individuals charged with election interference. The Russian defendants allegedly used bank accounts and credit cards under other people's names to set up PayPal accounts that they used to pay for their election interference efforts.
Pinedo agreed to cooperate with the Special Counsel's Office as part of his plea agreement. Lessem wrote in a Sept. 26 sentencing memo that Pinedo had received death threats and feared for the safety of his family. The estimated sentencing guidelines range for Pinedo was 12 to 18 months in prison. Lessem asked the judge for no jail time.
"Beyond the mere fact that he is now a convicted felon, Mr. Pinedo has suffered, and will continue to suffer, in ways far beyond what anyone else convicted of a similar offense would expect — and suffers these consequences as a result of helping this Country right the wrong his unwitting and foolish criminal conduct facilitated," Lessem wrote. "At the end of the day, Mr. Pinedo loves his Country, deeply regrets what he has done, and asks only that this Court consider that he has already suffered enough."
Prosecutors didn't advocate for a specific sentence in their sentencing memo. They wrote that Pinedo "recklessly enabled other criminal activity," but also that he had admitted what he did and "provided significant assistance," saving the government time and resources.
According to court filings, there was no evidence that the people whose names were on the hundreds of bank accounts that Pinedo sold lost money — Pinedo would provide the account numbers, but not the names, dates, or Social Security numbers of the people associated with them. The only loss calculated in the case was $40,000, the amount of money that Pinedo collected from his illicit activities. In some instances, multiple bank accounts were set up under a single person's name; the government said in an Oct. 9 filing that it wasn't clear how many individual victims there were.
Lessem wrote in the sentencing memo that Pinedo "never thought of himself as a thief, nor was it his intention to steal." Pinedo thought he was only helping people get around the "arcane, and often incomprehensible" rules of companies such as PayPal, but acknowledged that he also "intentionally avoided" learning how the account information was being used.
"However, never in his wildest dreams could he have foreseen that providing
bank account information to set up Pay Pal accounts could be used to interfere with a presidential election," Lessem wrote. "Mr. Pinedo now understands that in a direct and meaningful way, his illegal behavior aided those that sought to undermine American democracy — a fact Mr. Pinedo deeply regrets and will be forced to live with for the rest of his life."
Only one of the Russian entities charged in the troll farm case, Concord Management and Consulting, has participated in court so far. A federal judge in August denied Concord's motion to dismiss the indictment based on arguments that Mueller's appointment was unlawful. Other challenges to the indictment raised by Concord are pending.