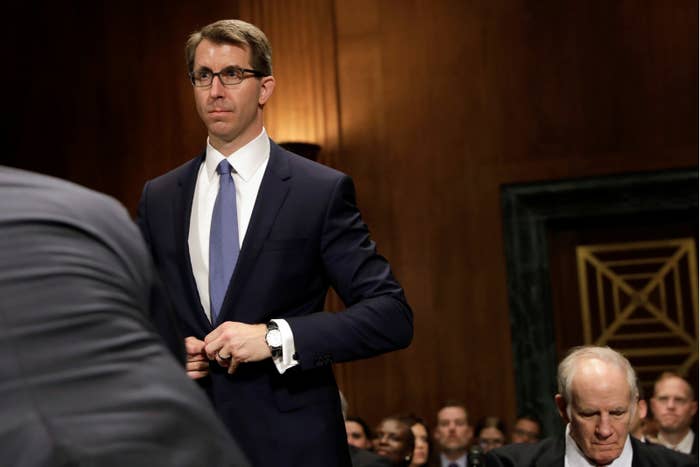 The White House and Senate Republicans suffered a rare setback on judicial nominations Thursday, with Senate Majority Leader Mitch McConnell withdrawing the nomination of Ryan Bounds shortly before a vote was set to take place.
President Donald Trump nominated Bounds for the US Court of Appeals for the 9th Circuit, which covers the western United States. Bounds was tapped for a seat unofficially designated for judges from Oregon, and his nomination moved ahead over objections from the state's two Democratic senators.
A White House official said via email that Bounds had withdrawn his nomination on Thursday, marking the first unsuccessful appeals court nomination for the Trump administration. Several district court nominees withdrew or were dropped by the White House amid questions and controversies last year about their internet writings, experience, and whether they had fully disclosed background information to the Senate. But overall, the administration's speed in getting conservative judges confirmed to lifetime seats on the federal courts has been a bright spot for Trump and Senate Republicans. The Senate has confirmed 23 federal appeals court judges since Trump took office.
Bounds' critics had pointed to racially charged language he used in op-eds he wrote as an undergraduate student. Bounds had said he was trying to criticize others who used derogatory language, but also told the Senate Judiciary Commitee that he had used "overheated" and "overzealous" language. He was also accused of failing to disclose these writings to a state nominating committee; he maintained that he had followed all instructions. In one piece he wrote as an undergraduate, he accused campus "multiculturalists" of stereotyping minorities who espoused conservative views, and he listed some of the derogatory terms used to describe them.

Republican Sen. Tim Scott broke ranks and would not support Bounds, prompting McConnell to withdraw the nomination from the floor on Thursday. Republicans hold a one-vote majority in the Senate, and with Scott opposed and Arizona Sen. John McCain away from Washington receiving treatment for brain cancer, there was no possibility for a tie, which could have been broken by Vice President Mike Pence.
Scott told reporters that he "needed more information" about Bounds, and that Sen. Marco Rubio shared his concerns. He did not go into detail about his concerns. He said he did not take issue with how Republicans on the Senate Judiciary Committee vetted Bounds, but said his own review had started later since he's not on the committee.

"I had not tried to convince anybody to do anything. I just shared my thoughts and others said they were willing to join and ask for more information so that we could have a better picture," Scott said.

A spokesperson for Scott provided an additional statement from the senator saying that he had spoken with Bounds the night before and met with him on Thursday, but still had "unanswered questions that led to me being unable to support him."
The White House did not immediately return a request for comment. Asked for comment, a spokesperson for McConnell referred to McConnell's announcement of the withdrawal on the floor. A day earlier, Scott had voted in favor of allowing Bounds' nomination to go to a final vote.
Bounds said he had promoted diversity in the legal profession over the course of his career. He was voted out of committee on June 7 along party lines, 11–10.

Senate Judiciary Committee Chair Chuck Grassley had advanced Bounds' nomination even though Oregon's two senators refused to return blue slips — forms signaling a senator's support for a home state nominee. Historically, the committee has not moved nominees forward without blue slips from both home state senators; the process was designed to give senators leverage with the White House. But Grassley has said that process, which is not a formal rule, was not intended to give senators veto power, and has moved Trump nominees forward without both blue slips in hand.
Oregon Sen. Ron Wyden issued a statement saying he was willing to work with the White House to find a new nominee.
"I am gratified that the Senate has come to its senses and that long-time, proven practices of bipartisanship for judicial nominations have prevailed over partisan efforts to force through a deeply flawed and compromised nominee," Wyden said. "I want Chairman Grassley, Ranking Member Feinstein and the administration to know that I am ready and willing to work with them on finding a nominee who deserves a seat on the Ninth Circuit."
Lissandra Villa Huerta contributed to this report.
UPDATE
Updated with comment from a White House official.
UPDATE
Updated with comment from Sen. Ron Wyden.