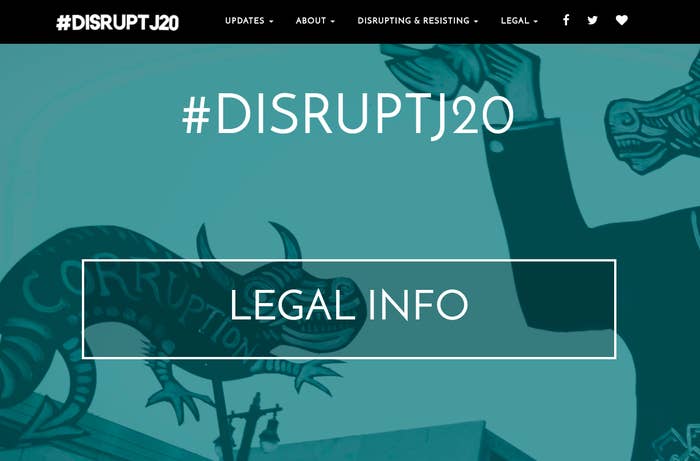 Federal prosecutors have asked a judge to force a web-hosting company to turn over information about any individuals who visited a website that coordinated anti-Trump demonstrations in Washington, DC, on Inauguration Day.
The company, DreamHost Inc., disclosed information about the government's search warrant in a blog post on Monday. DreamHost said that it is fighting the request, calling it "unfocused" and "unlawful."
"The request from the [Justice Department] demands that DreamHost hand over 1.3 million visitor IP addresses — in addition to contact information, email content, and photos of thousands of people — in an effort to determine who simply visited the website," DreamHost said in Monday's post [emphasis theirs]. "That information could be used to identify any individuals who used this site to exercise and express political speech protected under the Constitution's First Amendment. That should be enough to set alarm bells off in anyone's mind."
More than 200 people were arrested during demonstrations that turned violent on Jan. 20, and criminal charges are pending against most of them. The website at issue in the search warrant, disruptj20.org, featured information about several protests planned throughout the day on Jan. 20. The search warrant, dated July 12, seeks all files and stored records related to the website.
DreamHost posted copies of a motion that federal prosecutors filed on July 28 asking a judge to force the company to comply with the search warrant. On Aug. 11, DreamHost filed opposition papers. According to DreamHost, a hearing is scheduled for Aug. 18 before District of Columbia Superior Court Judge Lynn Leibovitz, who is presiding over the Inauguration Day criminal cases.
The search warrant asks DreamHost to turn over "all files" related to disruptj20.org, which the company says would include site visitor logs. DreamHost says that under an earlier order to preserve data, it has saved more than 1.3 million IP addresses of users who visited the website for a time period after Jan. 20.
In the July court papers, prosecutors disputed DreamHost's argument that the search warrant was overbroad, arguing that the judge who signed off on it had already imposed limits on the information that prosecutors could seize.
A spokesperson for the US attorney's office in Washington declined to comment.
Federal prosecutors have sought a range of electronic information related to the Jan. 20 arrests, including defendants' social media accounts. In a mostly sealed case that the Electronic Frontier Foundation and other digital rights groups believe is related to the Jan. 20 arrests, Facebook is fighting an order blocking the company from alerting users about search warrants for account information. That case is before the District of Columbia Court of Appeals, the city's highest local court.
Chris Ghazarian, DreamHost's general counsel, said in an email to BuzzFeed News that the company confirmed there was no gag order associated with the search warrant for its files before they went public about the issue on Monday.
"I see this as prosecutorial overreach by the DOJ. Regardless of your political affiliation, you should be concerned that anyone can be targeted for merely visiting a website legally disseminating political news. The only thing this will achieve is to cause fear of exposure when participating in protected associational rights," Ghazarian said.
A number of defendants charged with rioting on Inauguration Day are fighting the charges, and Leibovitz heard arguments on July 27 on several motions to dismiss the cases. The judge has yet to rule.