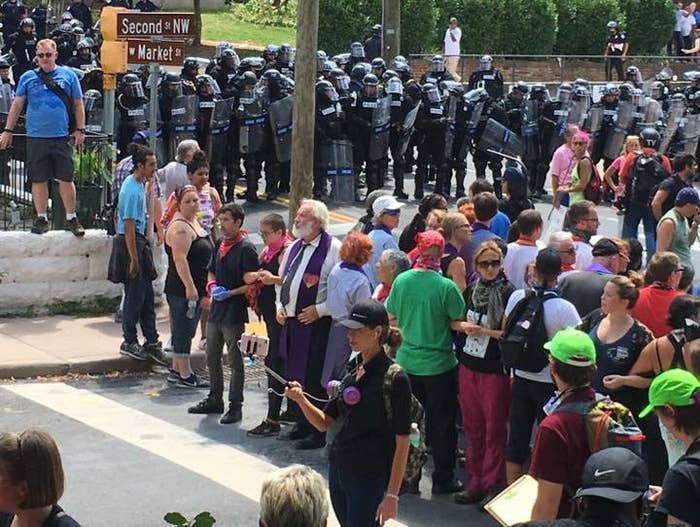 Kim Rolla was in Charlottesville on the night tiki torch-bearing protesters chanted Nazi slogans as they marched across the campus of the University of Virginia. She was there the following day, when anti-racism protesters clashed with white supremacists.
But she wasn't holding up signs or chanting. She was off to the side, taking notes.
Rolla, a legal aid lawyer in Richmond, was one of dozens of legal observers who volunteered to document the police response to this month's protests in Charlottesville. Since November, the network of legal institutions that support political demonstrations has had to rapidly scale up. Demand for legal observers has surged, according to organizers, not only to record protests, but also to monitor immigration raids and other events with a law enforcement presence.
Rolla volunteered in Charlottesville through the National Lawyers Guild, a membership group founded in 1937 for liberal lawyers, law students, legal workers, and jailhouse lawyers that has seen a dramatic increase in new members and volunteers this year. The National Lawyers Guild isn't the only organization that trains and mobilizes legal observers, but its program is one of the oldest — established in 1968 — and best known, not least because of the neon green hats that volunteers wear in the field.
Of the group's approximately 3,300 members nationwide, more than 1,000 have joined since President Trump won the election in November, according to the national office. Local chapter leaders told BuzzFeed News that they have been training groups of volunteer legal observers beyond their member base — legal observers don't need to be lawyers — but that the organization doesn't track those numbers at a national level.
The guild's legal observer program historically has focused on the interactions between law enforcement and protesters. The resurgence of the white supremacist movement and demonstrations that involve counterprotesters present new challenges. To the extent legal observers document clashes between protesters and counterprotesters — such as at a rally in Seattle in January at which a person was shot — the guild has decided not to share that information with the police, said Pooja Gehi, executive director of the National Lawyers Guild.
"This is a new phenomenon," Gehi said. "Generally we don't ever want to cooperate with law enforcement, to the extent that we can."
Legal observers document the places and times and details of events, and take photographs and videos. They also takes notes on who is arrested and help coordinate legal representation and jail support. The information they gather has been used to aid defense lawyers representing arrested protesters, as well as to build excessive-force and civil-rights cases against police.
Gehi declined to specify cases that relied on information collected by legal observers. Legal observers work under the direction of attorneys, so their notes are generally considered privileged — although in some cases observers have been called into court as witnesses, and the government can try to subpoena their materials. A National Lawyers Guild legal observer testified in an excessive force case against police over the response to protests in Ferguson, Missouri, in 2014. Guild chapters and member attorneys have brought lawsuits in recent years accusing police of violating protesters' rights in New York City, Los Angeles, and North Dakota.
Legal observers have also become parties to lawsuits. A National Lawyers Guild legal observer who was monitoring police activity in Washington, DC, on Inauguration Day in January is one of four plaintiffs who filed a lawsuit in June against the Metropolitan Police Department. The observer, Judah Ariel, said he was pepper-sprayed by police without warning. National Lawyers Guild legal observers also provided testimony to the DC Council about the police response to the Jan. 20 protests.
James Pasco, senior adviser to the president of the Fraternal Order of Police, said officers don't have an overriding problem with legal observers' work, even if it is focused on police.
"Identifying themselves as legal observers, that doesn't give them any status," Pasco said. "Unless and until they become problematic and as long as they don't, they can observe — as long as they obey the instructions of officers on the scene, don't violate any laws, and don't interfere in the process."
Eyes on the police
Chapter leaders said they had been mobilizing legal observers to support a broad array of political speech over the past year, including anti-Trump marches after the election and during the inauguration, protests at airports against the travel ban executive order, Black Lives Matter demonstrations, and protests against the Dakota Access pipeline. Gehi said there's also been an increase this year in requests for legal observers at facilities that provide abortions; observers are being asked to monitor protesters responding to anti-abortion demonstrations, as well as volunteers who escort women inside.
Gehi, though, said the National Lawyers Guild will not provide legal support — either in the form of legal observers or help coordinating legal representation and jail support when there are arrests — to groups that promote hate speech. The group would not, for example, send out legal observers at the request of a white supremacist group.
That policy sets the organization apart from the American Civil Liberties Union, which also has a large legal observer program. The ACLU will send out legal observers at the request of any group that wants to peacefully exercise its free speech rights, regardless of the message, said Charlie Schmidt, who runs the legal observing program for the ACLU's Virginia office, which has approximately 350 trained legal observers across the state. The ACLU also does not provide jail support for protesters who are arrested.
"We tend to stay back and monitor both groups. We've been asked by far right and far left groups to come and observe," Schmidt said.
Since November, new or revived National Lawyers Guild chapters have sprung up across the country, including the Central Virginia chapter in Charlottesville. Andrew Mahler, who chairs the new Charlottesville chapter — there is also a student chapter at the UVA School of Law — said the local legal community thought it was time to formally organize in response to demonstrations planned for the summer, including a Ku Klux Klan rally in July.
Mahler said they had about 30 legal observers on the ground on a rotating basis during the Aug. 12 demonstrations in Charlottesville.
"When we see things happen like what happened this weekend — it's difficult to see that happen and not want to jump in and protect or to find a way to defend those people," Mahler said. "But to the extent that we can keep our eyes focused on action by law enforcement, that's really what we try to reinforce in our legal training."
Police made four arrests over the course of the weekend. One anti-racism protester, Heather Heyer, was killed when a car was driven into a crowd, and the Charlottesville Police Department has fielded criticism that it did not do enough to quell the violence. The police chief has defended his department's actions.
Rolla said she struggled with being on the sidelines at times during the Charlottesville demonstrations, but was gratified by feedback she got from protesters.
"A lot of folks told me after, even though there weren't mass arrests, that seeing the green hats and ... knowing that they had legal support made them braver. That that was holding them up," she said.
Amreet Sandhu, who helped launch a National Lawyers Guild chapter in Sacramento this year, said they routinely send out legal observers to document everything from political demonstrations to tenants' rights meetings, and are mobilizing legal observers for white supremacist rallies planned for the end of August in the San Francisco area. The Sacramento chapter has about 40 members and has trained more than 100 legal observers so far, Sandhu said.
Sandhu said her chapter is also working with a group called NorCal Resist to develop rapid response networks for immigration raids. When organizers learn about a raid or a home visit by immigration authorities, a call goes out to trained legal observers within a five-mile radius, and observers go out to take notes and distribute know-your-rights cards in English and Spanish, she said.
"People are particularly interested in legal observing because I think that they want to be on the ground, they want to do something that feels valuable and necessary," Sandhu said. "I don't think people want to just write checks to organizations. I think right now, while that's necessary, too, people see an acute need for physical action. And so this provides an opportunity for them to do that."