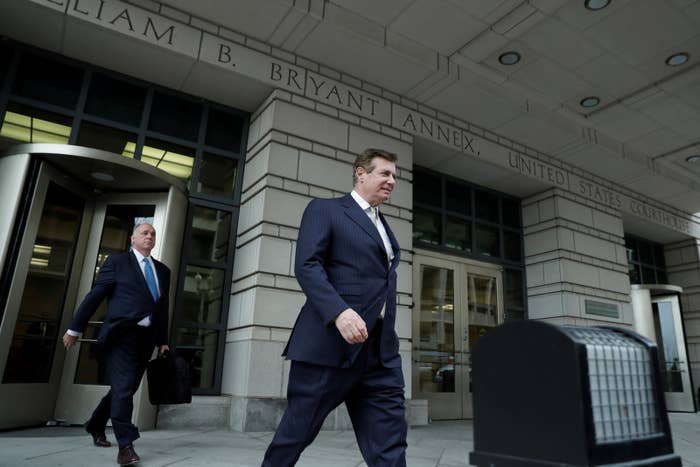 Former Trump campaign chairman Paul Manafort asked a judge late Monday to investigate who has been sharing nonpublic and possibly classified information about his case with the media, arguing that the leaks interfere with his right to a fair trial and may violate grand jury secrecy rules.
Manafort's lawyers are arguing that the disclosures appear to be coming from the government, not the defense, citing news reports that attributed information about Manafort's case and special counsel Robert Mueller's investigation to unnamed current and former government officials.
"Such leaks impugn the character of the individual under investigation and substantially undermine a fundamental principle of our judicial system; i.e., the right of the defendant to have the case determined by an impartial jury on the facts," Manafort's lawyers wrote in Monday night's filing.
Manafort's lawyers also wrote that the special counsel's office hadn't produced materials to the defense team showing evidence of surveillance or intercepted communications between Manafort and Russian intelligence or government officials. His lawyers argued that absent that evidence, the disclosures to the press appeared to be aimed at creating "a false narrative" to generate support for Mueller's appointment as special counsel.
Manafort contends that Mueller's appointment was invalid and has asked judges to dismiss the indictments returned against him by federal grand juries in Washington, DC, and Alexandria, Virginia. He is challenging Mueller's appointment on several grounds, including that the special counsel shouldn't have been given authority to investigate matters beyond collusion between Trump's campaign and Russia during the 2016 presidential race. Absent evidence of coordination, Manafort's lawyers argue, the investigation into Manafort's non-campaign-related activities should not have been conducted by Mueller.
The motion for a hearing on the leaks issue was filed in Manafort's criminal case in the US District Court for the Eastern District of Virginia, where he is facing charges that include failing to report foreign bank accounts, filing false tax returns, and bank fraud. He hasn't filed a request for a court investigation into leaks in the DC case.
Manafort's lawyers pointed to news reports starting in the fall of 2016 about the existence of an FBI investigation into Manafort's activities, phone records and intercepted calls that supposedly showed contacts between members of Trump's campaign and Russian intelligence officials, as well as details about Manafort's business dealings and other subjects related to him that Mueller's office was exploring.
Manafort's lawyers argued in Monday night's filing that there was reason to think government officials had violated prohibitions on grand jury secrecy. Witnesses before the grand jury are allowed to talk publicly about their experience, but prosecutors and grand jurors are bound by secrecy rules. Manafort's lawyers said that given how sources were described in certain reports — for instance, as someone not authorized to discuss the matter — there was a "strong inference" that these sources were subject to the grand jury secrecy rules.

A spokesperson for the special counsel's office did not immediately return a request for comment.
Manafort on Monday night filed additional motions in the Virginia case to suppress evidence taken from his home in Virginia and a storage unit; he has lodged similar challenges in the DC case. He also asked the judge to dismiss a count in the Virginia indictment that charges him with failing to report foreign bank or financial accounts, arguing that Mueller's office missed the deadline to bring that charge.
US District Judge T.S. Ellis III is scheduled to hear arguments on Manafort's motion to dismiss the Virginia indictment in its entirely on Friday. US District Judge Amy Berman Jackson in Washington heard arguments on Manafort's motion to get the DC charges tossed out on April 19. Jackson has not yet ruled, but she did dismiss Manafort's civil lawsuit challenging Mueller's appointment.