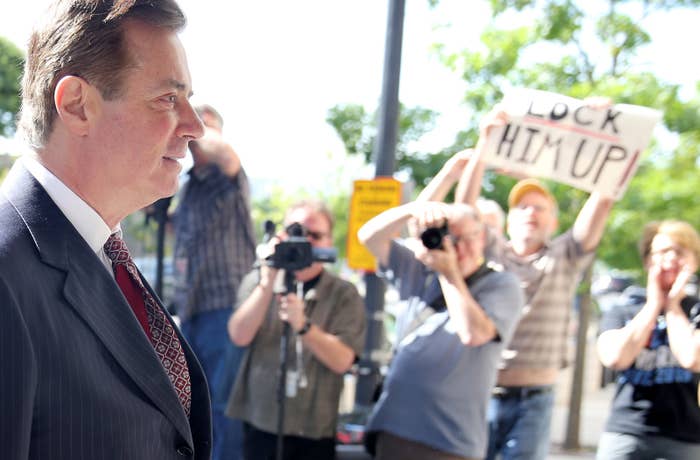 WASHINGTON — Prosecutors in special counsel Robert Mueller's office haven't decided whether to bring more charges against former Trump campaign chair Paul Manafort, now that they've accused him of lying after signing a plea deal.
At a hearing Friday to set a schedule for sentencing in Manafort's case, US District Judge Amy Berman Jackson asked prosecutor Andrew Weissmann a series of questions about the consequences of the government's new allegations against Manafort. Weissmann said they hadn't decided whether to bring more charges against Manafort, and also that they hadn't decided whether to go to trial with charges they agreed to dismiss as part of the agreement.
Jackson set a tentative sentencing date of March 5 but acknowledged that could change depending on events going forward. She'll first be tasked with deciding whether Manafort breached his plea agreement with Mueller's office. The government is due to submit papers about that allegation by Dec. 7, and Manafort's lawyers will propose a schedule for responding.
Manafort pleaded guilty in September to two counts in federal district court in Washington and agreed to cooperate with Mueller's office as part of that deal. But on Nov. 26, prosecutors alerted the judge that they believed Manafort had breached that agreement by lying to them and to the FBI. They didn't specify what Manafort had allegedly lied about but said it covered "a variety of subject matters."
The government contends that the breach means they're no longer bound by the plea deal. At Friday's hearing, Weissmann explained that if the plea deal was out, the government no longer had to agree to a request by Manafort for a reduced sentence because he had accepted responsibility for his crimes, and prosecutors would offer a full explanation to the court of Manafort's conduct before and after he pleaded guilty.
Manafort pleaded guilty to conspiracy to defraud the United States, and conspiracy to obstruct justice. As part of the plea deal, the government had agreed to drop the other crimes Manafort was charged with in DC, including conspiring to launder money, acting as an unregistered agent for a foreign entity, and making misleading statements about his work abroad. Weissmann said they hadn't decided whether to pursue a trial — Manafort entered his guilty plea on the eve of jury selection in September — but noted that the sentencing guidelines that Manafort already faces are "substantial."
Manafort already has a sentencing date set for Feb. 8 in the US District Court for the Eastern District of Virginia, where a federal jury over the summer found him guilty of eight counts of tax and bank fraud charges. The jury hung on the remaining 10 counts, which the government agreed not to retry as part of his plea deal.
Jackson asked Weissmann if the government planned to bring more charges against Manafort after noting that the report by prosecutors earlier this week repeatedly used the word "crimes" in describing new allegations against Manafort.
The "report seems to make a point with its vocabulary," Jackson said.
Weissmann said they hadn't made a decision yet, but that they did believe Manafort's conduct would be relevant at sentencing on the charges he already pleaded guilty to. Weissmann told Jackson that Mueller's office had "lengthy" discussions with Manafort's lawyers about what the government believed Manafort had lied about, so they were on notice.
In an interview earlier this week with the New York Post, President Donald Trump said he had never discussed a potential pardon with Manafort, but that it was "not off the table."