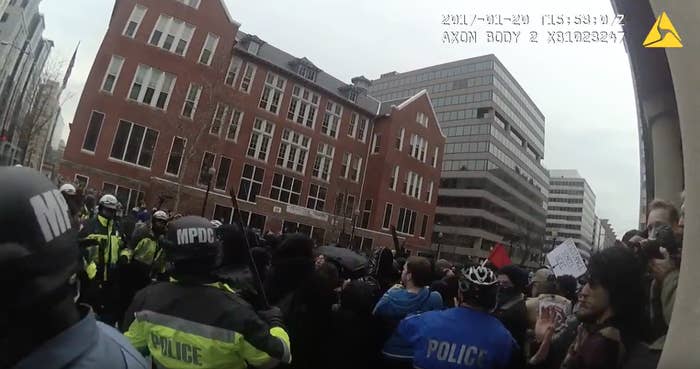 As police and anti-Trump protesters clashed on Inauguration Day, videos and photographs poured online in real-time from journalists, demonstrators, and bystanders. The one point of view unseen at the time? The police.
Videos that appear to be recorded by police officers obtained by BuzzFeed News from a source shed light on what the experience was like for law enforcement that day. Filmed from areas where journalists and bystanders were barred from standing, the videos offer new perspectives on the chaos that consumed downtown Washington, DC, after President Trump was sworn in.
The Metropolitan Police Department declined to comment on the authenticity of the videos or on police filming practices. Two of the recordings are labeled on-screen with the phrase "Axon Body 2," which is a body camera model used by police, according to Adam Marshall, an attorney at the Reporters Committee for Freedom of the Press who has reviewed police body camera videos, including footage recorded by the Metropolitan Police Department. Marshall said the markings and other factors — the videos appear to be recorded at chest level and use a wide-view lens — suggest that the videos are police body camera footage.
Other videos obtained by BuzzFeed News don't have any markings, but Marshall said the content of the videos and the vantage point from where they were filmed suggest they were recorded by law enforcement or someone near law enforcement.
More than 200 people arrested on Inauguration Day are facing felony charges for rioting and property destruction. Prosecutors have made hundreds of hours of video footage of the demonstrations and police activity on Jan. 20 available to defense lawyers. Trials are scheduled to begin starting in the fall.
Here are five takeaways from the videos.
"Hold the line"
The videos begin after police rounded up a large group of demonstrators participating in what had been billed as an "anti-capitalist" and "anti-fascist" protest; journalists and legal observers recording the protests were also caught in the mass arrest. As officers took arrestees away for processing, police continued to clash with other demonstrators as they tried to clear the streets. The scenes depicted in the videos are violent and chaotic. Officers can be heard yelling at one another to get their shields up and are seen using pepper spray, explosives, and other as-yet-unidentified weapons to break up the crowds.
Crowd control
Several videos show police surrounding the large group of protesters detained at the corner of 12th and L Streets in Northwest Washington. Officers can be seen using their batons to push in and contain the crowd. There are calls of, "Sting balls out," followed by orders to "back up," and then one officer is seen tossing an object towards the crowd. There's a loud boom and a cloud of smoke goes up. Thirty seconds later, after more cries of "sting ball," another device goes off in the crowd, followed by what appears to be a stream of pepper spray. A sting-ball grenade is an explosive device typically used for crowd control that ejects small rubber balls.
People detained and arrested that day have accused officers of using excessive force. A lawsuit alleging excessive force filed by the American Civil Liberties Union is pending.
Watching the watchers
The videos record crowds that gathered across the intersection from where the arrestees were detained at 12th and L Streets. In one video, the person filming slowly scans a group of people standing behind a police line, at one point zooming in on a young man sitting in a tree. The video captures people recording the scene on cell phones and cameras, legal observers, individuals taunting the officers standing in front of them, and others just quietly watching.

"Rocks and glass"
The videos show how police assessed the threat posed by the crowds they encountered. In one video, a voice is heard reporting, "We're taking rocks and glass." In another, the camera zooms in on a person walking around with a chunk of concrete in each hand. The videos show police in riot gear responding to projectiles by pushing forward in a line and detonating explosive devices to move the crowds back.
Press freedom
Several journalists were arrested along with demonstrators, although prosecutors have dropped most of those cases. At least one criminal case against a journalist, Aaron Cantu, remains pending. The videos show that officers did allow some journalists held at 12th and L Streets to leave early on. Two men can be seen identifying themselves as press — they're holding up what appear to be press badges — and officers motion at them to leave. Soon after, a man and a woman approach the officers and identify themselves as journalists — it's unclear if they have press badges — and they're allowed to leave as well.