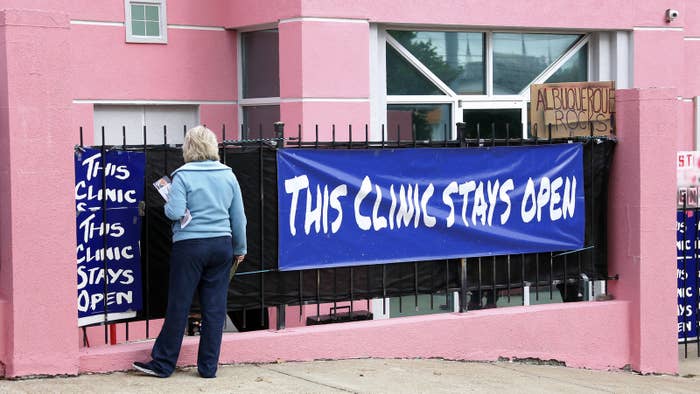 WASHINGTON — A federal judge on Tuesday blocked one of the most restrictive abortion bans in the country, concluding that Mississippi's 15-week abortion ban is "unequivocally" a violation of women's constitutional rights.

The Mississippi Gestational Age Act, or HB1510, enacted in March, prohibits abortions after 15 weeks in gestation except in a medical emergency threatening the mother or if there is "a severe fetal abnormality" that would prevent the fetus from surviving outside of the womb. Doctors who violate the law would have their licenses suspended or revoked and could face a fine.
US District Judge Carlton Reeves, who in March temporarily stopped the state from enforcing the law while legal challenges went forward, wrote in Tuesday's opinion that the ban was clearly unconstitutional based on the long line of Supreme Court precedent on abortion, and that he believed the state had passed it anyway in the hopes of getting the justices to revisit the issue.
"The Court's frustration, in part, is that other states have already unsuccessfully litigated the same sort of ban that is before this Court and the State is aware that this type of litigation costs the taxpayers a tremendous amount of money," Reeves wrote. "No, the real reason we are here is simple. The State chose to pass a law it knew was unconstitutional to endorse a decades-long campaign, fueled by national interest groups, to ask the Supreme Court to overturn Roe v. Wade."
The judge continued: "This Court follows the commands of the Supreme Court and the dictates of the United States Constitution, rather than the disingenuous calculations of the Mississippi Legislature."
Reeves wrote that the case turned on whether the 15-week mark was before a pregnancy becomes viable — the US Supreme Court had previously held that a state's interest in the life of the fetus only became strong enough to justify a ban on abortion after viability, the judge wrote. He noted that every pregnancy is different, but that the "established medical consensus" was that viability usually began after 23 or 24 weeks.

The judge wrote that there was a "sad irony" that men, including himself, were deciding how women managed their reproductive health decisions.
"As a man, who cannot get pregnant or seek an abortion, I can only imagine the anxiety and turmoil a woman might experience when she decides whether to terminate her pregnancy through an abortion. Respecting her autonomy demands that this statute be enjoined," Reeves wrote.
The Mississippi attorney general's office did not immediately return a request for comment.
Nancy Northup, president of the Center for Reproductive Rights, which represents challenger Jackson Women's Health Organization — the only facility still performing abortions in the state — said in a statement that Reeves' ruling "should be a wake-up call for state lawmakers who are continuously trying to chip away at abortion access. Such bans will not stand in a court of law."